Whether you love the taste and texture of brown rice or are simply trying to sneak more whole grain foods into your meals, you've come to the right place! As you're getting back into your routine, resist the urge of relying on your go-to dishes and try something new with Carolina® Rice. After all, what better way to celebrate Whole Grains Month than by adding more recipes to your whole grains recipe repertoire? Learn all about these grains and stock up your pantry accordingly!
Everything You Need to Know About Brown Rice
What's the Difference Between White Rice and Brown Rice?
Simply answered, brown rice includes the added benefits of whole grains, has a chewier, nuttier texture and takes a bit longer to cook. All rice varieties are surrounded by an outer layer, called the hull, which must be removed. There are three parts under this protective layer: the bran, the endosperm, and the seed. While brown rice includes all three parts, white rice is simply the endosperm.
Why is all this important? The bran and germ modify the texture, taste, and cook time: the chewier, nuttier grain takes longer to cook, and, while they take a bit longer to cook, good things come to those who wait! Carolina® Rice has a classic Brown Rice and – for those that are learning the ins and outs of eating organically – an Organic Brown Rice. Also, no need to shy away from using whole grains when making international recipes. Our Jasmine Brown Rice offers the best of both worlds: aromatic goodness as well as the added benefits of whole grains.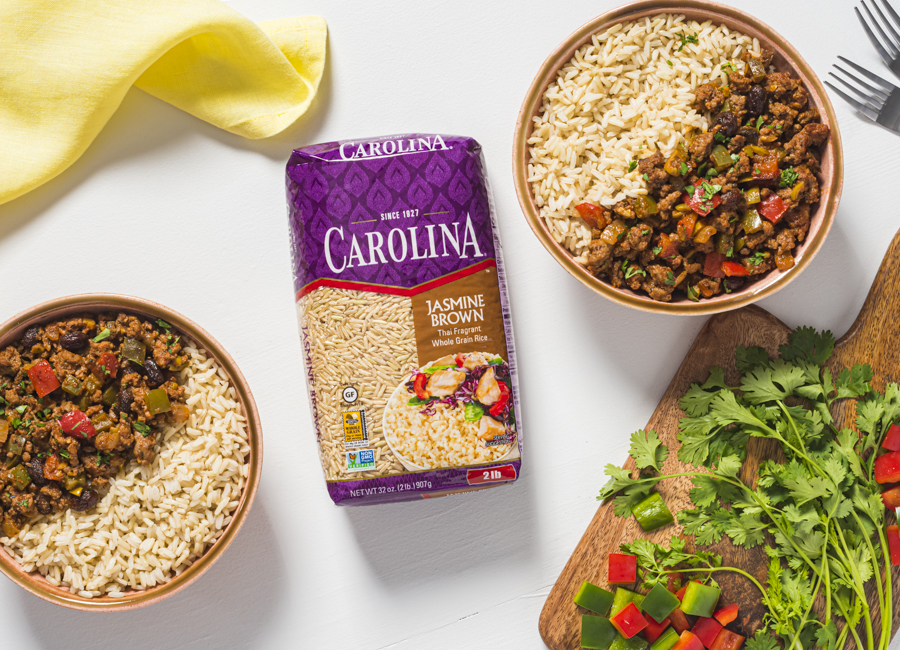 How to Make Brown Rice
First, we'll learn to get the grains just right! You wouldn't cook all cuts of meat the same or use the same cook time for all pasta shapes, would you? In the same way, each rice variety requires different times and ratios. Not to worry, with our step-by-step instructions, you'll have each variety cooked to perfection in no time.
You don't need a rice cooker or Instant Pot to make perfect rice, every time! Get the results you're looking for with just liquid, a pot and lid, and quality grains. We say liquid because, although water is the traditional option, you could just as easily sub in broth, juice, or milk. In fact, there are plenty of ways to upgrade rice.
The secret to perfect rice depends on the water to rice ratio. While long grain white rice uses a ratio of 2:1, the ratio for Carolina® Brown Rice is 2¼:1. In other words, use 2¼ cups of water for 1 cup of rice.
Using ratios, rather than measurements, ensures that you get the exact amount of rice you want! Of course, why not master the art of meal prep and batch-cook this hearty grain. It can easily be frozen, reheated, or tossed in a packed lunch!
After bringing your liquid of choice to a boil, stir in rice, cover, reduce heat and simmer for 45 minutes. Once all the liquid is absorbed, you're good to go and ready to enjoy perfectly cooked brown rice – a bit chewy texture with just a hint of that nutty flavor!
Pseudograins: Whole Grain Seeds
You may be surprised to learn that whole grains aren't all grains! Carolina® Premium Blend Rice is a good way to dip your toes into the world of whole grains. After all, Carolina® Premium Blend Rice takes the guesswork out of combining grains with pseudograins for you and your family to enjoy the full whole grain experience.
Wild Rice
Just in time for the late August harvest, celebrate Whole Grain Month with the only grain native to North American: wild rice. The name can be a little misleading; though it grows wild, it isn't actually rice but rather a protein-packed aquatic seed.
This whole grain has a characteristic nutty flavor and also strong earthy, toasted notes, making it a flavorful (and colorful) addition to any meal. Get going on the 5 best ways to use wild rice in your meals and then let your imagination – and your meals – go wild!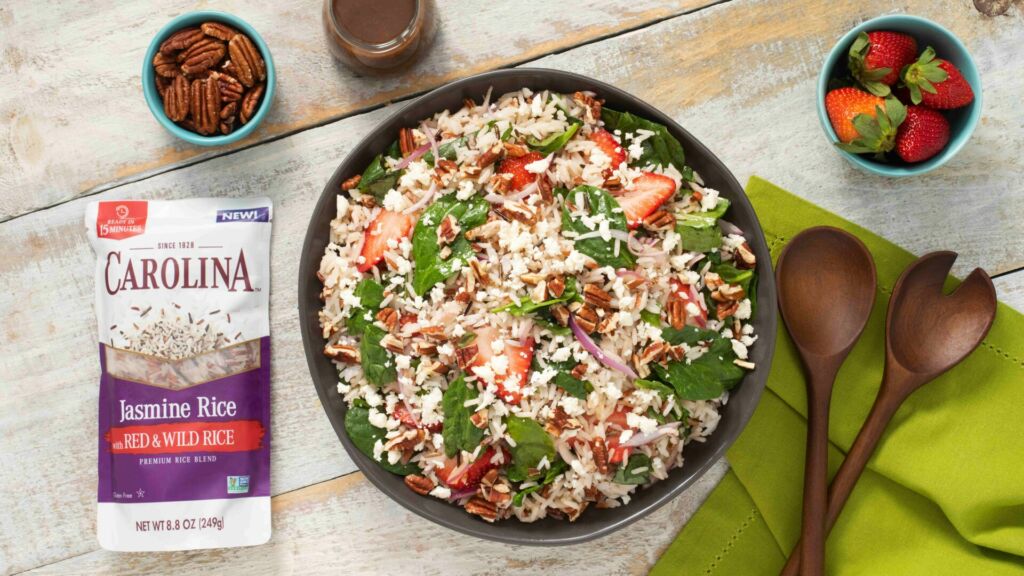 Quinoa
Another tasty whole grain seed, native to South America, is quinoa. It contains all nine essential amino acids, making it ideal for Gluten Free, vegan and vegetarian diets. Our Jasmine Rice with Quinoa is an expertly measured blend of fragrant long grain jasmine rice and protein-packed quinoa — perfect for whatever dish is on the menu!
Meals with Whole Grains
Now that you´re all caught up on whole grains 101, it's time to see them in action. While brown rice can be swapped into nearly all of our recipes, we highlight some of our favorite dishes that were made with each whole grain variety in mind. After all, you can never have too many meals that are both wholesome and delicious up your sleeve, right? Grab your apron and get started on these satisfying new recipes!
Breakfast Ideas
Start the day out right! Our take on "Nature's Cereal" is not just refreshing, but also more satisfying! After all, why leave out that tasty, filling natural cereal? Looking for even more delicious breakfast ideas? Throw together these whole grain bowls in no time before getting the day going: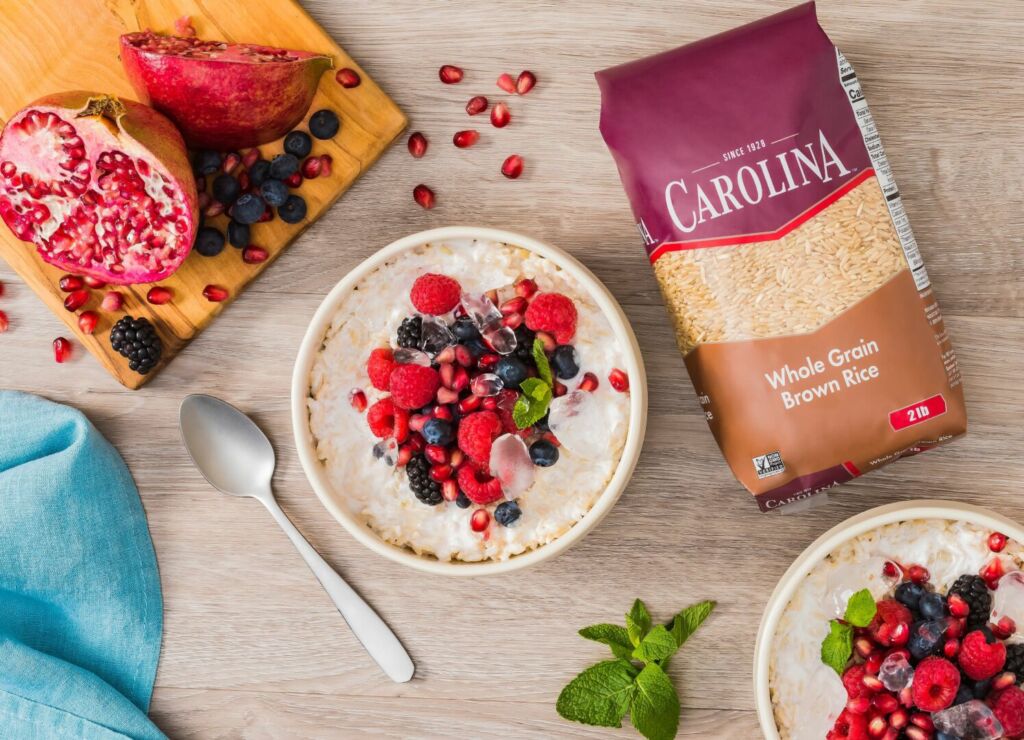 Office Lunch and Snacks
Meals To-Go
Get back into the swing of packing lunches, but let Carolina® Rice make it a bit easier! Get through a long afternoon without your stomach growling by building a Back-to-School Bento Box with brown rice. Looking for even more lunch ideas that are chock full of a rich assortment of flavors?
This tasty Beet "Poke" Bowl is another perfect on-the-go recipe that you can cook once and enjoy twice; in fact, we guarantee you will keep coming back for more! Make some extra servings of dinner tonight for lunch tomorrow. If you don't have a bento box, simply pack it in a container with food dividers. By keeping different textures and flavors separate until you're ready to eat, you can count on enjoying that quality delicious meal in between meetings.
Single-Serving Snacks
Spend an afternoon batch-making these cheesy Chicken and Brown Rice Lunchbox Cups with the kids for a whole grain finger food treat that will not disappoint. The process is rather simple and the best part is you can enjoy them freshly made or freeze to reheat later. That's right, these savory muffins make ideal kid-friendly meal prep; whether you're looking for a quick breakfast or a lunchbox addition!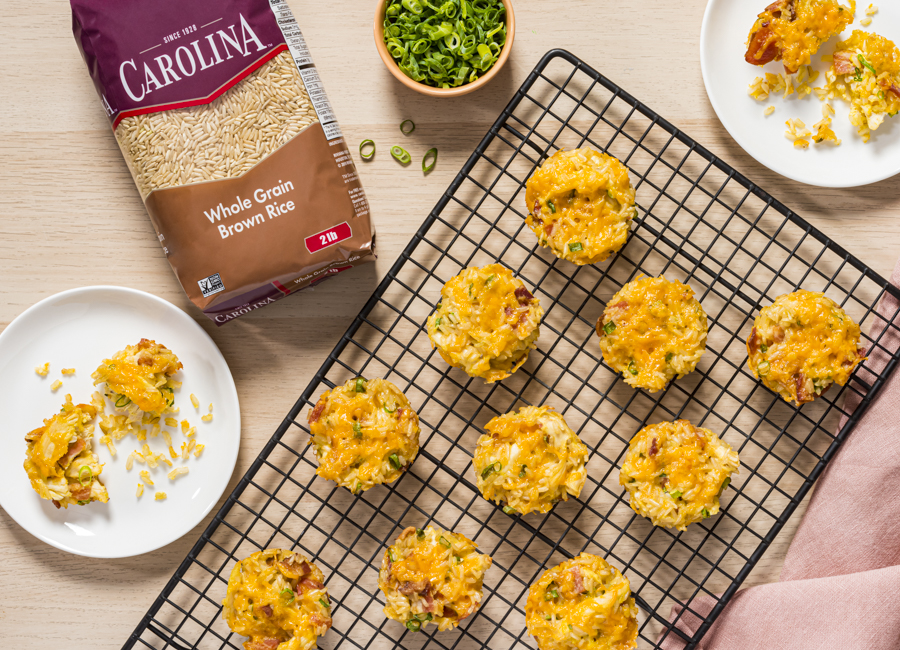 If you want to experiment with quinoa, we suggest checking out this cheesy Vegetarian Quinoa Cakes recipe. Don't have a muffin tin? Don't worry! These crispy Jalapeño and Cheese Quinoa Cakes with Aioli are hand shaped into small patties and loaded with a spicy kick for an exciting snack on the go – just remember to pack the homemade aioli in a separate container.
Whole Grain Soups and Salads
You may think of soups and salads as an appetizer, but when packed with whole grains, these dishes can be a complete meal. Grains not only amp up these starters but also make them oh-so satisfying!
Soup is the ultimate comfort food, and whole grains make it even better! Adding flavor, texture, and substance, grains take this creamy Chicken & Broccoli Brown Rice Soup to the next level.
Don't stop there! Grab a bag of grains whenever you're craving a warm bowl of soup. You can skip the tortilla but still enjoy all those rich flavors from your favorite Mexican dish: this hearty Chicken Enchilada Rice Soup is the cure for a chilly day!
Serving rice alongside greens is one of the keys to more flavorful, filling salads. Packed with Carolina® Premium Blend Rice, fruit, nuts and feta cheese, this vibrant Strawberry Salad with Wild Rice is a summertime treat: it'll please your BBQ guests and picky family members alike. Or, take your tastebuds on a world tour with either our spice-infused Moroccan Salad with Wild Rice.
Homemade Dinner Inspiration
Why not whip up a traditional Latin America dish for dinner tonight? These classics are all the more satisfying when paired with brown rice! For minimal cleanup but maximum satisfaction, check out this flavorful One-Skillet Mexican Sausage and Rice Dinner — it's sure to be a new family favorite!
Get a stew going! Loaded with tons of flavor — from sofrito to sazon — this savory Pollo Guisado is best served on a fluffy bed of nutty brown rice. Or, sharpen your knife and start chopping up ingredients for a delicious Puerto Rican Picadillo. As if all those vegetables, meat, tomatoes, raisins and olives weren't enough, aromatic Jasmine Brown Rice brings another layer of texture!
Craving something crunchy? Whip out your favorite kitchen appliances as you make either this easy-to-make Instant Pot Arroz con Atun or this fresh and crispy Air Fryer Baja Fish Rice Bowl.
Filling and Stuffing Mix
Whether you're looking to stuff vegetables or making some empanada filling, why not reach for a bag of whole grains? After all, they will make your filling more filling!
As they are packed with vegetables, turkey, and brown rice, these Southwest-inspired Rice & Turkey Stuffed Peppers can be served as a starter or a main course. Looking for a quick side or an irresistible appetizer for your next get-together? Thanks to the seasoning in Carolina® Long Grain & Wild Rice Mix, these Simple Wild Rice Stuffed Mushrooms require only 4 ingredients!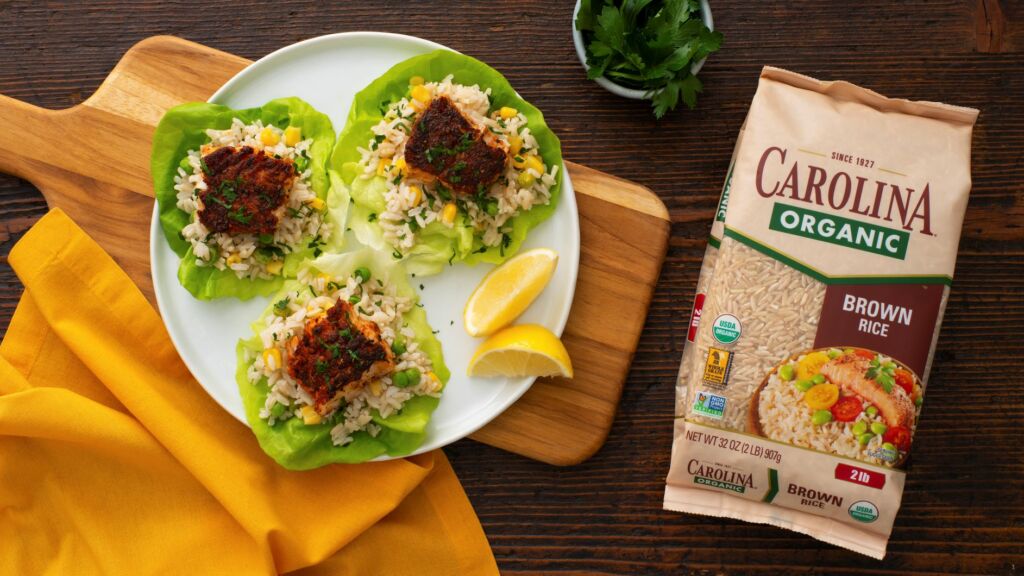 Lettuce wraps anyone? Whether you fill your wraps with Cajun Blackened Fish or Jerk Shrimp with Pineapple Salsa, you're guaranteed a satisfying meal when you use Carolina® Organic Brown Rice!
Sweet Treats
For those with a sweet tooth, don't hesitate to add whole grains into some of our tasty desserts. In fact, those nutty notes add an extra layer of flavor that won't go unnoticed. Rich chocolate and fluffy quinoa team up to bring a balanced pick-me-up: pop these bite-sized Coconut, Hazelnut & Dark Chocolate Quinoa Energy Bites whenever you need a boost!
These crispy-on-the-outside-yet-gooey-on-the inside Christmas Cake Rice Fritters are a new take on the classic dessert – nutty notes will take your fruit cake to a new level. Plus, brown rice not only complements the fruit flavors but also gives the fritters a fluffy texture!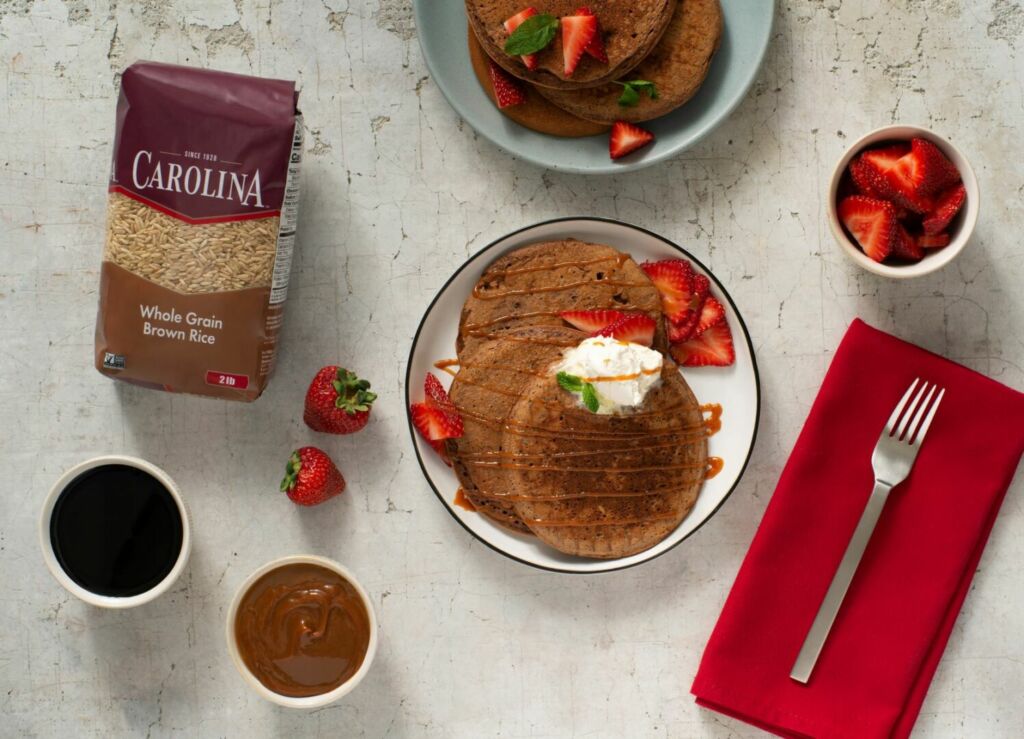 Speaking of fluffy, our Brown Rice Chocolate Hot Cakes are a perfect addition to your brunch or dessert menu – especially if you are looking for a kid-friendly dish. Serve a stack of cakes, set out toppings – such as sliced fruit, whipped cream, cajeta, syrup, chocolate sauce, jam – and let everyone personalize their fluffy treat.
As you can see, whole grains are far from bland, anything but boring and incredibly versatile! Celebrate Whole Grains Month with Carolina® Rice by sharing your thoughts about these wholesome ingredients – we love hearing from fellow rice lovers! What is your go-to whole grain dish? Maybe a whole grain baked rice pudding? Or which recipe do you think tastes even better with our nutty grains? Maybe this chaufa rice recipe? Let us know! Don't forget to tag @carolinariceusa or #CarolinaRiceUnites