Ready or not, back-to-school season is upon us, and that means it's time to start planning for supply lists, outfits, and school lunches. But don't let the back-to-school hustle and bustle stress you out, we've got some ideas to keep the lunch prep fun, easy, and tasty. With a little bit of advanced planning and prep, you can be sure that your kiddos are well-fed and ready to learn.
Meal Ideas for Any Age
Whether they're off to school or learning from home, these lunch ideas are sure to please even the pickiest eaters. Check out these helpful tips to stay organized and ensure your kiddos don't get bored with the same old sack lunches every day. From your youngest to oldest learners, you'll be sure to find lunches to please everyone.
Lunch Tips
The best and easiest way to prepare different and tasty lunches for every day of the week without stress or hassle is to create a weekly calendar of lunches so that you and your kids can stay organized.
Pack in Advance
Packing lunches the night before is always a great idea as mornings are already a hectic time for most. Doing this will take one thing off your morning to-do list and will ensure that lunch is enjoyable and not something that is thrown together during the morning scramble. They will be able to just grab it and go! Give these Savory Rice Muffins a try for a grab-and-go breakfast or snack.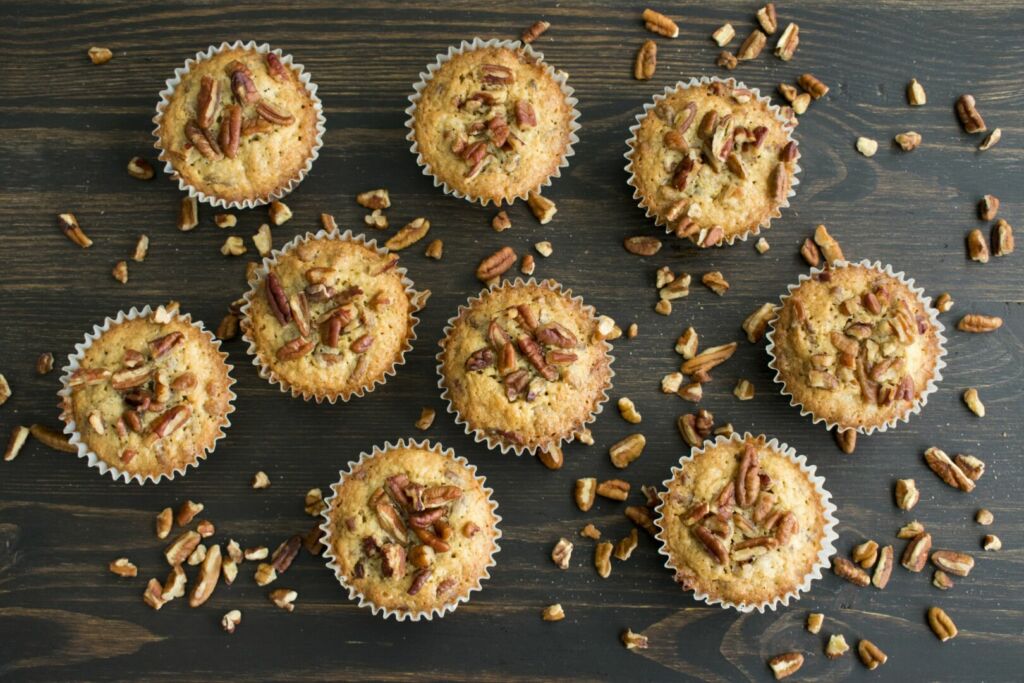 Learning Opportunity
Not only is planning and packing in advance a great time saver, it is also a wonderful opportunity to teach your kids about organizing and responsibility for making better food choices for themselves. One way to help them visualize the different food groups they need to include in their diets is to set out separate containers to represent the different food groups and teach them what kinds of things they should pack in each container for each food group such as vegetables, grains like rice, fruits, healthy fats, and proteins.
This not only teaches them about the food groups and healthy dietary choices, but it also gives them a sense of empowerment as they can feel good about making their own healthy meal choices.
Start with Basics
You can start simple by making good use of leftovers from last night's dinner, specifically any leftover rice as it is so versatile. Use it for anything from a wrap or burrito with any other favorite ingredients, or for a quick and nutrient-dense salad, or topped with just about anything for a tasty rice bowl to go. And don't forget that this works for their school lunch as well as a quick and delicious lunch for yourself!
Kid Favorites
Breakfast To-Go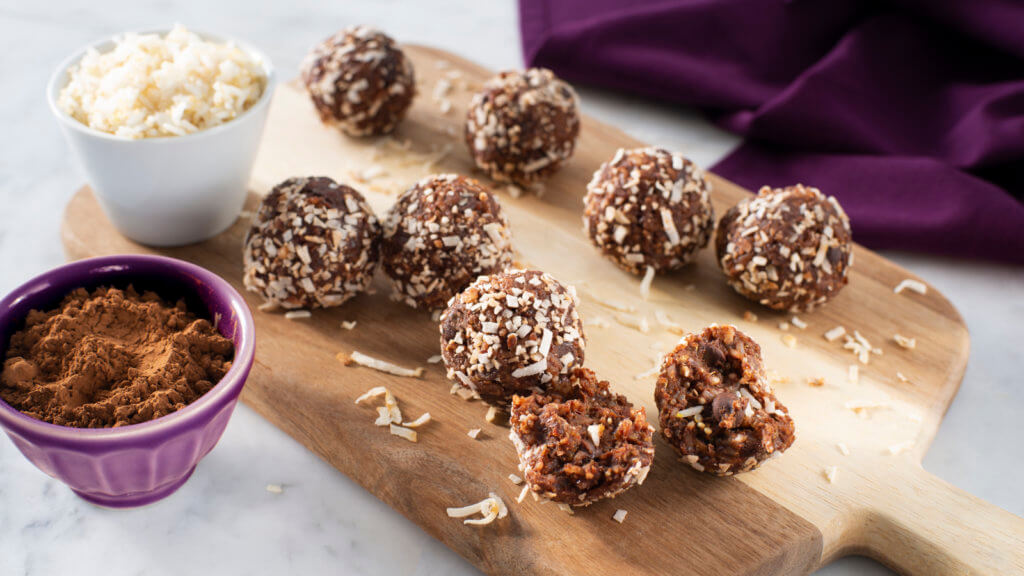 We know mornings can be quite hectic while everyone is rushing around to get ready and out the door on time. Save some time and hassle on these busy mornings with some of our quick and easy breakfast on-the-go ideas!
Savory Rice Muffins
If you have a bit of free time over the weekend, whip up a batch of these delicious Savory Rice Muffins for the week. Made with a few pantry staples, Carolina® White Rice and toasted pecans, these muffins are ready in under 30 minutes and are perfect as a breakfast on the go or as a midday snack.
Dark Chocolate Energy Bites
Who doesn't like a little bit of chocolate? These chocolate bites are not only great as an after-lunch dessert but also as an energizing midday snack to help your kids power through the rest of their school day. Try these Hazelnut Dark Chocolate Energy Bites made with Carolina® Premium Blend of Jasmine Rice and protein-packed Quinoa, sweet dates, coconut oil, and hazelnut butter for the perfect dessert or snack for their lunch box, and feel free to adjust the ingredients for any allergies or preferences. Rice pudding is another kid-friendly treat you can try.
Main Lunchbox Courses
Coconut Rice
A simple, yet delicious and versatile option, this 4-ingredient Easy Coconut Rice made in a rice cooker can be topped with anything from their favorite vegetables and proteins for a savory meal, to their favorite fruits for something on the sweet side.
Rice Mac and Cheese
For an all-time classic, make some Mac and Cheese. If your kids are learning from home, or happen to have access to a microwave at school, this Creamy Rice Mac and Cheese is sure to be one of their favorites. Made with melty Cheddar and cream cheese and Carolina® Ready to Heat Jasmine Rice Naturally Flavored with Garlic & Olive Oil, your kids will love this flavorful and creamy meal at lunchtime. And if you want them to have a bit of protein as well, don't hesitate to add cooked chicken, hot dog bits, or any of their favorite protein.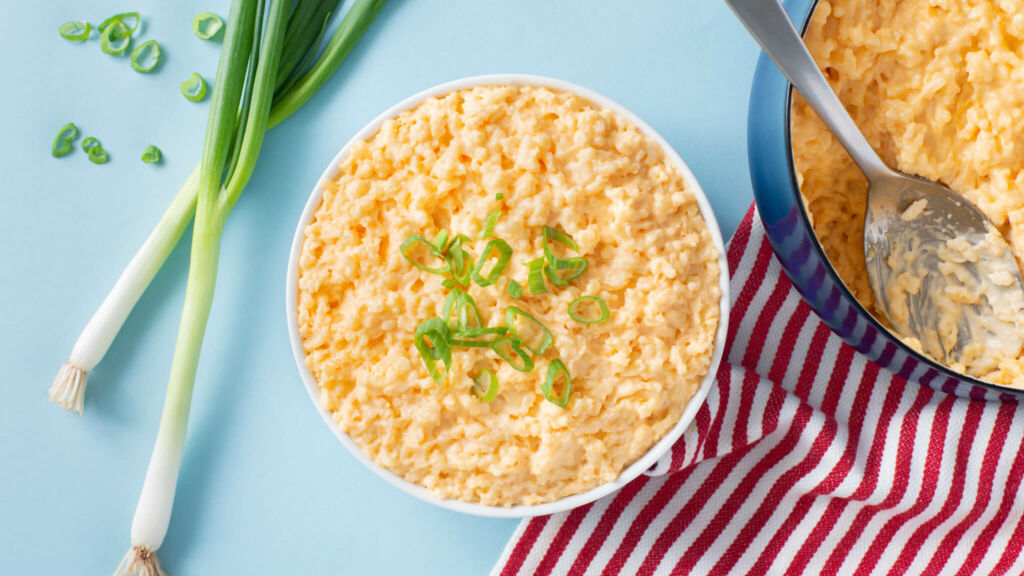 Breakfast Wraps
Just because something is a "breakfast" food, doesn't mean it can't be enjoyed as a delicious lunch. Wraps are always a great option as on-the-go meals and these tasty and easy Breakfast Mexican Wraps are no exception. Made with lunch meat, cheese, salsa, and hearty white rice wrapped in soft flour tortillas, these wraps are perfect for packed lunches.
Pour the salsa in a separate container and either drizzle in the wrap at lunchtime or dip your wrap right in it. The amazing thing about wraps is that you can virtually fill them with anything. Let your kids choose their favorite veggies and proteins for a version all their own.
Fruit and Rice Puree
Skip the expensive and processed store-bought variety with this sweet and delicious Fruit and Rice Puree recipe. Made with Whole Grain Brown Rice and cooked fruits like berries, bananas, or apples, you can make a large batch and store in the freezer in small, airtight containers for up to 1 month. Your kids will especially love it if they can choose their favorite fruits!
Adult Flavors
If you enjoy meals with bolder flavors, we've got some lunch ideas for you, too!
Warm Lunches
Rice Bowls
It's almost impossible to go wrong with a rice bowl. The number of tasty ingredient combinations is endless and they are a great option for meal prep and as lunches to go because you can easily make a large batch of rice for the week, add your favorite veggies and protein, and reheat when it's time to eat. Try some of our favorites like this Chicken Burrito Rice Bowl or this Savory Shrimp & Rice Bowl.
Cool and Fresh Lunches
Salads
Sometimes the craving hits for a cool and light meal on hot summer days and we've got some salads that are just that. Salads don't have to be boring or unsatisfying. We have all had a salad that's left us feeling hungry just an hour later, but salads like this Green Rice Salad with Chicken or this Rice and Chickpea Salad Bowl are loaded with hearty grains and protein to not only taste delicious but to keep you full longer so you can power through your day.
For more tasty recipes like arroz chaufa along with kitchen tips and advice such as the perfect water to rice ratio, check out our website.