Delicious family meals don't have to be complicated. One way to create delicious dishes you and your family will love without all of the hassle and stress of cooking is to stick to tried and true classics when you're short on time and energy. Case and point: the ever-classic combo of chicken and rice.
There's a reason this protein and grains combination is a favorite around the world. Even at its most basic state, it's a tasty combo, but what truly makes this such a great base for meals is that it's so incredibly versatile! Veggies, cheeses, broths, endless spices, they can all be used to create a wonderful and delicious chicken and rice meal. Whether you are in the mood for a skillet, casserole, soup, or salad, there's a chicken and rice recipe that's sure to hit the spot.
Chicken and Rice Snacks
These Chicken and Brown Rice Lunchbox Cups made with Carolina® Brown Rice are perfect if you're in the mood for a snack. Alternatively, they make an excellent addition to a school packed lunch or work lunch.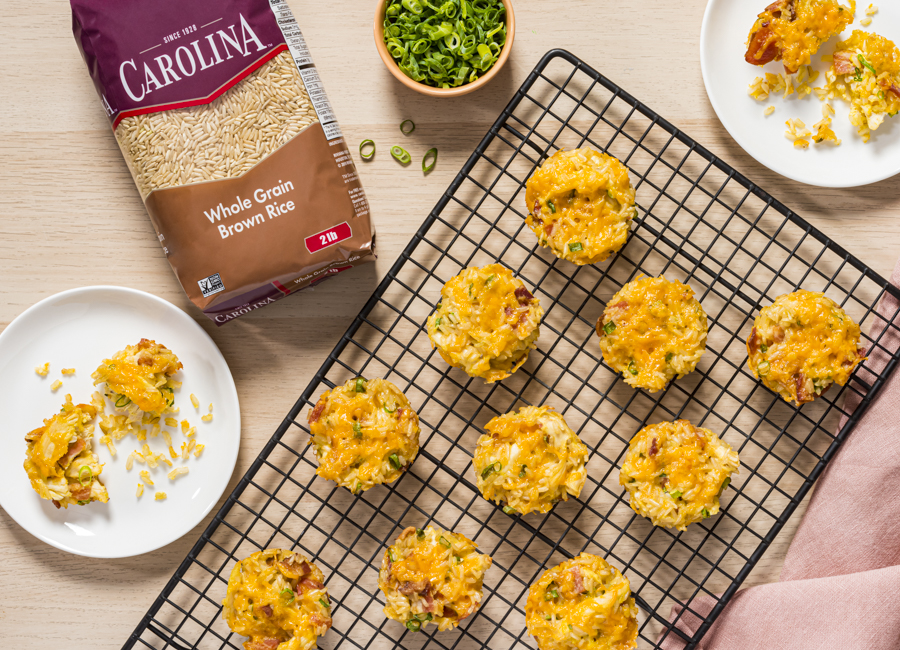 Rice Salads with Chicken
Salads aren't just lettuce and tomato anymore. A hearty and satisfying salad that actually keeps you full for hours can be made with chicken and rice along with other delicious ingredients. Here are some of our favorite chicken and rice salads!
Asian Chicken and Jasmine Rice Salad
Sweet and Citrusy Delight
If you're in the mood for exotic flavors that are sweet and tangy, look no further than this Asian Chicken & Jasmine Rice Salad loaded with orange slices, coleslaw, edamame, lime juice, cashews, chicken, and Carolina® Ready To Heat Jasmine Rice. You won't believe how much flavor you can fit into one chicken and rice salad and in just minutes! To continue adding to those sweet flavors, you must try this rice pudding recipe for dessert!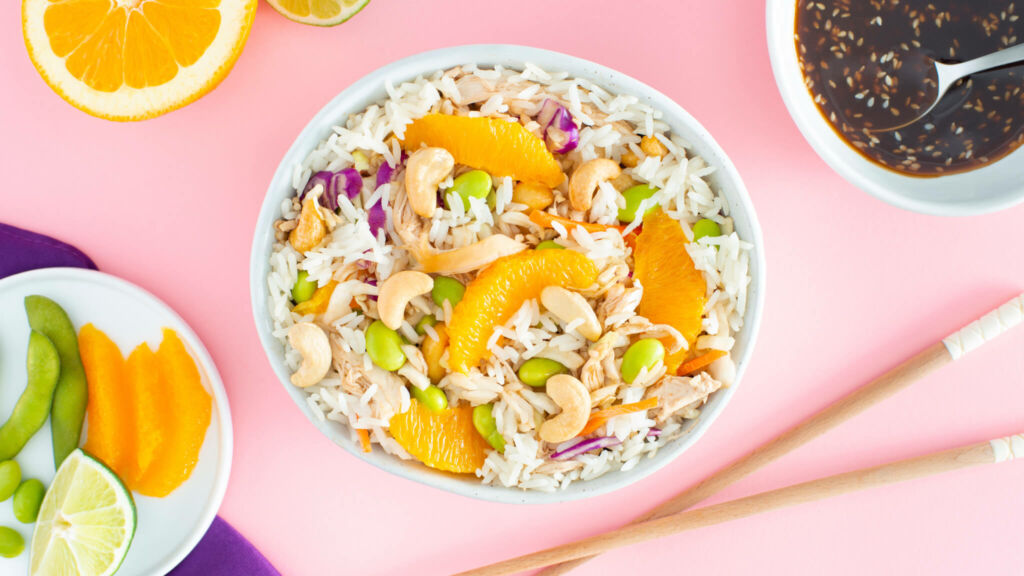 Did you know? Our Ready to Heat rice pouches can be cooked in the microwave and will be ready to enjoy in only 90 seconds.
Tasty Greens
This quick and delicious Green Rice Salad with Chicken is made with Carolina® Ready to Heat Garlic & Olive Oil Jasmine Rice, rotisserie chicken, broccoli, peas, feta cheese, and Italian dressing. Ready in just minutes, it's the perfect salad for when time just isn't on your side and not only is it delicious, but because it's packed with grains, protein, and greens, you'll stay full for hours.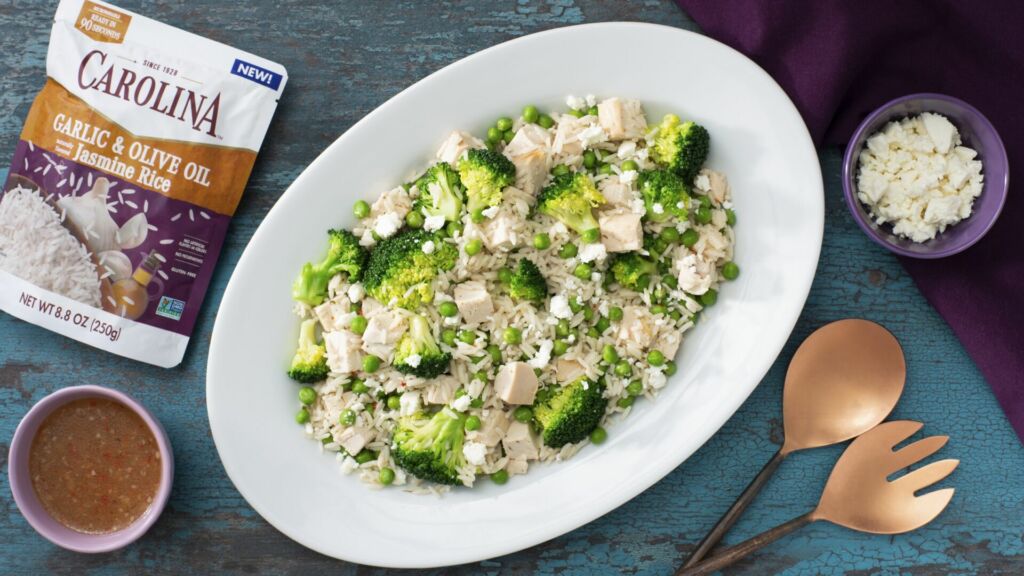 Whole Grains and Mango
Made with Carolina® Whole Grain Brown Rice and red quinoa, this Mango Chicken Rice Salad is a fantastic whole grain option that's not only delicious, it's great for you, too!
Loaded with ingredients like chicken breast, green onion, ginger, raisins, mango, and lime juice, you'll not only love all of that sweet and tangy flavor, but you'll feel fueled up to keep you powering through your day.
Chicken Soups
While you're most likely already familiar with the classic Homemade Chicken and Rice Soup, you may not realize how many different and delicious soups can be made from the amazing chicken and rice combo. Check out these tasty soups for your next family dinner or dinner party.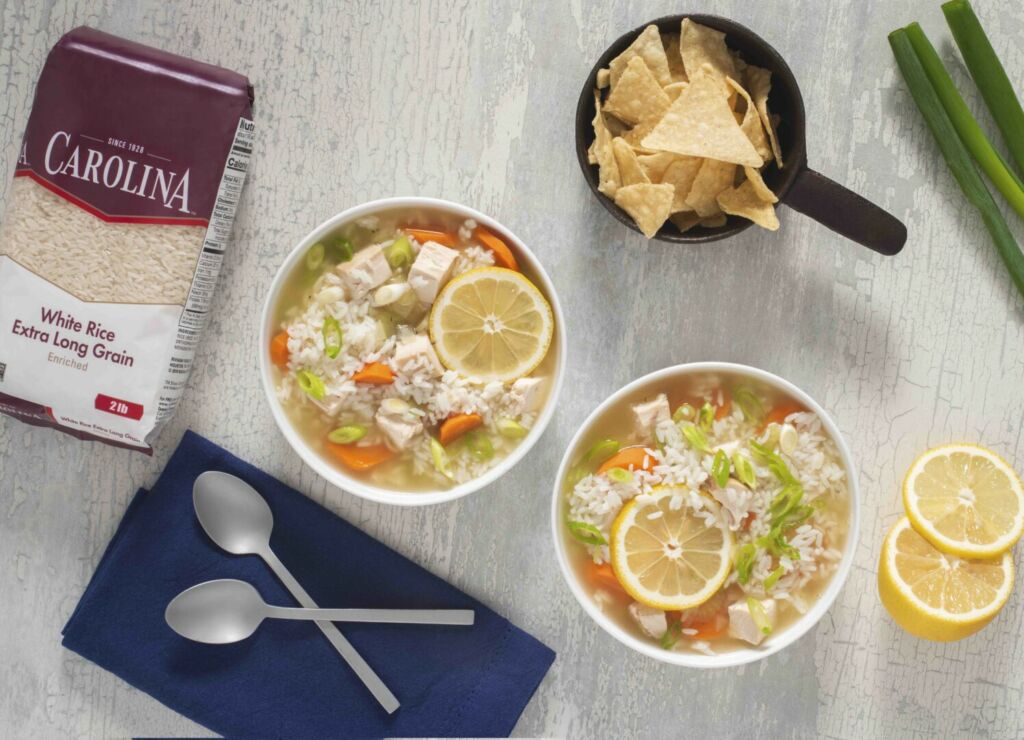 Mexican Flare in a Warm Bowl
Whenever the craving for Mexican food hits, chicken and rice has got you covered. Our Chicken Tortilla Rice Soup features the Mexican flavors you love like green chilies, tomatoes, lime juice, cilantro, tortilla strips, avocado, and of course, chicken and rice.
This soup is well known for its presence within the Cinco de Mayo and Día de los Muertos celebrations but, there's no need to wait until then – right? Turn any night into a special occasion by whipping up this traditional soup!
For another Mexican-style soup, learn how to make this comforting Southwest Style Chicken and Rice Soup which is made with Carolina® White Rice and flavored with cilantro.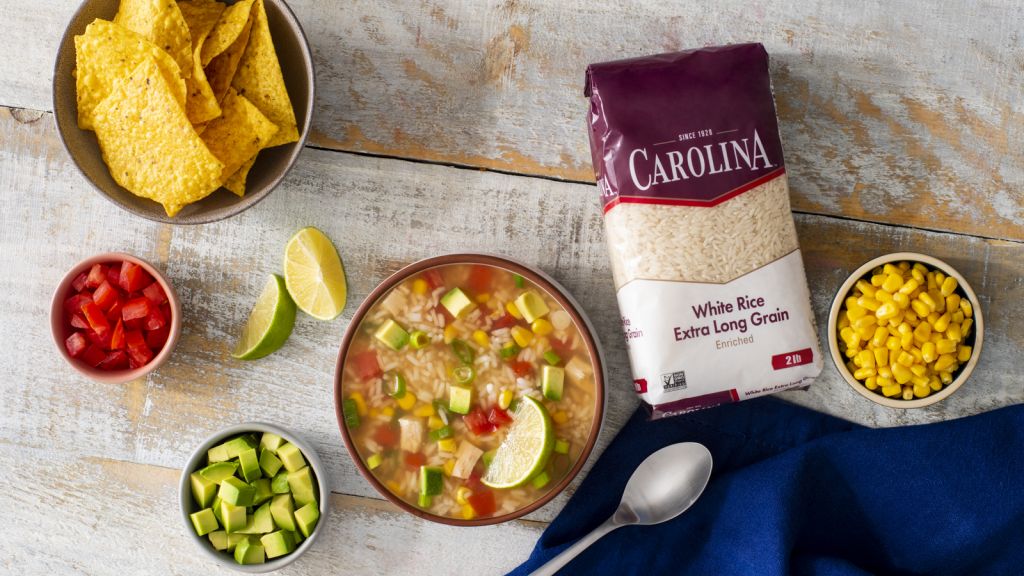 Creamier than Creamy
You can't go wrong with a creamy version of a chicken and rice soup. This Creamy Chicken & Wild Rice Soup is absolutely perfect on a chilly evening with its perfect mix of hearty wild rice, chicken breast, and corn in a perfectly creamy broth.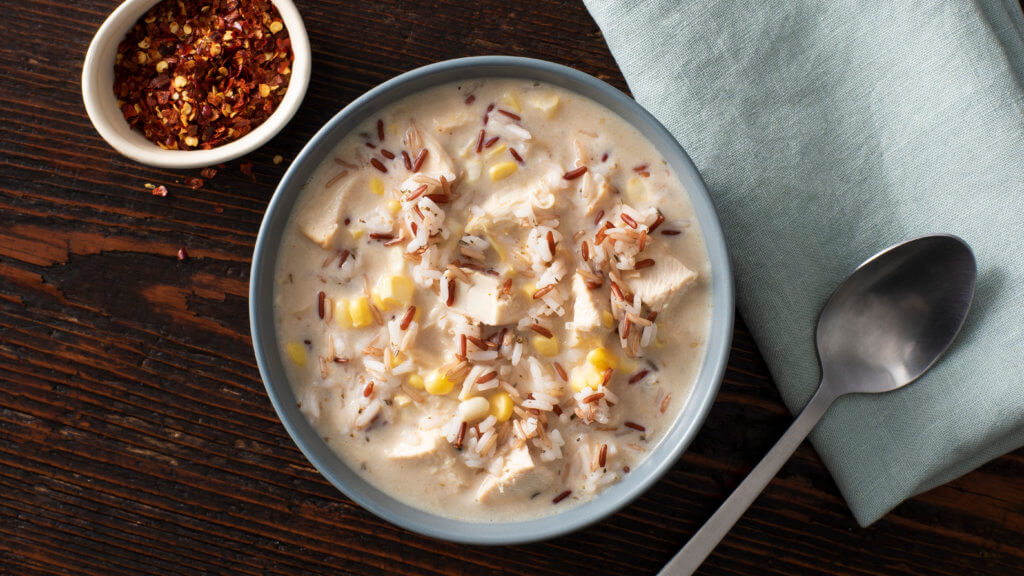 Velvet… soup?
Yes! If creamy soups are your thing, this one is another must-try. With a rich and smooth velvet-like texture, this Lemon Velvet Chicken Rice Soup truly lives up to its name. Made with rice, chicken, lemon juice, heavy cream, and pepper, you won't believe how well the citrusy notes complement this chicken and rice concoction.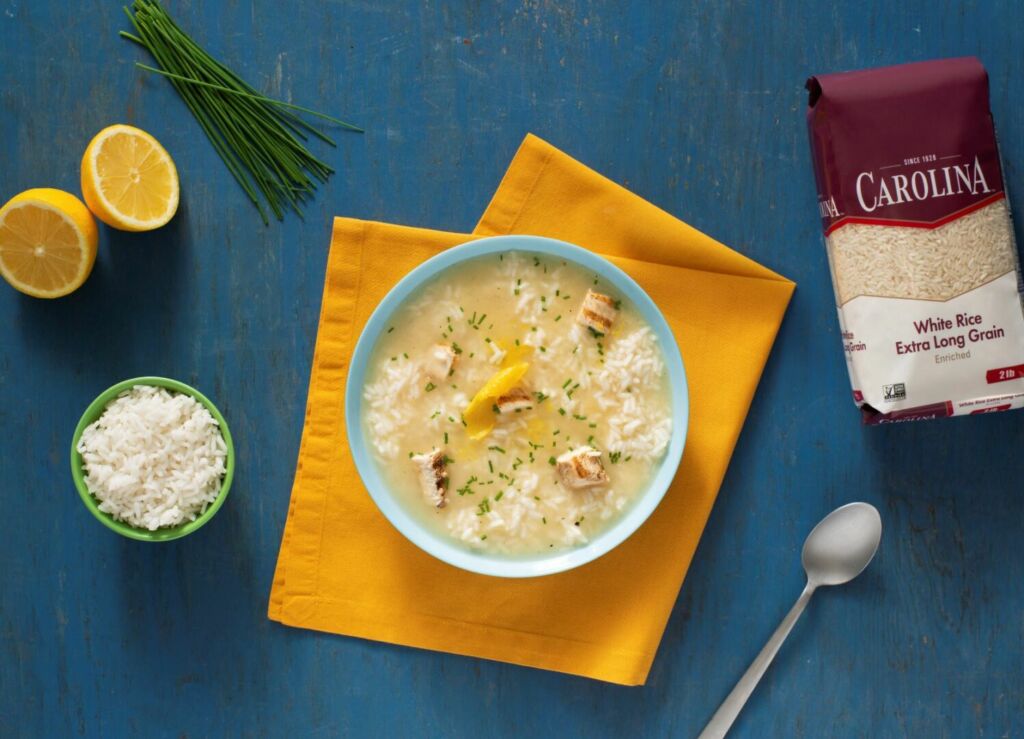 One-Pan Chicken Skillets
When you've got plenty of mouths to feed, or are simply craving something with a bit more "oomph" than just a soup or salad, a skillet is the way to go.
Chicken Casserole Goodness
Our Southwest Chicken and Rice Casserole is not quite a skillet, but we thought it was worth a mention in our list of tasty chicken and rice recipes. This one is great for family dinner because you just layer all of your ingredients in a baking dish, pop it in the oven, and bake! You're just 30 minutes away from creamy and cheesy veggies, chicken, and rice perfection.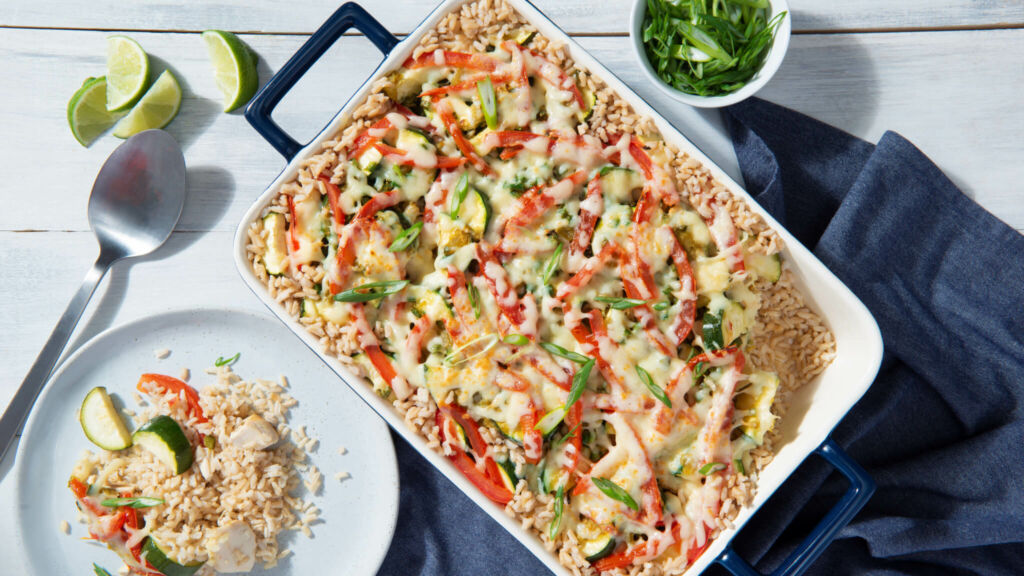 Classic Arroz con Pollo
When you know and love Mexican Arroz con Pollo and that craving hits, nothing else will do. Try our hassle-free version of this Mexican classic for all the flavor and none of the kitchen stress. This is also the perfect recipe to put together with kitchen and pantry staples.
Cook With What You Have
One of the cooking basics is learning to cook with what you already have – and what if it can be something as tasty as this Chicken and Yellow Rice skillet? Doesn't get any easier or more delicious than that!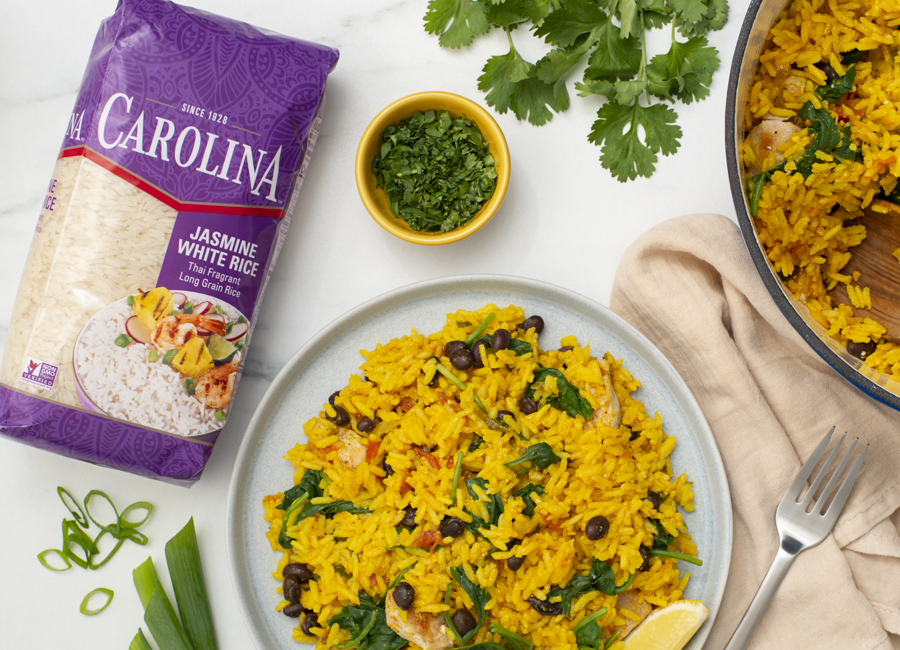 What's best about this recipe is that by using our rice and seasonings mix, you're sure to enjoy truly tasty yellow rice within minutes. Try this one-pan recipe with Carolina® Seasoned Yellow Rice or Carolina® Spicy Yellow Seasoned Rice for amazing results.
Crockpot Chicken & Rice
This Crockpot Chicken and Rice made with Carolina® Jasmine Rice and Red Wild Rice along with Greek yogurt is simple yet tasty. To add some additional flavor to this dish try adding some fresh herbs.
With this set of recipes, you're ready to test your cooking skills, go beyond the classics and explore new flavors with two of your favorite foods: chicken and rice. You simply can't go wrong with them.