Whether you're looking for a hassle free dinner with minimal cleanup, a new idea to add to your Sunday meal prep list, or have limited kitchen space and cookware, one pot meals are the perfect option. They only require a few ingredients and as the name suggests — just one pot or skillet!
With this list of meal ideas, you too can train yourself to be a master of one-pot and one-skillet meals, or even one-pot desserts like this rice pudding recipe. Simply prepare your ingredients, toss together and let them cook so you can get back to your to do list. Also, with just one pan, that means less clean up afterward!
Using a hearty grain like rice or quinoa, veggies and your favorite protein, you can make restaurant level entrees like jambalaya, soups, or flavorful chicken and rice dishes without having to stand over a hot stove or oven stirring until done.
Southern Inspired
These savory meal options are Southern inspired whether that be Louisiana Cajun style or simply seasoned with a few of your favorite spices.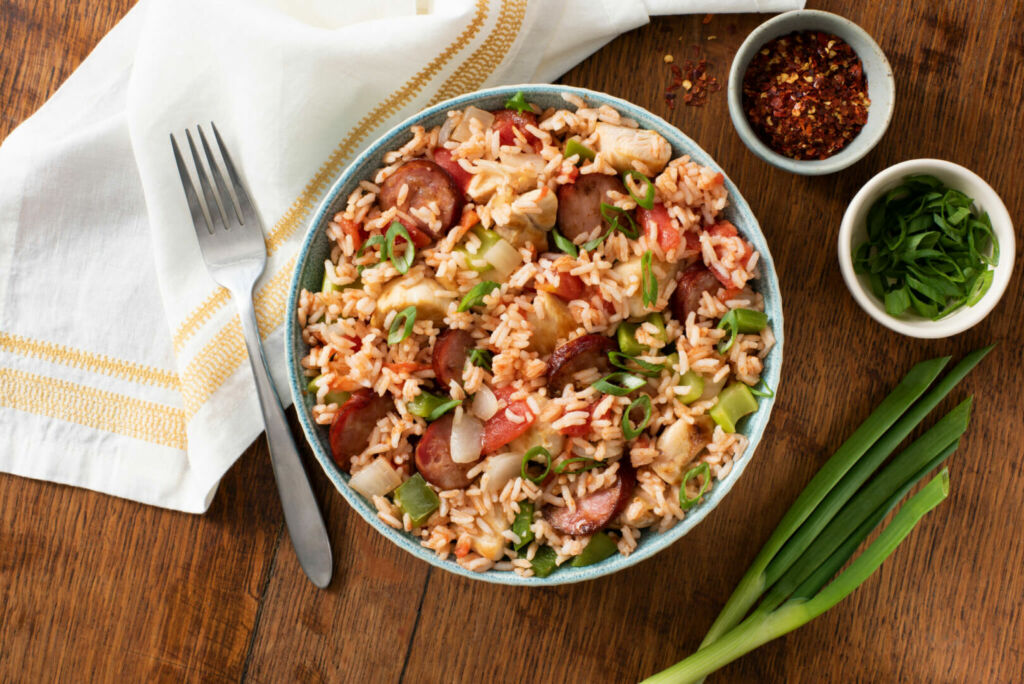 Rice Cooker Jambalaya
A one-pot meal doesn't have to be synonymous with lack of flavor, in fact, this dish is quite the opposite with all the Southern Comfort spices and ingredients of Louisiana Creole cooking. This Rice Cooker Jambalaya combines Carolina® White Rice with smoked sausage, onion, bell pepper and celery in a sauce of ground red pepper, tomatoes and chicken broth.
To prepare, simply toss all the ingredients into the pot, setting aside the green onions for garnish, and let your rice cooker do the hard work for you!
Chicken and Yellow Rice
Traditionally, yellow rice is simmered in spices like saffron or turmeric. However, this recipe Chicken and Yellow Rice dish has a secret weapon, Carolina® Seasoned Yellow Rice Mix. It's already seasoned to golden perfection and complements a roast chicken unlike any other.
Be sure to season your chicken the way you like, whether you marinate it overnight or season it with oil and spices just prior to cooking it. It's almost too easy to prepare this dish.
Vegetarian Options
If you're looking for a few meat free options for your next Meatless Monday lunch or dinner, we've got you covered!

Vegetable Curry Soup
This Vegetable Curry Soup is not only simple but it's loaded with veggies like sweet potato, carrot, kale and zucchini alongside a combination of jasmine rice and protein-packed quinoa spiced with garam masala, lime zest, vegetable broth and more. Try this recipe with Carolina® Jasmine Rice with Quinoa blend.
Simmer this vegetable curry stew on the stovetop to simmer for 20-30 minutes, and serve with some crusty bread and garnish with a bit of cilantro. This hearty meal can feed the whole family, and is a great option for reviving anyone with a cold.
Hearty Rice and Beans
The classic combination of rice and beans is back at it with this Rice and Beans Skillet combo, ready after just 15 minutes thanks to quick cooking Carolina® Jasmine Rice flavored with Garlic & Olive Oil. This recipe is a great option for dinner but also an easy dish to prepare as a side dish for your next Taco Tuesday or use it to fill a burrito, lettuce wrap or stuffed pepper.
Whatever your schedule looks like, it's possible to make delicious dishes that will keep you feeling full and satisfied! Make sure to try one of these recipes for your next weeknight dinner or a meal prep session on Sunday. On our website you'll also find other useful information such as the perfect water to rice ratio or how to make arroz chaufa.