Did you know? Different rice varieties are better for certain recipes than others. Each different variety of rice has different characteristics that make it naturally creamier and compact or fluffier and separate. So, If you've ever tried your hand at a new rice dish and it turned out mushier than you expected, or you can't figure out why your grains won't stay fluffy and separate. You might be using the wrong rice!
That's why we've put together a quick guide to tell the difference between rice varieties!
Grain Length Matters
Starting with the basics, the first thing to know about rice is that the different lengths in grain will determine what kind of texture you will end up with. This is why it is important to have an understanding of what each type of rice does in order to choose the right grains for the perfect rice dish.
There are 3 main grain lengths and those are short grain, medium grain, and long grain. Short grain rice tends to stick and clump together and is also called glutinous rice due to its sticky, glue-like properties rather than gluten content. Medium grain rice tends to cook up moist and tender, and long grain rice is going to be the right choice when you need grains that cook up light, fluffy, and separate.
Short Grain Rice
The shortest and roundest variety is short grain rice. Being the stickiest of the 3, it is going to be your best option for meals like sticky rice, rice balls, and of course, sushi!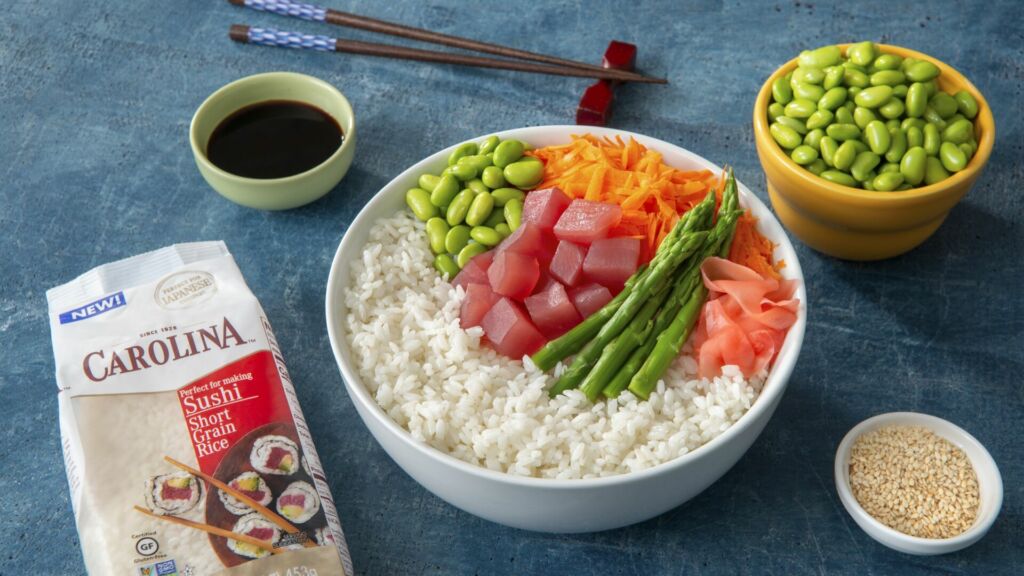 Sushi Rice
Whether you call it short grain rice, glutinous rice, or sushi rice, these are the right grains for dishes that require a sticky texture to hold their shape. Make sure to use Carolina® Authentic Short Grain Sushi Rice for your favorite sushi or onigiri dish.
Enjoy a quick, easy and delicious meal with our Mango & Curry Salmon Stacks using Sushi Rice recipe or show off those master sushi-rolling skills with this Sushi with Avocado and Tuna.
How to cook: 1½ cups of water per each 1 cup of rice, (1½:1) ratio.
Medium Grain Rice
For grains that cook to medium stickiness, you will want to use medium grain rice. What would you need medium stickiness for, you ask? For a savory Spanish Paella or a perfectly creamy risotto, of course!
Arborio
A rice variety native to Italy, these grains are typically used in Italian comfort foods. Lucky for us, they've made their way here and now we, too, can enjoy some of our Italian favorites like creamy risotto. While it is advised that some types of rice be well-rinsed before cooking, this is one variety you want to cook as is, skip the rinsing.
The point of rinsing rice is to remove as much of the excess starch as possible so that the rice doesn't cook into a mushy texture, but with risotto, that is exactly what you want. These grains contain necessary starches that are released when cooking giving the dish its signature creamy texture. See the difference the right rice can make and try it in this Classic Creamy Mushroom Risotto.
How to cook: 2 cups of water per each 1 cup of rice, (2:1) ratio.
Parboiled Medium Grain
Because Carolina Gold® Parboiled Rice is partially precooked within its inedible husk, you can spend less time and hassle cooking it and more time preparing your favorite paella, or trying a new one like this Traditional Paella with Chorizo & Shrimp. These medium length grains are perfect for absorbing all the bold and savory paella flavors you love.
How to cook: 2 cups of water per each 1 cup of rice, (2:1) ratio.
Long Grains
Long grain rice is probably the most common and versatile type of rice as you can make many types of dishes. From fresh, yet filling salads to casseroles, and even creamy dessert puddings such as this recipe for Rice Pudding. If you need light, fluffy, and grains that cook separately, this is the right rice variety.
But how do you know which of the long grain varieties to choose for your dish? If you've ever found yourself looking at all of the rice options in the grocery aisle and realizing you don't have a clue which one you need for that new fried rice recipe you've been wanting to try, we've got some info on each type to help you make the right choice next time.
White Rice
The most common and easiest to recognize is long grain white rice. You can use Carolina® White Rice for your favorite casseroles, stir fries, pilafs, and rice sides and know that you will have the perfect texture and flavors every time. Try it in this Savory Shrimp & Rice Bowl and taste the difference.
How to cook: 2 cups of water per each cup of rice, (2:1) ratio.
Thai Jasmine Rice
This long grain variety gets its name because it is traditionally grown in Thailand. Ideal for rice salads, fried rice, pilaf, and stir fries, these exotic and fragrant grains are perfect for pairing with different spices to create bold and delicious flavors in any of your favorite rice dishes. Try Carolina® Long Grain Jasmine White Rice in these tasty Spicy Salmon and Jasmine Rice Avocado Towers.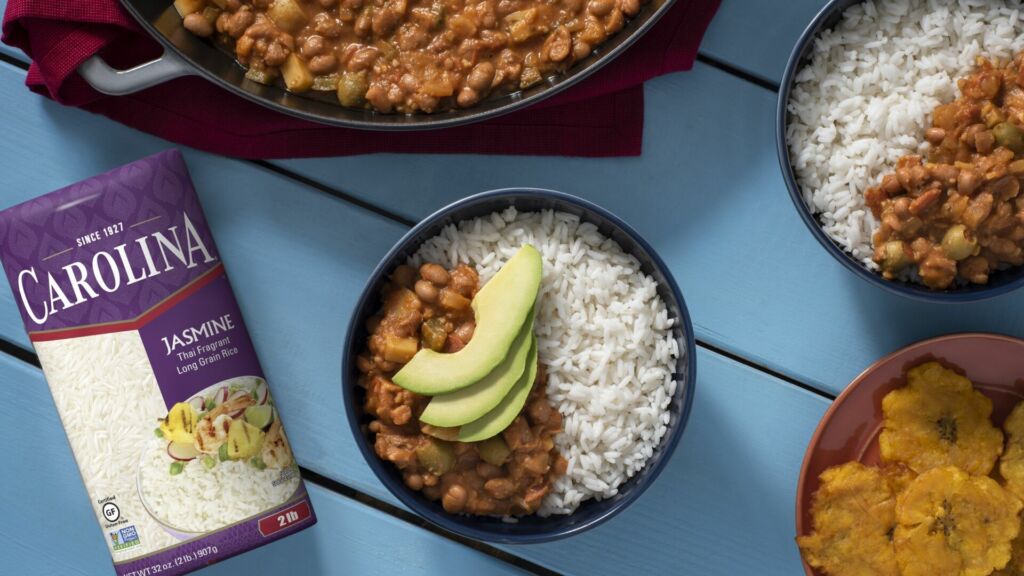 How to cook: 1½ cups of water per each cup of rice, (1½:1) ratio.
Brown Rice
If you are looking for all of the qualities of long grain white rice, but want a 100% whole grain alternative, use Carolina® Whole Grain Brown Rice for those same light and fluffy grains, the added benefit of whole grains, and a nutty taste and chewy texture you'll love. See how easy it is to switch to a whole grain option by trying this Brown Rice & Shiitake Pilaf.
How to cook: 2 ¼ cups of water per each cup of rice, (2¼:1) ratio.
Basmati Rice
Lastly, but certainly not least, we have Basmati Rice. An aromatic grain, this rice is perfect for things like rice salads or stuffing for wraps, tacos, and burritos. It's even great for sweet treats like rice pudding thanks to its slender and separate grains when cooked.
Try it with this deliciously sweet Traditional Arroz con Leche and see what we are talking about.
How to cook: 1¾ cups of water per each cup of rice, (1¾:1) ratio.