In a social media-connected world where we love to share photos of everything from our exciting travels, to major life events, to our favorite furry friends, it's no surprise that our expectations for high quality and "photo-worthiness" have expanded in all parts of life – including our meals.
It's easy to get excited about the trendy new sushi joint in town with its eclectic, Instagram-worthy meals and modern vibes, but the truth is, you don't even have to leave home to enjoy a meal that's full of flavor AND glamorous enough for the Gram. Sometimes all you need are the basics, like the ever-versatile and delicious rice and beans combination, some additional tasty ingredients, and creative touch.
Don't believe it's possible? Let us show you just how simple, not to mention delicious, it is to create beautiful meals with a rice and beans base from a Spicy Southwest Salad to a savory Vegan Tinga Rice Bowl. Whip out that phone and get ready to snap some pics and show the world your worth-the-share culinary skills.
No Filter Needed
With so many bright and colorful veggies out there, it's easy to create delicious, Instagram-like meals that are almost too beautiful to eat. Almost…
Rice and bean bowls are amazing because they are so versatile. Enjoy flavors from different countries by using different rice, bean, cheese, and veggie combinations. To really bring out all of the color choices, we suggest separating each ingredient into wedge-like shapes and snap a pre-mix shot. Or, dig right in and mix everything up with a video.
For a few examples:
Rice Salad with Caribbean Chicken: made with bright yellow mango, deep black beans, organic white rice, green avocado, red pepper and brown chicken!
Nacho Rice: perfect for getting creative with all of your favorite taco or nacho toppings like sour cream, pinto beans, salsa, cheese and our delicious Ready To Heat Cilantro Limón Jasmine Rice.
Roasted Squash Taco Rice Bowl: with a base of organic white rice, top with black beans (or other of choice), hearty roasted squash and more for a breakfast of champions!
Try more of these simple swaps from your favorite types of cuisines, or unleash your inner culinary genius and create something all your own!
Color Contrast
Another tip is to use contrasting colors next to each other or layered. Try it with this dish of Arroz con Habichuelas Guisadas using a bold black bowl to hold the bright white rice and stewed beans within a frame together.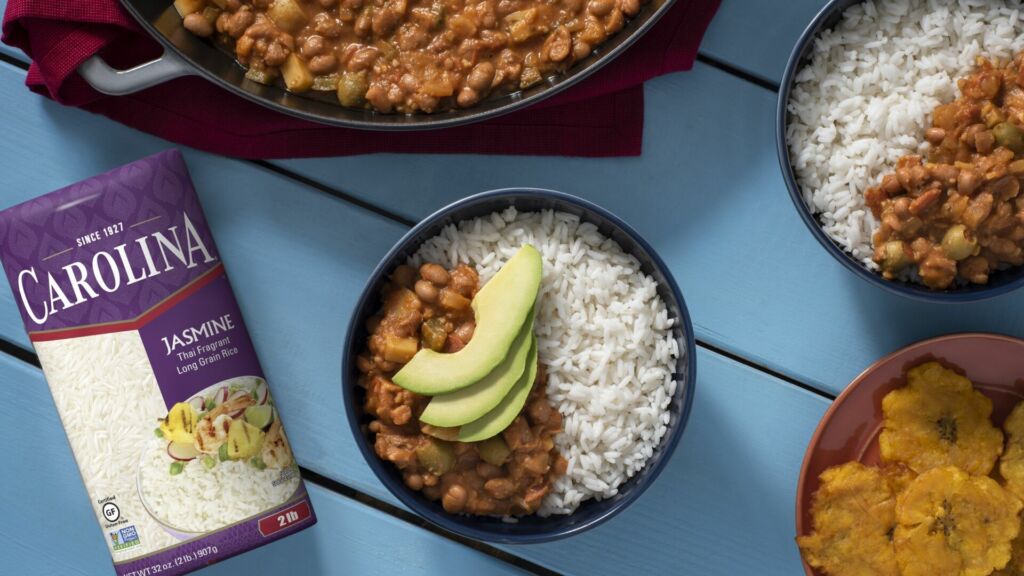 White Rice & Black Beans Gallo Pinto
This camera-ready Costa Rican Gallo Pinto may look like it was prepared by a professional chef, but anyone can make this delicious meal featuring rice, black beans, green bell pepper, and crunchy bacon in Worcestershire and hot sauce right in their kitchen. Enjoy it for breakfast by topping it with eggs and salsa, or have it for lunch with your favorite protein. Just make sure to snap that photo to show off your beautiful creation before you dig in!
Layered to Perfection
You may also want to try your hand at mason jar recipes which lend themselves perfectly to picture perfect photos. Try this idea for a sweet rice pudding parfait or a lunch-ready Mason Jar Rice Salad.
Fiesta Food Fun
Who doesn't love to post photos of a good party? If it's not the weekend just yet, you may not be able to get the party started, but you can certainly enjoy a few fiesta vibes at mealtime.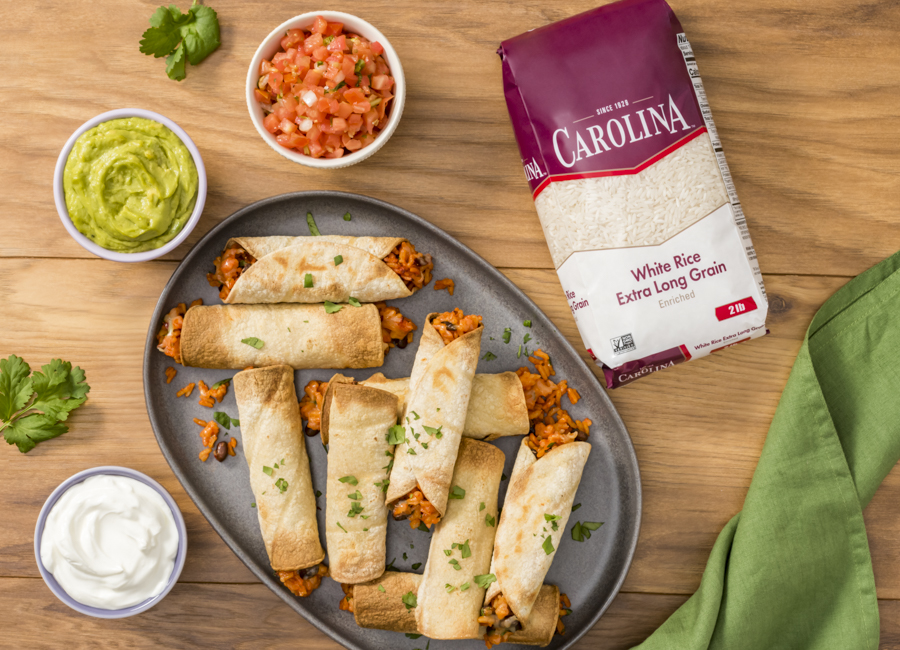 These Black Bean and White Rice Taquitos are perfect for snapping a photo. We suggest an overhead shot or a short video of you dipping them into guacamole or salsa. They also make for simple prep videos and are made in the air fryer.
Another option for cutting into is Tacu Tacu made with leftover white rice and beans! See how simple it is in our recipe video.
For another shareable dish, try this Dominican Bean and Beef Stew. For a great photo, add in toppings and sides for a touch of color that make your picture even more appetizing.
Hashtag Easy and Delicious
While it might seem like you need to have an elaborate recipe to put on social media, think again. We've got simple recipe ideas that you can make in no time!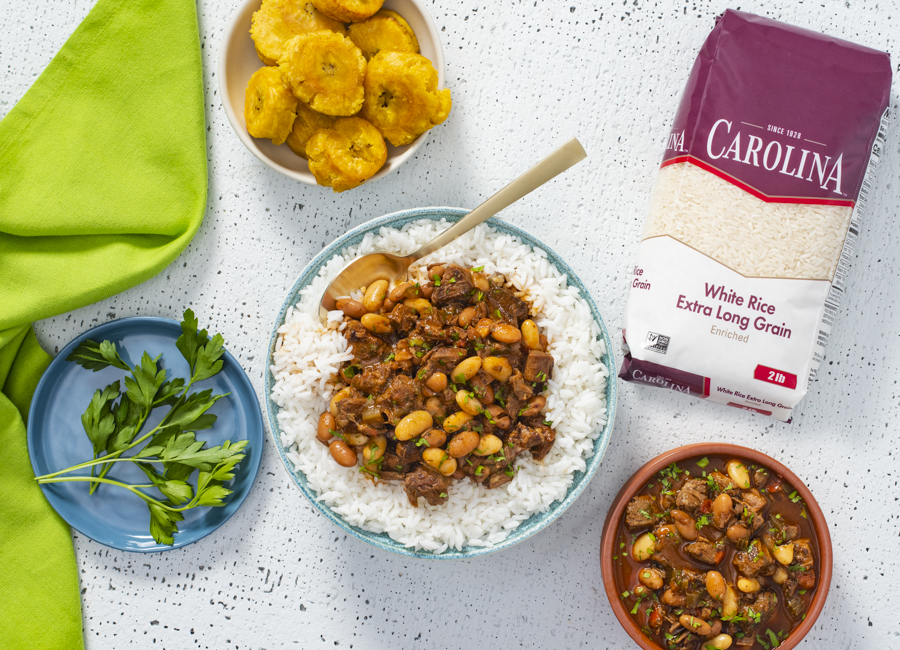 Creole-Style Rice and Beans Skillet
Well, you do because that's quite a common misconception! This deliciously simple, one-pot Rice and Beans Skillet Dinner looks like a photo-worthy meal from your favorite Cajun-style restaurant. With its red and green hues and is loaded with amazing cajun flavors that will make you feel like you're back in New Orleans. Make it in just 15 minutes and right in your kitchen by following 3 simple steps. Snap it and enjoy it.
NOLA Flavors in No Time
If you haven't gotten the message yet, we'll say it one more time: these artistic-looking meals loaded with brilliant flavors don't have to be difficult or time-consuming.
Case and point: this incredibly easy and delicious New Orleans-Style Red Beans and Rice. All those bold and spicy flavors and vibrant ingredients make this camera-ready dish perfect to share with your friends on your profile AND at your next get-together. Enjoy it as a tasty dip with chips or your favorite crunchy veggies.
For many more delicious and Instagram-worthy dishes made with high-quality products that are worth sharing with your favorite people, check out our recipe collection and get inspired! Featuring innovative meals and all-time classics like the rice pudding recipe. Don't forget to tag us @carolinariceusa when you try one out!