In a social media-connected world where we love to share photos of everything from our exciting travels, to major life events, to our favorite furry friends, it's no surprise that our expectations for high quality and "photo-worthiness" have expanded in all parts of life – including our meals.
It's easy to get excited about the trendy new sushi joint in town with its eclectic, Instagram-worthy meals and modern vibes, but the truth is, you don't even have to leave home to enjoy a meal that's full of flavor AND glamorous enough for the Gram. Sometimes all you need are the basics, like the ever-versatile and delicious rice and beans combination, some additional tasty ingredients, and creative touch.
Don't believe it's possible? Let us show you just how simple, not to mention delicious, it is to create beautiful meals with a rice and beans base from Authentic Gallo Pinto to Savory Rice Migas. Whip out that phone and get ready to snap some pics and show the world your worth-the-share culinary skills.
No Filter Needed
With so many bright and colorful veggies out there, it's easy to create delicious, Instagram-like meals that are almost too beautiful to eat. Almost…

Impress your family and friends with this vibrant and incredibly simple Rice & Beans Taco Bowl with Quinoa. Loaded with, black beans, cheddar cheese, tomatoes, avocado, black olives, salsa, sour cream, and power food quinoa. You'll not only savor a delicious and colorful meal, but enjoy a power boost to energize you for the day.
Rice and bean bowls are amazing because they are so versatile. Enjoy flavors from different countries by using different rice, bean, cheese, and veggie combinations. Make it Greek-style by using a long-grain variety like Carolina® Basmati Rice instead of our Premium Grain Blend, crumbled Feta in place of cheddar cheese, lentils or black-eyed peas instead of pinto beans, and a Greek dressing mixed with plain Greek yogurt instead of taco seasoning.
Try more of these simple swaps from your favorite types of cuisines, or unleash your inner culinary genius and create something all your own!
Check-in to Costa Rica
At least meal-wise, anyway. You don't have to get on a plane and visit another country to enjoy exotic and distinctive flavors when you've got a craving for something different. We've got recipes that are inspired by many different cuisines that will satisfy any craving.

This camera-ready Costa Rican Gallo Pinto may look like it was prepared by a professional chef, but anyone can make this delicious meal featuring rice, black beans, green bell pepper, and crunchy bacon in Worcestershire and hot sauce right in their kitchen. Enjoy it for breakfast by topping it with eggs and salsa, or have it for lunch with your favorite protein. Just make sure to snap that photo to show off your beautiful creation before you dig in!
Fiesta Time!
Who doesn't love to post photos of a good party? If it's not the weekend just yet, you may not be able to get the party started, but you can certainly enjoy a few fiesta vibes at mealtime.

With this colorful, Mexican-inspired Savory Rice Migas dish, you can create an Instagram-worthy fiesta on a plate. Featuring some traditional Mexican cuisine staples like pinto beans, tortillas, chile, Pepper Jack Cheese, sour cream, and internationally-loved eggs. This flavorful meal is perfect for breakfast, lunch, or dinner and is guaranteed to inspire a bit of FOMO from your followers.
Hashtag Easy and Delicious
As social media shows us, life is busy, busy, busy and sometimes we forfeit great meals (or skip meals altogether) because there just aren't enough hours in the day. Cooking a great meal is complicated and time-consuming, right? Who actually has time for that?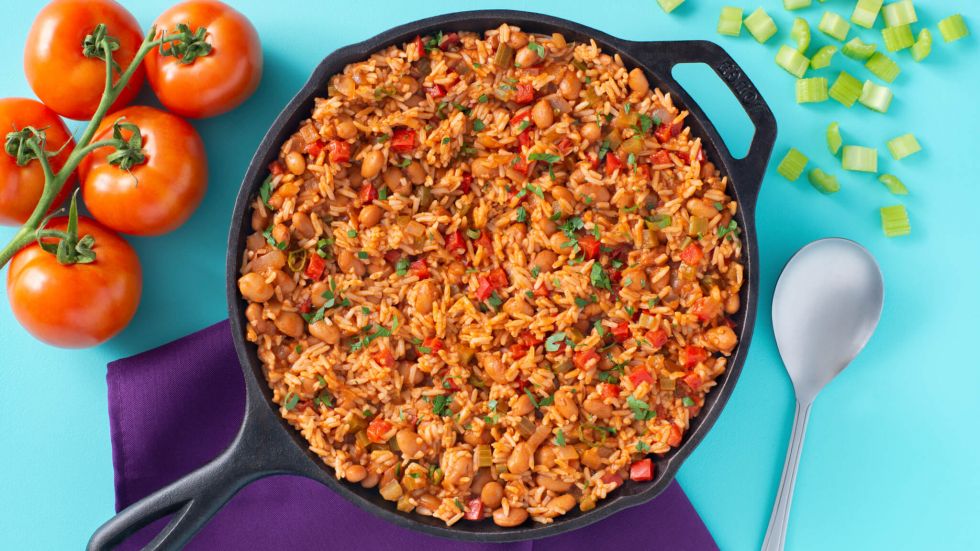 Well, you do because that's quite a common misconception! This deliciously simple, one-pot Rice and Beans Skillet Dinner looks like a photo-worthy meal from your favorite Cajun-style restaurant. With its red and green hues and is loaded with amazing cajun flavors that will make you feel like you're back in New Orleans. Make it in just 15 minutes and right in your kitchen by following 3 simple steps. Snap it and enjoy it.
NOLA Flavors in No Time
If you haven't gotten the message yet, we'll say it one more time: these artistic-looking meals loaded with brilliant flavors don't have to be difficult or time-consuming.
Case and point: this incredibly easy and delicious New Orleans-Style Red Beans and Rice. All those bold and spicy flavors and vibrant ingredients make this camera-ready dish perfect to share with your friends on your profile AND at your next get-together. Enjoy it as a tasty dip with chips or your favorite crunchy veggies.
For many more delicious and Instagram-worthy dishes made with high-quality products that are worth sharing with your favorite people, check out our recipe collection and get inspired! Featuring innovative meals and all-time classics like the rice pudding recipe.