When you think of a puree, you might not typically think of it as a complete meal, but when you take a look at the wide variety of ways to make a puree, it is clear that you can include some tasty, filling and nutritious ingredients. Pureed meals are perfect for everyone at home from the youngest ones just beginning their transition to solid foods, to adults with busy schedules needing quick and easy snacks to-go.
These simple meals can easily be made at home in no time with basic ingredients you're likely to already have in your kitchen: your favorite Carolina® Rice variety, fruits and veggies, water, juice, broth, and a food processor or blender. These simple ingredients make it incredibly easy to create individualized purees to suit even the pickiest of eaters.
Why Purees are a Great Idea
Homemade purees are great for any age. For busy adults, they're a great way to make a quick meal or snack on-the-go loaded with nutritious fruits, veggies and filling rice when you just don't have the time to cook. They're also a creative and tasty way to get the kids or any other picky eaters in your family to eat their veggies.
Purees are also a great way to start your little ones' transition to eating solid foods because not only will you be in the know of exactly what is going into their meals, but you can have a lot of fun exploring new flavors with them and discovering their favorite combinations.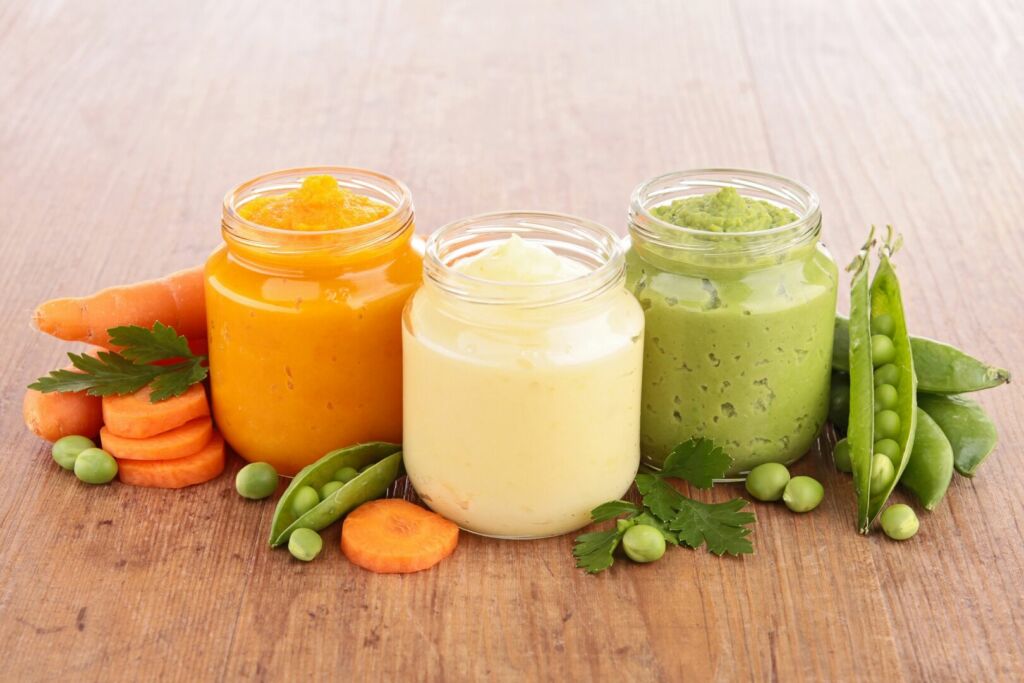 We may be a bit biased here at Carolina® Rice when we say that a great base for any puree is rice, but there's a reason we love the stuff so much! Not only is it easy to keep on hand and prepare, but it's also the most common and recommended first food for little ones who are just beginning to eat solid foods. The reason rice is suggested is because it has a neutral flavor, it's easy to swallow and easily digestible for small bellies.
If all of that isn't enough to convince you to try a rice base for your purees, consider this: rice is also free from allergens like gluten, dairy, soy, and corn, AND it's full of essential vitamins and minerals like fiber, manganese, protein, selenium, and magnesium, which are all great for developing little minds and bodies!
Pureed Foods & Rice Porridges
These types of meals have a reputation for being bland or boring. But that is a major misconception as they can easily be delicious and flavorful by adding the right ingredients. Some basic recipes like Brown Rice Porridge or a Rice and Peas Puree are great for all palates but are particularly suited for young family members who are experiencing new flavors.
If you have some time to prep in advance, rinse and soak the rice anywhere from 2-8 hours before cooking as this helps remove some of the naturally occurring and hard-to-digest components of the grain. Removing this makes the rice easier to digest and also speeds up cooking times.
If you just don't have the time to soak your rice beforehand, don't worry! This step isn't necessary to make a great puree for your little ones and can easily be skipped for an equally tasty and nutritious meal. Just make sure to thoroughly simmer the rice and other ingredients so they are soft enough to create a well-blended puree or porridge-like rice cereal.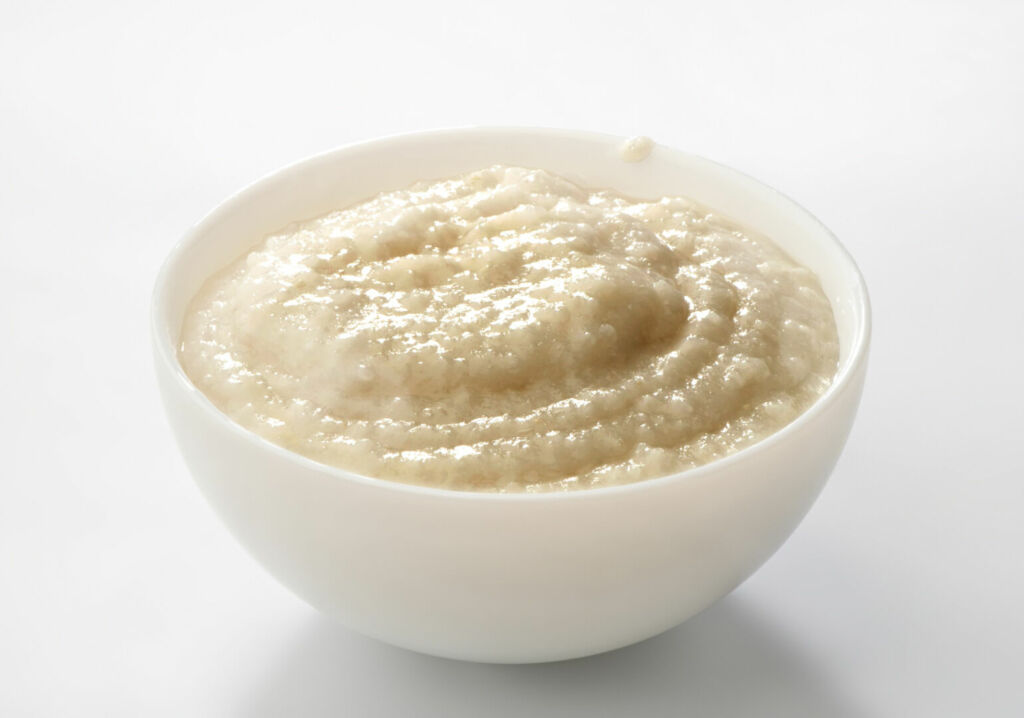 The Classics
A classic first solid meal for the newest members of the family (and usually one of their favorites), is the ever-versatile porridge. Some of our first solid meals include porridge and we continue to eat it into adulthood as it is easy to adapt and tasty. Our version features Carolina® Rice, instead of cereal, and can be made using rice and water, or you can make a whole grain version using organic apple juice for flavor. These are great starter recipes for picky eaters as they are fairly neutral in color and flavor and shouldn't be too strange to them.
The Veggie Puree
Something a lot of households are likely to have in their freezers is that good old bag of frozen peas and/or carrots. They're a great and easy way to add a side of veggies to meals even on the busiest of days. The same frozen peas and carrots can be used to make colorful and nutrient-rich veggie purees. For this Rice and Peas Puree, you only need peas, water and Carolina® White Rice or Carolina® Organic White Rice. It doesn't get any easier or more wholesome than that. Swap the peas out for the same amount of carrots and create a completely different flavored puree for your little one to try. If you're going to use canned veggies, always make sure to read the label for additives, or you can steer clear and use fresh or frozen veggies.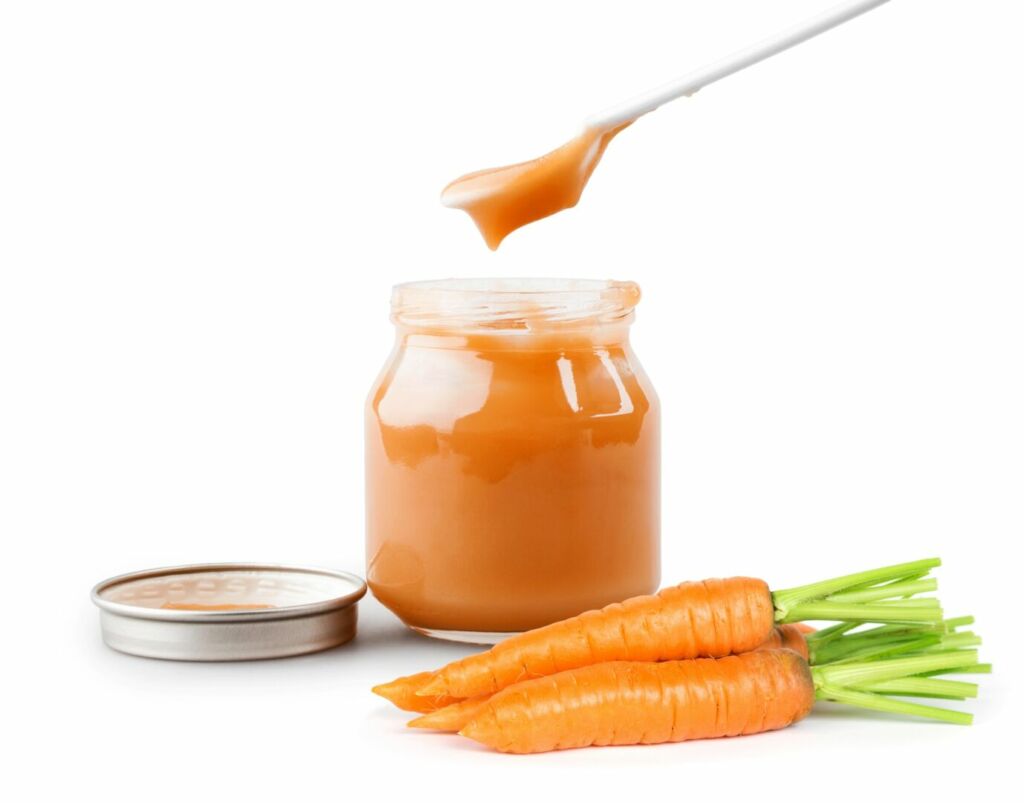 Sweet Treat Blend
Hopefully, you and your little ones can find a veggie puree that they like as we all know how important veggies are to a well-balanced diet. The sooner you can introduce them to veggies they like, the better. But, we all know sweet fruits are irresistible and also an important part of any diet. A Rice and Fruit Puree can be a dessert-like blend that anyone can enjoy for a sweet treat. Use whichever fruits you have on hand, fresh or frozen. If you're preparing this recipe for a new family member, we suggest using simple to digest fruits like pear, apple or mashed banana. And, if you'd like to add a little bit of extra flavor, sprinkle the finished puree with a bit of brown sugar or cinnamon. Yum!
Chef Tip
What's great about porridges and purees is that it is hard to go wrong with them. If you're not happy with the consistency, remember that you can always add water, sodium-free bone broth, veggie broth, natural fruit juices, breast milk, or formula to thin it out. The same goes for the times when you overdo it with the liquids, just add a few more ingredients to thicken it back up and you are good to go.
Can I Make Puree in Advance and Store It?
Absolutely! Once you've perfected your little one's favorite puree, you can freeze it and store it in your freezer for up to 1 month. So, take advantage of those batch-cooking sessions and stock up for up to a month at a time so you can spend less time on meal prep and more time playing with your family.
And if you find that you prefer making smaller batches and keeping things ultra-fresh so that your tiny tots are enjoying fresh meals every time, you can keep the purees refrigerated for up to 3 days. Just make sure to always keep them in air-tight containers.
Not sure about portion sizes? Try using ice cube trays or muffin tins for portion control and storage!
Continue discovering more exciting dishes that will become new family favorites by visiting our recipe collection – we have everything from a savory paella to a sweet rice pudding with cooked rice. For even more information on our products, like how many calories in a cup of white rice or how to make arroz chaufa, check our website.