What better time to get in touch with Hispanic culture than Hispanic Heritage Month?
Whether you're Hispanic and want to engage with your roots, or you're not Hispanic but want to learn more about the culture, now is a great time! Hispanic culture is incredibly rich in literature, music, art, customs, and of course, food!
Whether you're already a fan of Hispanic cuisine or are looking to venture into new flavors, now is the time to discover and enjoy the bold and vibrant flavors of Hispanic classics with a side of cultural knowledge. Try some Hispanic recipes while incorporating some fun activities and get your family in on the learning and deliciousness. From reading Hispanic poetry aloud to hosting a traditional Hispanic celebration, we've got some great ideas to celebrate Hispanic Heritage Month with your family.
First Things First: Spanish
By definition, Hispanic is related to Spain or Spanish-speaking countries, so getting some Spanish practice in is a great way to start the Hispanic Heritage Month festivities. One way to not only get some Spanish practice going but to get some family fun in is to choose some of your favorite Hispanic recipes and to make them together as a family while naming the ingredients in Spanish.
Start with something like this Mexican-Style Rice: Arroz Con Pollo. With Ingredients like rice (arroz), chicken (pollo), and veggies (vegetales), you can not only start with some simple Spanish words but end up with a delicious traditional Mexican dish that you and your family will absolutely love.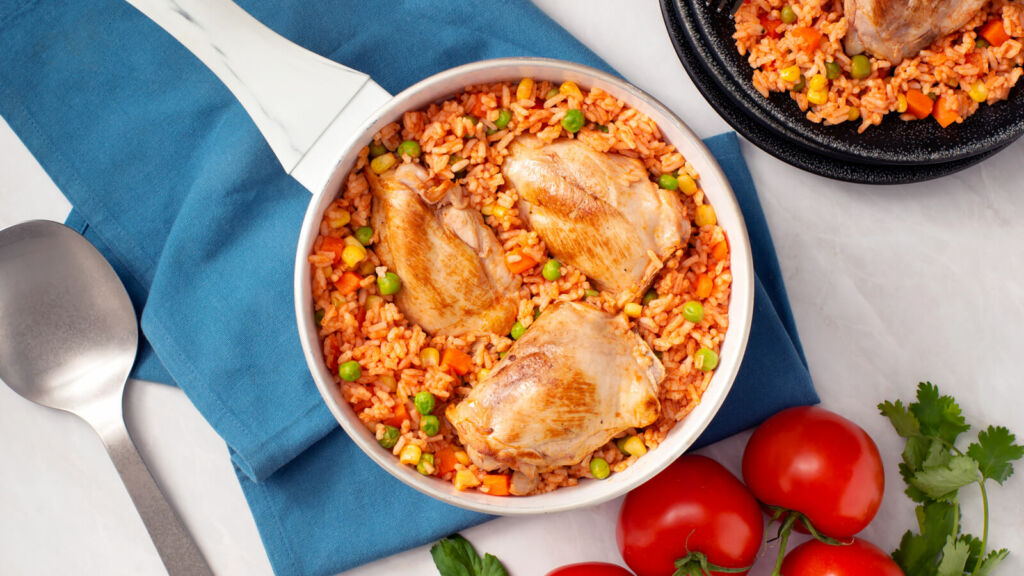 Arroz con Pollo is a popular dish in Spain and in many Latin American countries with many local variations, but what they all have in common is that it's a delicious dish for any occasion. Keep the Hispanic meals and Spanish practice going throughout the month with other delicious dishes like this tasty Spain-inspired Authentic Paella with Mussels & Shrimp, this Peruvian Thermomix Green Arroz con Pollo or a Cuban classic, Ropa Vieja with Rice – who said you couldn't grow your Spanish vocabulary from the kitchen?
Hispanic Literature and Poetry
Another activity to keep the Spanish flowing and the celebration going is to dive into the Hispanic literature and poetry. And what better way to do so than to choose a poem or short story from your favorite Hispanic writer and share it with those around you.
Is it possible to turn this into a better family plan? It is! Prepare a fresh pitcher of Homemade Creamy Horchata to enjoy while others read their poems or stories aloud – save an extra serving for those who can or try to do it in Spanish!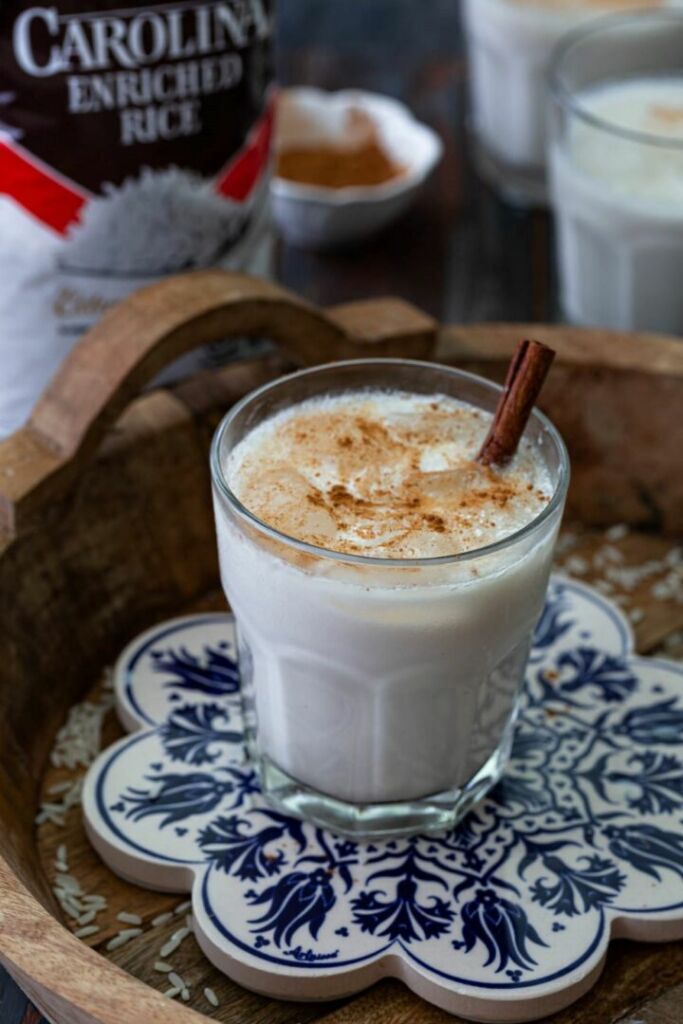 Nothing hits the spot like this sweet and refreshing rice drink, popular in many Latin American countries. Take things to the next level and enjoy this tasty drink as a cool summer treat by turning it into Horchata Ice Cream. Ideal to cool off while taking in the Hispanic experience. For another Latin American treat, we recommend you give a try to this rice pudding recipe.
Heritage Garden
When it comes to Hispanic cuisine, there are several staple ingredients that are frequently used no matter what country's dishes you are enjoying. Herbs and veggies like tomatoes, corn, peppers, onion, garlic, and avocado are some common ones and one way to really dive deep into Hispanic flavors is to plant your very own heritage garden!
If you have space in your yard or a community garden, you and your family can enjoy some quality time together planting some of these veggies to later use in your favorite Hispanic recipes.
Not only will you get to enjoy the natural flavors and nutritional benefits of homegrown veggies, but you'll get to enjoy the satisfaction of using ingredients straight from your garden in your favorite Hispanic meals. Use your homegrown veggies in this Chicken Tortilla Rice Soup, Dominican Bean and Beef Stew or in these Enchiladas with Brown Rice and use the moment to take in the idea of how these traditional dishes came to be!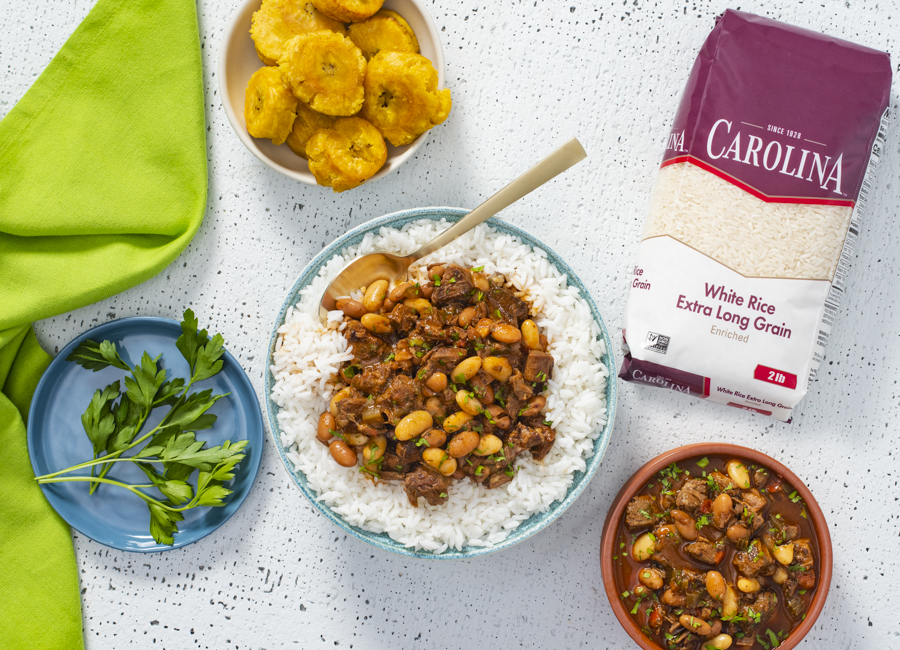 Get Festive
Each Hispanic country has its own holidays and festivals and learning about them is a cheerful way to not only get in touch with the culture, but a great excuse to try, share, and enjoy tasty dishes for your next get together.
To learn more about Hispanic local celebrations, assign a country to each family member so they become experts about that country's customs! Everybody should share what they've learned with each other and be sure to prepare some of the dishes customary to those celebrations.
If you got Mexico assigned, make sure to fill your family in about Dia de Los Muertos (Day of the Dead) and Cinco de Mayo. For an easy finger food that's sure to please the crowd, try some Chicken Tinga and Rice Tacos or even Stuffed Poblano Peppers. Boost the holiday spirit by dancing to Mexican folk music and even breaking a piñata in the backyard!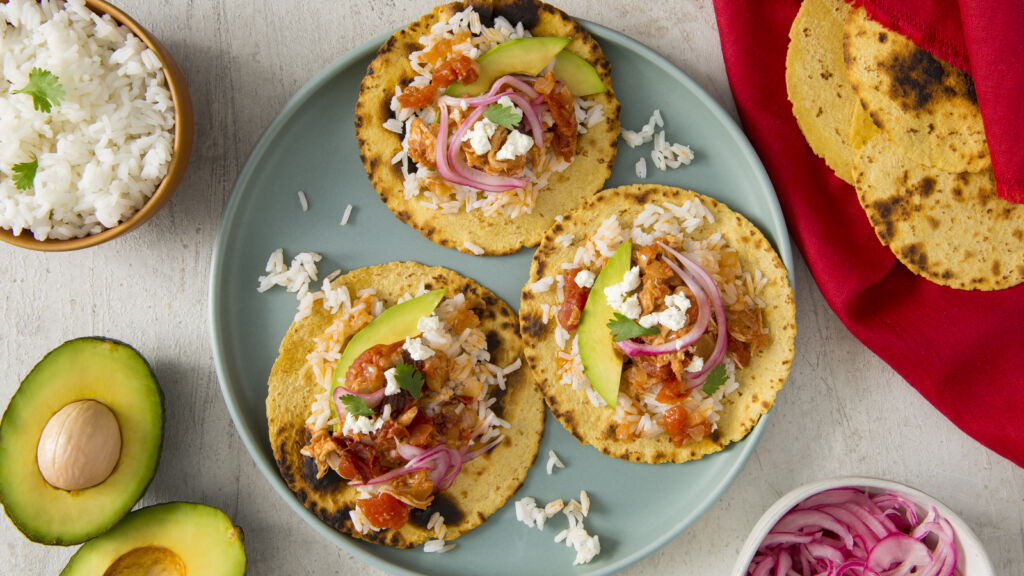 The Influence of Latin American Cuisine
Why not also celebrate Hispanic Heritage Day by taking a look at the way that Latin American food has influenced our own cuisine here in the USA. Dishes like this Simple Tex Mex Rice Bowl made with Carolina® Cilantro Limon Jasmine Rice and tortilla chips is a good example of the mixture of these two cultures.
Whichever Hispanic countries you choose to learn about, you're sure to have a great time and some delicious eats. Happy Hispanic Heritage Month!