There is no time like the present to start making home cooked food inspired by your favorite restaurant-style dishes. Eating out can be fun but it's not always possible and can put a strain on your budget, so we've put together some of our favorites to help you bring the dining out experience to your kitchen at home!
Part of the fun of eating out is trying new foods, so get creative at home! Did you know? Choosing the right variety of rice, you can make anything from classic chicken fried rice to ice cream and even pancakes using rice. So, we've set out to find delicious ways you can use Thai Jasmine Rice in your dishes as it brings a hearty yet fluffy texture along with a subtle floral aroma.
Chef Tips
If you've ever tried making a copycat version of your favorite restaurant dish but it just didn't turn out how you had planned, we've got a few simple tips before starting that should help get you going in the right direction! And, remember that practice makes perfect when attempting your dishes, you might just need to set up a small weekly dinner with friends or family to keep trying out new dishes and fine tune your cooking skills.
To create chef-like dishes you have to think like a chef:
Use quality ingredients: Using the right salt, oil and butter may seem insignificant but this is actually something that can elevate a dish from bland to tasty! Use the money you saved by not eating out and reinvest that money in a few quality everyday products to make all of your dishes taste better.
Plan ahead and get organized: Make sure you have all of your ingredients chopped and ready to go before beginning so you can focus more on taste and cooking.
Think about flavor and seasoning: If you're interested in a certain type of recipe or general cuisine such as Mexican or maybe Asian, before beginning, research the different seasonings commonly found in those dishes or what kinds of ingredients they might use and see if you can find some authentic products.
Dine in For Breakfast
Whether you look for something sweet or savory on the menu at your favorite breakfast place, you can create something for everyone at home!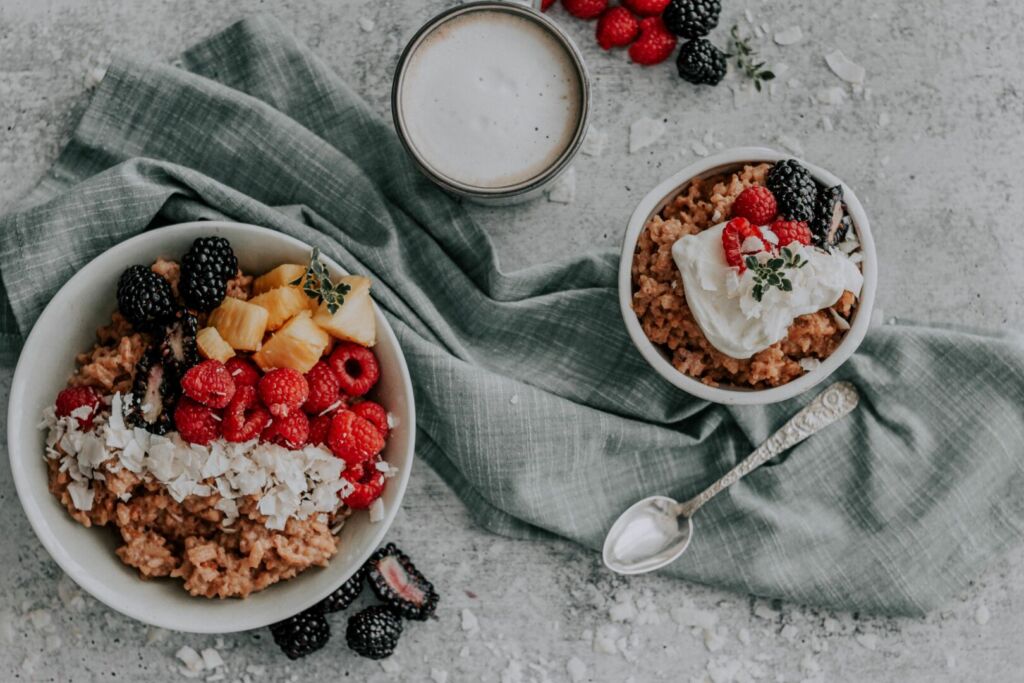 Something Sweet
You might also like to enjoy a bowl of something sweet topped with fruit and this Spiced Breakfast Rice Bowl is just that. This is the perfect recipe to reuse that leftover rice in your fridge mixed with creamy condensed milk, brown sugar and spices all topped with homemade maple butter, fresh berries, and coconut shavings.
Something Savory
If you love to start the day on a high note with lots of flavors, this Mexican-Style Huevos Rancheros Rice Bowl is for you!
This bowl is packed with protein from the freshly cooked eggs and pinto beans, quick cooking Cilantro Limón flavored Jasmine Rice Ready to Heat Rice Pouches so you'll be feeling fueled for the day ahead.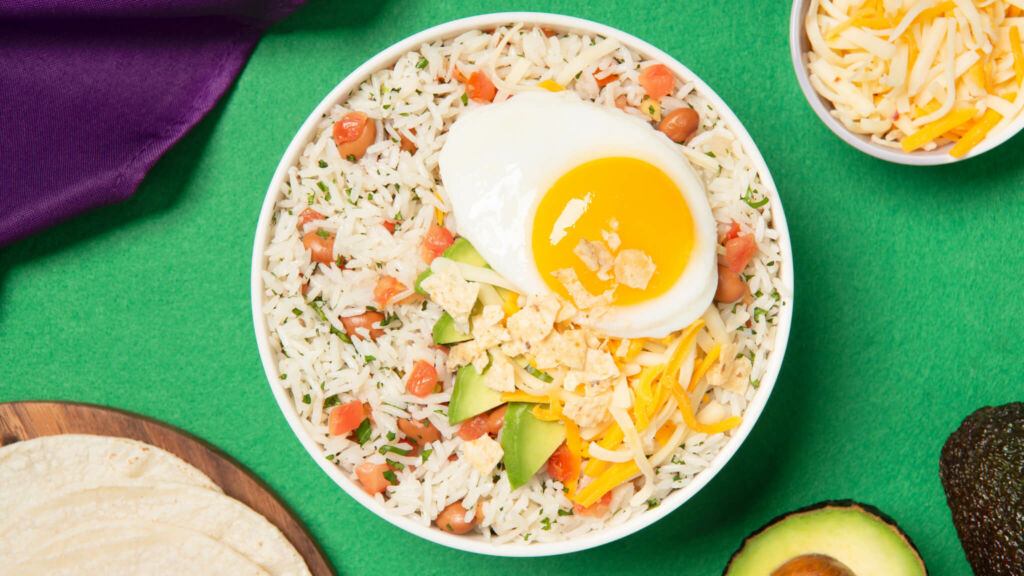 And, the best part? Now you don't have to wait for the waiter to come to you, it's ready in minutes and can be cooked in the microwave so you can spend a little more time choosing which toppings you'd like to add such as sliced avocados, salsa, cheese or if you like to live on the wild side top with sriracha hot sauce and maybe even crunchy tortilla chips!
Get Your Meal Started
Another great thing about dining out is the option to order a starter to enjoy while the meal is cooking! Who says you can't enjoy that same luxury at home? This homemade Guacamole and Mango Lime Rice Dip is an upgraded version of classic guacamole with a side of chips for a delicious and tasty new side you may not have tried before.
Time Saving Tip: Prepare your rice and guacamole ingredients ahead of time and keep separate until right before serving. Combine and enjoy in minutes!
Main Dish
Homemade Chinese Takeout
Yes, you can make your favorite delivery dishes at home too!
Fried Rice jumps to the top of our list of things to try. Did you know? When making an Authentic Chicken Fried Rice dish, choosing the right rice is key!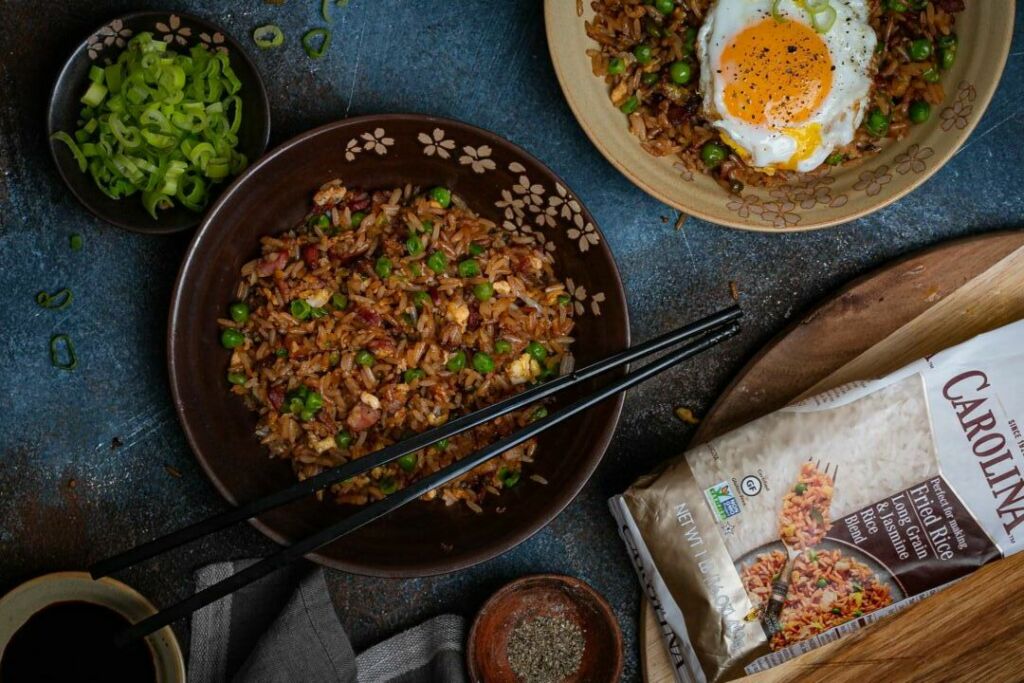 We recommend this premium blend of Long Grain and Jasmine Rice from Carolina® Rice, which is perfectly crafted for cooking the ultimate fried rice because the grains cook up separate and fluffy so they are all stir-fried evenly and absorb the flavor of the ingredients. Want more tips? Check out our guide to making restaurant-style fried rice dishes.
Once you've mastered classic fried rice, you can move onto more daring recipes with delicious ingredients like this Bacon Fried Rice with scallions, egg and soy sauce.
Classic Sides
Where would the great main dishes be without their trusty side dishes to accompany them. Upgrade the classic side of white rice to aromatic Cilantro and Lime Jasmine Rice ready in just 15 minutes.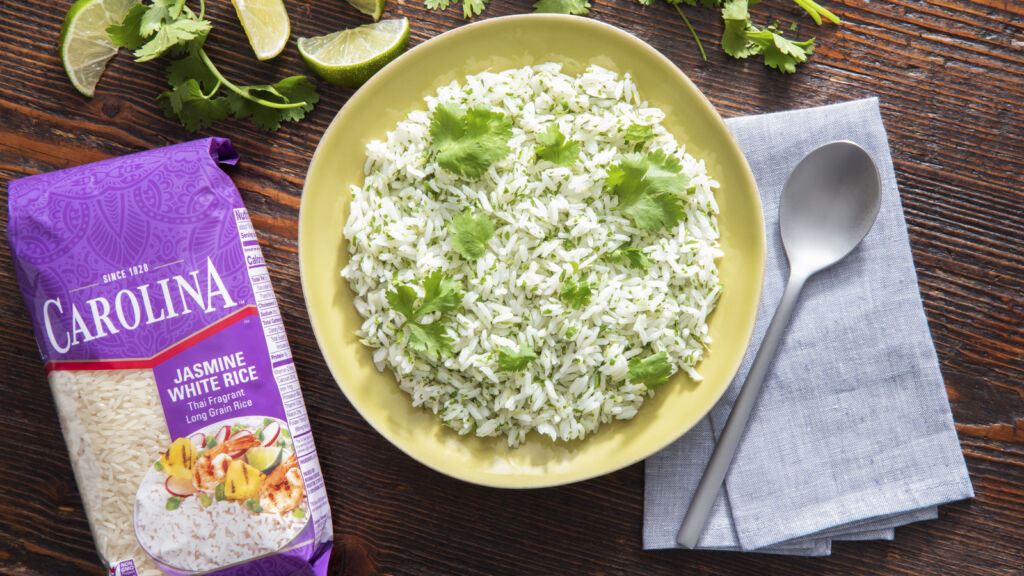 Or, give yourself the luxury of dining at a fancy restaurant with a more elegant touch by layering your ingredients in a sophisticated Spicy Salmon Avocado Tower.
Latin American Inspired
Do you ever wonder just how your favorite Mexican restaurant makes their green mole sauce so delicious? This recipe for Green Mole with Roasted Grouper shows you step by step exactly how you can make a delicious dish everyone can enjoy!
If you're just beginning in the kitchen and want to start small before you work your way up to a homemade sauce. Try these simple Enchiladas in Salsa Verde made using store-bought jarred salsa verde and sour cream.
If you've been dying to try that Cuban Food but can't seem to find it, make some at home! With its unbelievably delicious flavor and vibrant ingredients, this Mojo Marinated Chicken is perfect served with a side of homemade yellow rice that will quickly become your favorite new go-to side dish.
Dessert
The time has come to treat yourself to a delicious dessert after a home cooked meal! Make sure you not only have a recipe for rice pudding up your sleeve, but also some fun variations! Have your family or friends help you prepare this tasty Tres Leches Rice Pudding made with three types of creamy milk, fluffy rice and vanilla. And, everyone can customize their own dish with fresh fruit or even a touch of dulce de leche if desired.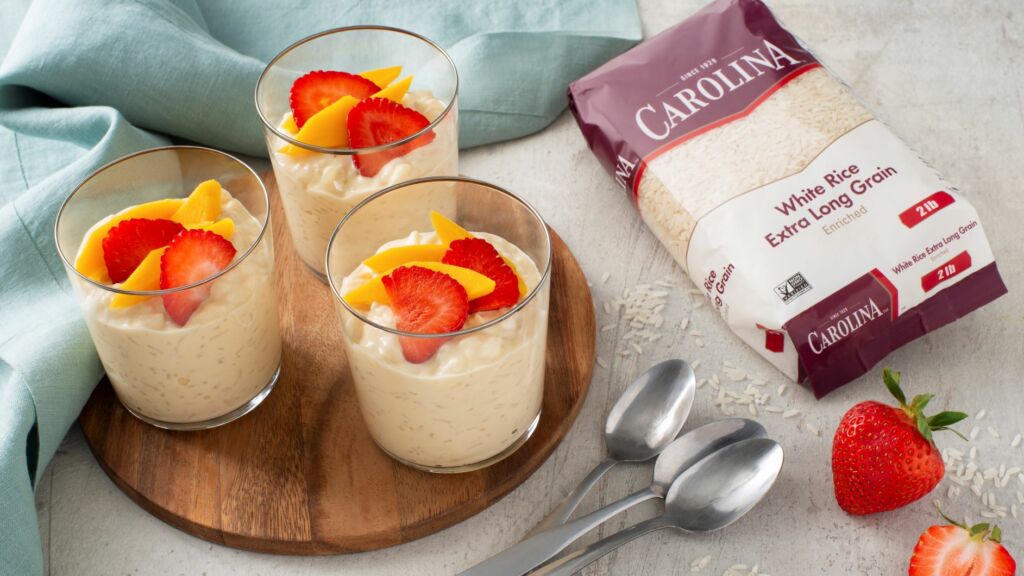 Note: Although this recipe is originally made with traditional white rice, swap in aromatic jasmine rice for the perfect alternative! Just make sure to cook Carolina® Thai Jasmine Rice according to package instructions, for best results.