DIY Takeout
Ever wonder how your favorite Asian restaurant makes their fried rice taste so good that you keep wanting to come back for more? With its savory soy sauce, crispy vegetables, and steamy rice, making your favorite takeout dish is actually easier than you might think.
With a few ingredients you might already have on hand like white rice, frozen vegetables, and those half empty sauce bottles sitting on your refrigerator shelf, you don't need to keep the fast food delivery place on speed dial anymore! We'll give you a few pointers to make your own tasty fried rice dish from scratch so you can stick to your budget and prepare simple and mouth-watering dishes at home.
Repurposed Leftovers
Another way to save time and money on your meal is by using leftovers! That's right. If you've already got cooked veggies and proteins in your fridge from another meal, you've got all the fixings for some tasty fried rice in half the time. Get creative and feel free to add in your favorite mix-ins like shrimp, chicken, beef or keep it vegetarian and maybe toss in some tofu or extra veggies.
Try it out with this recipe for Chicken and Bacon Fried Rice using all kinds of vegetables such as bell pepper, ginger, jalapeño and green onion along with bacon and chicken. Feel free to substitute in other vegetables you have in your crisper such as carrots, cabbage, mushrooms and more.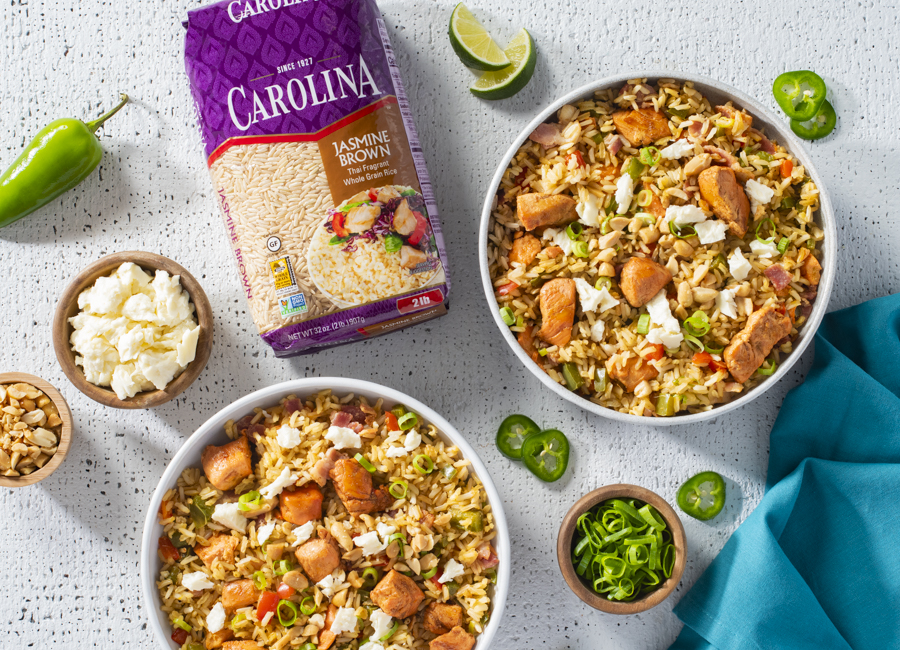 Fried Rice Done Right
These 5 easy-to-follow tips will have you making a restaurant-quality fried rice dish even if your cooking skills are at the college-dorm-meal-status.
1. Choose the Right Rice
Choosing the right rice length can actually make or break your dish. The medium to long-grain rice is the best rice variety to use when making fried rice. This is because long-grain rice varieties have fluffy, sturdy grains that don't clump or fall apart when cooked or fried. We suggest using Carolina®'s blend of Long Grain & Jasmine Rice, which is specially crafted for fried rice dishes like Ginger and Pork Fried Rice.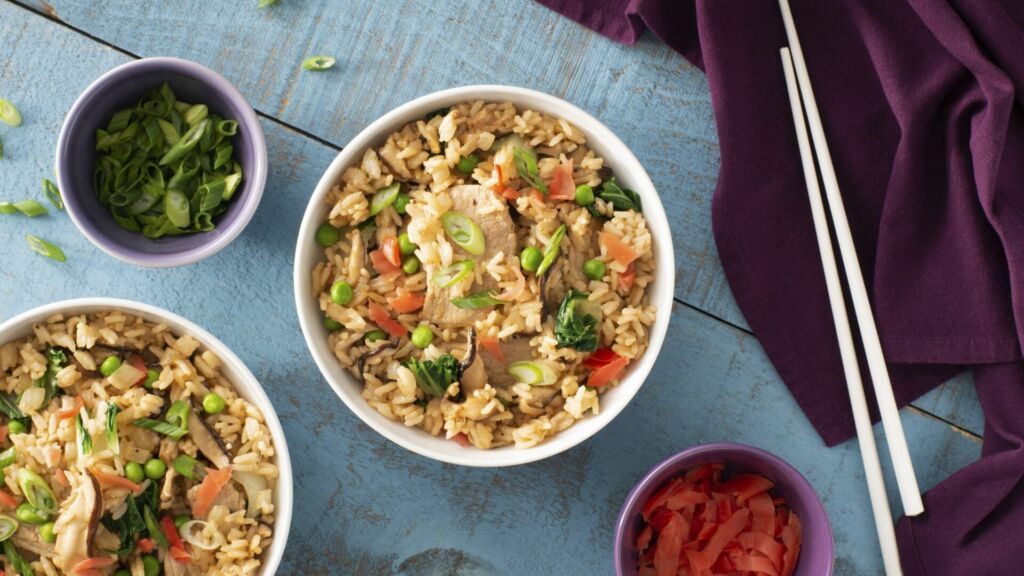 Rice Pro Tip: For fried rice, avoid short grain or glutinous rice (like sushi rice) as they tend to clump together when cooked which makes it harder for the rice grains to cook evenly and absorb the delicious flavors
2. Cool Down Your Rice
The next important step in making restaurant-like fried rice takes a little bit of planning ahead, if possible. While fried rice can be prepared with freshly made rice, the tastiest results will come from using pre-cooked, cooled rice to avoid any excess water seeping into your pan.
Even better if you can use that cold leftover rice straight from your fridge. The reason this makes a difference in flavor is that cold rice gets a good crisp on it which means it absorbs more flavor, while freshly cooked rice is still too moist to get that perfect crispy texture.
Try it out in this delicious Bacon and Shrimp Fried Brown Rice recipe and decide for yourself if the wait for cool rice is worth it! And yes, in case you noticed: you can make fried rice with brown rice too.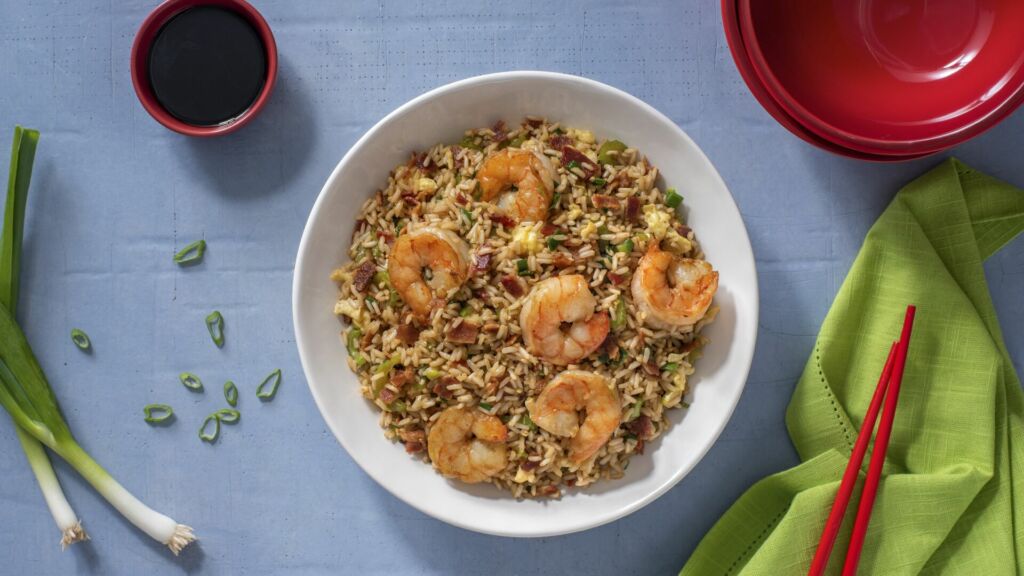 Quick Tip: If you're craving a bit of fried rice tonight and you don't have any precooked rice, no problem. Simply use our Ready to Heat Jasmine Rice that you can heat in the microwave. Try it out in this recipe for Savory Coconut Fried Rice.
3. Assemble the Ingredients
Because the actual cooking process for fried rice is fairly quick, you'll want to make sure you have all of your ingredients ready to go before you start sauteeing everything together. If you're using a protein like chicken, beef, pork, shrimp, or tofu, make sure to start by cooking that first so it can quickly be added to your rice and vegetable mixture. You'll want to follow that by frying any veggies that may take longer than others.
Authentic Asian inspired recipes call for Asian vegetables like bok choy, Chinese cabbage, soybean sprout, or scallions. If you're not able to make a run to the grocery store, don't worry! Use ingredients you probably already have at home like carrots, peas, or a frozen vegetable medley. Soy sauce and sesame oil will help to keep the flavor similar to even the most traditional fried rice recipes. Seasonings will be great allies too!
If adding an egg, whisk in a bowl for a quick scramble, add to your protein and veggies, and give them a stir before incorporating the rice. To give all of these steps a test run, try this tasty Shrimp Fried Rice with Pineapple and Egg dish and see just how easy a perfectly delicious homemade fried rice with egg can be.
Or take your dish to new culinary heights by preparing a thin omelet, rolling and slicing it into egg spirals to decorate a simple shrimp fried rice recipe.
4. Heat Your Pan Through
Another tip you'll want to keep in mind is that it's best to start with a hot pan or wok as you are aiming for a slightly crispy finish to the rice. To help the rice get to that perfect amount of crisp, avoid over-stirring to get a little bit of caramelization on the grains.
If you're feeling brave or have already mastered your tossing skills, this is the time to skip the stirring and give your ingredients a good toss in the air. This Chow Fan Fried Rice with Chicken is easy, delicious, and perfect for testing your new fried rice skills. Did you know chow fan is Chinese for fried rice?
5. Add Liquids
A delicious fried rice dish can also be defined by the oil and sauces used. Sesame oil is the most commonly used and most highly recommended oil to use, although canola oil or any other cooking oil will work just as well. For a savory taste and an authentic final result, don't forget to drizzle your rice with enough soy sauce.
Be careful, because soy sauce has a bold flavor and if overused, it can outshine the taste of the other ingredients you used. Add in small doses and always try to adjust the flavor to taste. You can even save a bit of saltiness to stir a few extra drops of sauce after serving the dish.
As a general rule, you should add enough soy sauce so the rice gets tinted a light brown color.
Bonus: New Fried Rice Flavors
If you're looking to switch things up a bit and try new flavors in your fried rice, look no further. Use these recipe ideas as a tasty starting point: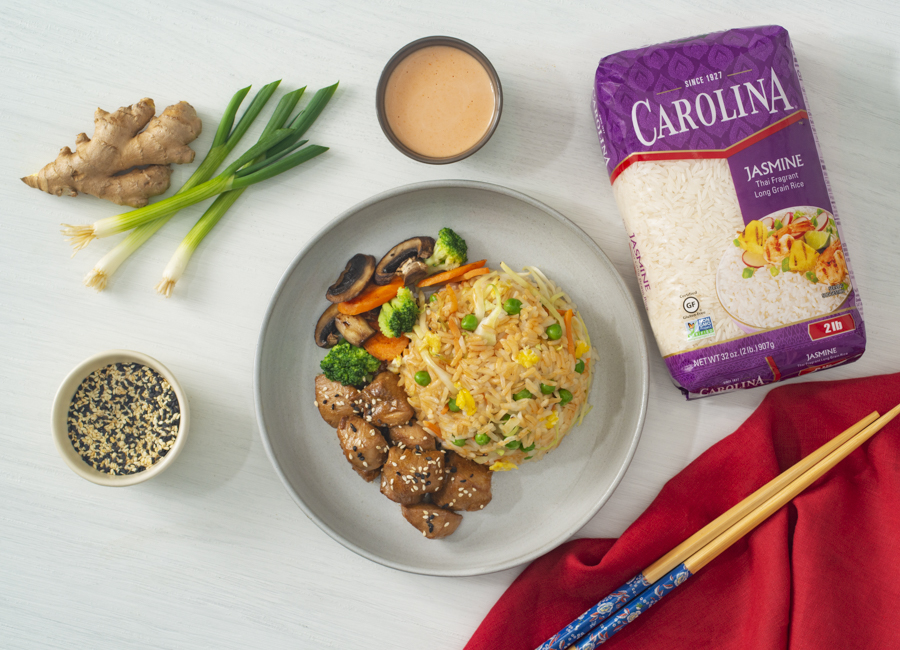 Afterwards, treat yourself to a delicious rice pudding recipe!
Now you've got the knowledge to prepare your very own fried rice dish from the comfort of your own kitchen. If you need a few more ideas, check out our special fried rice recipe collection!