Are you a veggie lover? Even if you are not, the truth is we should all be eating more of them on a day to day basis! With a wide variety of colors, flavors, and benefits, vegetables can help us feel better.
So, whether you've made a New Year's resolution that you're determined to stick to, you've got some fresh veggies in the garden, or you're just looking to get more veggies onto the dinner table, we have a few helpful ideas and different meal options with hand selected recipes to try so you can get started.
How Many Vegetables Should I Eat a Day?
When it comes to vegetables, you may be wondering how much is enough? While the exact amount may vary depending on age and gender, some experts will say, the more, the better. And, with a more varied selection, you can be sure you're feeding your body what it needs to tackle the day ahead.
When paired with a high quality grain such as rice, you can turn any meal into a filling and naturally delicious powerhouse of flavor and ingredients.
Meal Ideas
Although the typical suggestion is to start by simply filling half of your plate with vegetables, that might get pretty monotonous fast! So we've got a few tips for you to keep things interesting in the kitchen and at home to enhance your meals.
Blend Them Up
One of the quickest and hassle free ways to get more veggies into your meals is by blending them up into juices or smoothies! Make your breakfast smoothie or snack a bit more nutritious by tossing in some leafy greens like spinach, kale or finely sliced zucchini. The best part is, you're adding nutrients without even noticing their taste.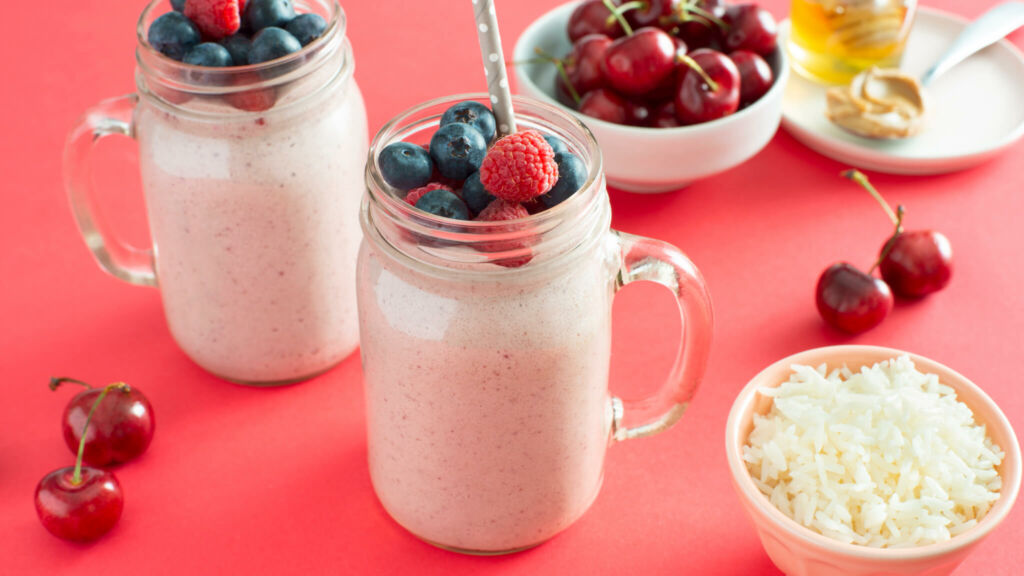 Not sure how it's done? Start out small with this Smoothie with a similar taste to sweet rice pudding, made with peanut butter, fruit, and hearty rice. Simply toss in a handful of your choice of leafy green and blend together! Tasty, filling, and just a bit more nutrient dense.
You can also blend your veggies into creamy soups like this Pumpkin Coconut Rice Soup made with pumpkin, coconut milk, curry, and Jasmine Rice. Although this recipe is made with canned pumpkin, if you've got fresh vegetables like pumpkin, squash, or carrots, you can make your soup with fresh veggies. Simply bake or boil before blending into your soup.
Pro Tip: Worried about your kids not getting enough of the vital vitamins and minerals they need? Make your own hearty rice and veggie/fruit puree at home with just 3 ingredients!
Hidden Veggies
If you've got a few picky eaters at home, another way to get more vegetables onto your plate is to get creative and give them a more appetizing look! Give your vegetables a sophisticated touch by layering them into a Spicy Salmon Avocado Tower with green onions, cilantro, and lettuce leaves on top. Feel free to layer in vegetables as you like.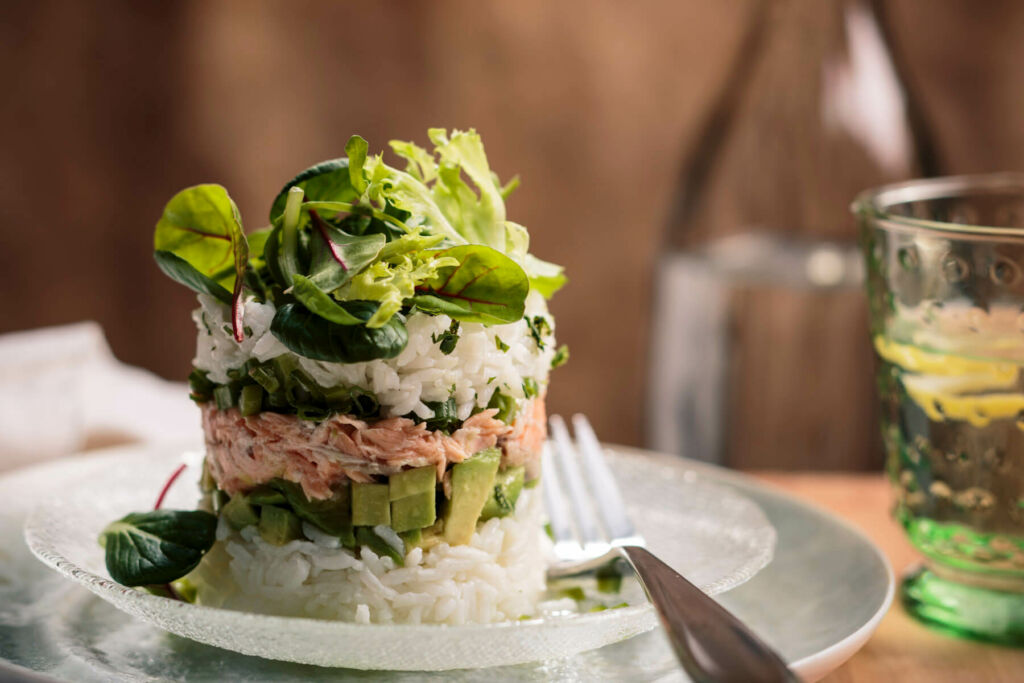 Try something new at home and make your own Vegetarian Sushi Rolls. If it's your first attempt, start out with quality sushi rice, we recommend Carolina® Authentic Short Grain Rice, specially crafted for making compact rice dishes like sushi. Make eating your vegetables fun and gather your family together for a sushi night!
Don't get us wrong, you don't have to make vegetarian meals to get more veggies onto your plate – go Southern with your cooking and try a Baked Jambalaya Risotto with red peppers, shallots, and crispy kale.
Fresh & Hearty Rice Salads and Bowls
Salad may seem like the obvious choice, but they really are a great way to get more vegetables on your plate and into your daily routine. Not to mention, a salad doesn't have to be synonymous with bland or boring, it's all in the technique!
Give yourself a delicious grain base of something like rice or quinoa, mix in your favorite veggies like crisp green lettuce, colorful peppers or crunchy cucumber and top it all off with a delicious vinaigrette or your favorite dressing. Making your own dressing is actually a lot simpler than you might think, check out our guide here.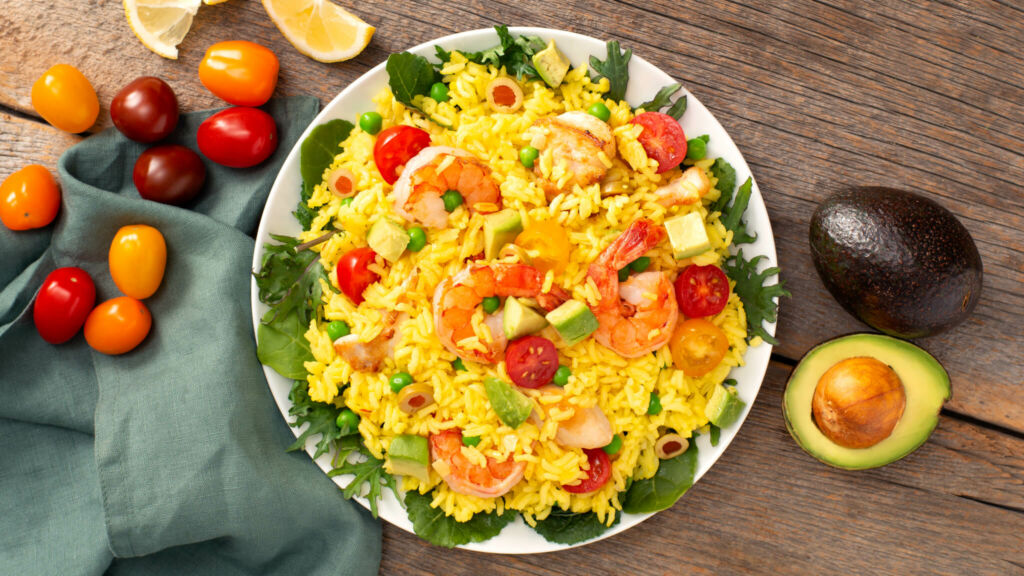 Switch your salad up and start with something truly tasty: a Paella-Inspired Rice Salad made with chicken, seasoned white rice, crisp greens, sliced tomatoes, and olives. The tasty flavor of the paella you love, with some extra veggies in it.
Want to make the most of grilling season? This Burrito Bowl is veggie-loaded indeed with corn on the cob, bell peppers, zucchini and portobello mushrooms that are grilled to perfection. Serve over a fluffy bed of Carolina® White Rice and top with guacamole.
Stuffed Veggies
Still looking for more tips? Why not make your vegetables the star of the meal and stuff them! Of course, Stuffed Peppers are an all-time classic for a reason, but don't stop there! Make your own stuffed mushrooms, cabbage, zucchini boats, eggplants… The possibilities are as endless as the veggies available in the store. Top with cheese and enjoy the goodness of a veggie-packed meal with some irresistible melted cheese.
Did you know? Rice helps make the stuffing more wholesome and filling, for a meal that will get you going!
With a hearty grain base, the protein of choice, melty cheese, and even a rich tomato sauce, stuffed veggies will become part of your weekly rotation. We guarantee the results will be nothing short of fantastic! For more recipe ideas like this arroz chaufa, take a look at our website!