There's just something special about a great cookout or BBQ at home with family or friends and being outside while you cook your food over the hot grill. Some might even say that grilling is one of the most enjoyable ways to cook and enjoy food! So, if you've already mastered the classics like hamburgers and hot dogs, why not try your hand at something new?
We've handpicked our favorite recipes from dips, grilled veggies and desserts for your next barbecue that will make your get together or family dinner all the tastier both on and off the grill! So, whether you're preparing for a tailgate or a summer barbecue by the water, there are a number of delicious ways you can put that grill to good use and enjoy a tasty meal!
Short on inspiration? Check out our favorite meal ideas from dips to entrees and even cool and refreshing drinks and desserts like a creamy rice pudding! Take a look at our suggestions and choose one for your next BBQ event!
Get the BBQ Started
Barbecue Pulled Pork Rice Dip
Get the dipping chips and veggies ready, because this savory Pulled Pork Rice Dip is a crowd-pleaser! Made with a combination of creamy ranch, your choice of barbecue sauce and hearty Carolina® Jasmine Rice, this appetizer will be loved by even the pickiest eaters!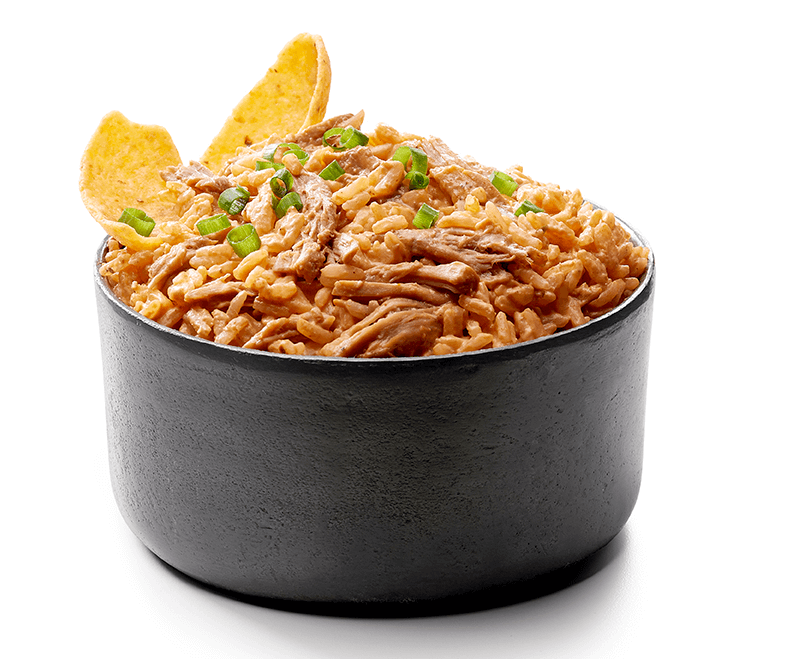 Prepare the pulled pork ahead of time and simply combine with the remaining ingredients, or cook the pork on the grill along with the other meat. Mix with rice and sauces before serving and enjoy it as part of the main meal. Whenever you choose to serve it, it won't last long! 
Stuffed Poblano Poppers
Who said stuffed peppers were reserved for bell peppers? Get your taste buds going with a side of Poblano Peppers filled with sweet corn, hearty rice, pico de gallo and topped with melty cheese. 
Pro Tip: make ahead of time to serve as a starter or wrap them in aluminum foil and toss on the grill to cook instead of the oven to serve as a hearty and tasty side for your meal.
Cheesy BBQ Chicken and Rice Quesadillas
For a tasty appetizer you don't need a grill to prepare, serve these Mexican Cheesy BBQ Chicken and Rice Quesadillas with Carolina® Ready to Heat White Jasmine Rice along with some salsa and guacamole. If you'd like to prepare something for the vegetarians at your BBQ, you can use a meat alternative like beans or tofu instead of the chicken in this recipe.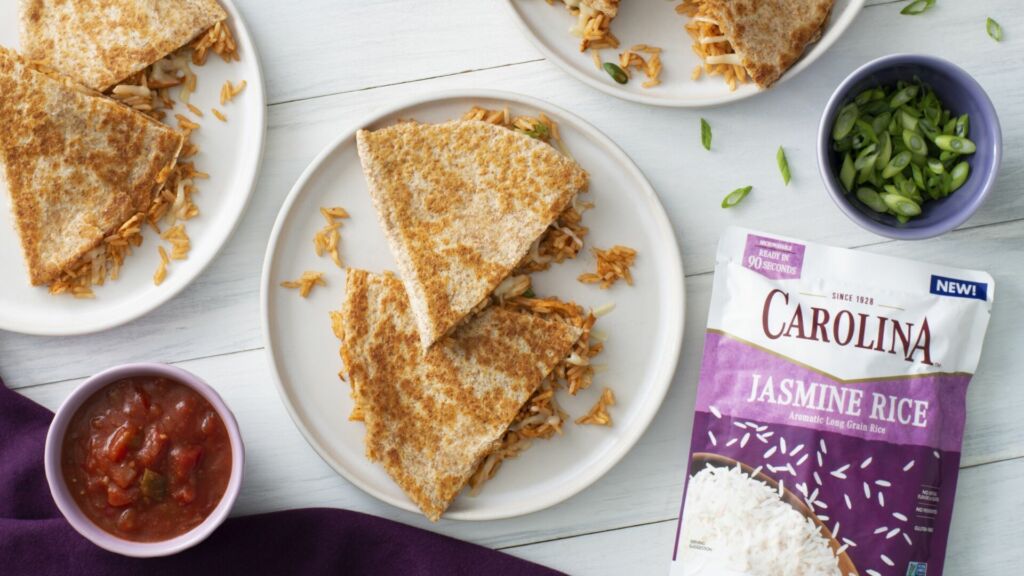 Grilled Entrees
Grilled Shrimp and Corn
These Grilled Shrimp Skewers marinated in tasty sun dried tomato oil alongside sweet corn on the cob are the perfect combination for a delicious dish! Bursting with smoky, sweet and acidic flavors, these savory grilled shrimp rice bowls are bound to impress. Serve over a plate of fluffy seasoned rice with fresh tomatoes and you've got a filling summer delicacy!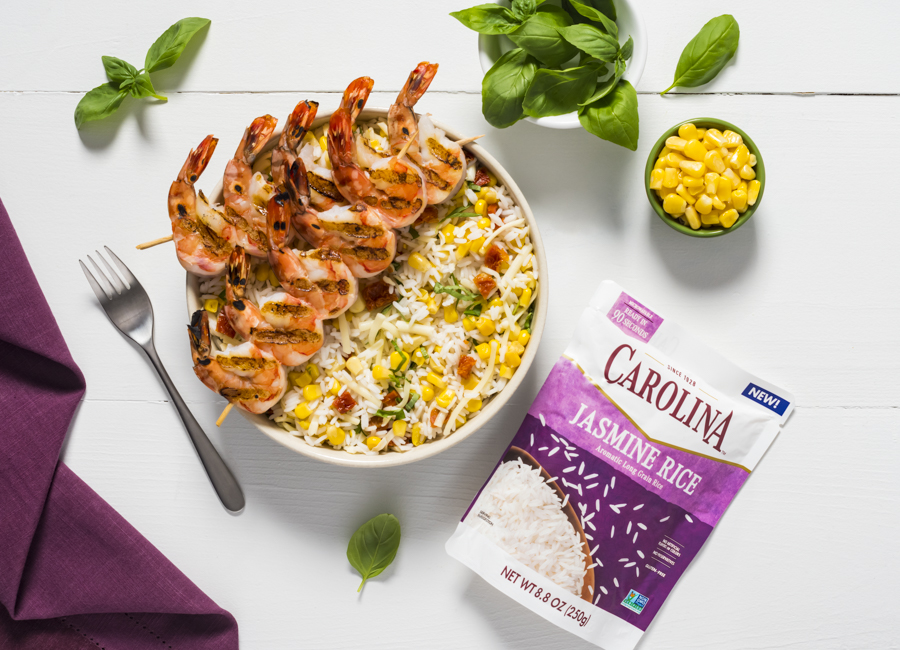 Not sure how long to cook your shrimp skewers?
First, make sure to brush and coat them well in oil while on the skewers before adding to the grill.
Place on the grill and watch them carefully, as they do cook up in a matter of minutes!
They are ready when they are pink in color and no longer translucent.
Other Grilled Corn Recipes
if you are still craving a grilled corn recipe, learn how to make this Mexican Street Corn and Rice. Don't worry about grilling too much corn, any leftover can be used for a handy taco or burrito filling.
Grilled Veggies
A BBQ isn't complete without delicious and beautifully charred summer vegetables! Take your meal to a new level with this Grilled Veggie Burrito Bowls with Hatch Green Chile Rice. Its versatility makes it great for vegetarians and meat eaters alike! 
Simply toss on a bit of grilled steak or chicken if you want to pack on the protein or serve as is for a delicious and hearty dish. Use your choice of corn on the cob, tomatoes, peppers, zucchini, onion, portobello mushrooms or bell peppers.
Salads
Next time you are having a BBQ and need a good side dish, serve this Grilled Summer Vegetable Rice Salad with Carolina® Basmati Rice. Feel free to swap in your favorite vegetables to really make this salad your own.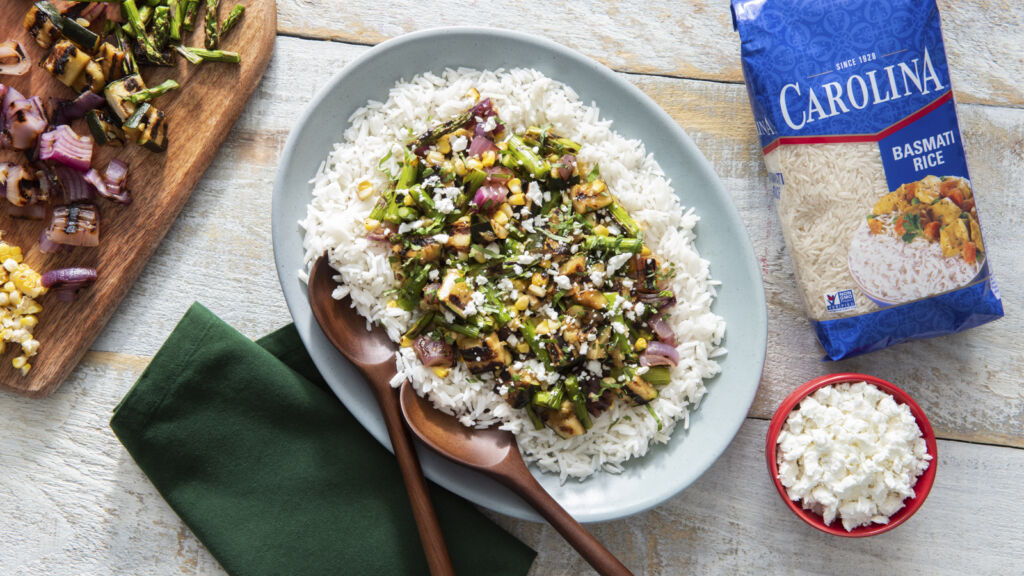 Grilled Chicken Dishes
This Grilled Chicken Souvlaki Rice Bowl is a Mediterranean dish that's served with Greek Tzatziki sauce. If you don't have any chicken thighs at home, you can use chicken breast instead for this recipe.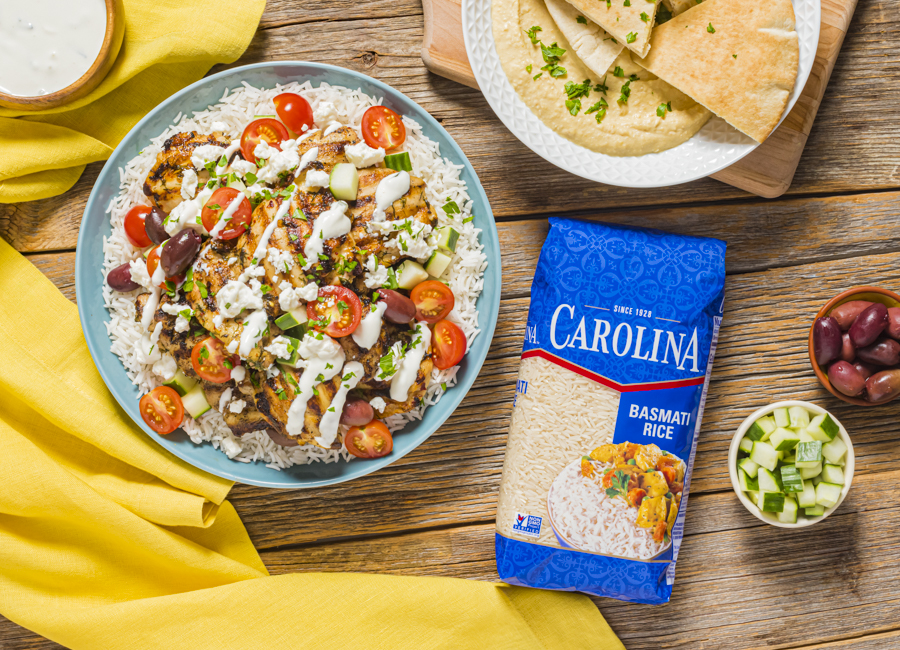 For a flavorful well presented BBQ dish, serve these Grilled Chicken Thighs With Arroz Verde using Carolina® Brown Rice. For best results, leave the skin on the chicken thighs as this will help keep in the flavor. 
If you're craving jalapeno peppers and Mexican flavors then there's nothing better than a Grilled Chicken Taco With Rice Salsa. You also have the option of turning this dish into a salad by simply omitting the taco shells. 
Drinks and Dessert
Refreshing Horchata
A great drink can make any party better! Wash your meal down with a refreshing glass of Mexican-inspired Horchata made with a delicious combination of water, rice, cinnamon, sugar, and vanilla. This family-friendly drink is dairy-free and can also be made ahead of time, perfect for getting any extra helping hands involved in the preparation. Serve chilled over ice for your guests to enjoy.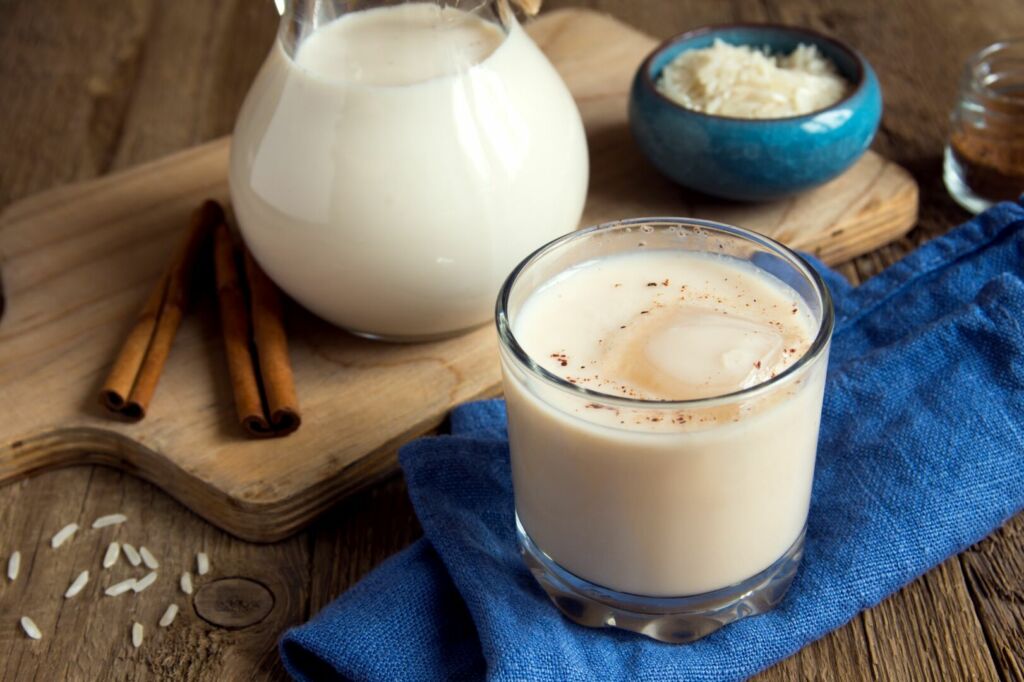 Dessert Treat
Finish your BBQ off with a bowl of cool and refreshing Homemade Ice Cream made with cream, cinnamon and flavored with vanilla and almond! No ice cream maker? No problem. Check out our recipe and learn how to prepare this delicious treat even without an ice cream maker.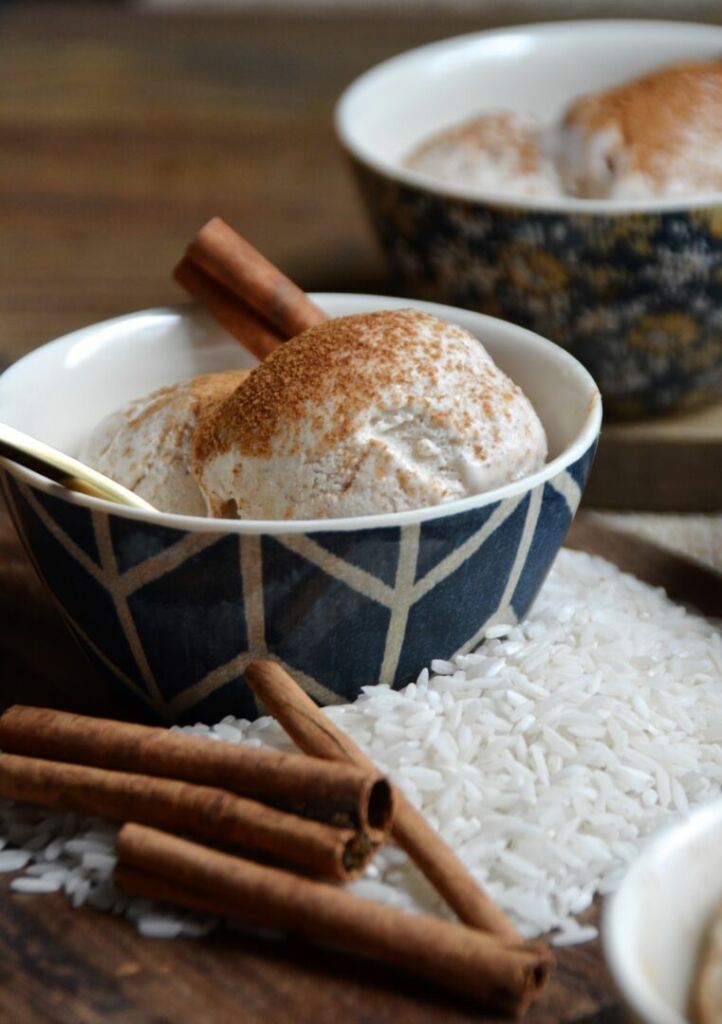 Scoop it out into bowls and serve this delicious ice cream alone or offer toppings so everyone can personalize their dessert. A few ideas include sprinkling with cinnamon, drizzling with hot fudge or dulce de leche and pairing with brownies, blondies or any other baked treat.
Stay tuned for more cooking tips with Carolina®, for example what is the best white rice water ratio?