Who said tasty meals had to be complicated? You'd be surprised at how simple it is to whip up the perfect dish for dinner on a busy weeknight by using a rice base and a few add-ins. With these recipes, you'll learn how to stock your pantry with ingredients that are true lifesavers.
Spices, seasonings, salsas, olive oil, and rice are just a few staple ingredients that should always have a place on your kitchen countertop or shelves. These are just a few of the key ingredients capable of elevating your next meal with 5 ingredients or less. Keep in mind that more ingredients don't always mean more flavor – what this recipe collection shows is that sometimes less is more!
Note: pantry staples like olive oil, water, salt, and pepper are not counted within the ingredient list.
Hearty Grains Base
Rice is a family favorite for a reason. Its versatility and flavor can be adapted to any dish, depending on what you pair it with. Its neutral taste goes well with sweet, salty, and spicy foods. And not to mention, it's also a natural source of vitamins and minerals that will make any meal more filling.
In case you were wondering, these recipes can be cooked with any rice variety that you have on hand. But, here are a few recommendations to make your few-ingredient recipes with rice even better:
Use Carolina® Whole Grain Rice varieties to make your meals more fiber dense with a slightly nutty flavor.
For quick and simple meals, Ready to Heat Rice pouches are your go-to! Simply pop in the microwave and in 90 seconds you've got half of the recipe done.
Use Jasmine Rice for more aromatic dishes with a delicate sweet undertone.
Two-Ingredient Recipes
Meals that are perfect for the little ones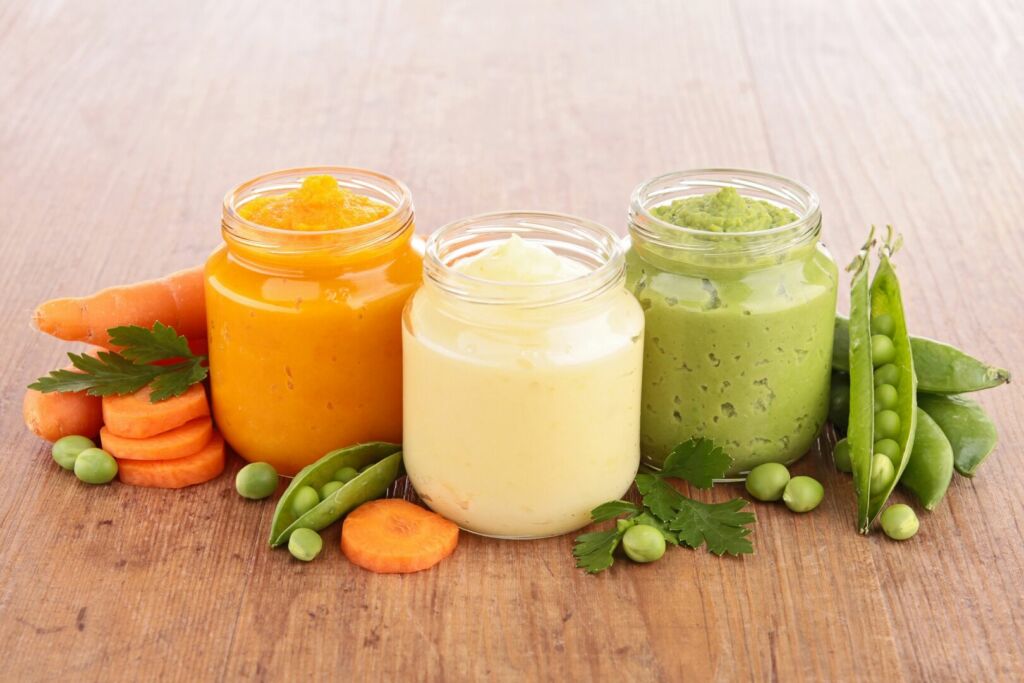 Cooking for adults is always easier than for the kids in your life but, a creamy Rice puree will satisfy kids and adults alike. All these puree recipes call for rice and any extra ingredients for added flavor: frozen peas, fresh carrots, apple puree… You name it! These purees are perfect for single serving portions or for multiplying the ingredient amounts to make larger batches and save for later.
Is it your first time making a homemade puree? Follow this guide and you'll be surprised at how versatile a rice puree can be.
Tasty Coconut Side
Ever tried making Coconut Rice? If not, you're going to want to start looking for canned coconut milk! Yes, making homemade coconut rice can be as simple as tossing Thai Jasmine Rice, coconut milk, and water together in your rice cooker. Add a pinch of salt to enhance flavors and before serving, top with lime wedges, green onions, and cilantro for a fresh punch – remember, these toppings are optional!
Three-Ingredient Breakfast
For a morning protein boost, start your day off with a tasty and filling breakfast made with Basmati Rice. By combining cooked rice with sliced bananas you'll have a porridge-like breakfast with a slightly savory flavor thanks to the addition of garlic and olive oil. Believe us when we say this Basmati and Bananas Breakfast tastes delicious!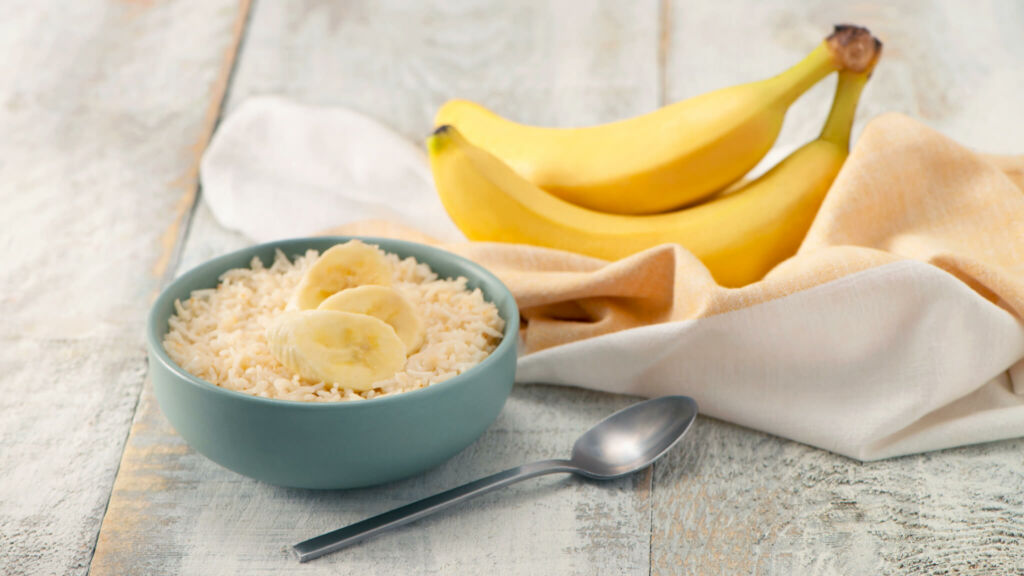 For extra texture and flavor, garnish with anything from fresh parsley to chopped nuts or dried fruits.
Four-Ingredient Meals
With only 4 ingredients, the rice recipe possibilities are endless when it comes to creating utterly delicious entrees great for a speedy dinner or lunch. From a rice salad to a breakfast burrito, you'll be glad to have these recipes in your back pocket – don't forget the dessert by trying out a delicious rice pudding recipe!
Caprese Salad with a Twist
All you need to make this simple but elegant Layered Caprese Rice Salad is fresh and gently sliced tomatoes (preferably heirloom tomatoes), soft mozzarella cheese, chopped basil, and a balsamic vinaigrette to drizzle on top. Combine cooked White Rice with basil and the vinaigrette and layer tomato slices, rice mixture, and sliced mozzarella.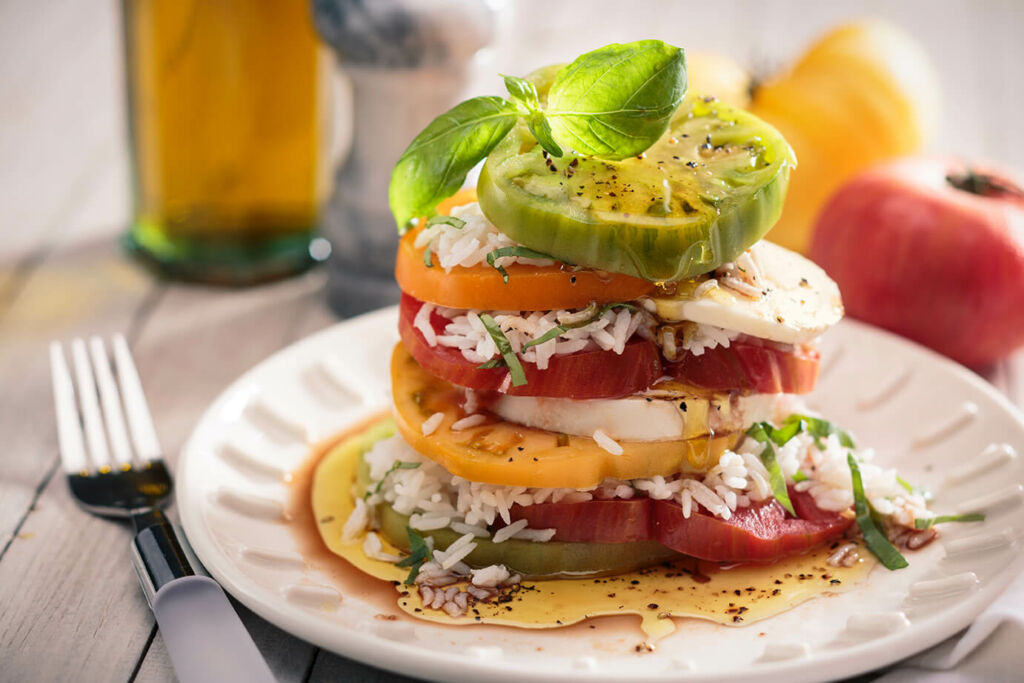 Have some little helping hands at home? Turn cooking into a family activity and ask them to help you layer the ingredients.
Burritos for Breakfast!
Burritos are perfect anytime but, if you combine your love for breakfast with your love for burritos, we can't think of a better way to start the day off! To make this filling and tasty Breakfast Burrito you'll just need tortillas, cubed lunch meat, shredded cheese, your favorite salsa to dip, and of course, hearty rice grains. Easy, simple, and convenient.
Breakfast on the go? Make sure to wrap your breakfast in aluminum foil to keep it warm.
5-Ingredient Comfort Food
If the possibilities were already endless with 4 ingredients, imagine what you can do with 5 ingredients and your favorite Carolina® Rice. Although there are many recipes that you can make with 5 ingredients, we decided to focus on comfort food meals.
Comfort food might feel like a lot of heavy work or an ambitious recipe you might be saving for the weekend, but these recipes prove that wrong! Take note and start enjoying a cheese casserole or a hearty soup for a hassle-free any-day-of-the-week meal.
Spicy Rice Casserole
The short list of five basic ingredients includes green chile peppers, sour cream, Monterey Jack cheese, red pepper flakes, and White rice. However, the complex flavors of this Rice Casserole are more than what meets the eye.
The roasted chile peppers offer up slightly sweet and smoky flavors that create a unique tangy flair when paired with the sour cream and Monterey Jack cheese flavor. The touch of crushed red pepper flakes also adds a bit of spiciness.
The best part is, the oven will do the heavy lifting for you!
Hearty Enchilada Soup
Satisfy that enchilada craving with a hearty plate of comfort food. Our recipe for one-pot Enchilada Soup is a fast and easy fix with minimal shopping and little cleanup. The prep itself is as easy as assembling a few ingredients and turning on the stove.
Put these recipes to good use and discover how easy it is to cook tasty meals with short shopping lists and a bit of prep. Did we mention how convenient these recipes will be if you're also trying to stretch your food budget? You can thank us later!
For more great tasting recipes and cooking tips like how to get the right rice to water ratio in your rice cooker or how to make chaufa rice, check out our website.