As summer approaches, we might be craving meals that are a bit fresher. Salads are usually the go-to option for a light and also refreshing dish. However, greens on their own might seem a bit boring or even tasteless for those who prefer a savory fried rice dish or a plate of wholesome enchiladas.
So, for all of you salad skeptics out there, we've got a few suggestions to spruce up your veggies that will leave you surprised at how versatile and delicious they can be! Not to mention, easy to prepare and filling for the whole family to enjoy. And if you're looking for a dessert idea, we recommend you check out our rice pudding recipe!
With two simple additions you can turn any veggie combo into a delicious, filling and exciting salad: rice and a flavorful vinaigrette or dressing. Keep reading to get a few easy ingredient combinations to make your favorite classic dressings and a few tips so you can get creative and try your own vinaigrette recipe with the ingredients you have on hand.
The Shake Method
If you've ever tried a dull or tasteless salad, you know just how much a great vinaigrette can make or break your salad. Most store-bought dressings have an incredible taste, but by whipping up your own version you can customize the flavor and texture to just how you and your family like it.
Almost every salad vinaigrette can be made using the shake method, which is basically combining all the ingredients in a container with a tight-lid and shaking until well blended. Take a look at these rules of thumb to follow and get shaking:
Use 3 parts oil and 1 part vinegar– if not specified in the recipe.
If you stored your dressing in the fridge, bring to room temperature and shake again before drizzling over the salad.
We recommend keeping your dressing in a glass container as flavors stick to plastic.
Although some can be kept on the shelf, we recommend storing your vinaigrettes in the fridge, in an airtight container.
If your dressing has dairy (i.e. yogurt) make sure to enjoy it before a week has passed.
Ingredients such as lemon, lime or orange juice, balsamic, wine or apple cider, will balance the acidity.
For a smoother dressing, use a hand blender or a food processor.
Both fresh or dried herbs are great seasonings for vinaigrettes.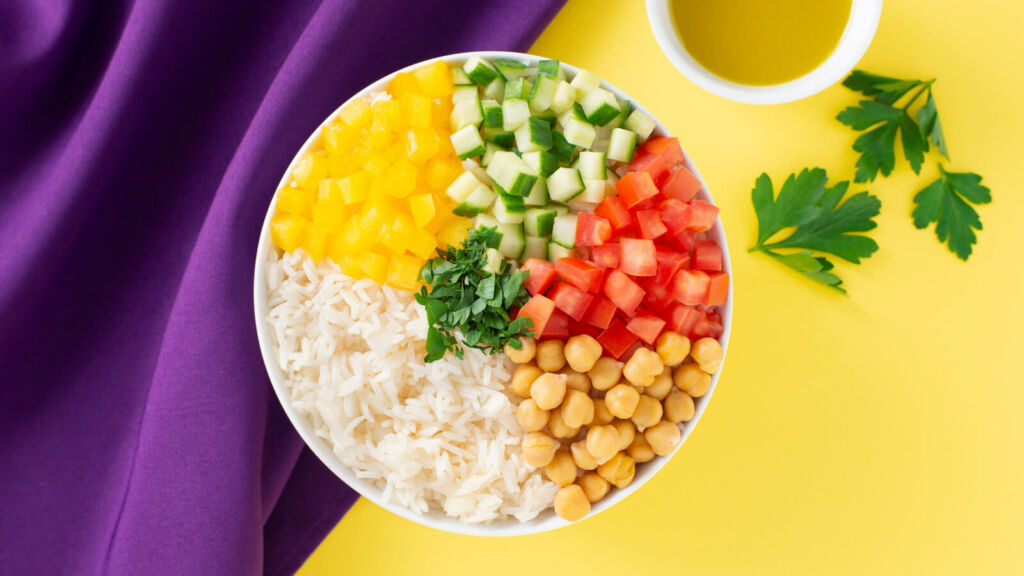 5 Dressings to Make at Home
Avocado Tzatziki
What's tzatziki? It's a traditional Mediterranean sauce blended with a cucumber and yogurt base. Our version includes all of the classic ingredients with the addition of creamy avocado – because everything tastes better with avocado, right?
To make this sauce, grate and squeeze the cucumber and mix with the mashed avocado, spices, oil, and yogurt. Whisk or shake vigorously until all ingredients are combined – it's as simple as that.
Pairing suggestion: Greek Power Bowl with Jasmine Rice
Ingredients
With these amounts of ingredients, you'll make 4 servings of this Greek-inspired dressing.
¾ cup Greek yogurt
1 ripe avocado, halved, pitted, peeled and mashed
½ cup cucumber, grated and squeezed dry (use paper towels to squeeze cucumber)
2 tbsp olive oil
1 tbsp lemon juice
2 cloves garlic, minced
2 tbsp fresh dill, finely chopped
2 tbsp fresh parsley, finely chopped
½ tsp dried oregano
½ tsp salt
½ tsp pepper
Ginger Vinaigrette
Like we've said, a great rice salad is instantly upgraded when drizzled with a tasty dressing or vinaigrette. This light vinaigrette starts with a rice wine vinegar base, combined with flavorful oils, fresh ginger, a touch of sweet honey, and salt. Sweet and savory flavors that are not only tasty but also a breeze to toss together – simply shake in a jar or whisk ingredients together in a bowl.
Pairing suggestion: Spiralized Veggie & Jasmine Rice Bowl
Ingredients
Following these quantities, you'll make 4 servings of ginger vinaigrette. Saving it for later? Remember to store it in an airtight container.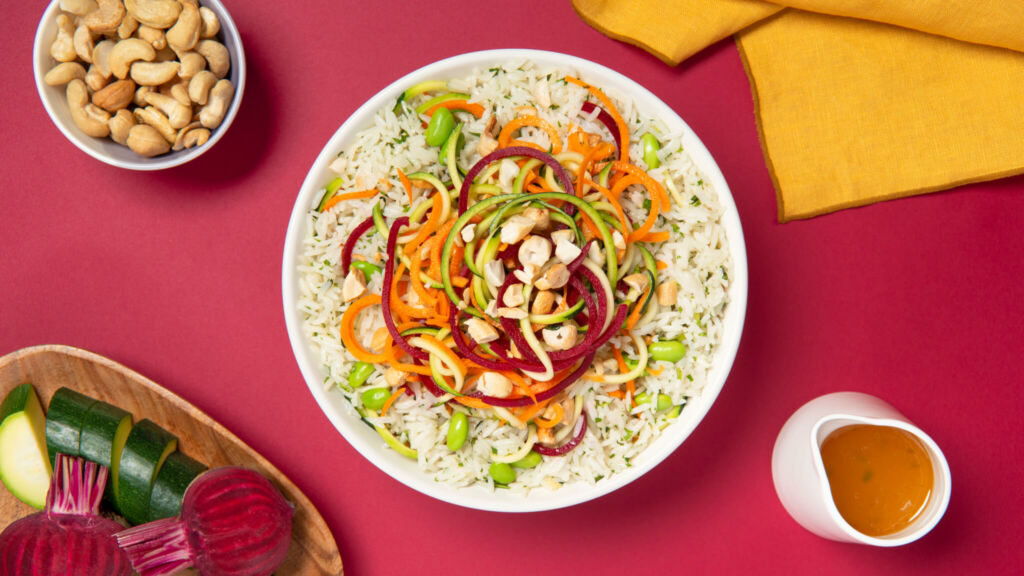 3 tbsp canola oil
3 tbsp rice wine vinegar
1 tbsp sesame oil
1 tbsp minced fresh ginger
1 tbsp honey
½ tsp salt
Sesame Orange Vinaigrette
For a-list flavor try this citrusy Asian-inspired dressing. The combination of sesame, ginger, and orange marmalade makes it one for the books. Save some for your next rice salad or feel free to mix and match with other veggie-based salads and rice dishes.
This vinaigrette is quintessential when it comes to blending the flavors of our Asian Brown Rice and Shrimp Salad recipe. It pairs perfectly with the nutty taste of Carolina® Whole Grain Brown Rice and is great to enhance the salty shrimp flavor.
Although the recipe for our Asian-inspired rice salad calls for store-bought dressing, we'll guide you on how to make your own homemade version of the sesame vinaigrette so you have both options on hand!
Ingredients
Whisk or shake until marmalade blends well with the vinaigrette. Add salt and pepper to taste, if desired.
⅓ cup light Asian vinaigrette with sesame and ginger
1 tsp orange marmalade
Homemade Sesame Vinaigrette
These ingredients make about a cup of dressing. You can adjust the quantities for sesame oil and vinegar to taste. It will be equally tasty if you sub in rice wine vinegar for the white vinegar. We recommend using brown sugar or organic honey to sweeten the vinaigrette.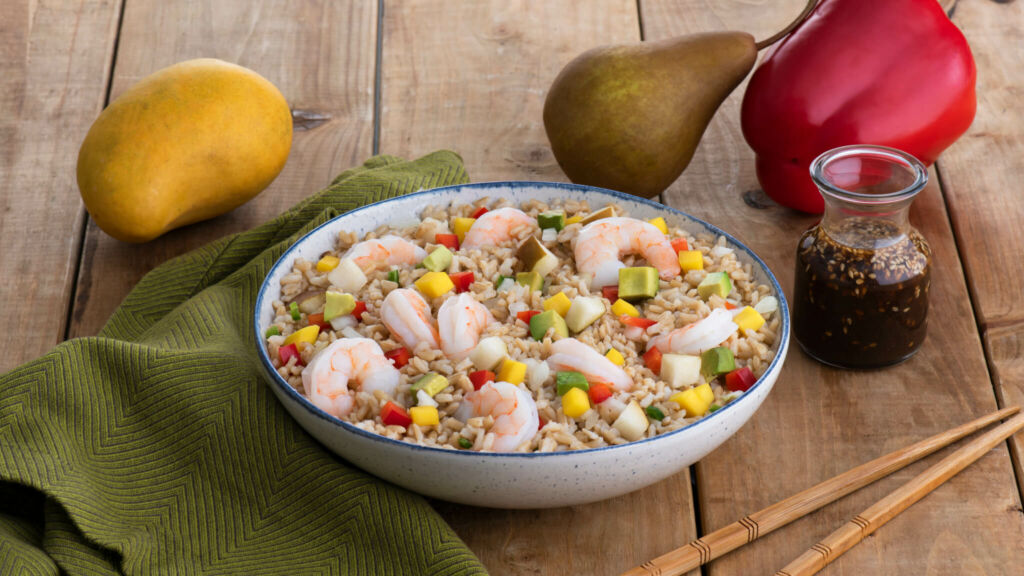 ¼ cup soy sauce
2 tbsp toasted sesame oil
¼ cup white vinegar
¼ cup olive oil
1 tbsp sugar or 1 ½ tbsp honey
Thai Peanut Dressing
Peanut dressing will surely make the ranks of your family favorites! From tasty salads to delicious stir fry recipes, it is certainly delicious with everything. However, as it's thicker than the average vinaigrette, we recommend you pair it with a long grain rice variety. To keep it a Thai dish, Carolina® Jasmine Rice is your go-to!
To make this dressing for a Thai Chicken and Rice Salad, it is as simple as whisking or shaking together a store-bought Thai peanut sauce, oil, and water. If you're eager to keep developing your culinary skills, we recommend you skip store-bought and try making Thai Peanut Dressing from scratch!
Ingredients
These ingredients make about a cup of dressing. Combine altogether and whisk or shake. For a chunkier sauce, use chunky peanut butter. You can substitute in 1 tablespoon maple syrup for honey. Sriracha sauce can be replaced by hot chili sauce, adjusting quantity to taste. Make sure to whip up enough dressing and save some to dip Curry Chicken Burritos.
1 clove garlic chopped
½ cup peanut butter
2 tbsp fresh lime juice
2 tbsp rice vinegar
2 tbsp soy sauce
1 tbsp honey
1 tsp sesame oil
1 tsp sriracha sauce
¼ tsp ground ginger
Zesty Lemon Dressing
To keep things simple yet delicious, season your rice salad with oil, lemon juice, salt, and pepper. Adjust quantities to your liking and enjoy how the citrus flavor makes any salad just more refreshing.
This simple dressing combination is just about perfect for marrying together the flavors of our Chickpea Rice Salad.
For more recipe ideas and kitchen advice on topics such as how to cook rice on the stove or how to make an arroz chaufa recipe, take a look at our website.