No matter which grain you choose, there's no such thing as "plain rice"! A staple in every kitchen and in many dishes, it can be simple to make your rice anything but boring. This quick guide will walk you through 6 simple additions to take your rice to the next level. The best part? You probably already have these ingredients in your pantry!
When you think of typical white rice, Carolina® White Rice probably comes to mind, but jasmine and basmati are also "technically" white rice. Not sure of what makes them unique? For a larger grain, fluffy Basmati Rice is a great option with a nuttier taste. If you are looking for a stickier but more aromatic rice, Carolina® Thai Jasmine Rice is your best bet. Try any one of them, or all of them for that matter!
6 Add-ins to Upgrade White Rice
Whether you are looking to use up leftover rice or just want to make your signature dish that much better, you'll be surprised by how easy it truly is to give white rice robust flavor. From substituting the water with something more flavorful to tossing in a couple ingredients, it is impossible to get tired of rice when the possibilities are endless.
Not sure where to start? Take a look at a few of our favorite ingredients to add in to your meals.
1. Alternative Cooking Liquid
For an effortless yet dramatic difference, infuse your rice with flavored cooking water or use more aromatic liquid like broth or juice. The directions may call for water, but it's just as easy to switch it up with any of the following alternatives.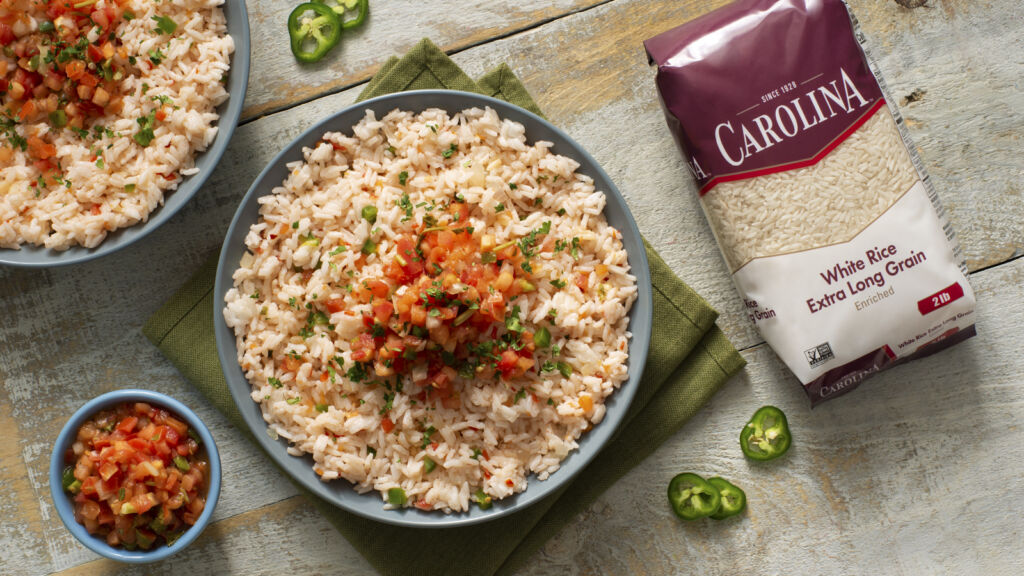 Choose the perfect cooking liquid to complement your dish:
Broth is a simple way to make a big impact. Without changing the texture, broth gives your dish a pop of flavor. Chicken broth goes well with so many flavors; in fact, it's the most common liquid used, particularly for rice pilaf. For a fresh take on this traditional plate, try mixing in some fresh vegetables like in this refreshing Pico De Gallo Rice Pilaf. Another option is vegetable broth, as it offers a subtle, but slightly sweeter alternative to water. A little heavier than the other options, beef broth gives your dish a hearty flavor.
If you want to make creamier rice, consider using coconut milk. Coconut pairs well with so many flavors: it complements sweet and spicy, enriches nutty and savory, and enhances sweeter produce. Check out this Easy Coconut Rice for a quick guide before experimenting on your own!
Enhancing the boiling water is another way to get richer rice while simultaneously cleaning out the produce drawer in the fridge and using those veggies before they go bad! Try sautéing thinly sliced garlic, folding in rice, and then adding your liquid of choice. Sneak in some carrots, celery or broccoli and hit your daily vegetable serving goal. Or, for a refreshing twist, use light ingredients like those found in this Cilantro Lime Rice.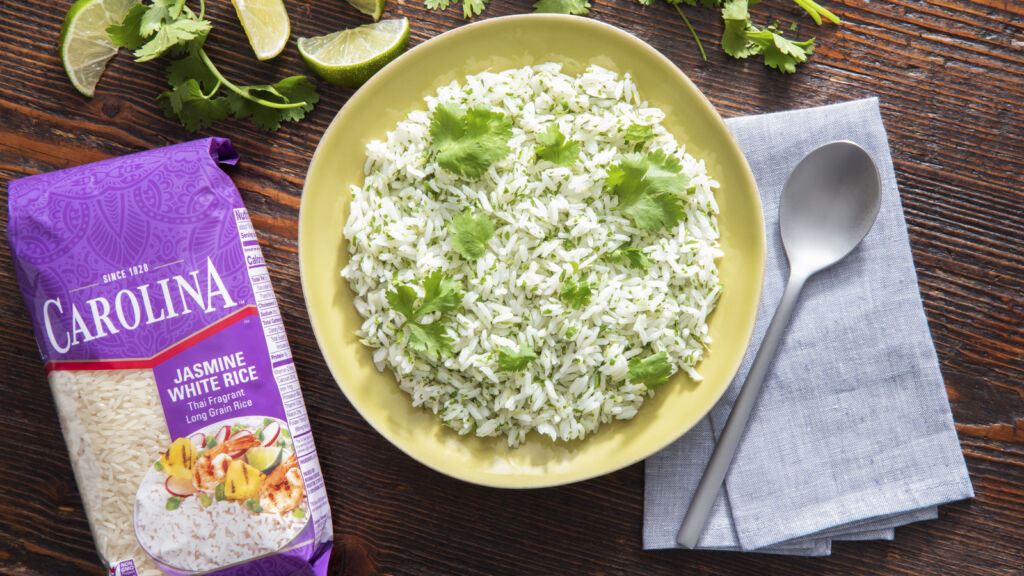 2. Cheese
This mix-in hardly needs an introduction and barely needs convincing. It turns a dish into a filling meal by bringing a perfect balance of substance and flavor. For 3x the flavor, Tres Quesos Rice is a great alternative to macaroni and cheese. Looking for a recipe with just as much flavor but a little less rich? The ever-versatile Chipotle Queso Rice can be a meal, a side, or a filling!
The trick with cheesy rice is knowing your ideal consistency. If you want the bold flavor, but want to keep the grain texture, toss in some shredded cheese just after you finish cooking the rice: lift the lid, add desired amount and let sit a couple more minutes before folding in. For a creamier dish, fold a cheese sauce into prepared rice.
3. Vegetables
Complete your meal and add some color by tossing in vegetables. Slice carrots, pumpkins, or yams and toss in the water at the same time as the rice. Others – such as broccoli, Brussels sprouts, cauliflower and leeks – should be added halfway through the cook time. This Zucchini Rice shows how a few ingredients can make a big impact. Note how the raw shredded zucchini gets mixed in halfway through while the more delicate green onion is added at the end: you don't want to lose any of that flavor!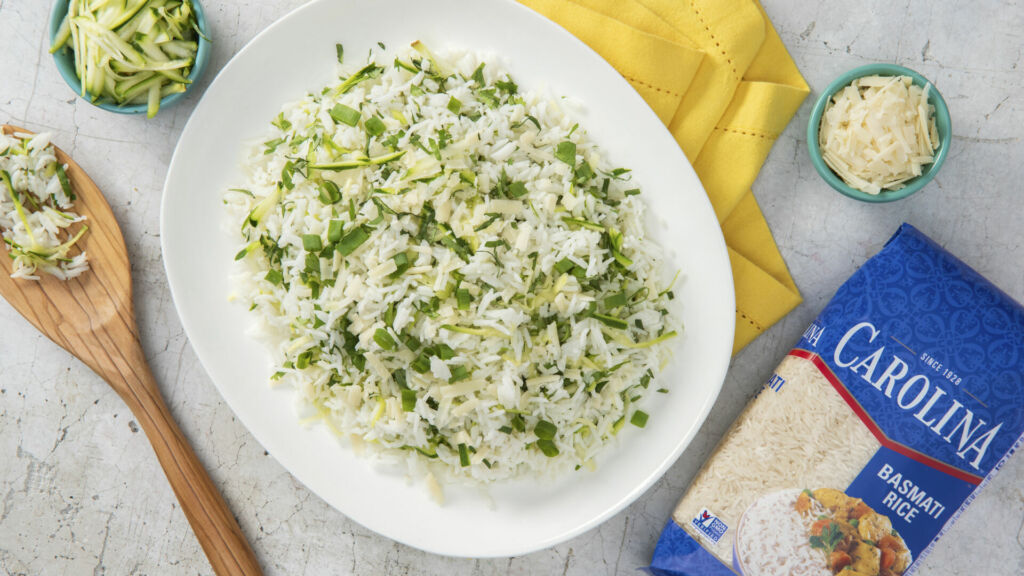 If you are looking for a higher veggie to rice ratio per bite, this BLT Unwich Dip makes a perfect addition to your usual party appetizer line-up.
Even Quicker Vegetable Options
While there is satisfaction in manually shredding vegetables, a grater or spiral slicer will do the trick in a fraction of the time. Don't have time to stop by the grocery store? Thaw out some frozen vegetables.
4. Avocado
Avocados prove that good things come in small packages — satisfying both vegetarians and non-vegetarians alike. Along with a splash of color, this protein substitute brings along a slightly nutty flavor and a buttery texture. Avocado's smooth earthy flavors really complement the crisp acidity of lime in this Tuna Ceviche with Mango and Avocado summer dish.
Want something a little creamier? Fold in a mashed mixture, similar to a tangy guacamole, like in this Lime Avocado Rice. It's a quick dish that will be ready in no time!
5. Herbs and Seasonings
Whether you have fresh herbs or want to make use of spices on your rack, herbs will give your dish that extra bit of fragrance to take it to the next level. Play around with different combinations and proportions of your favorites, but keep in mind that fresh herbs generally have a more subtle flavor so you'll need to triple the dried herb measurements.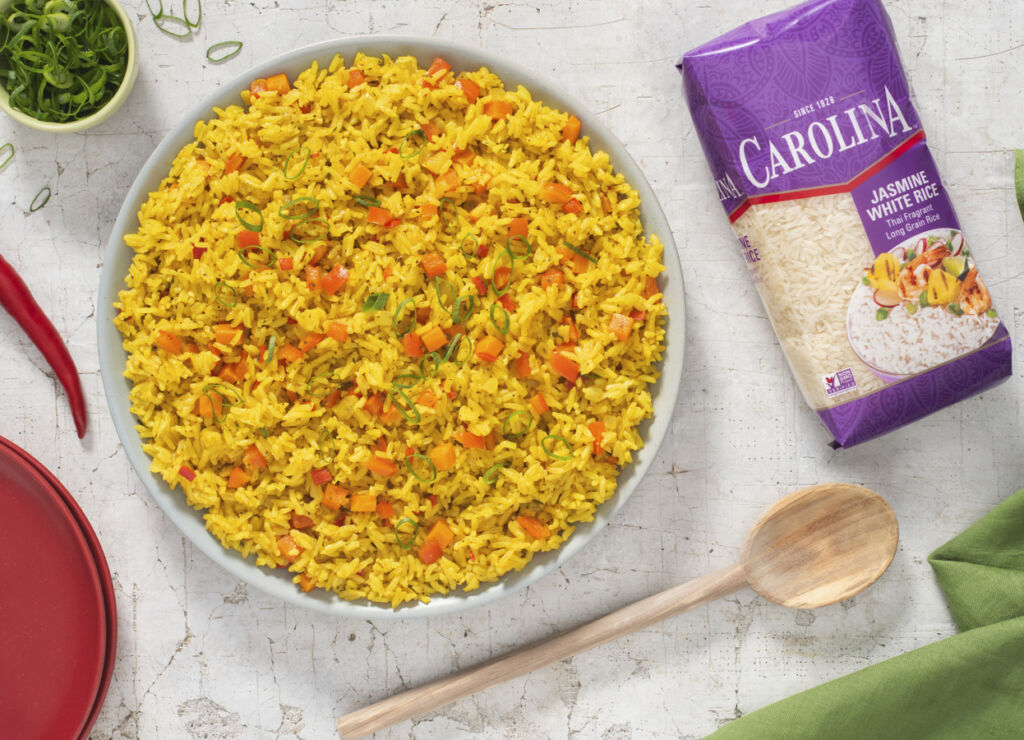 This Caribbean-Style Calypso Rice has a perfect balance of seasoning, so if you don't have fresh sprigs, swap out each tablespoon for a teaspoon of dried thyme. While the curry gives the rice that soft orange color, the herb brings out the complexity of the garlic, and you don't want to add too much.
Have you noticed that recipes usually call for the cilantro to be added just before serving? It loses that crisp refreshing quality with heat or when dried. Same goes for other delicate herbs, such as parsley or dill, and are better fresh.
6. Nopalitos or Cactus Pads
Don't worry about nopalitos overpowering your dish, they have a mild flavor similar to okra, slightly tart with a hint of citrus. If you are feeling cautiously adventurous, this Creamy Rice with Turkey and Nopalitos combines an array of ingredients you probably already have in your kitchen with a few less common elements — a great way to tip your toes into cooking with cactus.
While you can usually find Nopalitos — by that name, cactus pads, or prickly pears — in the produce section, take the pain out of preparation by heading straight to the ready-to-eat canned or jarred aisle.
Rice is so adaptable – it's easy to forget that it can have so much flavor with such minimal effort! Whether you want to experiment on your own or try some tried and true recipes, like a creamy rice pudding or this arroz chaufa, Carolina® Rice will help you customize your dishes.