Loaded to perfection with all of your favorites, the time has come to learn how to make the burrito of your dreams at home! Down to almost every last detail, we'll go through which ingredients are a must have and give you a guide on how to properly wrap your tortilla. So, without further ado, let's get filling and wrapping.
Burrito vs. Taco
While both find their origin in Mexico and other Latin American regions, to put any debate to rest, there is a difference between tacos and burritos. The main difference lies in the tortilla. First, tacos are made with smaller shells generally using corn or flour and can be crunchy or soft. Burritos, on the other hand, are made with larger shells that are primarily made of flour and soft so they are perfect for holding greater amounts of filling without tearing.
What Makes a Great Burrito?
There are a few essential parts of any delicioso burrito, so follow along with us as we build our own, taking a look at the must-haves!
Rice is the Backbone
To make a homemade burrito, you're going to need rice. Plain rice fits beautifully into both vegan and meat lovers' burritos. The hard part might be choosing which rice variety to use from traditional white rice to whole grain brown rice or an aromatic option like jasmine rice. In any case, make sure to take a look at our guide to different rice varieties so you can choose what you like best.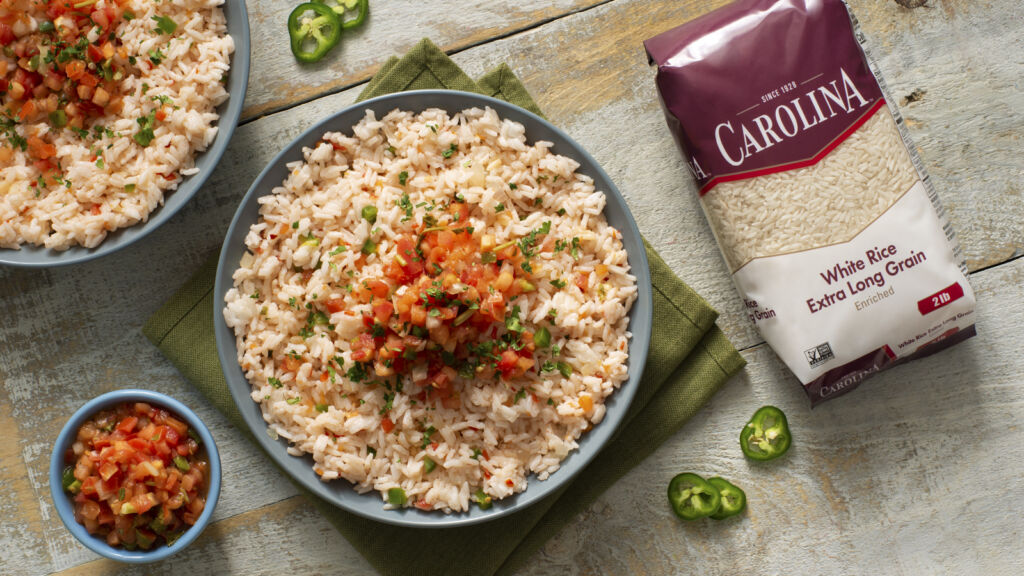 Start your burrito with plain rice cooked in water or season it! This can be as simple as swapping in broth or coconut milk for the cooking water or adding in fun ingredients after it's been cooked. If you want some ideas, try these four delicious options:
Pro Tip: Take a look at these simple ways to level up your white rice for even more add-ins and clever hacks to get more flavor.
Protein
Use our protein options as a guide, but make your burrito your own.
Meat:
Using meat can be as simple or complicated as you choose, use store-bought rotisserie chicken, canned tuna, lunch meat, a grilled steak or even slow cooker pork or beef (carnitas or birria).
Simply add in your meat of choice or use one of these ideas as inspiration (grain bowls work perfectly as filling):
Use pantry staples like canned tuna: Rice with Tomato and Canned Tuna
Use leftovers like holiday chicken or turkey: Cilantro Lime Rice and Turkey Burritos
Season your meat with something tasty: Rice Bowl with Caribbean Jerk Chicken
Slow cook your meat: Beef Birria with Tomato Infused Rice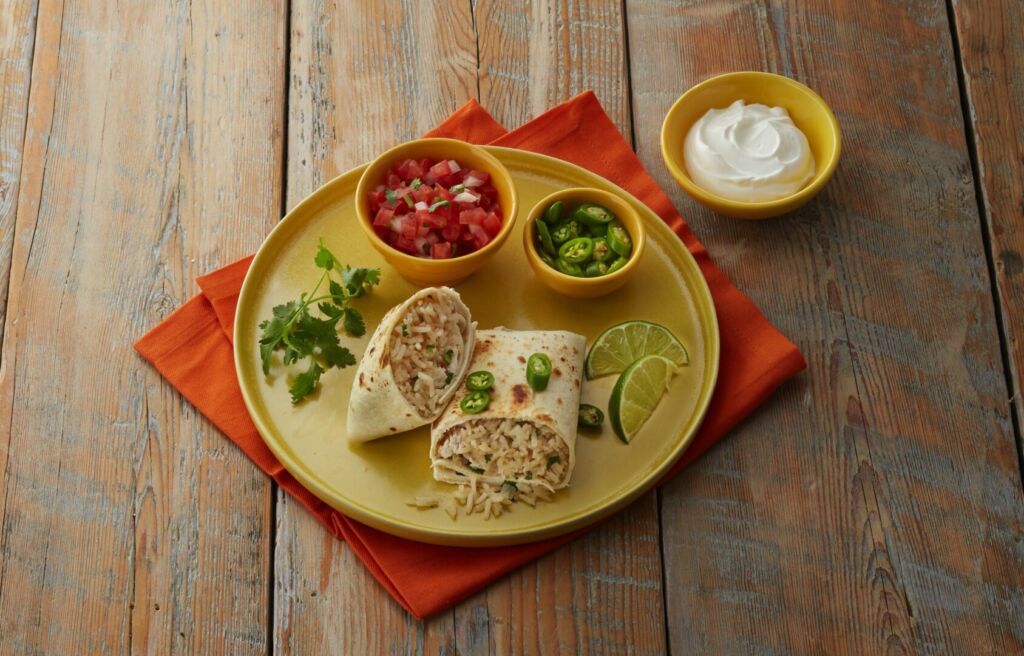 Beans:
Adding beans is a great way to beef up your burrito with or without the meat. Combining rice and beans creates a complete protein for both vegetarians and meat lovers alike! Use pinto beans, refried beans, chickpeas or any other variety like in this Brown Rice and Black Bean Burrito.
Veggies
No burrito is complete without a helping of veggies in some way. You might prefer a fresh pico de gallo, tomato slices, lettuce, avocado, caramelized onions, or even a blend of grilled vegetables.
These incredible veggie-loaded burrito filling ideas are entirely meat free but bursting with flavor. Grilled, roasted or coated in spicy seasonings, use these rice bowl recipes as a filling for your next burrito:
Chipotle Mushroom Burrito Bowl with portobello mushrooms, onion, shredded purple cabbage, chipotle peppers in adobo, avocado, lime and pickled red onion.
Grilled Veggies Burrito Bowl with diced green chile and grilled bell peppers, mushrooms, zucchini, yellow squash and corn on the cob (cut off).
Roasted Squash Rice Bowl with roasted delicata squash, lettuce, pico de gallo, guacamole and lime.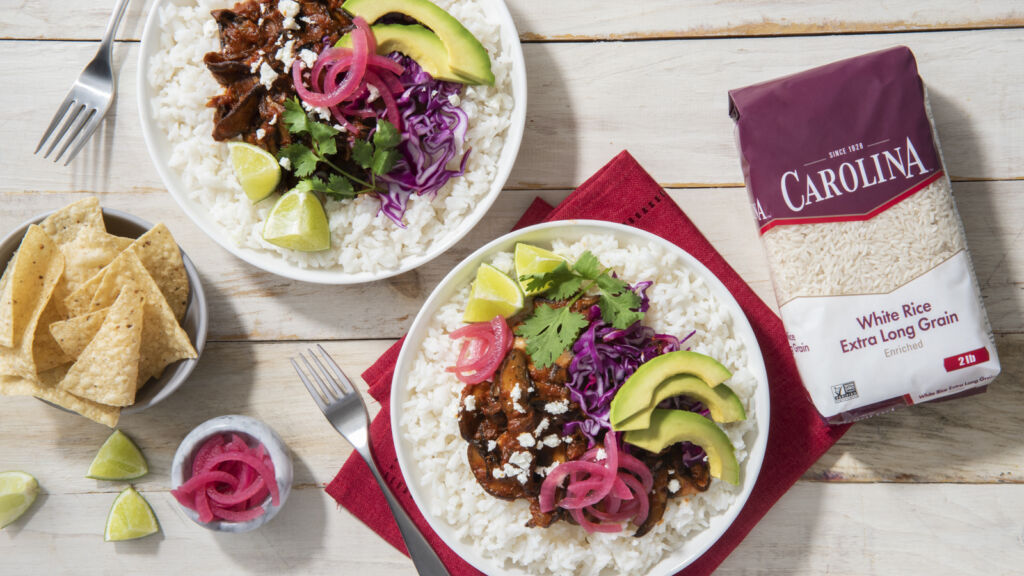 Extra Toppings and Sauces
It's your burrito, so you get to choose just how much extra toppings you want to add on! A few of our favorites include cheese, guacamole, hot sauce, salsa, sliced jalapeños, sour cream, homemade burrito sauce, lime juice, salsa verde, and so much more.
You also can throw your tastebuds for a loop using coconut milk and red curry paste in these Thai Coconut Curry Chicken Burritos topped with fresh cilantro and lime juice.
Roll Your Tortilla with Confidence
One of the reasons most people keep going back to their favorite restaurants is because they lack the skills to roll their own burrito at home! It's time to change that and learn how to roll your own with confidence.
As we mentioned before, the key to rolling a burrito is making sure you have the right size flour tortilla (around 10 x 10 inches or larger). Once you have it, don't use too much filling, about 1.5 cups of everything should be good. Next, choose your preferred eating style and wrap your burrito accordingly. We have two methods, Option A is ideal for a more wrap-style, where Option B is perfect for searing and enjoying sliced in half. Take your pick!
Option A: Open Ended Burrito
Start by slightly heating your tortilla in the microwave or in a pan over low heat.
Place 1-1.5 cups of filling in the center.
Then, fold the side in about 1/4 th.
Fold the bottom up a little more than halfway.
Fold in the corner slightly to avoid any leakage.
Fold the other half over, wrap in a bit of foil to keep warm and enjoy!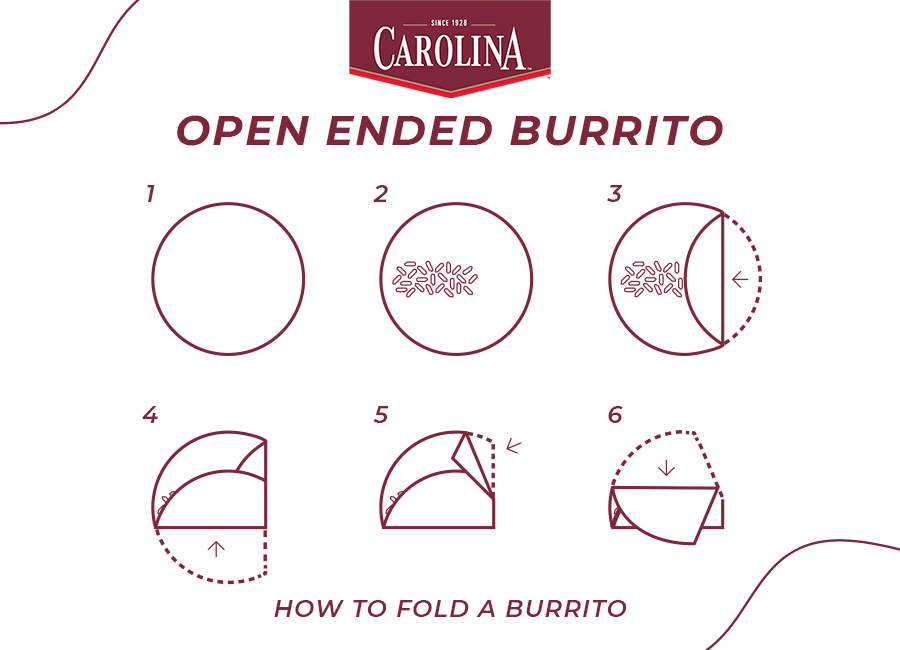 Option B: Fully Sealed Burrito
Start by slightly heating your tortilla in the microwave or in a pan over low heat.
Place 1-1.5 cups of filling in the center toward the bottom.
Fold both sides in toward the center.
Then, fold the bottom upward in 1/4 th.
Continue to roll over until the burrito is tightly closed.
Place in a warm pan and sear shut if preferred. Wrap in foil to keep warm and enjoy!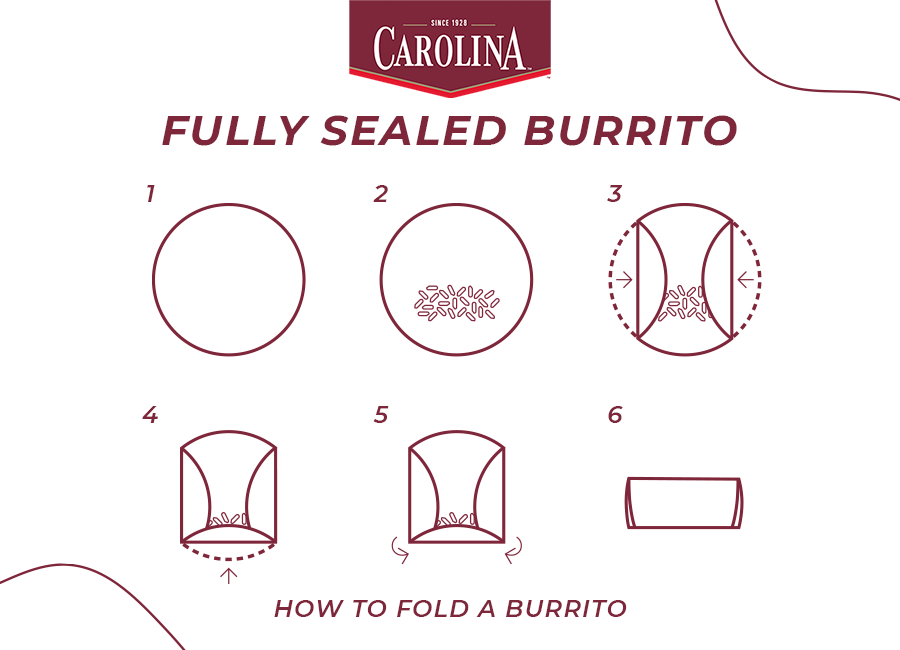 After you have finished your dreamy burrito, treat yourself to a rice pudding recipe you won't be able to get enough of! It's time to get started on your own burrito, grab your ingredients and Carolina® Rice variety of choice to begin.
For more delicious recipes and cooking tips on topics like 'how to cook white rice in the microwave?' Or how to make an arroz chaufa recipe, Ttake a look at our website.