There's a special bond between food and gathering with family and friends while celebrating cultures and traditions. Cinco de Mayo is one of the most celebrated holidays around the globe and for good reason. There are plenty of tasty dishes to cook and eat and, honestly, who can resist a fun party filled with delicious food and good company? We certainly can't.
Even the thought of Cinco de Mayo gets everybody in the mood for tasty classics like tacos or burritos, but there is much more to be discovered within Latin food and celebrating this festive holiday. Whether you're an avid participator in Taco Tuesday or love international cuisine, this quick guide will walk you through the basics of hosting a Fifth of May celebration, from the main dishes and appetizers to planning the fiesta!
Planning the Party Menu
The first thing we need to know is that this party calls for bright colors and bold flavors. Although traditional Mexican recipes call for varied local ingredients, there are some kitchen staples and shortcuts that will help you get those flavors you love. Start planning your menu by looking in your pantry and making sure you have enough of these on hand: rice, beans and tortillas! In the fresh department, you're likely to need some fresh herbs like cilantro, limes, cheese, and chili peppers.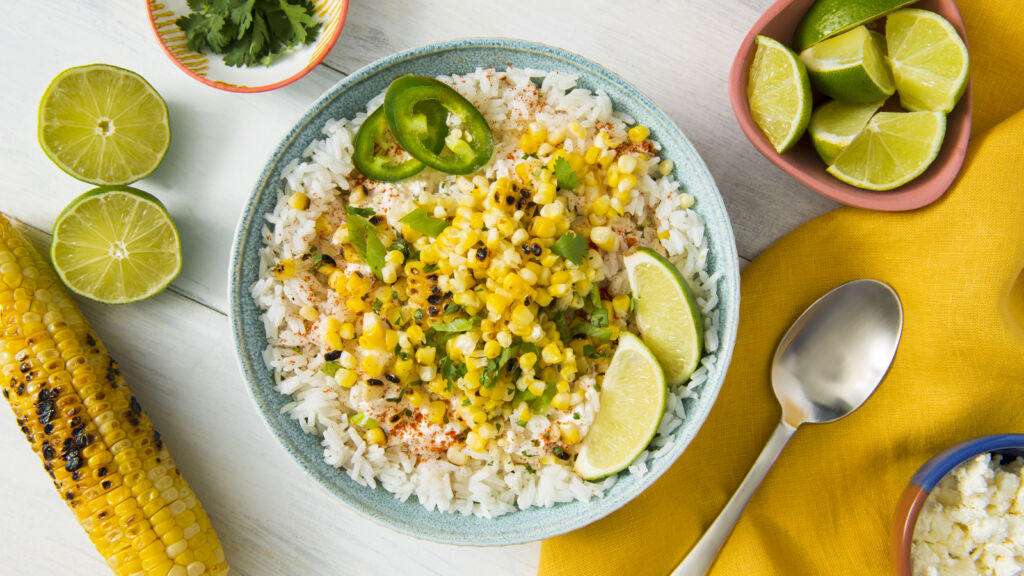 Now that you know some of the ingredients that are a must for the menu, let's dig into some recipe inspiration to make your Cinco de Mayo fiesta the best one yet – we guarantee there's something for everyone!
Creamy Guacamole
Guacamole is the star appetizer at almost every party. To make things a little more special, make the classic recipe your own and add a sweet and hearty twist by adding Carolina® Jasmine Rice and fresh mango slices. Serve this Creamy Guacamole Rice Dip with nachos or tortilla chips for your guests to scoop – it will probably be gone in a blink!
Tasty Taquitos
Taquitos, or Tacos Dorados, are easy-to-eat finger food that consists of gently rolled tortillas, filled to perfection and baked or fried for a crispy finish. Our version calls for a hearty filling with shredded chicken, chipotles in adobo, white rice, and pinto beans. Try your hand at the homemade avocado cream, smother your taquitos in sauce, and finish off with a fresh cotija cheese topping.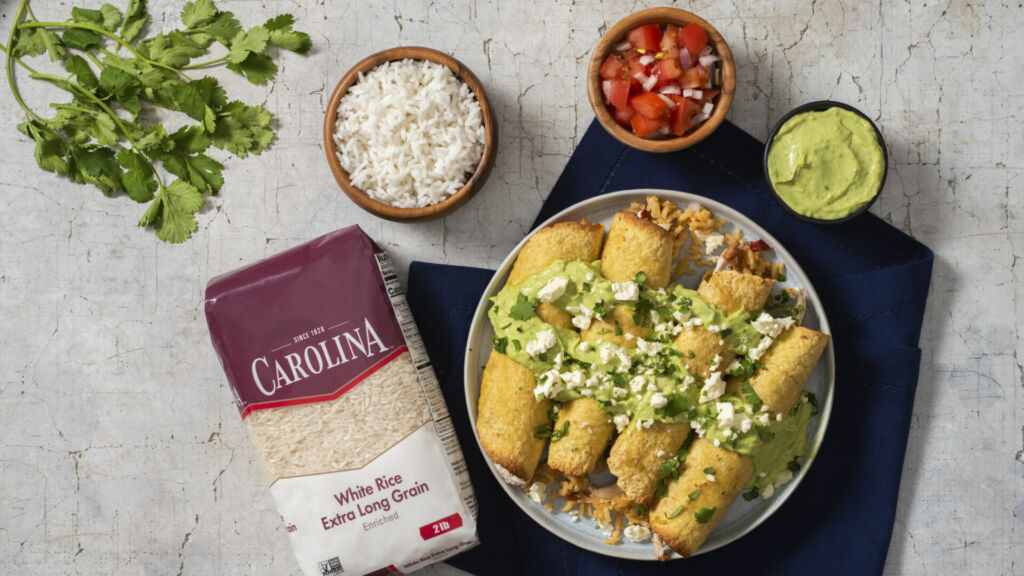 Homemade Street Corn (Elote)
Elote, or Mexican Street Corn, is a must for authentic celebrations. If you've ever thought about corn as a boring canned food, you'll be happy you put this together for Cinco de Mayo! Corn on the cob is grilled and seasoned with sour cream, feta, lime, cumin, paprika for creamy and spectacular street food flavors. Although it is usually eaten right from the cob, try it served over a bowl of white rice for a mess-free and party-friendly version of the classic.
Enchiladas with a Twist
Enchiladas and huevos rancheros are two other classics in the wide array of Mexican dishes for this celebration. What if you combine the best of both recipes into a single delicacy? These Huevos Rancheros Enchiladas are just that! If you're turning your Cinco de Mayo get-together into a brunch party, you may want to serve these festive enchiladas as the main dish!
Tacos and Burritos
No party would be complete without a tray of tacos and burritos! In this department, there are many fillings you can treat your guests to – Chicken Tinga, carne asada, and Birria being the most common. Once you have decided on the main filling, make sure to accompany it with other simple toppings like queso fresco, cilantro, avocado, and lime juice. Contrary to what many people may think, it's all about simplicity when it comes to filling a taco!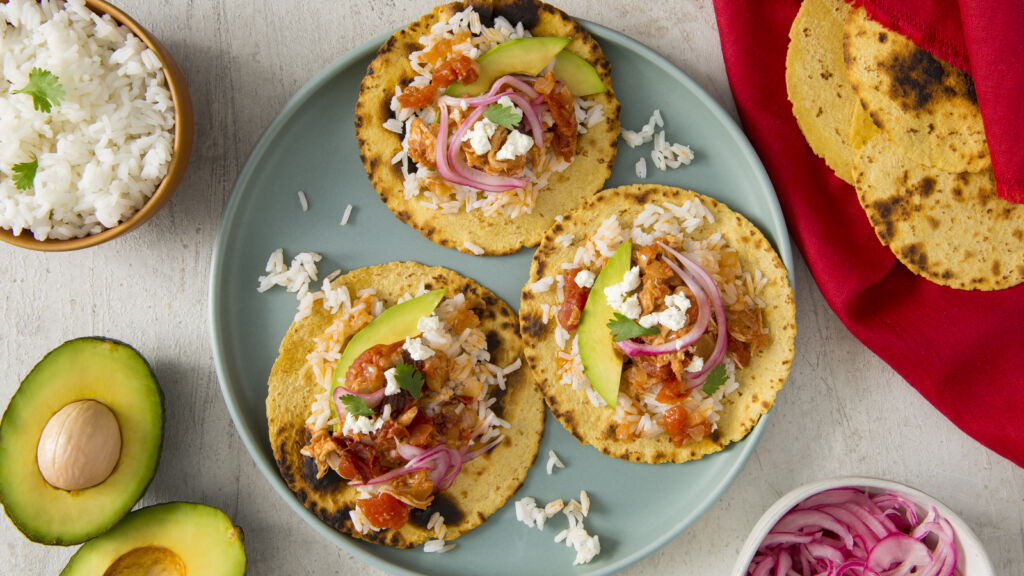 For burritos, toppings go a step further. As the tortilla is bigger, more ingredients can be added when assembling your burrito. Fresh vegetables, salsas, beans, cheese, and meat are some of the most common. For a party, burritos may be more complicated to eat. If you're planning a party with mostly appetizers and finger food, but don't want to miss the tasty flavors of burritos, serve them in a bowl, taking inspiration from our ideas below.
Burrito Filling Ideas
Start off with a base of your favorite Carolina® Rice variety and set up a colorful spread with different toppings. You can even take the rice base up a notch and combine it with a fresh salsa like in this Pico de Gallo Rice Pilaf. Jot down these filling ideas and try one, or many for your burrito bowls, depending on your guest's liking!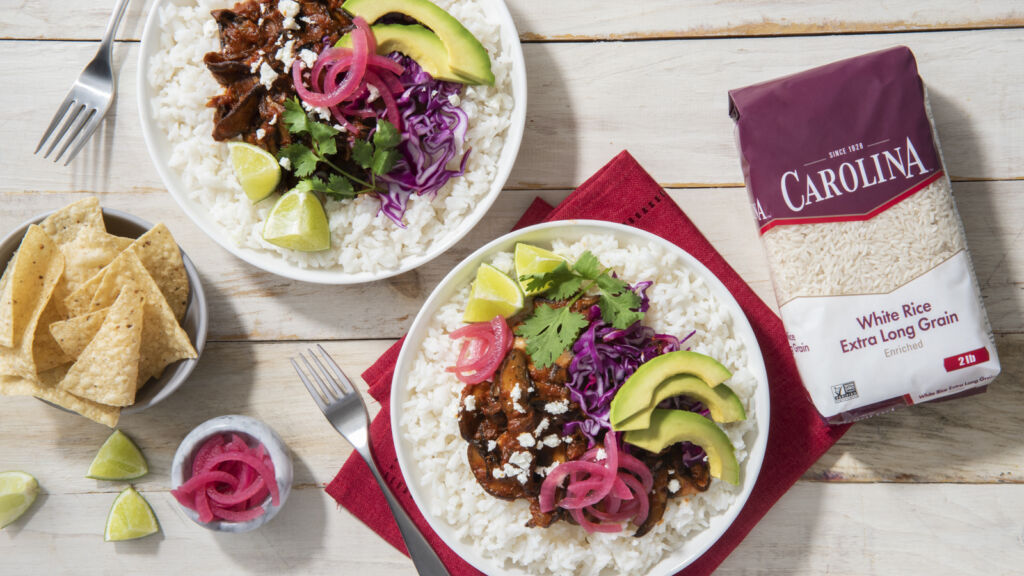 Traditional Desserts
To accompany all those tasty flavors from the savory entreés and appetizers, there's nothing better than a glass of chilled Rice Horchata.
Or, if you're In the mood for a creamy dessert, this Tres Leches Rice Pudding or the classic rice pudding recipe is the best fit for your Cinco de Mayo party. Serve topped with fresh fruit for a dash of color and extra flavor.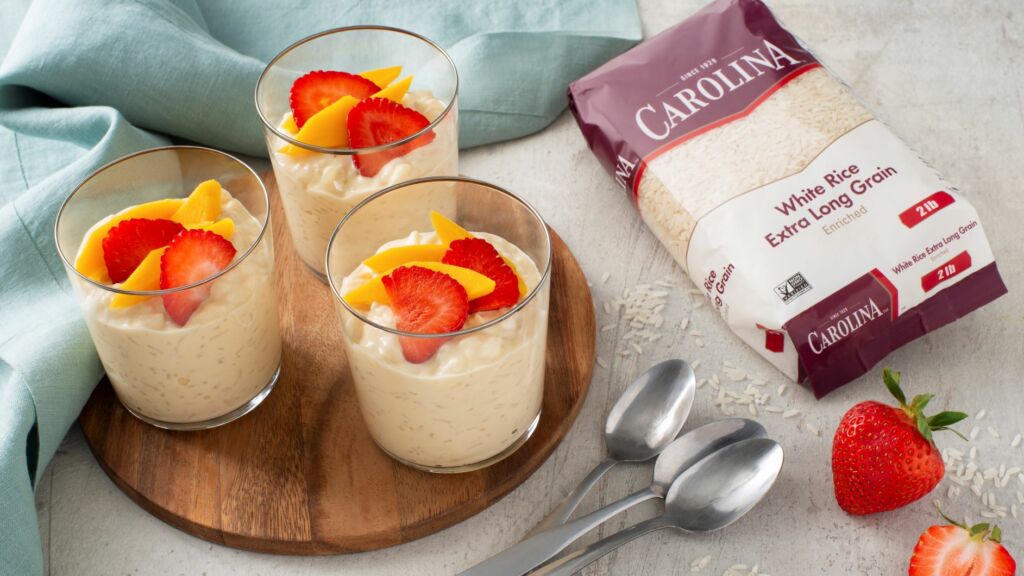 Setting the Stage for the Fiesta
Now that you have many ideas on hand to serve a spectacular menu, let's take a look at other details to set the ambiance for your party. We're talking about decoration, building a playlist with festive music, and even organizing some crafts for the little ones in the family to also participate in the event!
For decoration, make sure to use colorful napkins, straws, and serving bowls. Guirnaldas and papel picado are also a must for your party. Turn your ornaments into a fun DIY project and ask for family help for making paper guirnaldas, mini piñatas and even paper fringe decorations for drink stirrers and toothpicks.
With family, friends, and tasty food, there's always room to celebrate cultures and heritage – even if it's an online party! Challenge yourself to organize an amazing Cinco de Mayo party with the help of Carolina® Rice. For even more great tasting recipes and cooking tips like how to get the right water to rice ratio in your rice cooker or how to make arroz chaufas, check out our website.