Some say one of the best ways to learn more about other cultures and traditions is to try their cuisine. A group of people or a way of life can often be reflected in the use of certain ingredients or styles of cooking. And, If you were to think about how people live in the countries surrounding the Mediterranean Sea, their diet is probably the first thing that comes to mind. Mediterranean food has found a way to conquer almost every palate and serve some of the most iconic dishes worldwide, such as Paella or a fresh Caprese salad.
The expanse of the sea makes for varied cuisines, however there are many nuances within Mediterranean meals including bold flavors and ingredients like olives, whole grains, legumes, seafood, spices and fresh vegetables are common across most typical dishes. So, we put together a few recipe suggestions for you to enjoy a taste of the Mediterranean from your own kitchen. These amazing dishes are packed with simple components for a culinary experience that is guaranteed with Carolina® Rice!
Enticing Veggie Flavors
With plenty of sunshine available, bright and fresh produce like tomatoes, eggplant, zucchini and peppers are key to some of the best Mediterranean dishes out there. Fruits and vegetables add color, nutrients and tons of flavor to your dishes. Everyone will enjoy these international veggie-forward meals!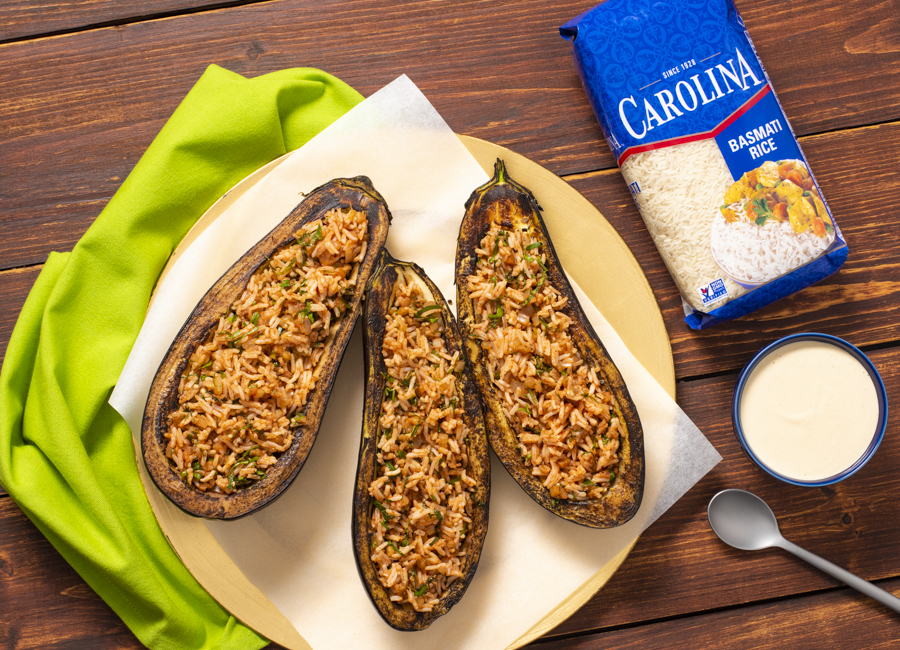 Ratatouille Rice
Our first recipe is a simpler and more filling version of the French Ratatouille – which is well known for its combination of fresh produce like tomatoes, zucchini and bell red pepper with herbs de Provence and other spices. We went a step further and made it a convenient one pot recipe with rice, for an easy dinner dish, packed with all the authentic flavors.
Stuffed Eggplant
Eggplant is a staple vegetable in Eastern Mediterranean countries, where it takes a star role in some of their most recognizable dishes: Greek Moussaka (eggplant lasagna), Lebanese Baba Ganoush (creamy roasted eggplant dip) or Italian Eggplant Parmesan.
We're serving up a classic like Stuffed Eggplant with a savory filling of tomatoes and Carolina® Basmati Rice infused with a wide range of seasonings. The combination of spices like cumin, coriander, cinnamon and pepper with fresh herbs like mint, cilantro and parsley give this recipe a signature Mediterranean taste in every bite!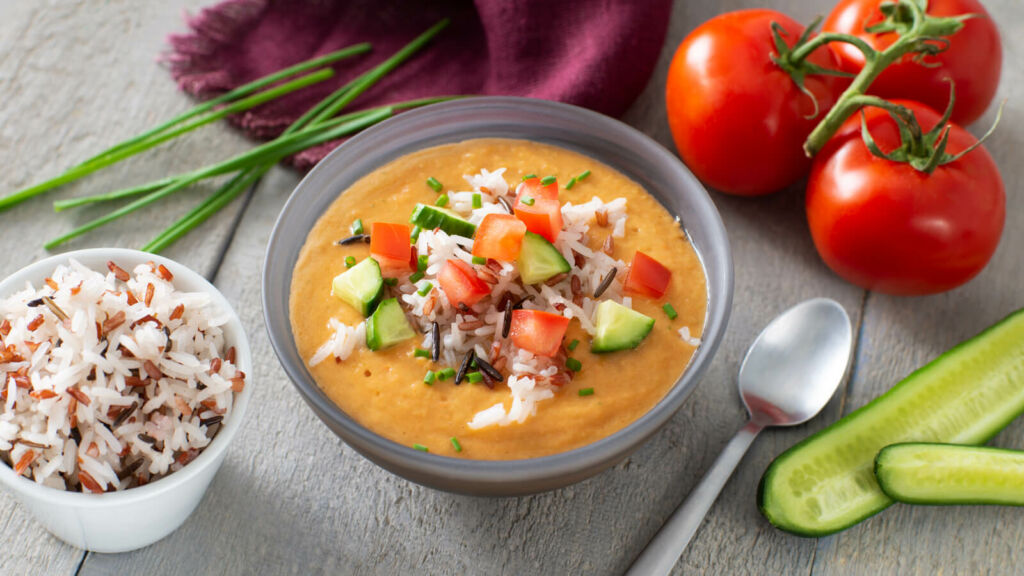 Gazpacho
Have you tried Spanish Gazpacho before? This light and refreshing soup is typical in Spain during the summer as it is enjoyed cold. The recipe is rather easy to make as you only have to blend the ingredients, including cucumber, tomatoes and yellow bell pepper, and refrigerate until chilled. For a heartier soup, serve topped with Carolina® Jasmine Rice with Red & Wild Rice and veggie slices.
Caprese Salad
As you have seen in many of these recipes, tomatoes are one of the preferred ingredients for Mediterranean dishes. Caprese Salad is a classic appetizer in Italian restaurants, but you can also make it at home (and with a show stopper presentation) with our recipe for Layered Caprese Rice Salad.
Carefully slice your heirloom tomatoes and build a tower by layering with fresh mozzarella and light and fluffy Carolina® White Rice. Drizzle with balsamic vinaigrette and olive oil to bring the flavors together.
Traditional Rice Dishes
While rice may not be the main staple for Mediterranean cuisine, grains and legumes play an important role. Rice is often enjoyed as a main or side dish in the form of a rich risotto, rice pilaf, in paellas, or combined with other ingredients in a speedy rice bowl.
Rice Bowls with Mediterranean Flavors
Ingredients like chickpeas, blended hummus, feta cheese, or herb vinaigrettes can add that Mediterranean flair to any rice bowl creation. If you need a little inspiration, take a look at these Greek inspired bowls:
Our Tuna Rice Bowl is great for a speedy lunch or dinner and to get even the pickiest eaters to enjoy seafood and fresh veggies. Canned tuna, hummus, cucumbers, tomatoes, olives and red onion are just some of the ingredients, but you can adjust them to everyone's liking!
For an energizing Jasmine Rice Power Bowl filled with fresh flavor, try making your own creamy tzatziki sauce by blending together olive oil, Greek yogurt, grated cucumber, lemon juice, garlic and herbs like dill, parsley and oregano. Add avocado to mixture for a fun and flavorful twist, and drizzle over rice and salad toppings.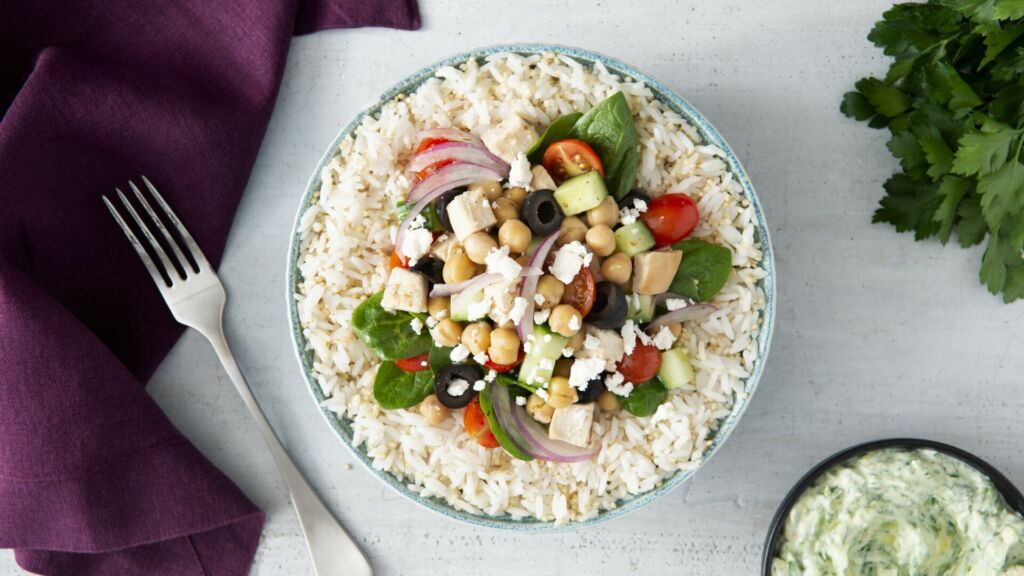 Rich and Creamy Risotto
One of the more world-famous rice dishes originating in the Mediterranean has got to be Italian comfort food at its best – risotto. Starting with a base of Carolina® Arborio Rice, perfectly crafted for creamy rice dishes, try a homemade classic like a Creamy Mushroom Risotto. Or, take a bit of inspiration from other pasta sauces like in this Puttanesca Risotto combining the best of two Italian dishes into one.
Paella Variations
When it comes to making an authentic Spanish paella, there are many ingredients you can combine to add different flavors. The most common variety is the Classic Spanish Seafood Paella, but believe us when we say, there are many options when it comes to this famous rice recipe.
To keep things simple, whip up your weekend paella with pantry staples like canned tuna or jarred artichoke hearts for this Tuna and Artichoke Paella. Condiments like saffron threads, green beans and Carolina® Parboiled Medium Grain Rice, which is perfect for Spanish cuisine recipes, will add all the authenticity your paella needs.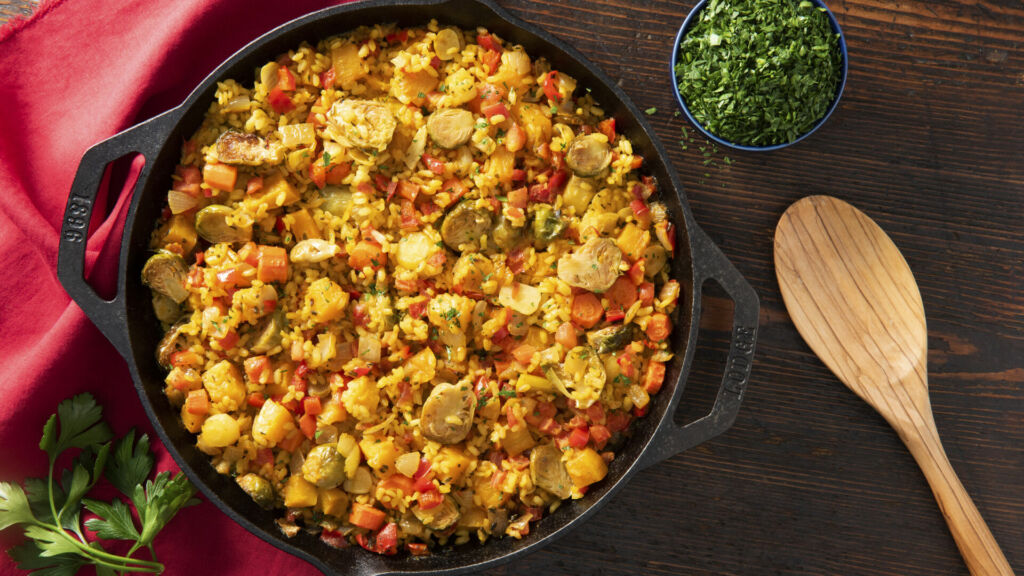 For a vegetarian version, this Roasted Veggie Paella is as good as it is impressive looking. Plus, it's a great recipe to get creative in the kitchen with whatever veggies you have on hand. Don't let anything go to waste and start customizing recipes to use the ingredients you already have! We guarantee, results won't disappoint.
No matter which paella variation you decide to make, there are certain tips and hacks to keep in mind to achieve those chef-like results. Make sure to check out our Paella Cooking Guide and start nailing this rice dish every time.
If you enjoy cooking as much as we do, start in the Mediterranean and continue to explore cuisines from around the world with the help of Carolina® Rice! For more tasty ethnic recipes, discover a classic from Latin America by whipping up this easy rice pudding.
You can find more information on our products on our website, such as white rice nutrition information along with how to make arroz chaufa.