If you've experienced the enticing aromas and tastes of a traditional Spanish Paella, you'll know that it has the power to bring people together around the table. Even Spaniards will say that the very best paellas are homemade.
If you'd like to improve your abilities when it comes to preparing a delicious homemade rice paella, we've put together a guide with tips. Take notes and impress your friends and family with your newfound knowledge and skills making this iconic recipe. Additionally, we'll fill you in on the proper pan to use, our top pick for rice, and how you can switch up the ingredients. Ready to learn the secrets to making the best paella recipe? Let's get started!
Where Did Paella Originate?
Another interesting point to this recipe is that it tends to spark controversy among paella enthusiasts when it comes to what ingredients can be added in. So, if you really want to learn everything there is to know about paella, you'll need to start with its origins.
Paella Valenciana is often considered the most authentic and oldest version, given that this rice dish originated in the region of Valencia, Spain. It has rather humble beginnings, as it was made using short or medium grain rice with the purpose of using up any leftover ingredients from the fields such as beans, tomatoes, artichoke, peas and meat from rabbit, duck, snails, or chicken. Nowadays, one of the most sought-after recipes is made with mussels, shrimp, calamari like in this Spanish Seafood Paella.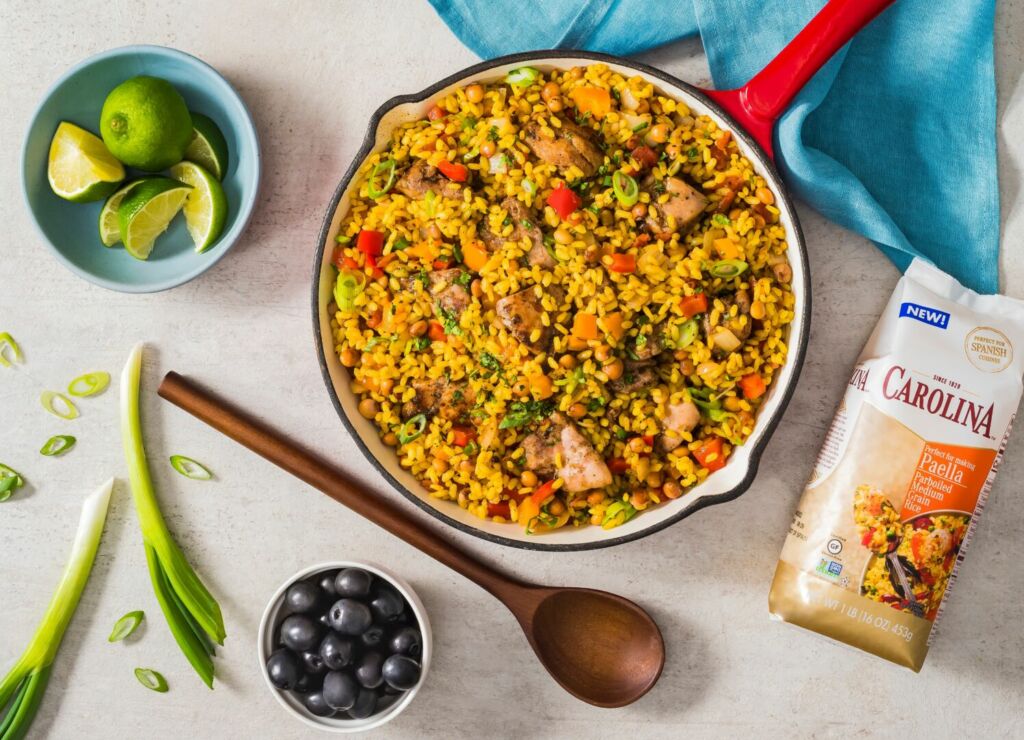 Pans, Broth & Rice Ratios
Before we get started on our tips, we'll answer a few common questions regarding cooking utensils, broth types and the perfect rice ratios for outstanding results.
Which Pan Should You Use?
Traditionally, paella is cooked in a classic paella pan, however if you don't have one, don't panic! Even the most skilled chefs don't have this hefty cooking equipment lying around. Easy alternatives include copper pans, as well as stainless steel and cast iron pans. No matter what you use, the most important feature is the size of your pan. Remember, the wider the better. For our paella recipes, we use a pan that is 30 cm/11-12 inches across, which serves four people.
What Are Paella Ingredients?
As we mentioned previously, the original Valencian variety may have included vegetables and meat, however nowadays there are an increasing amount of versatile ingredients used. No matter what you add in, there are always a few essential items that should be included.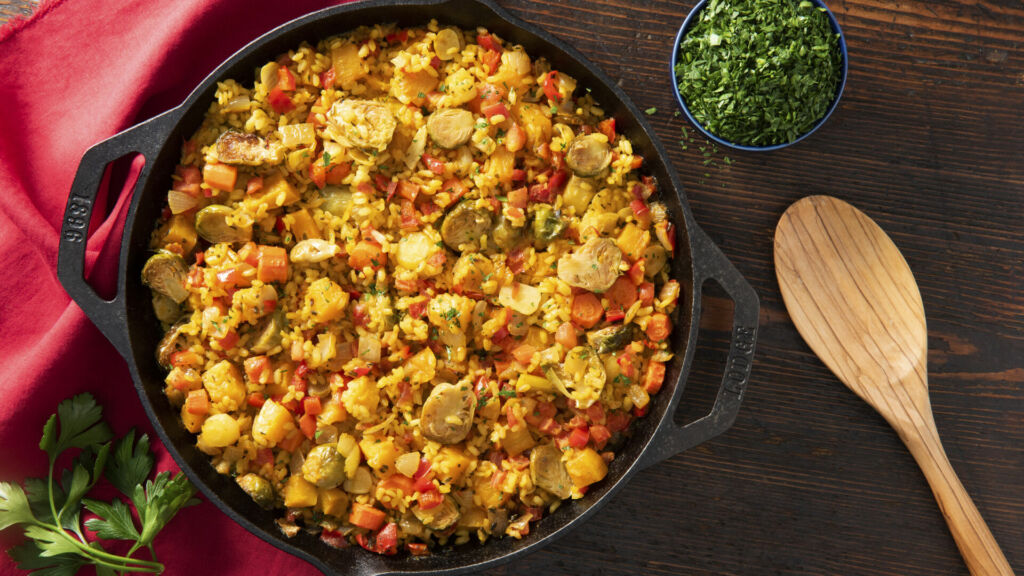 Oil: We suggest you use Spanish olive oil or another high quality oil.
Fresh vegetables: Delicious taste starts with fresh vegetables (and frozen peas). Traditionally, a sofrito is used, made out of red pepper, tomato, garlic and olive oil.
Seasonings: bay leaf, smoked paprika, saffron and salt.
Rice: See our suggestion below for our top paella rice pick.
Broth: Authentic recipes are often made with fish stock using the discarded shells of seafood, however chicken broth also works well. Water is also an option, but for truly incredible taste, homemade or store-bought broth should be used.
As we mentioned, there are always new and innovative ingredients used in paella. While they might spark a bit of controversy, one thing we can all agree on is that recipes like Jerk Chicken Paella or vegetarian Roasted Harvest Veggie Paella are incredibly delicious.
How Much Broth is Needed for Paella?
Another common question is how much broth is necessary? There is no set rule because it all depends on the size of your pan or skillet and the type of heat you're using. We would suggest using 80-100 grams of rice per person (that is about ½ cup of uncooked rice) and 1 part rice to 3.5 parts broth. However, we suggest trying your paella rice in order to adjust the flavor with any extra salt or broth needed.
How to Make a Paella for Two
If you're only making paella for two, then you'll want to cut down on the proportions. Use 1 cup of rice to 3 ½ cups of broth, it's that easy. Once you have this ratio down, feel free to mix it up and unfollow the recipe! Innovate our classic paella recipes with your favorite meats around with the amounts, adjust the rice and cook time, and you can make paella for two any night of the week!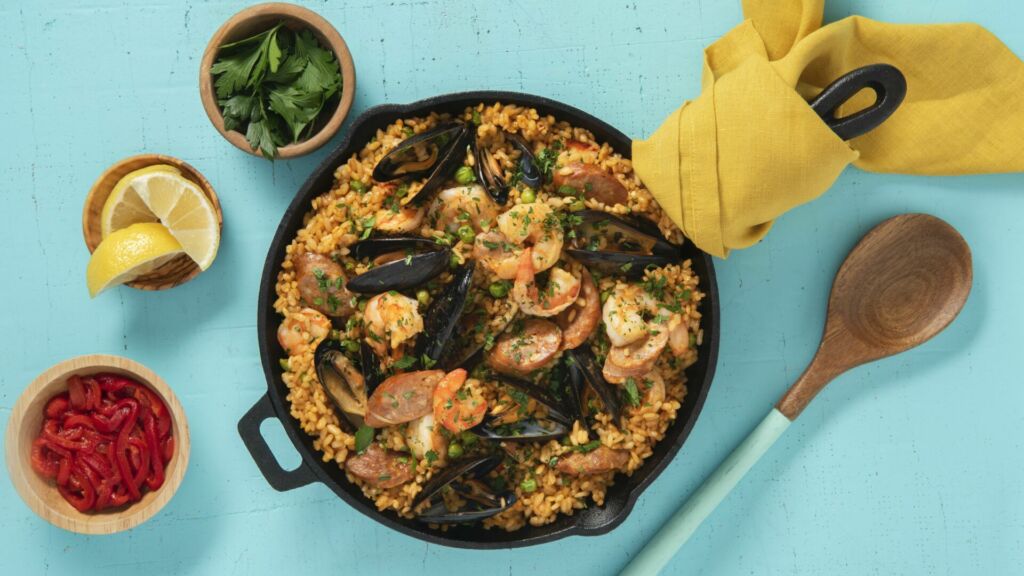 We also recommend you follow this meal up with another Spanish classic arroz con leche, or rice pudding, for dessert after the main dish!
Essential Paella Tips
1. Choose The Best Rice for Paella
First and foremost, making an exceptional paella has everything to do with choosing the right rice. Our Carolina® Parboiled Medium-Grain Rice was crafted to guarantee the perfect texture for your masterpiece. With its absorbent qualities and ideal starch level, it is our top choice when you cook rice on stove for any paella. 
2. Sear Proteins for Flavor
When you've got your rice ready, the next step is to include layers of flavor. If you break down any classic paella, it will most likely start with an aromatic base using oil that has been infused with flavor. This is achieved by searing meat, poultry or seafood in good quality olive oil. After browning these elements, you'll want to lower the temperature a bit and render off any excess fat coming from your meat. This ensures you get the utmost savory flavors out of your proteins or whichever ingredients you've decided on.
Try searing the flavorful chicken thighs first in this recipe for a Mexican-style Seafood Paella recipe.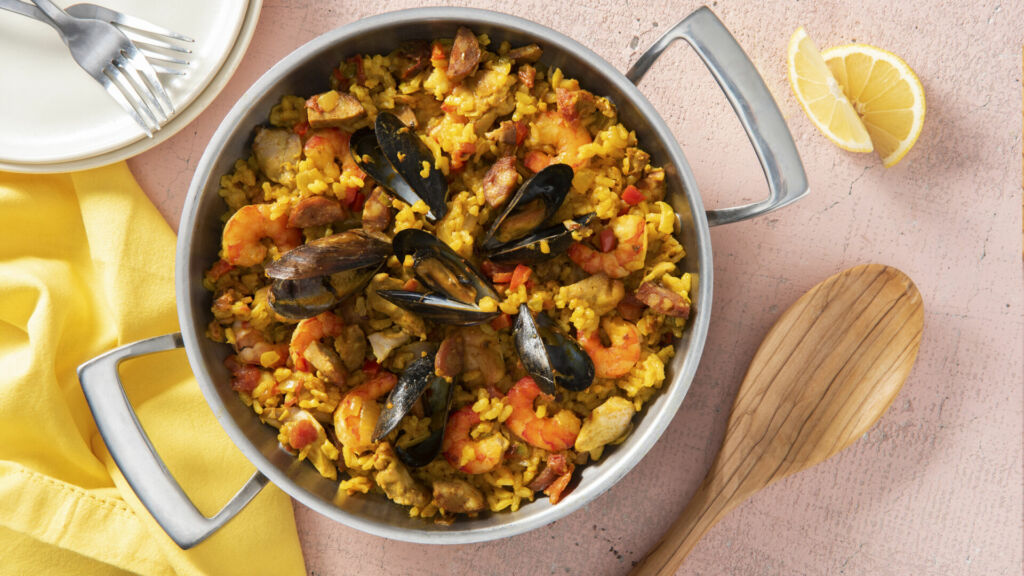 3. Enhance Flavor With a Sofrito
After searing the meat and removing, then start sweating your aromatic vegetables, such as onion and garlic, in that infused oil to create the sofrito. Note: If you decide to make a Vegetarian Paella recipe, simply start by adding the vegetables.
Traditional Valencian paellas, and other Mediterranean dishes, call for a classic sofrito–or fresh tomatoes cooked with onions, peppers, olive oil, and garlic. It can be made ahead of time or built up in your skillet after searing your meat. However you choose to add in your stewed tomato mixture, one thing is for sure, it will add body to your paella and tons of flavor. Furthermore, sofrito adds a layer of flavor to broth, which is normally reduced to a thick sauce and mostly absorbed by the grains anyway.
4. The Socarrat Secret
After simmering down your rice and reducing your broth, you might notice your rice sticking to the bottom of the pan. No worries here, this is not only inevitable but also a delicious part of some traditional paellas. This feature is called socarrat and makes a great foundation for your paella. You'll know when your rice is forming a nice crunchy texture when you hear a slight crackling sound. At this point, taste your rice. If it is still a bit chewy, add in a little more broth, but if it is al dente, let it sit and remove from heat.
Note: Be sure not to toast it too long or you'll end up with burnt bits instead of a tasty layer of nutty, toasted rice.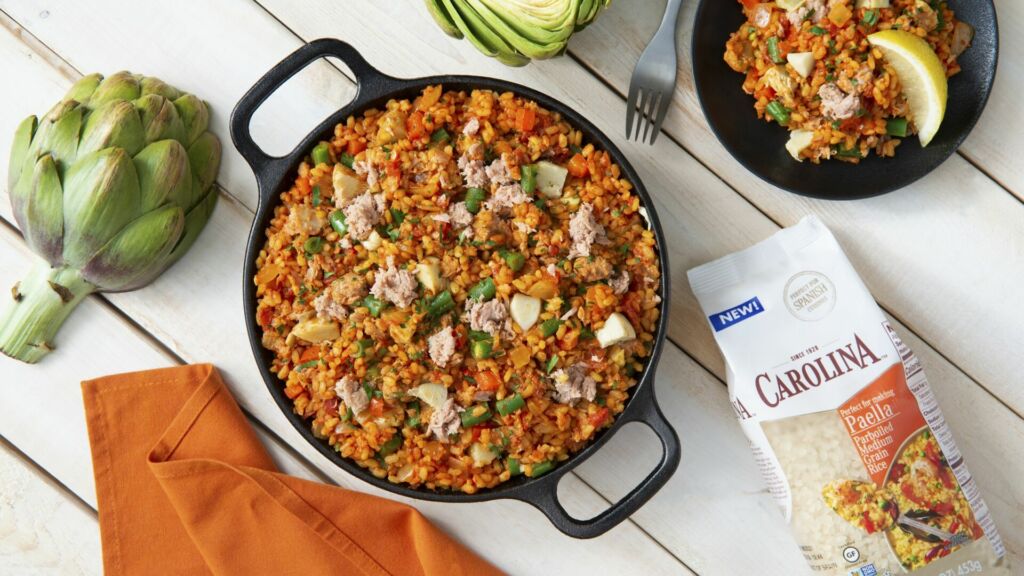 5. Let Your Rice Settle
After your rice is cooked and you've removed it from the heat, there is still one more important step in the process. It is essential to let your rice sit for just about 5-10 minutes. This allows for the ingredients to settle, the entire dish is cooled down, and the flavors to enhance!
Craving some inspiration? Browse a few more paella recipes like a Tuna and artichoke Paella or a Shrimp and Chorizo Paella.
Use your new knowledge to start cooking this Spanish specialty to create a show-stopping meal today! Find more tips and recipe ideas in our Cooking section.