Paella for two? How about four or five? If you've experienced the enticing aromas and tastes of a traditional paella, chances are you've also noticed that this dish was made for the masses. Designed to feed an army of hungry friends and family, a true paella brings people together. Now, ain't that sweet?
But, before we begin, you'll need more than just a hungry bunch to make this tasty dish. Read on for our top cooking tips and techniques for authentic paella and you'll know all the ins and outs. Additionally, we'll fill you in on the proper pan, the ideal rice, and how you can switch up the ingredients and scale down the size.
Rice, Sofrito, and More
The Best Rice for Paella
First and foremost, the difference between a good paella and a great paella has everything to do with the right rice. Our Carolina® Parboiled Medium-Grain Rice was crafted to guarantee the perfect texture for your paella masterpiece. With its puffed texture and starchy nature, this grain is also great for absorbing all those flavors and textures we love so much.
Don't Skip this Layer of Flavor
Now, let's talk taste. Besides the right rice, every tasty paella has one thing in common–tons of layers of flavor. Starting with the base, the most important layer comes from searing off your meat or veggies of choice. After browning up these elements, you'll want to lower the temperature a bit and render off any excess fat coming from your meat or sweat your vegetables a bit. This ensures you get the utmost savory flavors out of your proteins or whichever ingredients you've decided on.

Soooooo…frito
What's up with sofrito? Traditional Valencian paellas call for this classic sofrito–or grated tomatoes cooked with onions, peppers, olive oil, and garlic. It can be made ahead of time or built up in your skillet after searing your meat and veggies. However you choose to add in your stewed tomato mixture, one thing is for sure, it will add body to your paella and tons of flavor. Furthermore, these additions add a flavorful addition to your broth of your, which is normally reduced to a thick sauce and mostly absorbed by the grains anyway.
The Socarrat Secret
After simmering down your rice and reducing your broth by half, you might notice your rice sticking to the bottom of the pan. No worries here, this is not only inevitable but also an important step for a classic paella. This feature is called socarrat and makes a great foundation for your paella. You'll know when your rice is forming a nice crunchy texture when you hear a slight crackling sound. Be sure not to toast it too long or you'll end up with burnt bits instead of a tasty layer of nutty, toasted rice.
Pans, Broth & Rice Ratios
Don't Pan-ic
If you don't have a classic paella pan, don't panic! Even the most skilled chefs don't have this hefty cooking equipment lying around. This anxiety is easily solved with easy alternatives including copper pans, as well as stainless steel and cast iron pans. No matter what you use, the most important feature is the size of your pan. Remember, the wider the better. For our paella recipes, we use a pan that is 30 cm across, which serves four people.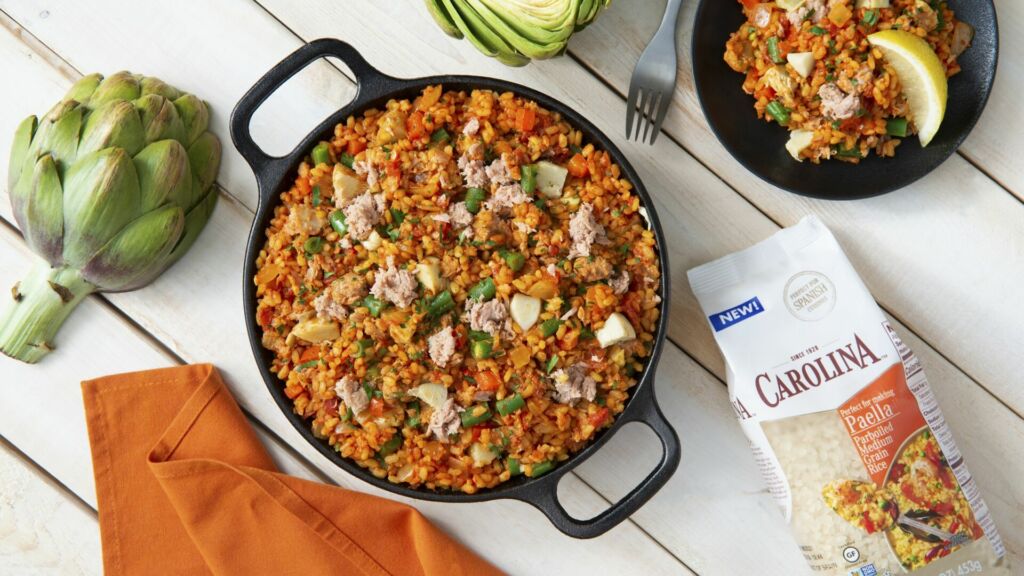 Water or Broth, How Much is Enough?
Okay, we mentioned the broth, so now comes the age-old question that circles around most rice recipes. How much water or broth is necessary? Regrettably, there is no set rule because it all depends on the size of your pan or skillet and the type of heat you're using. We know, it's not exactly what you want to hear, but it's the truth. As a rule, though, we recommend the average rice to broth ratio which is 1 part rice to 3.5 parts liquid, with an average cook time of 22 minutes.
Paella for Two?
If you're only making paella for you and your sweetheart, then you'll want to cut down on the proportions. Use 1 cup of rice to 3 ½ cups of broth, it's that easy. Once you have this ratio down, feel free to mix it up! Innovate our classic paella recipes with your favorite meats around with the amounts, adjust the rice and cook time, and you can make paella for two any night of the week! And, speaking of sweet, make sure to try this delicious and sweet rice pudding for dessert after the main dish!
Craving some inspiration? Browse our paella recipes, and get started on cooking up this Spanish specialty. Or check out more paella tips with How to Cook Rice: The Ultimate Guide.