Simple and elegant, sushi can almost be considered a delicious work of art. Picture perfect rolls take plenty of practice — just ask any itamae (sushi master) — but the path to perfection is both tasty and rewarding! Yet preparing restaurant-style sushi isn't as difficult as you may think — Instagram-Worthy meals are well within your reach. It's up to you to take the first step, so let's get rolling!
What Is Sushi?
When you think of sushi, you are probably picturing common maki or uramaki rolls, but did you know sushi comes in all shapes and sizes? From cone-shaped temaki to arch-shaped nigiri, sushi goes well beyond those rolls you've come to love.
Almost synonymous with high quality Japanese cuisine nowadays, historically wrapping fish in fermented rice was a form of preservation. In fact, the rice was thrown out before lunchtime! Once the rice, along with vinegar, was perfected and people started to realize how delicious and satisfying it truly was; the sweet, sticky rice was not only used to complement the salty fish, but it made it a meal: sushi.
Now, let's get into those tips to help you make homemade sushi in any shape or form.
Tip #1 Choose Sushi Rice
We've simplified sushi by taking the guesswork out of the grain selection: Carolina® Authentic Short Grain Rice for Sushi is the ideal rice to work with when you're making maki! While you rinse off some of the starch when you're making sushi, there is still more than enough to give your grains a naturally sticky texture. Also, due to that higher starch content, short grains have a firmer texture.
Tip #2 Flavor and Handle With Care
How To Make Perfect Sushi Rice
Once necessary for preservation, the rice is now necessary for flavor. In addition to rolls, this tasty recipe can be useful for rice bowls, crispy rice, and even onigiri. Each itamae has their own ratio, so feel free to experiment and tweak our recipe to your liking!
1 cup Carolina® Short Grain Rice
1 ¾ cups water
⅓ cup rice wine vinegar
2 tablespoons sugar
1 teaspoons salt

Step 1
For the Rice: Wash rice in cool water until water runs clear. Drain excess water. Place rinsed rice and 1 1/2 cups water in a pot. Bring to a boil. Cover and reduce heat to low. Simmer for 15 minutes, or until all water is absorbed. Remove from heat and let stand, covered 5 minutes.
Step 2
Rinse the rice in cold water while stirring briskly. Drain the rice completely.
Step 3
In a medium saucepan, bring the water to a boil. Add rice and cover with a tight fitting lid. Reduce heat to low and simmer for 20 minutes, or until all liquid is absorbed. Meanwhile, in a small bowl combine vinegar, sugar and salt. Stir until completely dissolved.
Step 4
When rice is done, spread evenly on a well-greased cookie sheet using a spatula or rice paddle. Sprinkle the rice with prepared dressing while mixing with spatula or rice paddle. Keep the rice covered with damp paper towels or napkins until the rice is ready to use.
Sushi Rice Tips
Sweet and Simple: The sugar will dissolve best when the vinegar mixture is hot, but not boiling.
Get Zesty: If you want a citrus twist, splash in a little lime zest.
Stay Cool: Before you start handling the sushi rice, you'll want it cooled to about room temperature. Use a fan so you get it to the ideal temperature without it drying out.
Keep it Moist: There's a time and place for crispy rice, and it is not rolled up in sushi. Keep a moist towel over your sushi rice so it doesn't dry out.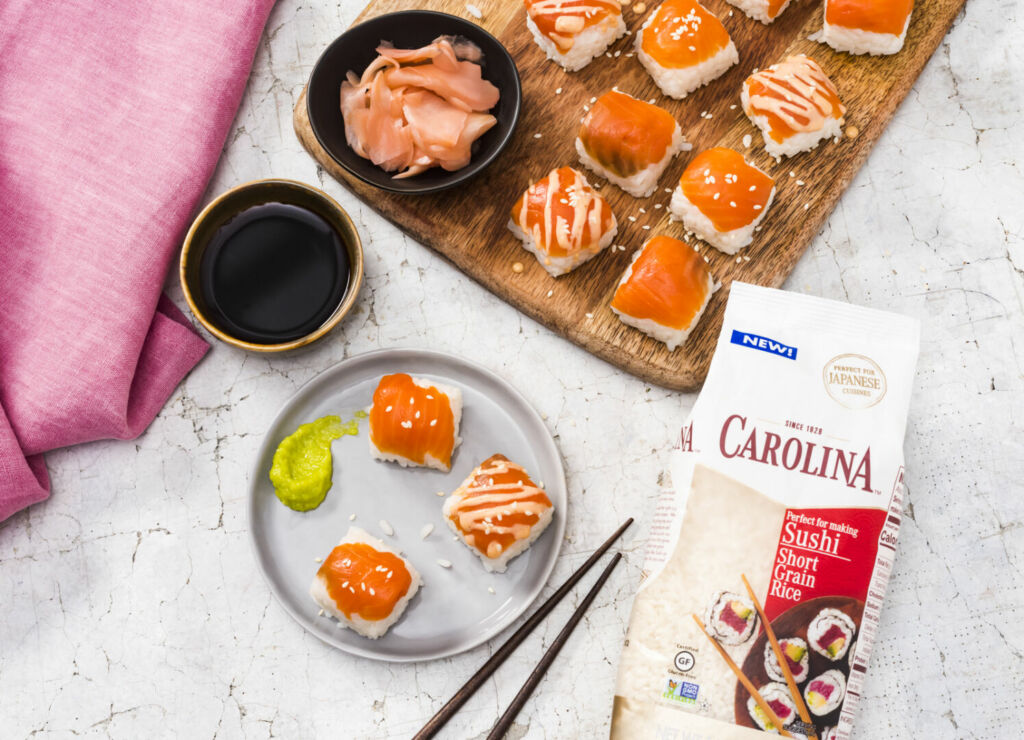 Tip #3 Roll Like a Pro
Every ingredient and aspect of the process plays a role in the final product. Learn how you can make maki sushi rolls like a pro!
Rolling Sushi Tips
Use a Soft Hand: Opt for a quality dried seaweed wrap; nori is delicate but it shouldn't be brittle. As it's fragile, make sure you apply a firm, yet gentle pressure while you're rolling. Also, make sure that you lay the nori with the rough side facing up.
Rinse and Repeat: Rinsing your grains before boiling is one of the key rinses. Sticky rice is — well — sticky, so you'll want a bowl of water close by. When you notice your hands getting a bit starchy, dip your hands in for a quick rinse.
Tip #4 Experiment with Filling Ideas
Less is more, so keep the filling simple. In typical Japanese cuisine fashion, sushi is all about the balance of flavor, color, and texture.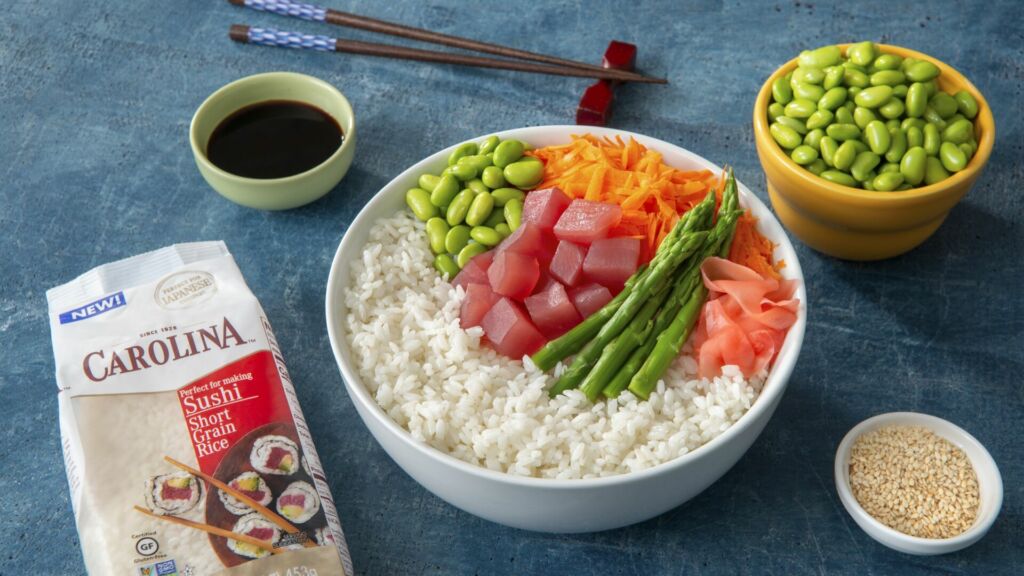 Traditional Sushi Fillings
Try your hand at using those rolling tips above and make a traditional Sushi with Avocado & Tuna. Just make sure you're using sushi-grade fish if you plan on making them with seafood. If you're not quite sure about using fish, keep it simple with tasty vegetables with these Vegetarian Sushi Rolls.
Try a Tasty Twist on Sushi
If you want to slowly dip your toes into the world of sushi, forgo the bamboo mat in lieu of an ice cube tray: our Pressed Sushi packs all the flavor yet requires none of the rolling! Another way to up your sushi rice game before rolling is by making a Chirashi, a "scattered sushi" bowl. Start by making a similar Hawaiian-inspired recipe with these Sesame Salmon and Sesame Tuna poke bowls made on a bed of sticky rice seasoned with soy sauce, orange juice, miso, honey, ginger and sesame oil.
If you want to get the kids involved and work on technique before using raw fish, get rolling on some sweet Fruit Sushi! By simply switching the vinegar and salt for coconut and vanilla, our authentic grains can serve as a delicious rice dessert.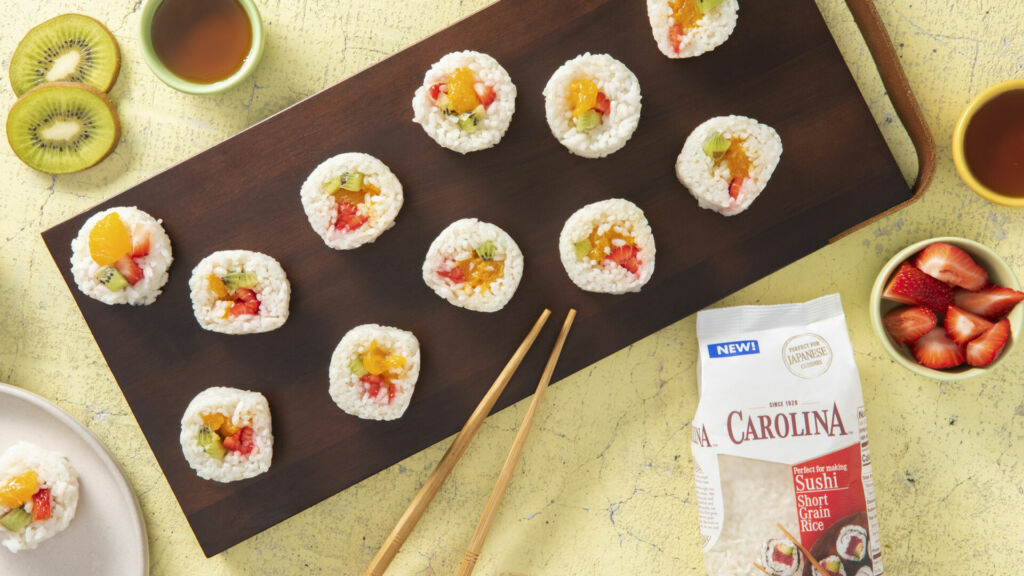 Flavorful Fusion Ideas
With all the simple elegance of Japanese cuisine but packed with the flavors of Italy, our Italian sushi is packed with Romano cheese, roasted red peppers, and wrapped up in savory prosciutto. Maybe you wanted to run south of the border with a sushi recipe; if so, you're in luck, our Fusion Sushi Crab Burrito is just the ticket! Packed with the usual sushi fillings — crab meat, fresh avocado, crunchy carrots and cucumber — and wrapped in nori sheets, this sushi is built like a burrito. It's an on-the-go sushi meal!
Unlike many Japanese recipes, onigiri doesn't call for the same short grain variety. A standard in Japanese cuisine, onigiri follows the sushi rice recipe exactly — except for the sushi rice! Using Jasmine White Rice and our sushi rice recipe, our crispy Yaki Onigiri is a toasted treat and yet another delicious Asian-inspired meal.
And for afterwards you can serve up this sweet recipe for Rice Pudding for dessert!
At Carolina® Rice, we believe in creative cooking and sometimes unfollowing the recipe to give your own personalized touch to something traditional! Start with classics like sushi, paella or a family-favorite arroz con pollo and experiment with new ingredients.