From the high mountains of Thailand all the way to Japan, Thai Jasmine Rice is a staple in dishes all over Asia. Its light and fluffy texture along with its aromatic and slightly floral scent make it a wonderful accompaniment to curries, meats, soups and stir fries – just make sure you adjust the white rice to water ratio.
At Carolina® Rice, we're making international dishes more accessible from Latin America all the way to Asia with our high quality rice. We'll show you all of the incredible ways you can use fragrant long grain rice in tasty Asian-inspired meals.
Asian Sauces and Condiments
Before we delve into the vast variety of Asian dishes made with jasmine rice, we'd like to take a look at some of the most common sauces and condiments that you may not already have on your shelf. Nowadays, these items can be found at local grocery stores or special Asian markets.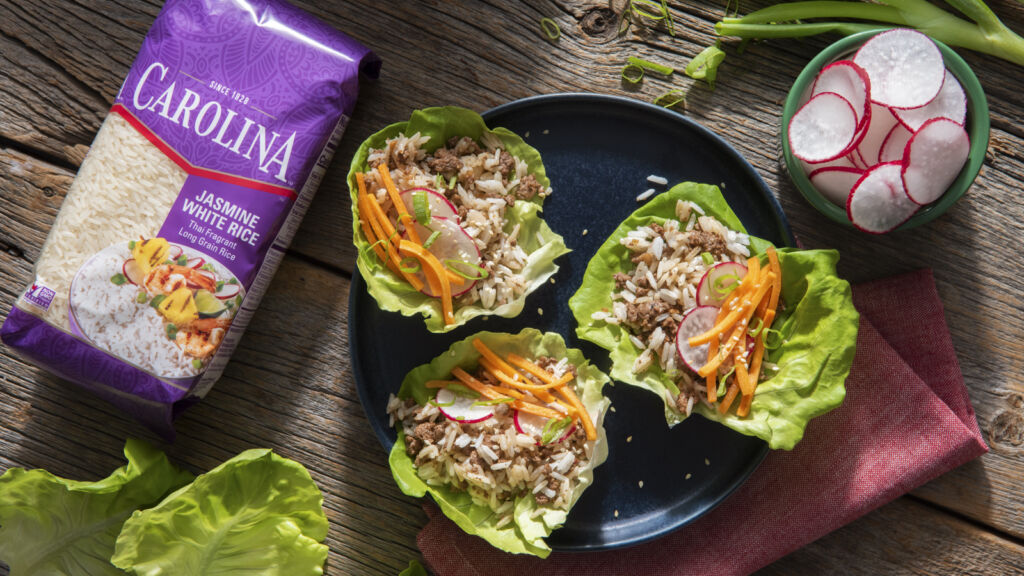 Sambal or Sambal Oelek is a chunky Indonesian chile sauce that is a bit spicier than other sauces like sriracha because it's a simpler combination of ingredients. It is often used in recipes throughout Asia including these Korean Beef Lettuce Wraps.
Sriracha is a smooth hot sauce that is a bit sweeter than sambal while still packing a punch.
Kewpie mayo is a Japanese mayonnaise made with egg yolks instead of the entire egg. Try it for yourself in our viral TikTok Salmon Rice Bowl recipe.
Oyster Sauce is a traditionally Chinese sauce, however it is now a staple in many Asian cuisines. Many modern versions are made from oyster extracts, sugar, salt and water thickened with cornstarch.
Hoisin Sauce is a thick, fragrant sweet and salty sauce commonly used as a glaze for meat, an addition to stir fry, or as dipping sauce.
Gochujang is a popular Korean red chili paste used as a savory, sweet, and spicy fermented condiment.
Doenjang is another common Korean condiment. It's a fermented soybean paste made entirely of soybean and brine.
Ponzu is a citrus-based vinaigrette sauce commonly used in Japanese cuisine. It has a tart taste with a thin, watery consistency. It is often used with soy sauce.
Yuzu is a slightly sweet, tangy and fruity dressing made from the citrus fruit yuzu.
Wasabi is a spicy, green and mustard-like paste commonly used for topping sushi. It is often considered the Japanese horseradish.
Fantastic Fried Rice
Starting with a classic, jasmine rice is an ideal choice when it comes to preparing stir-fries and fried rice. The long grains remain fluffy and separate when cooked so that each granule cooks up evenly with the other ingredients. Our suggestion is to use Thai Jasmine Rice or a blend of Long Grain and Jasmine Rice.
If you're craving those takeout flavors, start with a Chinese Chicken Fried Rice. Don't forget to add in soy sauce, sesame oil, green onion and eggs for a quick and amazing dinner.
See how simple it can be to make fried rice at home with our recipe video.
While we mostly associate fried rice with Chinese cuisine, this stir fry is actually common in other parts of Asia as well like Thailand, Japan, and Indonesia with their specialty Nasi Goreng. But, what makes them different?
Difference Between Chinese Fried Rice and Thai Fried Rice
While each of these fried rice dishes has one thing in common — long grain rice — there are certain differences between regions and countries. Authentic Chinese versions tend to be cooked with soy sauce, ginger, garlic, eggs and sesame oil.
If you venture to Thailand or Indonesia, the ingredients used tend to be more local with a touch of curry powder and pineapple like in this Thai Fried Rice or a combination of lime juice, ketchup, oyster sauce, fish sauce, garlic, sriracha and brown sugar like in a Pad Thai Fried Rice recipe.
Find more tips to learn how to prepare an amazing plate of restaurant quality fried rice in our Cooking section.
Essential Curry
Asian recipes captivate all of our five senses, but the most alluring of all have to be the curries. While usually only associated with Indian dishes, Thailand is also known for Thai curry pastes that come in three varying spice levels of red (hottest), green (medium), and yellow (mildest).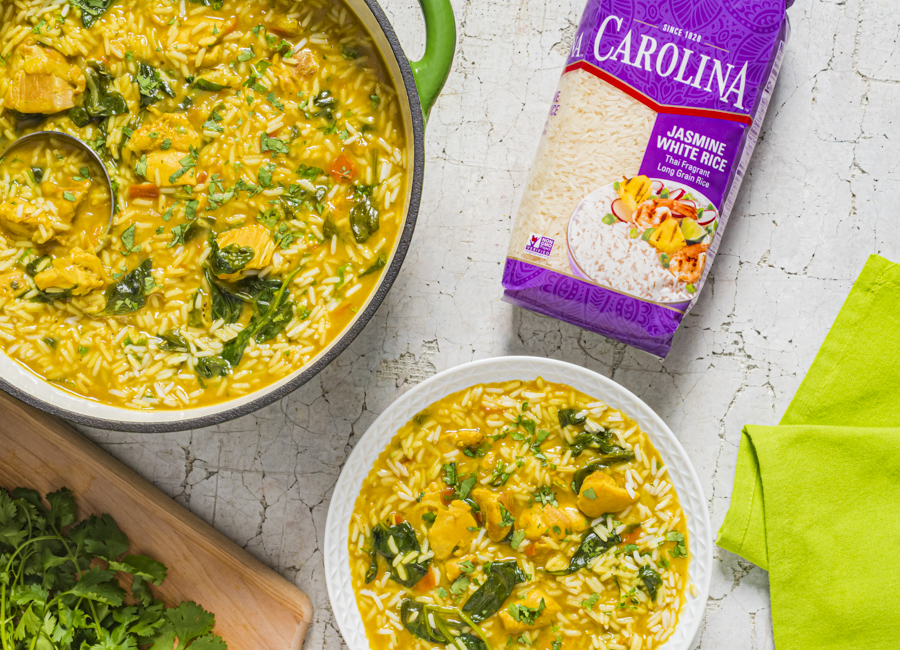 The color and degree of heat come from the ingredients used ranging from red colored hot chili peppers, green herbs and peppers and yellow milder options. Learn all about the difference between various versions in our guide to curry.
Also, no matter which curry you choose, it is meant to be served with a side of rice. While Basmati Rice might be more traditionally served with Indian curries, Thai curries use Jasmine Rice.
Start with a milder green curry paste in this One Pot Green Curry Chicken and Rice or for something a bit spicier, try using red curry paste with a Mexican twist in this recipe for Thai Coconut Curry Chicken Burritos.
Fermented Foods
While fermented foods can be found all across the globe as a historical method of preservation, many Asian countries include them in everyday meals especially paired with rice to create a satisfying and beneficial meal.
Korean Kimchi
For example, Korean cuisine is famed for its use of kimchi, or fermented cabbage and other vegetables. Just take a look at this Korean-inspired Kimchi, Bacon and Egg Rice bowl. Swap in whole grain Jasmine Brown Rice for a more aromatic taste.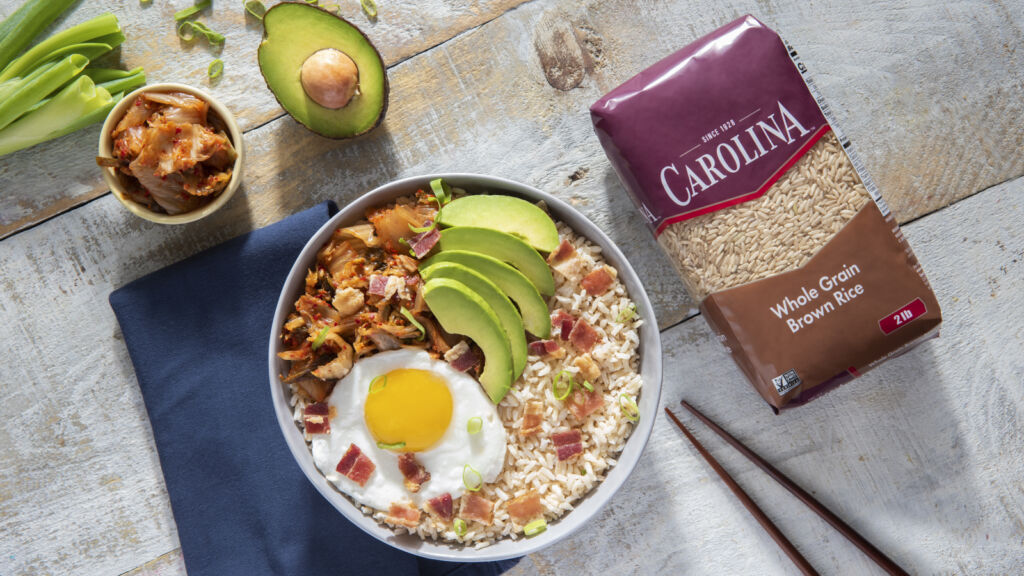 Fermented Soy
Using fermented soy products is a common practice throughout Asia that has made its way to the Western world as a way to enjoy protein-rich foods that don't contain meat. Many countries enjoy the benefits of natto, miso, soy sauce, tofu and tempeh.
Some of the most common include miso, which is a paste produced by fermenting soybeans with salt and kōji and sometimes rice, barley, seaweed, or other ingredients. Try white miso in this Miso Fried Rice recipe. Tofu is another popular option on the list made from coagulating soy milk that is pressed into solid white blocks. Use this recipe for Asian Rice Bowls with Tofu to try it out.
Rice Wine Vinegar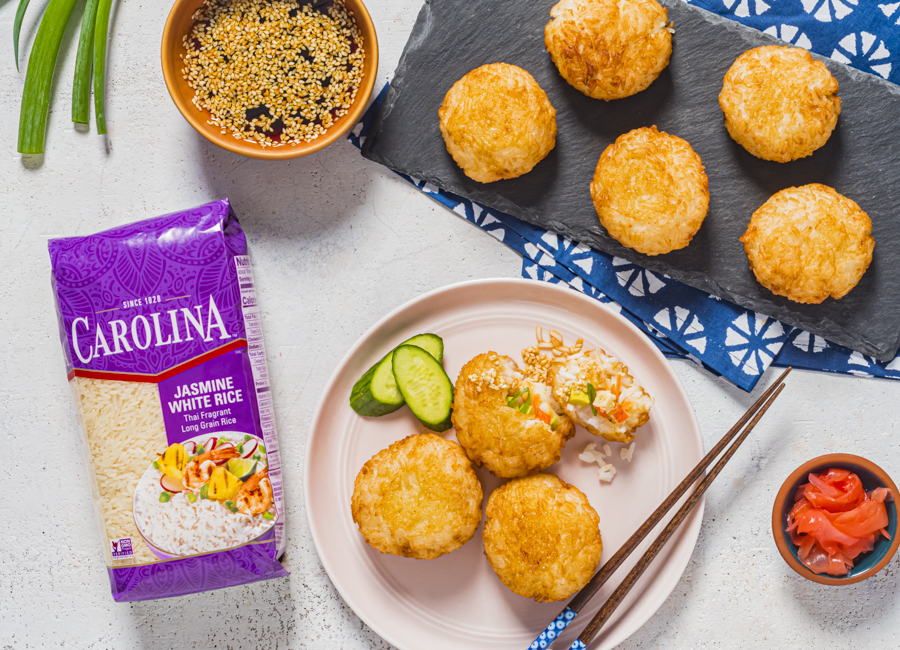 Finally, there are other common items used worldwide and in Asian recipes that you may not have known were fermented such as rice wine and rice wine vinegar. Typical for sushi rice, rice vinegar can also be added to jasmine rice to create other tasty Japanese dishes like Yaki Onigiri.
It also adds a refreshing touch to rice salads with light Asian-inspired dressings made with rice vinegar or rice wine vinegar. Try our convenient Ready to Serve Cilantro Limón Jasmine Rice in this Spiralized Salad Bowl recipe.
Did you know that you can have a more whole grain version with Jasmine Brown Rice? Why not try out the slightly nutty flavor in a Thai inspired chicken and rice salad with a spicy peanut sauce.
The Sweet Side of Rice
In our repertoire, we've got hot fried rice dishes and savory curry sauce mixes, but what about something sweeter with jasmine? Asian cuisines are famed for their use of rice in almost every meal from breakfast all the way to dessert. And we've got a few recipe ideas that will most definitely have your mouth watering. Starting with a classic, Thai Mango Sticky Rice has got to be a world-wide phenomenon with coconut milk, freshly sliced mango and sesame seeds for a crunch.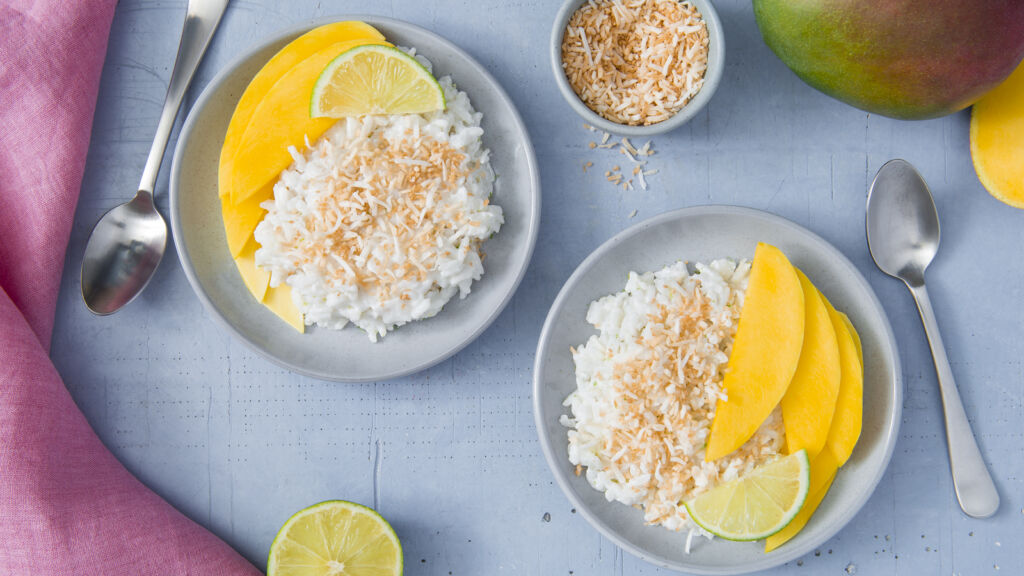 Next, try a Rice Pudding with cooked rice for a rich and comforting option made with aromatic long grain jasmine rice simmered in milk and cinnamon.
If you haven't jumped on the trend, it's never too late to try a fun Dalgona coffee-inspired Whipped Iced Coffee drink to finish off your meal or for a fun afternoon coffee.
Indulge in one of these incredible Asian-inspired recipe ideas any day of the week using Carolina® Jasmine Rice.