Used correctly, spices and seasonings can enhance any dish and are an essential element for an innumerable amount of dishes. There's a reason why explorers throughout history have discovered new lands or routes solely to obtain more spices!
Come along with us at Carolina® Rice as we embark on a journey to explore some of the most common spices and seasonings we have at home! Our first chapter involves a spice rich with history, not only in Asian countries but also in Western culture – Curry. While you might have some curry powder sitting on your spice rack right now, did you know that this seasoning blend did not originate in India? Keep reading to find the answer to where it did originate and more!
What Is Curry Exactly?
When you think of curry, you might imagine an orange-hued plate of rich vegetables and meat served over basmati rice. However, its usages go beyond a simple spice. So, if you've ever been confused about what curry actually is, that's because this word encompasses a variety of definitions! Moreso, curry meals can also be named after specific cooking styles – like Tandoori or Madras.

We'll unpack each of the usages including curry powder, curry paste and as a dish, and give you a few recipes to try using Carolina® Rice so that you cook comfortably and confidently.
Curry Powder
One of its more common forms, curry powder is sold worldwide and is used in all kinds of dishes from Caribbean Calypso Rice to Curry Salmon Sushi Rice Stacks! Commonly thought to be a single spice, this powder is actually made from a blend of aromatic spices that will add flavor, aroma and color to any dish it is prepared with. Ultimately, curry is used to bring out the natural taste of some ingredients and to brighten up soups, stews, meats or hearty curry dishes.
Difference Between Curry Powder and Garam Masala
Going back to the origins of curry powder, If you were to travel to India, you wouldn't find "curry powder" in any spice market or store, as this blend was created in Great Britain as a take on Indian Garam Masala. However, contrary to belief, these two are not one in the same!
The term "Garam Masala" is hindi for "hot spice", and this traditional blend has a different flavor profile than curry powder as it is prepared with other components. Often characterized by its sharp and robust flavor, it uses cardamom, cinnamon, cloves, nutmeg or peppercorn among others. It can be used both during the cooking process and toward the end to really add a pop of flavor for dishes like Chicken Biryani.

Curry Powder is considered much milder and used primarily during the cooking process in the recipe base. It often includes turmeric, cumin, coriander among other sweet and milder spices.
For even more proof of their difference, certain recipes may call for both to add depth and color like Chicken Tikka Masala.
Curry Paste vs Curry Powder
Similarly made with a spice blend, curry paste is a thick concentrate of spices that should be diluted with wet ingredients such as coconut milk or broth. Commonly used in Southeast Asian dishes like Thai-inspired curries which are recognized for being prepared with curry paste instead of powder.
Unlike curry powder, curry paste can be found in three different spice levels (red, yellow and green) depending on the ingredients used to make it. The red variety is spiciest, made with hotter red chili peppers and green is the mildest, made with green chilies.

These can be found at any local grocery store or Asian/International food market. While curry paste should not be used interchangeably with curry powder, the three different color options can be switched out depending on your preference. For a milder option, try this One Pot Green Curry Chicken and Rice dish or for a spicy option these Thai Coconut Curry Chicken Burritos.
Types of Curry Dishes
While curry dishes may often be associated with a rich meal full of flavor, there are a variety of different types of curry dishes that can be prepared using different cooking methods and ingredients. The varieties may vary from region to region or even household to household throughout India and other Asian countries, curry is always served over a bed of steaming rice!
We've included some of the most common preparations for you to try.
Biryani
Found throughout the Indian subcontinent ranging from Pakistan to Bangladesh and Afghanistan to India. More than an actual curry, this is a curried, aromatic dish that can be prepared with any meat, vegetables, herbs and spices along with a fragrant rice variety. Try your hand at our recipe for Everyday Chicken Biryani with fragrant Jasmine Rice.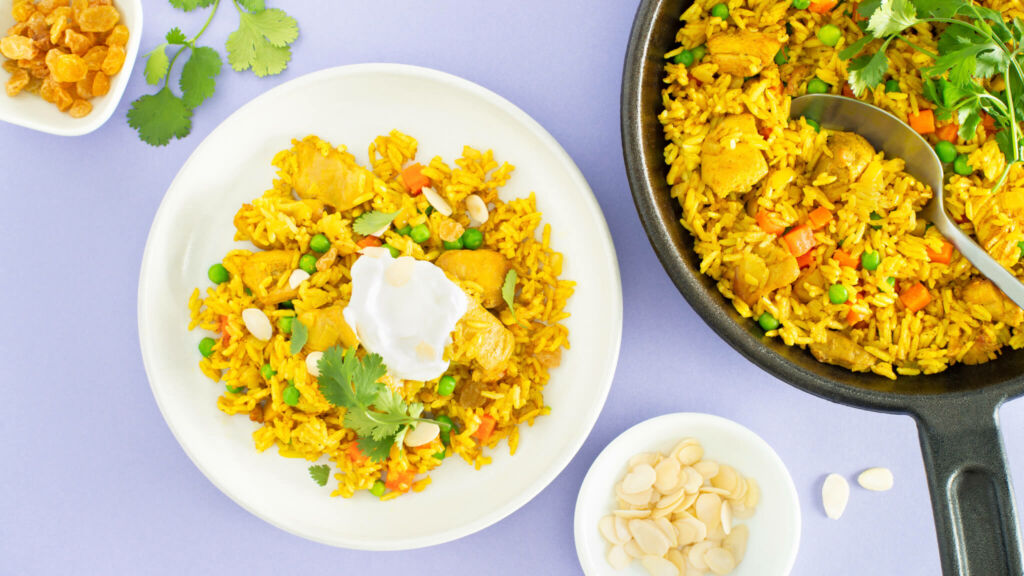 Vindaloo
Native to the southern region in India, this fiery and spicy dish is a hotter version of curry traditionally made with pork, or other meats and vegetables.
Madras
Similar to Vindaloo, madras dishes are characterized by their spicy taste and a bold bright red color. For a taste of these traditional Indian flavors, whip up this Madras Curry Inspired Spanish Rice with Lentils.
Tikka Masala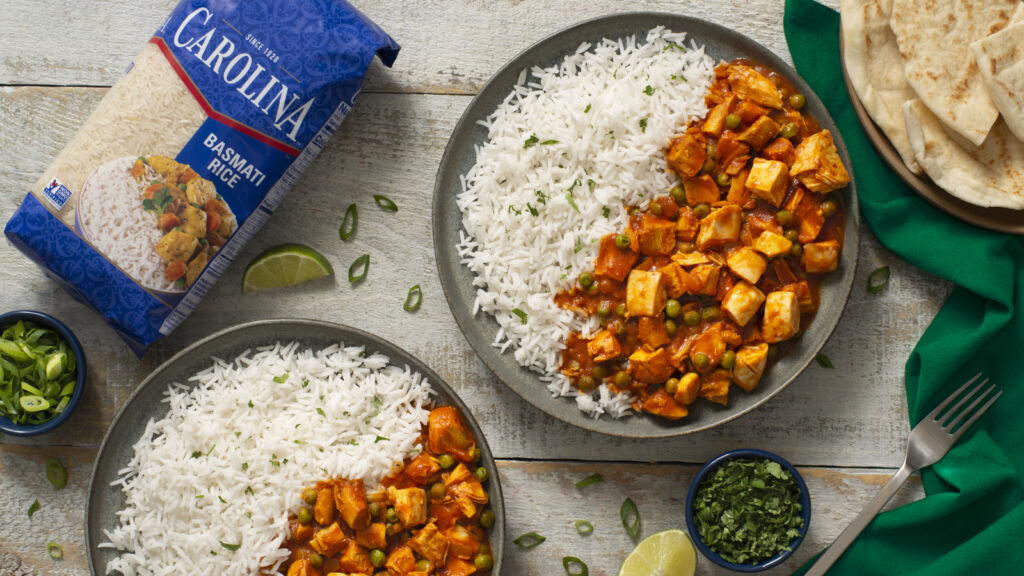 One of the most common curry dishes, Tikka Masala is often mistaken for Tandoori. These two curries are very similar in flavor, but they differ in cooking method. Tikka is for meat or vegetables marinated in spices and yogurt that is often skewered for roasting. Tandoori recipes, on the other hand, roast the ingredients in a tandoori oven.
Our recipe for Chicken Tikka Masala is seasoned with both curry powder and Garam Masala for authentic flavors in every bite.
With a little bit more knowledge surrounding the usages of curry whether it be as a powdered spice, a thick and bold seasoning or an authentic dish, you can cook with a bit more confidence. 
Once you have had your curry, why not try this recipe for Rice Pudding for dessert?
Continue exploring new flavors and recipes from around the world with Carolina® Rice. Which spice would you like to know about next? Share your thoughts by tagging @carolinariceusa on Social Media!