There is something special about a comforting bowl of steaming soup or stew on a chilly afternoon that just really hits the spot. Soups are a satisfying meal that everyone can enjoy around the table or when you're just craving a bit of comfort food. Whether they are chock full of vegetables, rice, beans, tender chicken, beef or other favorite additions, there are many crave-worthy dishes.
We've put together our favorites starting with comforting classics, seafood specialties and a few International-inspired options to kick off soup season and celebrate a bit of Hispanic Heritage along the way!
Comforting Classics
Starting with a traditional combination like chicken and rice, this Homemade Chicken Soup with white rice has authentic written all over it. With root vegetables, broth, herbs and citrusy lemon to bring out the flavors, this soup is ideal for when you're feeling under the weather or need to warm up!
This Pumpkin Coconut Rice Soup is the ultimate quick and easy comfort food for a cold day.
If you prefer something more veggie-loaded, this Creamy Mushroom and Rice Soup is made with a base of sautéed mushrooms, onions and garlic, dairy-free coconut milk and Carolina® Jasmine Rice. Alternatively, you'll also love this Tomato Basil Chicken and Rice Soup.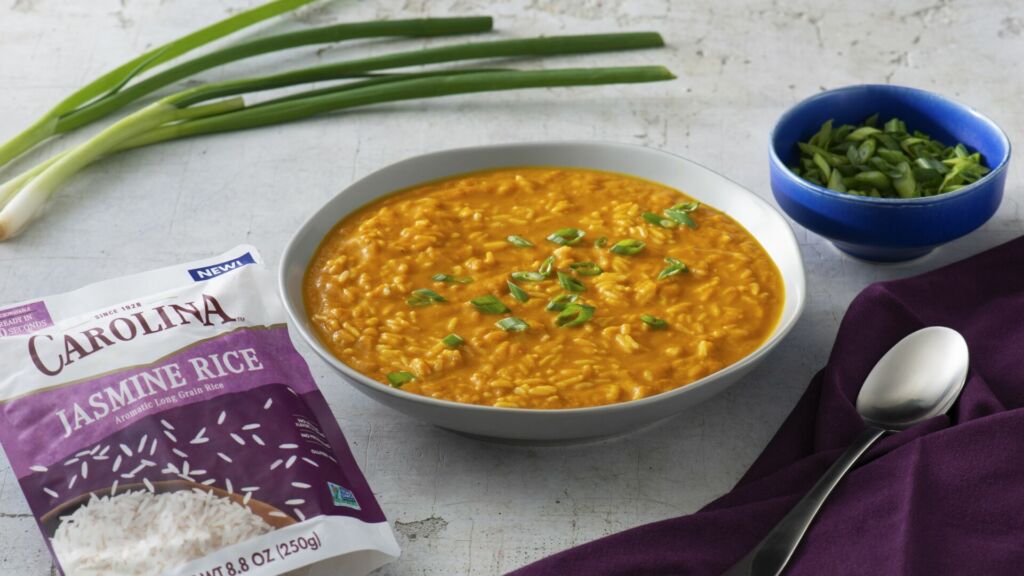 Seafood Soups
Adding a unique flavor and texture, seafood makes a wonderful addition to soups like this Shrimp and Crab Soup. The rich and vibrant tomato-based broth is loaded with succulent shrimp and juicy crab and a hearty dose of Carolina® Jasmine Rice.
If you prefer to leave out the shellfish, this Tex-Mex inspired One Pot Fish Stew with Beans is made using snapper fillets, with black beans, corn, fire-roasted tomatoes, salsa and whole grain brown rice.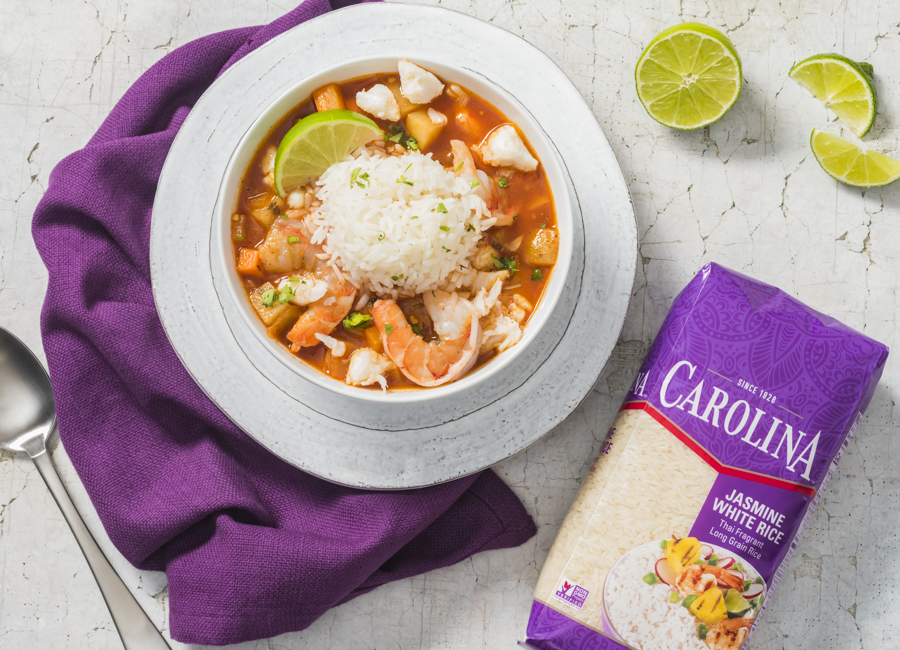 International Influence
Soups are not only great as comfort foods or for serving at special events. They can also be a simple and incredibly tasty way to step outside the box and take your taste buds on a culinary adventure with new spices or ingredients. Starting with Latin America all the way to Thailand, get inspired to liven up any soup recipe.
Latin America
Did you know that September is not only the unofficial beginning of soup season, but it's also Hispanic Heritage Month? It's the perfect time to indulge in a soup or stew that is loaded with flavor and traditional ingredients of Latin America.
Mexico
With their origins in Mexico, these delicious dishes are worth celebrating in themselves made with all kinds of wonderful ingredients.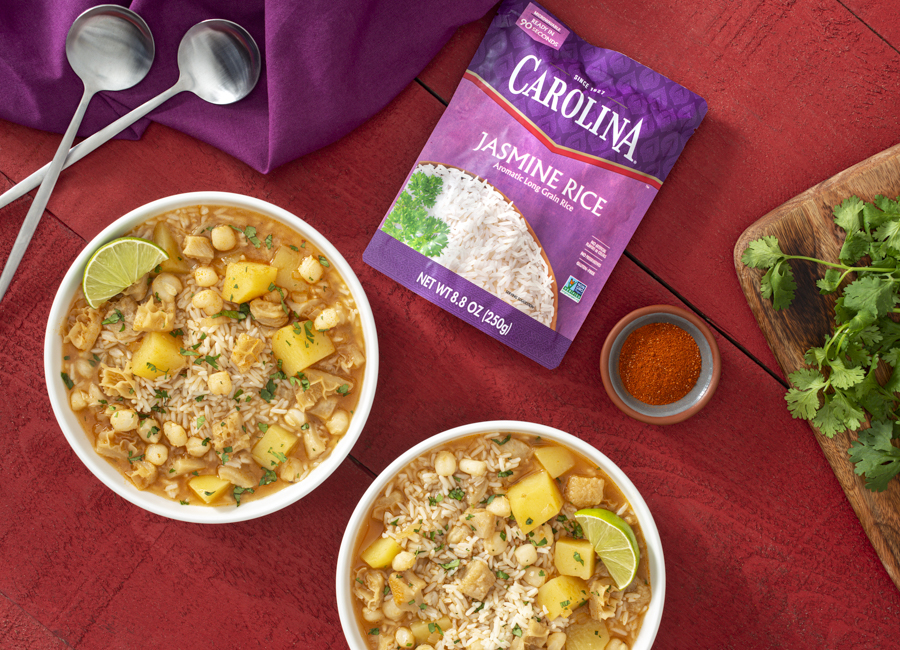 Peru and Ecuador
This delicious Lamb Stew is inspired by the South American dish, seco de cordero, which is traditionally served in Peru and Ecuador. This version uses lamb and a mixture of spices, herbs and vegetables that will fill your kitchen with delightful aromas. Served atop a spicy blend of white rice and beans cooked in achiote paste and topped with a red onion salad for the most flavorful results.
Dominican Republic
Boasting Caribbean flavor, the Dominican Republic is home to wonderfully delicious dishes like a Bean and Beef Stew, also known as La Bandera Dominicana. This filling plate of rice and beans is topped with a full-flavored stew meant to represent the flag with its variety of color and taste.
Another stew meant for special occasions, this Dominican version of Sancocho Stew is loaded with rich flavors. Sancocho is a traditional dish with variations throughout Latin America usually consisting of large pieces of seasoning, meat and vegetables served in broth over rice.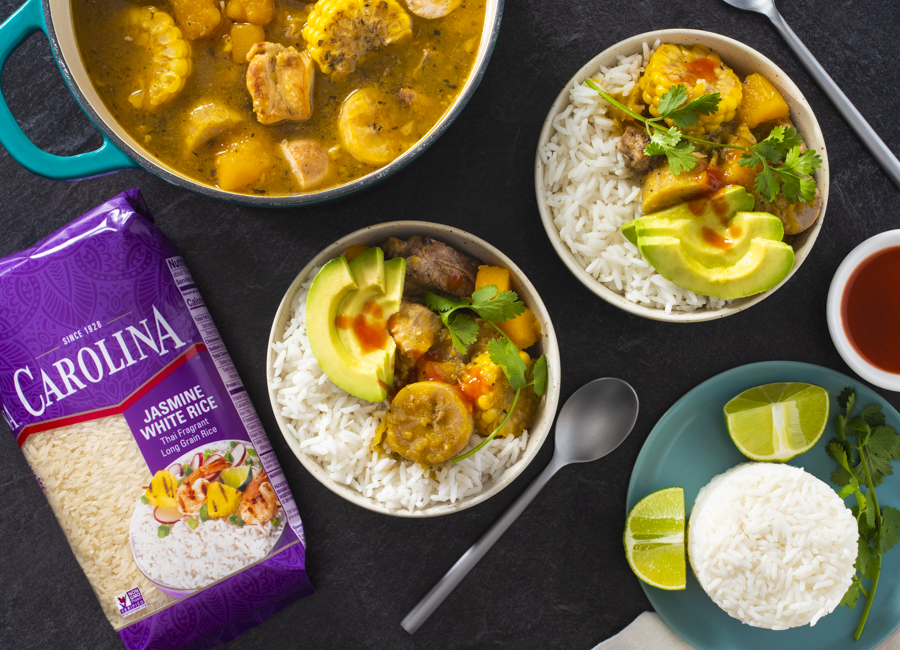 Thailand
With many traditional Thai flavors like coconut milk, green curry paste, lime and cilantro, this One Pot Green Curry Soup is packed with aromatic herbs yet doesn't hold back on that spicy kick you crave. The best part? The bed of fluffy Carolina® Jasmine Rice will absorb every last drop of flavor.
African
This African classic Kitchen Sink Soup with Fufu demonstrates that we can throw in any leftover vegetables, rice, seasonings and beef to create something truly delicious. Learn how to make homemade fufu and enjoy!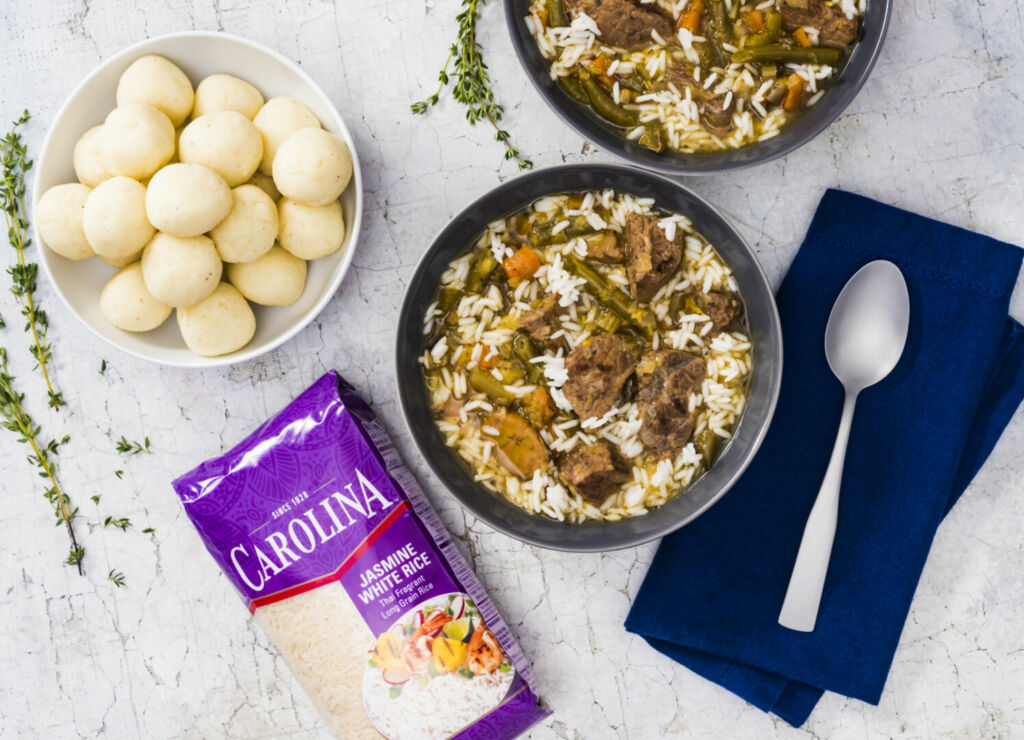 Greek
For a burst of bright citrus, our Greek-inspired Lemon Velvet Chicken Rice Soup is just what you need! Unlike traditional avgolemono, our version folds in blended long grain rice and heavy cream to get a silky texture instead of requiring the hassle of tempering eggs.
Italian
Savory Italian sausage and rich tomato broth make this Tuscany Rice & Bean Soup flavorful yet effortless. Great Northern white beans alongside Carolina® White Rice offer the perfect hearty touch for this traditional soup. Top with Parmesan cheese for added richness.
While these soups make for wonderfully comforting meals, you don't have to wait for a certain time of year to enjoy them! It's not often that you find a dish that pleases the whole family — picky eaters and all! Whether you're feeling nostalgic or adventurous, there's certainly a soup or stew on this list with your name on it.
After enjoying a nice stew or soup, why not take a look at a recipe for rice pudding for something sweeter.