With such a rich and robust variety of dishes, Peruvian cuisine is a hidden gem within Traditional Latin American meals. It has the transformative power to take simple and humble ingredients such as rice, root vegetables and legumes, combine them with peppers and seasoning, and turn them into incredibly flavorful dishes. This quick guide to Peruvian cuisine will show you how some of its famous dishes originated and explain some of the most common ingredients with must-try recipe ideas!
Geographical Influence
To start, in order to understand the origin of certain Peruvian dishes, you'll need to understand that Peru is heavily influenced by its geography. Starting with a vast coastline of the Pacific Ocean moving inward with the Andean Mountains all the way to the Amazon Jungle. This leads to a variety of resources found within each region that are combined together for incredible meals.
The Coast: provides fish and shellfish.
Andean Mountains: provides meat and crops (potatoes, corn, plantains, sweet potatoes, rice, yuca or cassava root, carrots, tomatoes, red onions, chile peppers, legumes, quinoa and herbs).
Amazon: also provides meat and certain plants and fruits like bananas, lime, lemon, avocado, oranges and cacao pods.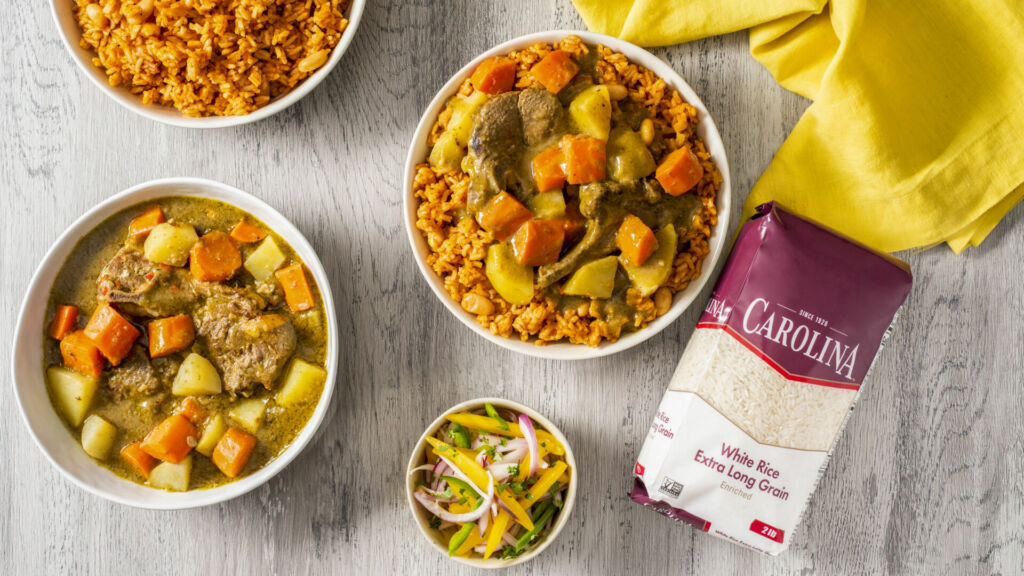 Essential Ingredients
From the list above, there are certain items considered to be essential staples to Peruvian food that we will take a deeper dive into with some recipe inspiration to try at home. These include meat, tropical fruits, legumes and root vegetables, rice, herbs and chili peppers.
Meat
Often cooked low and slow to intensify flavors, meats such as chicken, beef, pork, duck, lamb, fish and even Guinea pig (cuy) are often roasted or stewed. One classic dish often using lamb or other meat is called Seco de Cordero, or lamb stew. This hearty dish is made with beans, root vegetables and white rice for a crowd-pleasing dish that will fill your kitchen with incredible aromas.
Another traditional cooking method is roasting meats like whole chickens. Pollo a la brasa is first seasoned with a blend of oil, garlic, cumin, ají chilli pepper, soy sauce, paprika, beer and more. Try your own version at home starting with smaller cuts in this recipe for Grilled Chicken Thighs with Arroz Verde. Start by marinating the meat in a homemade blend of oil, garlic, cumin, oregano, cayenne pepper, salt, pepper and cilantro and pair with homemade arroz verde, or green rice.
Ají Peppers and Herbs
If you've tried this cuisine before or often make it at home with family, you'll know there is a rich culture of fresh green herbs and peppers, typically ají. These peppers, found in all different shapes and sizes have long been part of meals since Pre-columbian times. And nowadays in Peru, there are about 50 varieties of chili peppers used.
Ají amarillo, one of the most commonly utilized, can be whole, ground or made into a paste. According to the Scoville Scale, it is quite similar to serrano or cayenne pepper and may pack a punch for some people. Try it in this recipe for Peruvian Arroz con Pollo which starts with a base of flavor from aji amarillo paste, garlic, onion, cumin and turmeric for vibrant color and wonderful taste with a kick.
While many dishes may include peppers, there are a wide range of common herbs and seasonings used in meals such as cilantro, basil, chincho, cumin, huacatay among others. They can be used as a garnish, flavor enhancer or served in a sauce such as a Peruvian salsa criolla. Try making one out of red onion, lime juice, jalapeño, cilantro and salt in this recipe for Thermomix Green Arroz con Pollo.
Tropical Fruits
The Amazon region of Peru provides many tropical fruits including maracuya, or passion fruit, acai berries, cacao pods and many more that are used in classic dishes such as Tuna Ceviche. Made with sushi-grade fresh tuna cured in lime juice and salt all tossed with Avocado, Mango, red onion, cucumber, herbs and Jasmine Rice. Top with corn nuts for an added crunch.
For a ceviche recipe with a fun twist, try this Shrimp Ceviche with Crispy Rice recipe. Starting with crispy sushi rice medallions, top with a homemade shrimp ceviche cured with lime, salt, herbs, avocado, tomato, onion and other vegetables!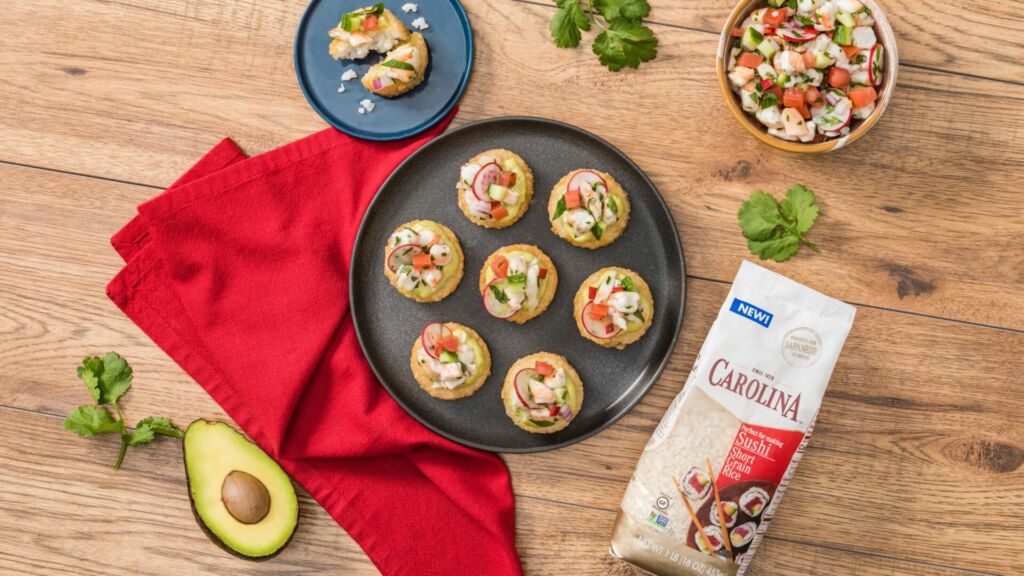 Rice
Rooted in Latin American culture from Mexico all the way to Argentina, rice, in different varieties, is at the very core of many important meals.
With a history of influence from native groups, immigrant workers, European explorers and much more, Peru has been home to many cultures, influences and cooking techniques. This fascinating blend of ingredients and recipes has led to the current unique cuisine in Peru. One of the most popular Peruvian rice dishes is Arroz Chaufa, which uses local ingredients and different culinary techniques to prepare a fried rice dish, inspired by the classic Chinese version of chow fan.
Rice is also great for creating a fusion of flavors like with this Christmas Arab Rice Peruvian-style made with raisins, rice, vermicelli, brown sugar and a touch of umami flavor from the soy sauce.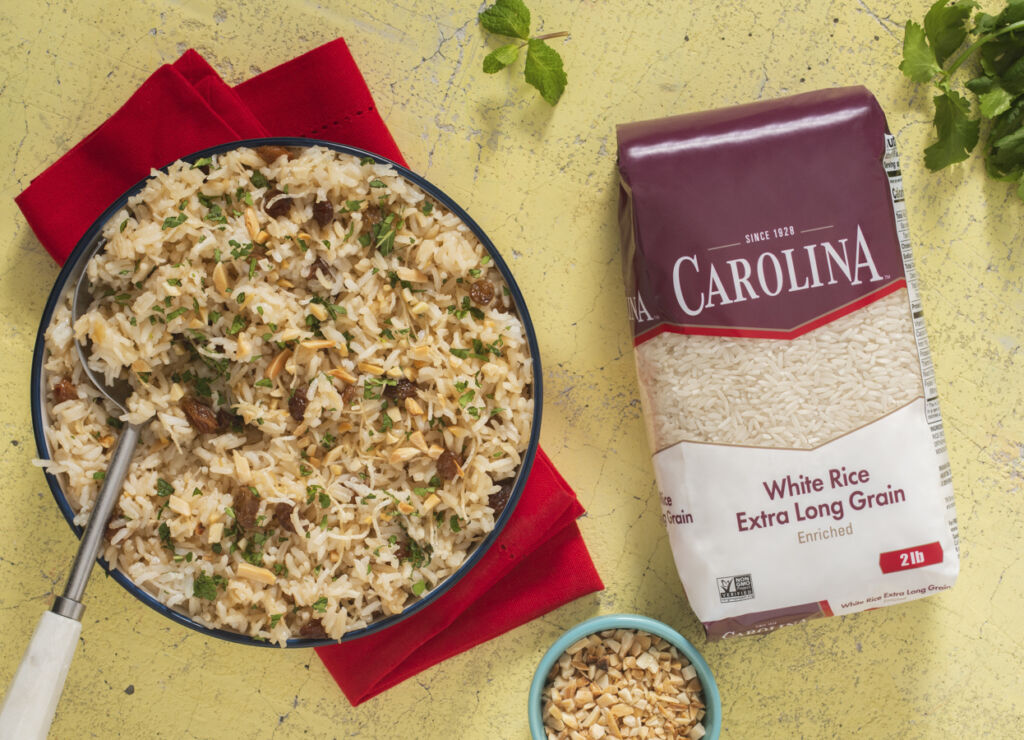 As a pantry staple, rice is used in savory and sweet dishes alike. A common global dessert, Peru also has its own version of classic Arroz con Leche using white rice with condensed milk, egg yolks, cinnamon, nutmeg, and a little butter. If you've never made it before, make sure to take a look at our tips for making a rice pudding and discover all kinds of ingredient variations. Alternative, try our Thermomix Arroz con Leche recipe if you have one of these at home.
Legumes and Root Vegetables
Peruvian food stands out for its resourceful use of ingredients such as legumes and root vegetables in addition to rice for stews and hearty dishes like a simple and rustic Tacu Tacu. Use this recipe as a clever way to get rid of leftovers by seasoning them and pan frying in a pancake-like shape.
Share your love for Peruvian food with us by tagging your meal creations with @CarolinaRiceUSA on social media. And, continue exploring all kinds of cuisines from Asia to South America and much more in our Cooking section.