Latin American cuisine is loved by many around the world and for good reason! Abundant flavors, vibrant dishes, an array of fresh ingredients, and traditional recipes from generations past, what's not to love?
What makes Latin cuisine even more appealing is the fact that it spans over so many different countries. Each country contributes its own unique dishes or adds its personalized touch to dishes that are popular throughout all of Latin America. Since ancient times, rice alongside beans or corn have been present throughout many cultures and cuisines, so it's no surprise that many traditional dishes are centered around rice. So, it's important to start with a quality base, like Carolina® Rice, for your favorite home-cooked Latin meals.
Take a trip with us through Latin America from Mexico through Costa Rica all the way down to Argentina to experience the tastes, flavors and vibrant colors of some traditional rice dishes.
The Savory Tastes of Latin America
Mexican Specialty Dishes
With a country rich with color and natural ingredients, we've chosen just a few traditional dishes that you can make at home. Using what was available, many rice dishes include meats or plants native to the region like these dishes:
Meat: Mexican Chorizo Sausage and Rice Skillet
Plants: Creamy Baked Marigold Rice, Rice with Nopales (Cactus pads)
Apart from using local ingredients, there are other dishes unique to Mexican cuisine:
Tacos
Street Food at it's very best, the taco originated in Mexico with classics like tacos al pastor or even chipotle adobo marinated Chicken Tinga Tacos, with a spicy kick. However, mixing a bit of modern with the old, you can even put together taco bowls that can be eaten with or without the corn or flour tortilla, like this Roasted Squash Taco Rice Bowl seasoned with chili powder and honey served on a bed of fluffy rice along with lettuce, guacamole, Pico de Gallo, beans, and sour cream for the ultimate Mexican-inspired vegetarian taco bowl.
Pozole
A traditional festive dish, pozole is a stew made using a combination of rice and hominy and filled with flavor. There are various versions like white, green or red, depending on the ingredients. This Red Pozole gets its deep rich color from the mixture of ancho chile peppers, pork shoulder and seasonings all topped with avocado, red onion, radishes, cilantro and lime.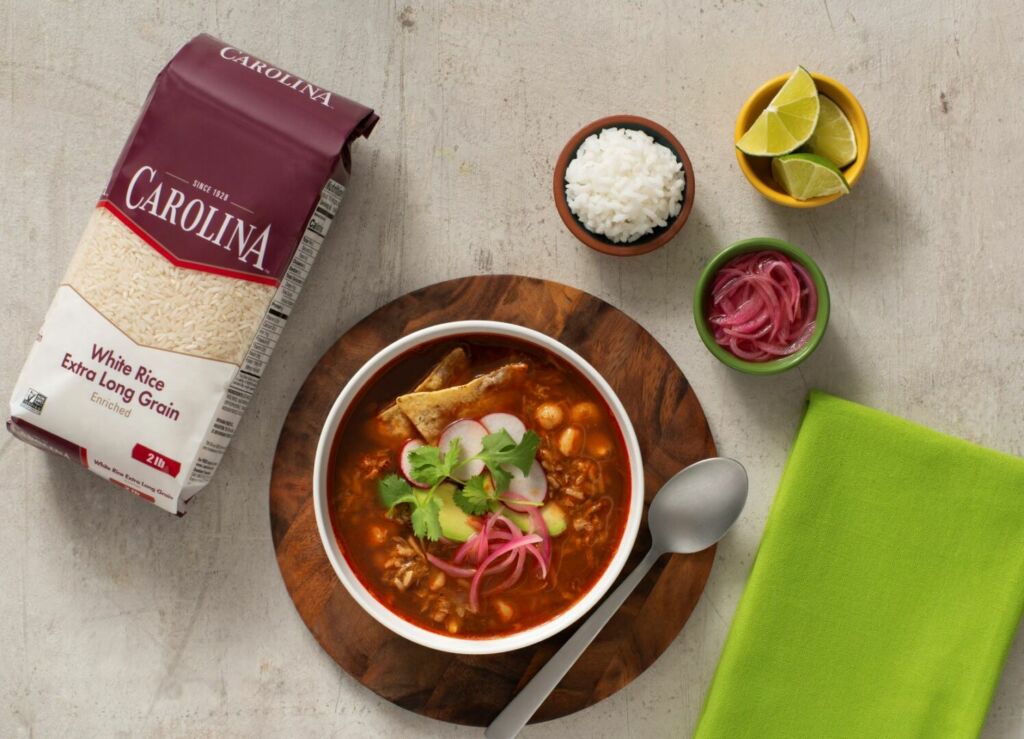 Mole
Depending on the region and ingredients added, mole is a marinade or sauce ideal for adding to a wide variety of dishes. Learn how to make your own mole with this Green Mole with Roasted Grouper recipe using tomatillos, poblano peppers and more!
Central America and the Carribean
Truly a melting pot of flavor and cultures, Central American and Carribean cuisine is highly influenced by European, African and local foods. Often using a hearty combination of rice and beans such as pinto or black beans, these dishes include plenty of seasonings or a sofrito made with a rich tomato base!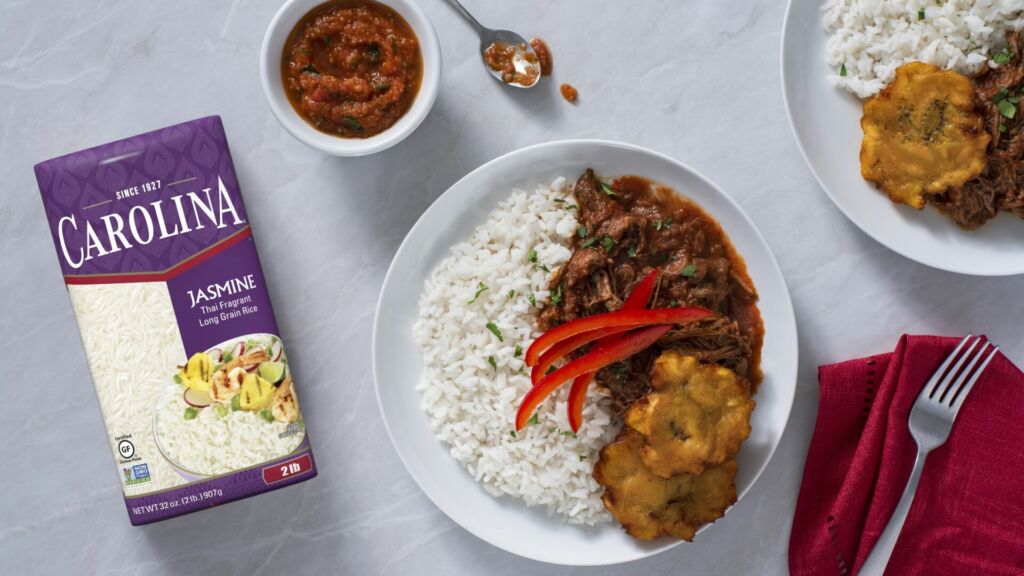 Try any of these traditional local dishes:
Costa Rican Inspired: Gallo Pinto
Cuban Flavors: Ropa Vieja with Rice
Puerto Rico Specialty: Arroz Habichuelas Guisadas
Freshly Made Tamales
Tamales, often thought to be a specifically Mexican dish, have variations throughout Latin America! Made of masa (corn dough) or other types of dough that is smeared on a corn husk or plantain leaf, these sweet or savory delicacies are filled with ingredients like meats, cheese, beans, sauces, etc, and are then wrapped and steamed.
All of these variations are also made with different dough recipes and filled with ingredients customary to the regions in which they are made:
Tamales: filled with savory or sweet ingredients and wrapped in a corn husk or banana leaf. These Sweet Tamales are filled with rice, cream and berries.
Humitas: wrapped in corn husks like tamales but found more in South America
Pasteles: wrapped in banana or plantain leaves and found mostly in Puerto Rico like these Pasteles de Arroz with Chorizo.
Hallacas: wrapped in plantain leaves and found in Central and South American countries like Venezuela or Colombia.
Brazilian Flavors
Brazilian culture is known for its vibrant, energetic, and fiery nature so it's no surprise that its cuisine follows suit. For an authentic and fun dish, try a Camarão na Moranga, Shrimp Stuffed Pumpkin. It's a beautiful, flavor-packed dish made with shrimp cooked in a creamy tomato and cheese sauce served in a roasted pumpkin all over Carolina® Brown Rice.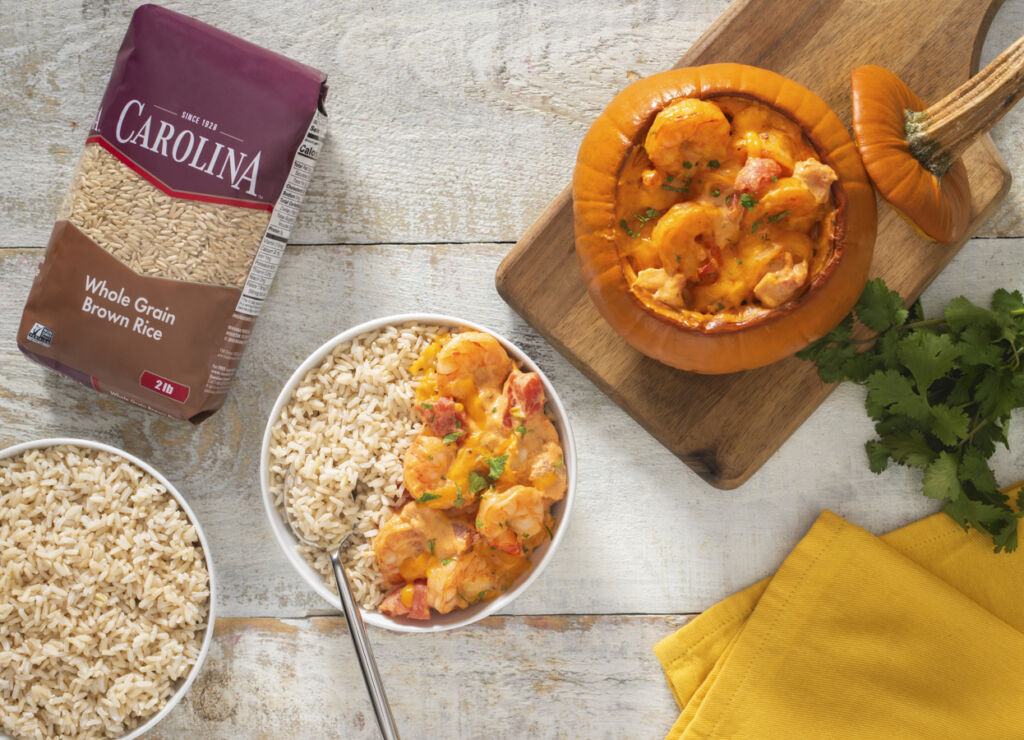 Argentina and Uruguay
In Latin American cuisine, flavors come in every way – especially sauces! Chimichurri is made with oil and fresh parsley, seasonings, garlic and vinegar, common in South America but a specialty in Argentina and Uruguay. It is commonly served with steaks, grilled meat or churrascos.
Make your own homemade chimichurri to serve alongside a dish of beef in this Classic Chimichurri Rice. Or use it as a dip and make your own Empanadas with Chorizo and Rice.
Sweet Recipes
Latin inspiration doesn't just stop at main courses and sides, there are plenty of delicious sweet recipes to explore!
Natilla
Nata, the Spanish word for cream, is the base for these classic custards commonly made with eggs, milk and sugar. Although there are many varieties, this Cuban-Style Natilla Custard is made with rice and flavored with vanilla, cinnamon, sugar, and a touch of lemon. Make a batch and store it in the fridge to enjoy as a midday snack throughout the week, or pour it into individual serving ramekins for the perfect shareable dessert.
Arroz Con Leche
Traditional Arroz con Leche, or rice pudding, is a rice-based dish, typically cooked in milk and water, sweetened with sugar and includes other ingredients based on which variation you are making. One of the best parts is its versatility for other additional ingredients which leads to many different rice pudding recipes – like this Mexican style Cajeta Rice Pudding.
Or, try this Tres Leches Rice Pudding using the delicious and cake-like flavors of pastel de tres leches (three milks cake). Made with Carolina® White Rice, condensed milk, evaporated milk, coconut milk, vanilla, and topped with bits of fresh fruit. Enjoy it as a dessert, snack, or breakfast.
Rellenitos
Prevalent throughout Latin America, plantains are used in all kinds of dishes from savory to sweet like this Rice and Plantain Rellenitos coated fried to perfection and coated with cinnamon sugar.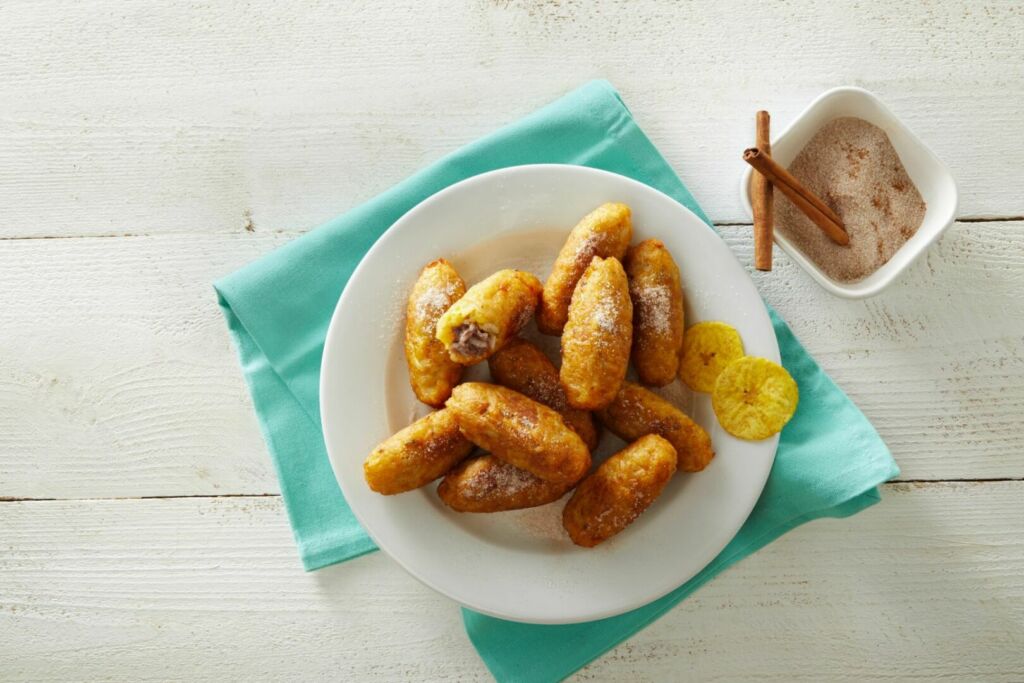 Exploring all kinds of global cuisine is made easy with the help of Carolina® Rice! Learn how to make your own versions of some of your favorite Latin American classics at home using your favorite rice variety.
You can find more information on our products, such as white rice nutrition facts or how to make arroz chaufa, on our wesbsite.