No matter if you enjoy a Meatless Monday meal, you live a 100% plant-based lifestyle, eat organic grass-fed beef and chicken, or anything else in between, it's a no brainer that sustainable eating is something everyone can do! Why not start by replacing a few meals during the week with one of our top earth-friendly rice-based recipes for meat eaters and vegetarians alike.
Reasons to Use Organic Rice
Rice isn't just the perfect curry companion–with plenty of beneficial elements, using Carolina® Organic Rice, you'll also enjoy environmentally conscious rice – one grain at a time. Need a few more reasons to try a meal or two using organic rice?
It's USDA Organic Certified, meaning it is produced using cultural, biological, and mechanical practices that support great farming, promote ecological balance, and conserve biodiversity.
It's loaded with natural complex carbohydrates, vitamins and minerals.
It's Ideal for a wide variety of dietary habits like Gluten Free, vegan, vegetarian, meat-eaters and Kosher Certified to name a few.
Remember, eating consciously is a process. Luckily, we're here to show you all the tasty possibilities you have to get started. So, relax, take a breather and check out your options for kick-starting your future food goals. From savory taco bowls to flexitarian lettuce wraps – we've got you covered, in the tastiest way possible.
Tasty Meal Ideas With Organic Rice
Try any of these veggie or meat-filled recipes with our Organic White Rice or Brown Rice and bask in tasty, enriched meals.
Cooking Tip: For perfect rice, make sure to measure out each cup of rice to water ratio according to the package.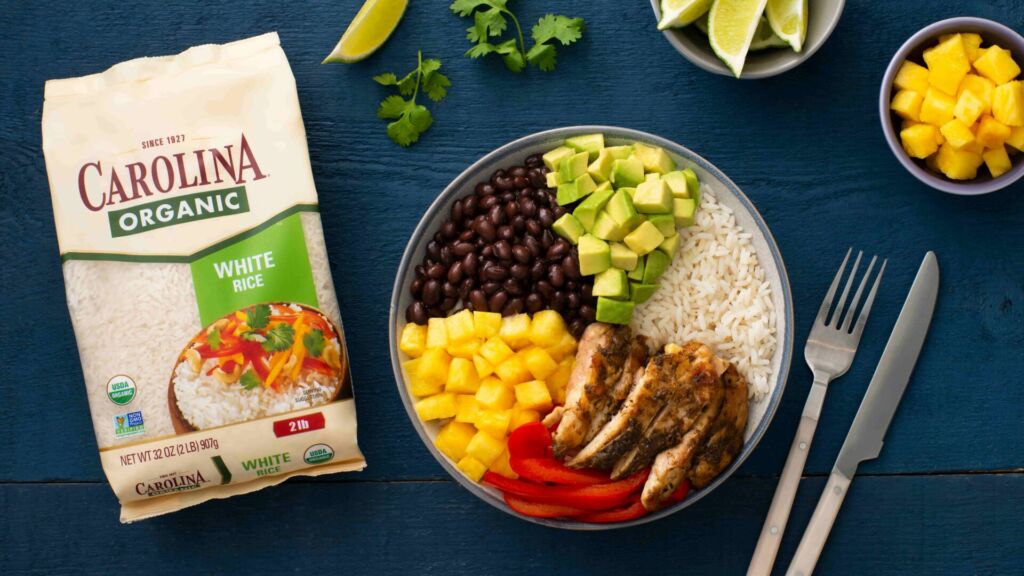 Mediterranean Meals And Beyond
This Mediterranean Layered Rice Salad will have you looking at plant-based in a whole new light. Made with broccoli florets, crisp red peppers, green onions, green peas, and organic brown rice – we tend to ask, what doesn't this recipe have? The best part is, it's the kind of salad you can prep the night before without having to worry about soggy or wilted vegetables.
Don't stop at the Mediterranean, this Island-inspired Rice Salad with Caribbean Chicken is made with black beans and organic white rice, creamy avocado, sweet pineapple and grilled red pepper and chicken coated in jerk seasoning. Eating organically never tasted so good!
Organic Rice Filling Ideas
Make your organic rice into a hearty filling for these lettuce wrap recipes made with shrimp and fish! Using some of that same tasty jerk seasoning or a Southern Cajun-style spice combination, you can turn a simple meal into something delicious.
Try our Rice Lettuce Wrap Recipe Ideas:
Wrapped in lettuce and filled with seafood and veggies, these rice lettuce wraps are great for getting more delicious veggie-packed meals into your weekly meal schedule!
Hearty Mushroom Rice Pilaf
With the addition of hearty mushrooms, eating sustainably is a piece of cake. And, in this Brown Rice Shiitake and Asparagus Pilaf recipe, we show you just how delicious a meat-free rice dish can be. Packing all this whole-grain energy into one dish isn't only an ideal way to get your complex carbs in, these sturdy organic grains also make a great lunch prep, as they won't break apart when reheating. What's more is that pine nuts, green onions, and lemon zest make it a great recipe to keep on hand for any season.

Vegetarian Dishes Loaded with Beans and Rice
Together, rice and beans contain all nine essential amino acids to form a complete source of protein for your meals. Making it the perfect combo to upgrade your average meal with plant-based ingredients. This Taco Rice Bowl uses organic white rice and black beans all topped with roasted delicata sauce, guacamole, pico de gallo and all of your favorites.
Cheesy, creamy, and 100% delicious, these vegetarian enchiladas also offer you a Mexican-twist to mix up your meat-free repertoire. In this recipe, we use pinto beans to pair with organic brown rice, onions, peppers, Monterey Jack, and Cheddar cheese. Can you name a more phenomenal veggie dish that has the best of both worlds plus great taste? We certainly can't.
Tip: When it comes to cooking rice in the oven, we'll fill you in on a secret, these vegetarian enchiladas are made with precooked organic brown rice. That's right. No need to obsess over the ideal amount of cooking time – as you'll cook this rice ahead of time, at your convenience!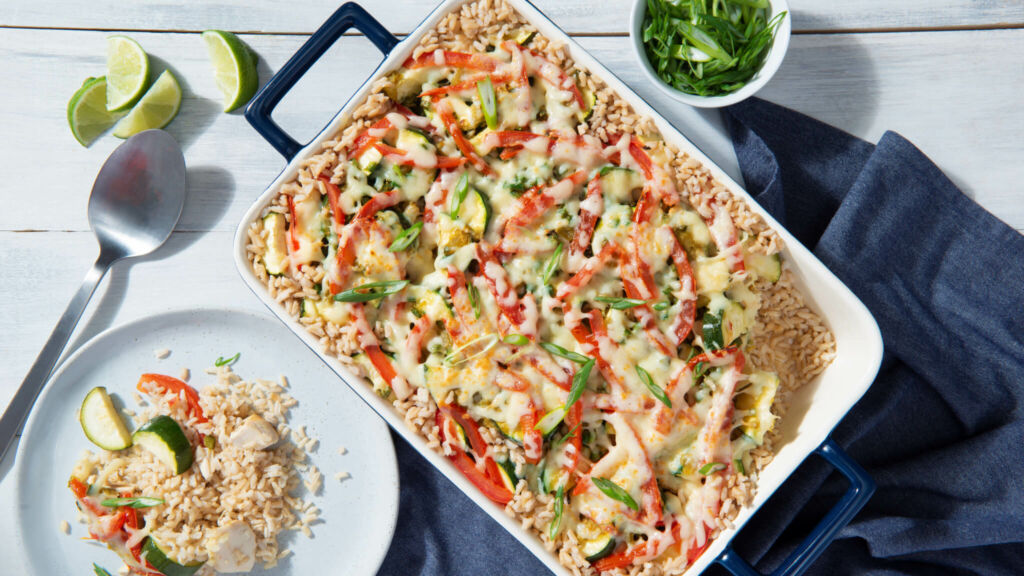 Flexitarian Recipes
Eating organically doesn't always mean going exclusively plant-based. After all, not everyone was made with the same love for vegetables or the ability to give up quality chicken, turkey or beef. So, for those flexitarians out there, enjoy this Southwest Chicken & Rice Casserole loaded with vegetables like zucchini, peppers, green chilies, jalapeños and tomatoes!
Or, have some fun with your meal and learn how to make your own homemade Turkey and Rice Picadillo Empanadas. Start with your own dough and fill with a hearty blend of turkey picadillo filling made with olives, capers, raisins, seasoning and vegetables with organic rice. Savory and delicious in every bite! And if you're looking for a tasty dessert after your meal, make sure to check out this guide to make the perfect rice pudding.
No matter what dishes you enjoy, it's important to make sure that you're putting quality ingredients into your meals like Carolina® Organic Rice. You can also be proud that you're contributing to delicious dishes that help to save the planet.