The holiday season can be great for many reasons, including enjoying delicious dishes with family and friends! A meal can be a simple way to reconnect with loved ones we haven't seen for a while, whether it's shared in person or over video chat. So, why not make it a bit more special by adding in festive colors to turn your table into a full sensory experience!
Not sure what to make to brighten up your table? No problem, we'll give you some of our favorite colorful dishes for every meal of the day, including appetizers and desserts. That way you are covered for any occasion!
Decoration Tip: And, if you'd like to add a bit more color to your table, stop by a local dollar store to find festive cups, colored napkins and plates or include red and green drink ideas by adding sparkling grape juice with fruit.
Festive Breakfast Ideas
Hosting a holiday brunch this year? Here are some red and green dishes that will definitely make your morning a bit more fun!
For a bit of red, these spiced Christmas Cake Rice Fritters are filled with dried fruits like cherries, raisins, cranberries, dates or other favorites drizzled in a rum simple syrup!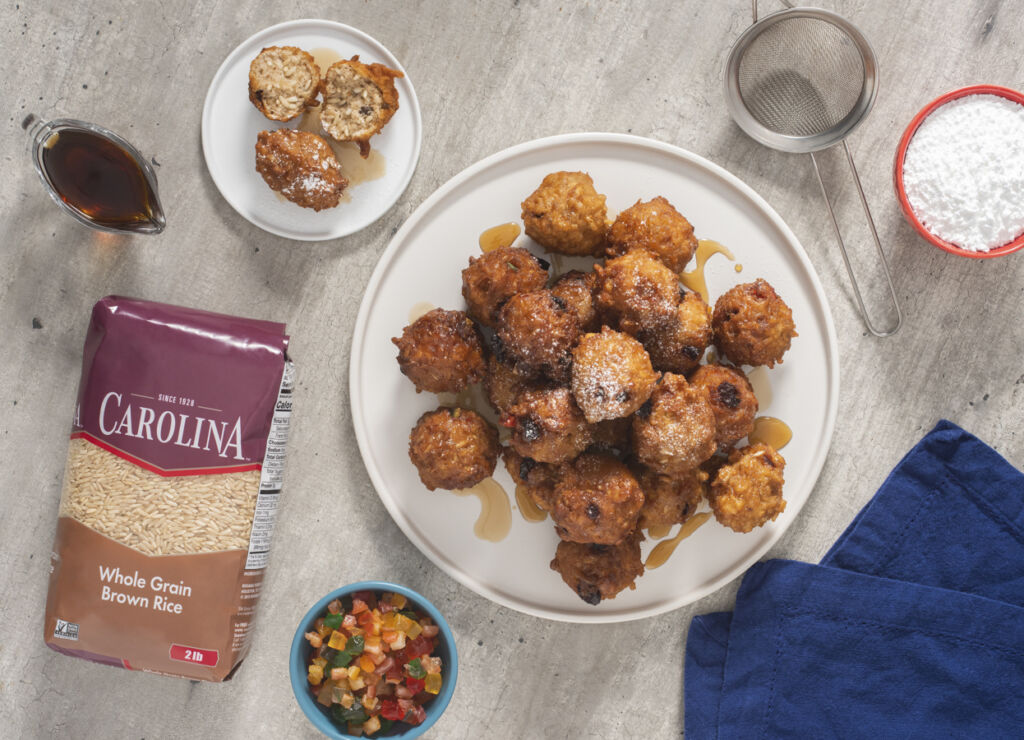 If you prefer more savory and green veggies in the morning, try these Omelets filled with chorizo and a rich tomato-based Mexican Rice. Don't forget the queso sauce and chopped fresh green cilantro or green onions on top to garnish!
Need a few more ideas for a buffet? Check out our full list of Holiday Breakfast or Brunch Ideas.
Appetizers
These festive appetizers can double as meal starters or snacks in between meals!
Empanadas
If you're a fan of homemade empanadas, we've got both red and green options to choose from. Take your pick of Turkey and Rice Picadillo Empanadas filled with a blend of ground turkey, vegetables and seasonings like chili powder, cumin and more blended with a red tomato-based sauce. Make sure to serve alongside a green cilantro cream dipping sauce.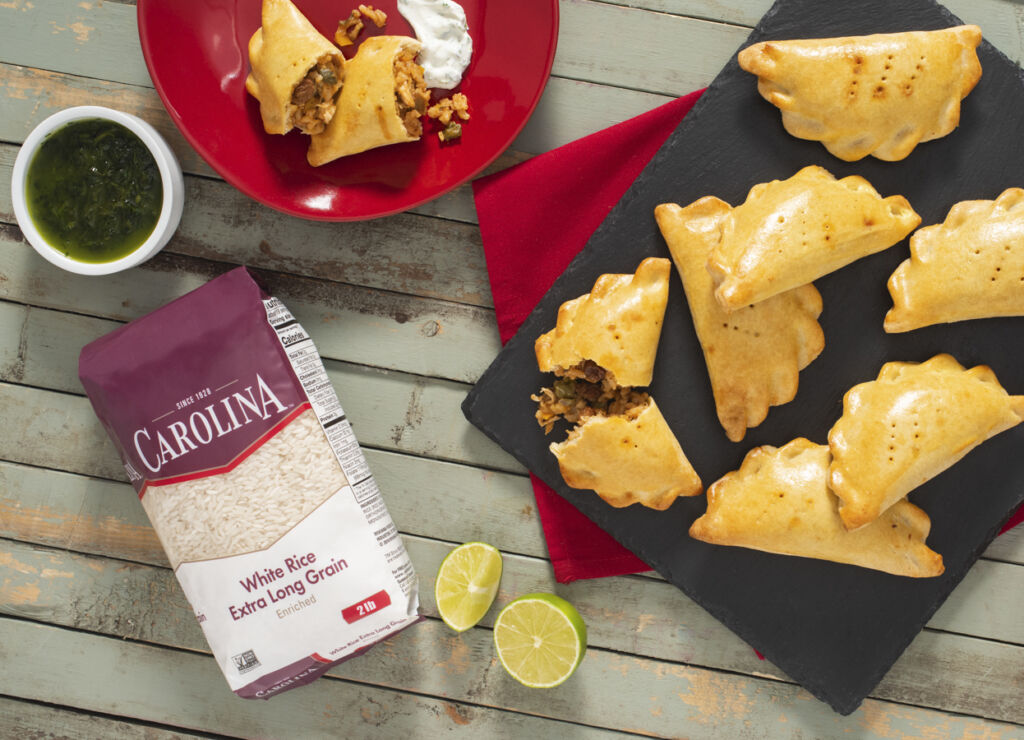 Or, try these Chorizo and Rice Empanadas also filled with a tomato-based blend of black beans, fragrant Carolina® Basmati Rice, cheese, vegetables, chorizo and seasonings like smoked paprika! Serve these with a homemade green chimichurri sauce!
Stuffed Peppers
Another appetizer option is to skip the dough and fill vegetables with delicious ingredients. These Rice and Cheese Stuffed Jalapeño Poppers are made with red tomato salsa, white rice, sour cream and melted Panela cheese for flavor in every bite!
Lunch
Go international for lunch with these recipe ideas from all over the world, filled with different but delicious flavors and of course, red and green ingredients!
Arab and Peruvian Fusion
This tasty combination mixes the Middle Eastern style savory blend of Long Grain Carolina® White Rice with vermicelli noodles sautéed in olive oil and butter along with the sweet Peruvian inspired addition of raisins, with brown sugar and soy sauce. If you're wondering where the color comes in, this dish is mixed with not one but three fresh green herbs like parsley, cilantro and mint blended in and sprinkled on top!
Caribbean Flavor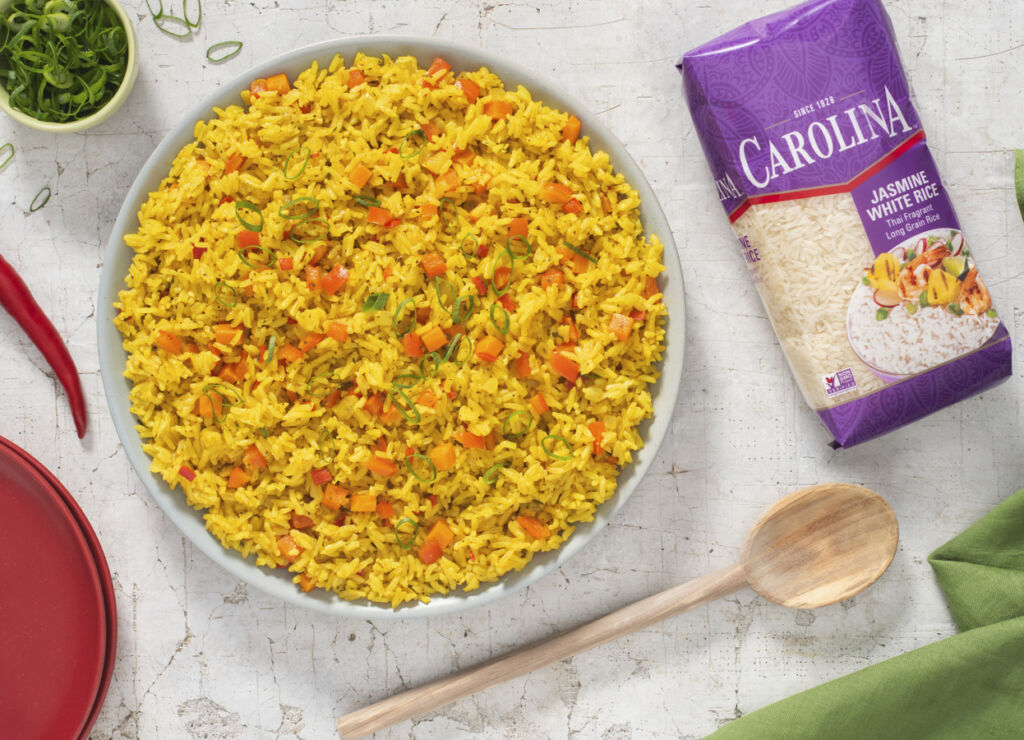 This celebratory Caribbean Island Calypso Rice is loaded with flavor and color to mimic the sights of the carnival festival. Starting with a blend of Carolina® Jasmine Rice seasoned with red chili pepper and vibrant curry, this rice side will definitely add a pop of color to your table!
Tex Mex
Take a break from classic red chili and try this spicy Green Chili with Ground Turkey and Rice made with all kinds of savory green vegetables like poblano peppers, tomatillos, celery and green chilies! Don't forget the melted gooey cheese on top sprinkled with fresh cilantro.
Dinner
For dinner, we've compiled our favorite main dishes and side dishes if you're serving a crowd or a small but hungry bunch.
Show Stopping Main Dishes
This Mexican-style Roasted Chicken with a brown rice pilaf is not your average oven-roast as it's seasoned with a blend of chipotle peppers in an adobo sauce blended with herbs like rosemary and other fresh seasonings. The deep red adobo sauce sprinkled with green herbs will most definitely be a feast for not only your eyes but your appetite.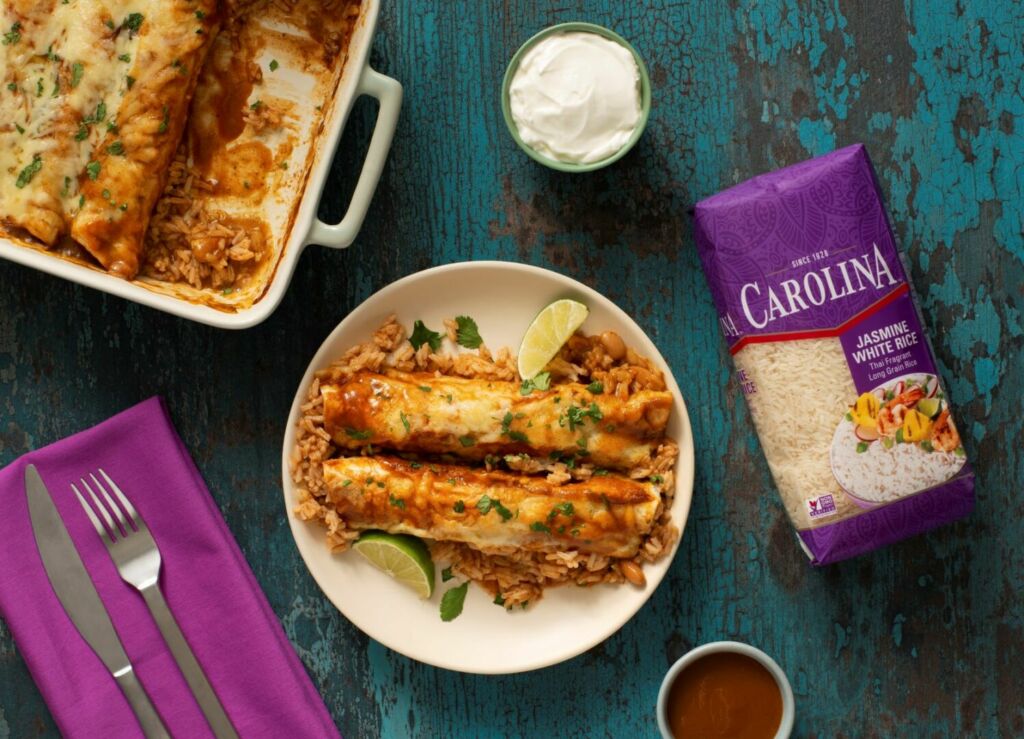 Add a bit of style to your table too by using half red enchilada sauce and half green enchilada sauce in these delicious Red and Green Enchiladas. All put together in just 25 minutes, save yourself a bit of hassle around the holiday season with this simple oven-baked dish. And, because it uses rice and pinto beans it creates a plant-based complete protein that both vegetarians and meat eaters can enjoy!
Simple Side Dishes
For a traditional holiday dish, this Green Bean Rice Casserole is made with Mexican-style cheese and toasted pine nuts for an added crunch.
Need a bit more greens in your meal? This Green Rice with Roasted Veggies is the ultimate tasty side dish for your table loaded with roasted asparagus, broccoli and Brussels sprouts served over zesty white rice blended with kale, jalapeños, garlic, cilantro and more.
Dessert
Classics
The holiday season just wouldn't be complete without a glass of eggnog, or rompope as it's referred to in many Latin American countries. We've taken the traditional beverage flavors and made a delicious Rompope Rice Pudding with warm milk, vanilla, sugar and a dash of rum! And, although this drink is technically white, it makes for the perfect canvas to add on delicious red fruits of choice! You can even top rice pudding with fresh whipped cream and a cherry or festive sprinkles.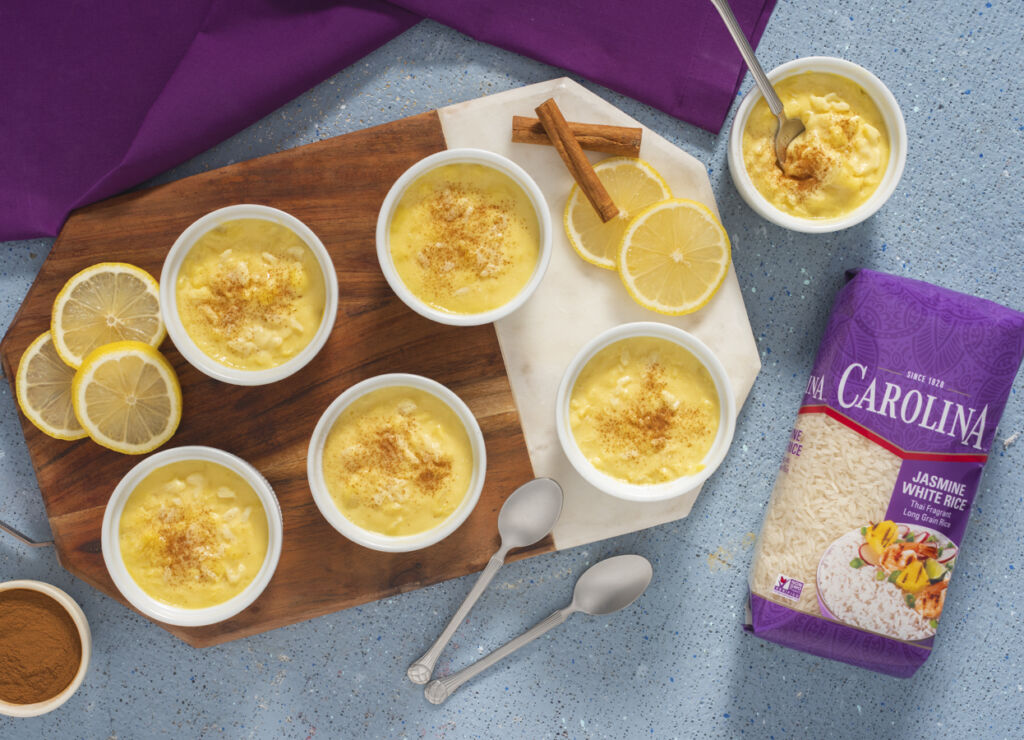 To swap in an alcohol-free dessert, simply leave out the rum or try these comforting Cuban Style Natilla Custards with fragrant jasmine rice!
International Favorite Tamales
For another fun and family-friendly option, these wrapped Sweet Rice Tamales can work for just about any meal, including dessert topped with fresh berries like blueberries, red raspberries or strawberries and maybe a hint of green with some sliced kiwi.
Make this season the best yet with delicious homemade meals like arroz chaufa using Carolina® Rice. Check out our recipe selection for even more ideas to make this year, including kitchen essentials like how to cook white rice.