There is something special about enjoying a meal with friends or family together during the holiday season, including a delicious breakfast or brunch! In fact, one of the best ways to create new family traditions is in the kitchen and we've got a few recipe ideas that will help you to eat, drink and be merry whether you're preparing a buffet or a small meal to savor.
Using any Carolina® Rice variety from traditional White Rice, aromatic Jasmine Rice or even convenient Parboiled Rice, the options are truly endless for creating delicious breakfast or brunch ideas.
Brunch and Breakfast Menu Ideas
We've got something for everyone whether you enjoy sweet, savory or a simple cup of coffee in the morning.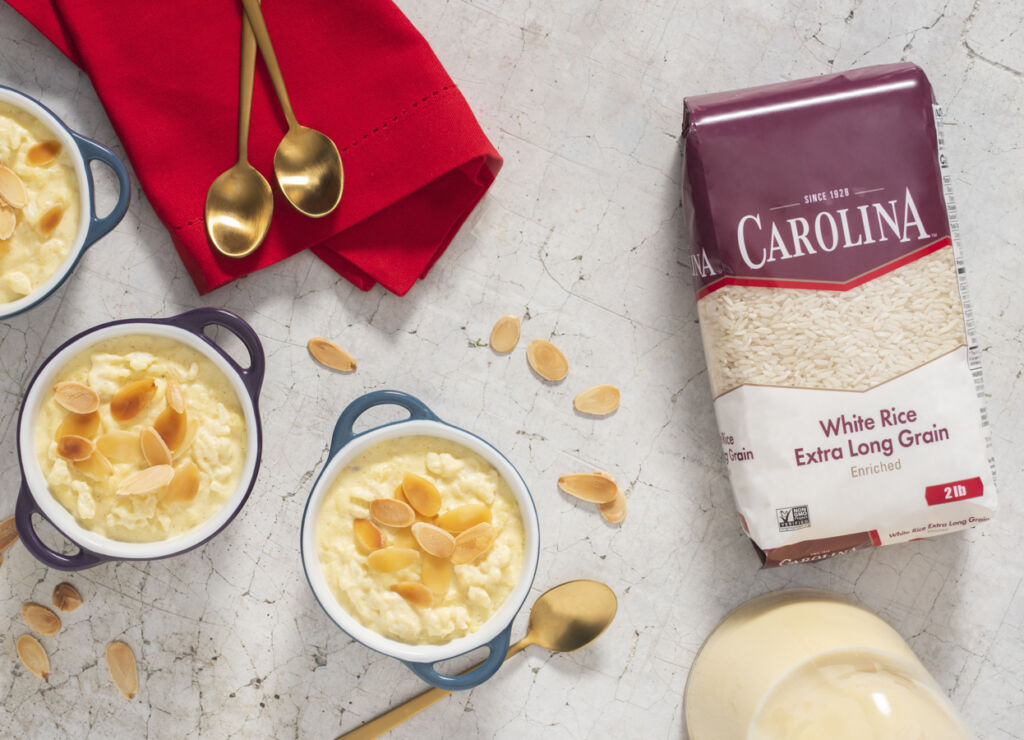 Coffee Infused Breakfast
If you love the smell of warm coffee in the morning, try infusing that flavor into a delicious breakfast. This Cafe Horchata drink is blended with a shot of espresso for a tasty drink to pair alongside brunch or for any younger family members, simply serve as horchata.
Or, serve a bowl of something more rich and creamy like this Coffee Mousse Rice Pudding. Make it with strong coffee for a caffeine boost, or decaf, blended with milk, cream, sugar and aromatic Carolina® Jasmine Rice.
Sweet Breakfasts to Crave
'Tis the season to enjoy sweet treats around the holidays, even for breakfast! Try these extra special and delectable breakfasts made with fruit, sweetened cake, creamy pudding and more.
Eggnog
There is no denying that eggnog is a holiday specialty that comes around just once a year! This Rompope Rice Pudding, Spanish for eggnog rice pudding, is a Latin American inspired dish made with egg, milk, sugar and just a dash of rum for any adults enjoying!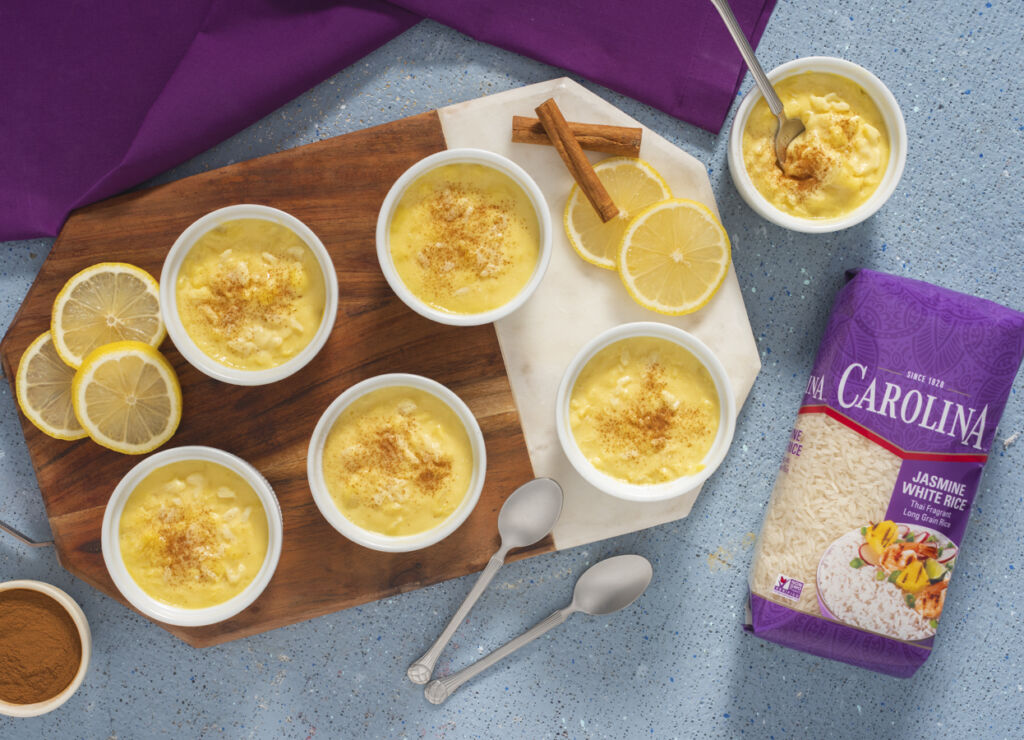 If you want to make something the entire family can enjoy, try this Cuban Style Natilla Custard with Jasmine Rice. Also a Latin American inspired treat similar to a rice pudding infused with vanilla and citrus flavor. Top with berries, holiday fruit jello or leftover cranberry sauce.
Warm Fritters
These Christmas Cake Rice Fritters are crispy on the outside and warm and gooey on the inside with Christmas Cake flavored with cinnamon, vanilla, sugar, allspice, nutmeg and a rum simple syrup drizzled on top!
Creative Fruit Filled Dishes
If you're looking for something fun, creative and tasty these Rice Pudding Parfaits are layered with mango and pineapple topped with homemade whipped cream and a cherry on top.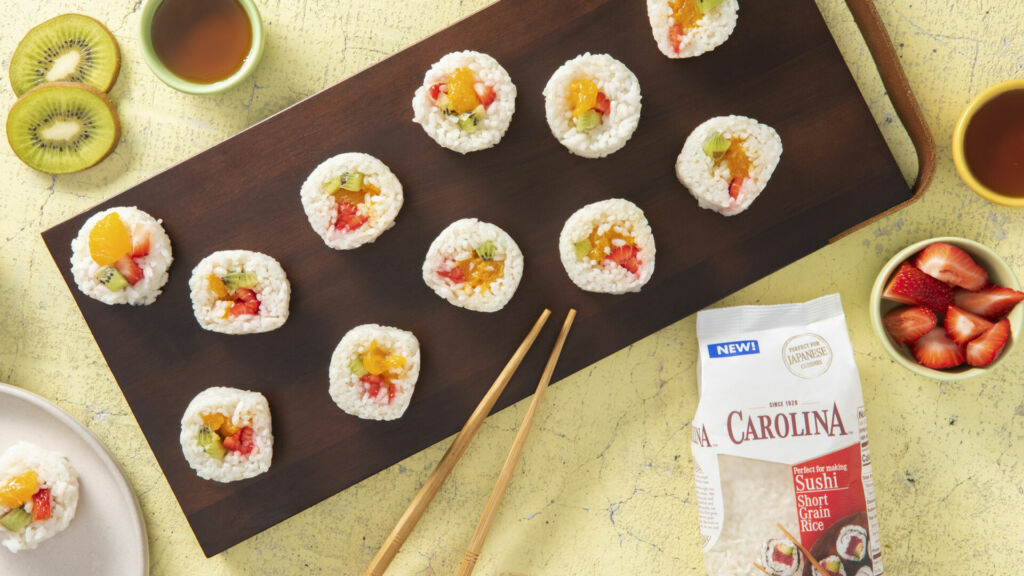 If you've got a buffet, have any younger helping hands cut and roll Fruit Sushi with strawberry, kiwi, mango, banana or other fruit of choice. We suggest using Carolina® Short Grain Sushi Rice cooked in sweet coconut milk for delicious flavor.
Fluffy Short Stack Breakfast
The holiday season is a great time to add a special touch to some of your classic weekend brunch ideas like pancakes or waffles!
Add a few drops of your favorite food coloring or a pinch of cinnamon, pumpkin pie spice or cocoa to the batter before cooking for extra flavor and fun! You can even make your own Brown Rice Chocolate Hot Cakes and top with extra chocolate sauce, fruit jam, crushed nuts, homemade whipped cream or caramel-like cajeta!
Pro Tip: If you find you're out of flour, use our guide to making your own homemade rice flour to use in your baked goods and breakfast batches! And, it's completely Gluten Free.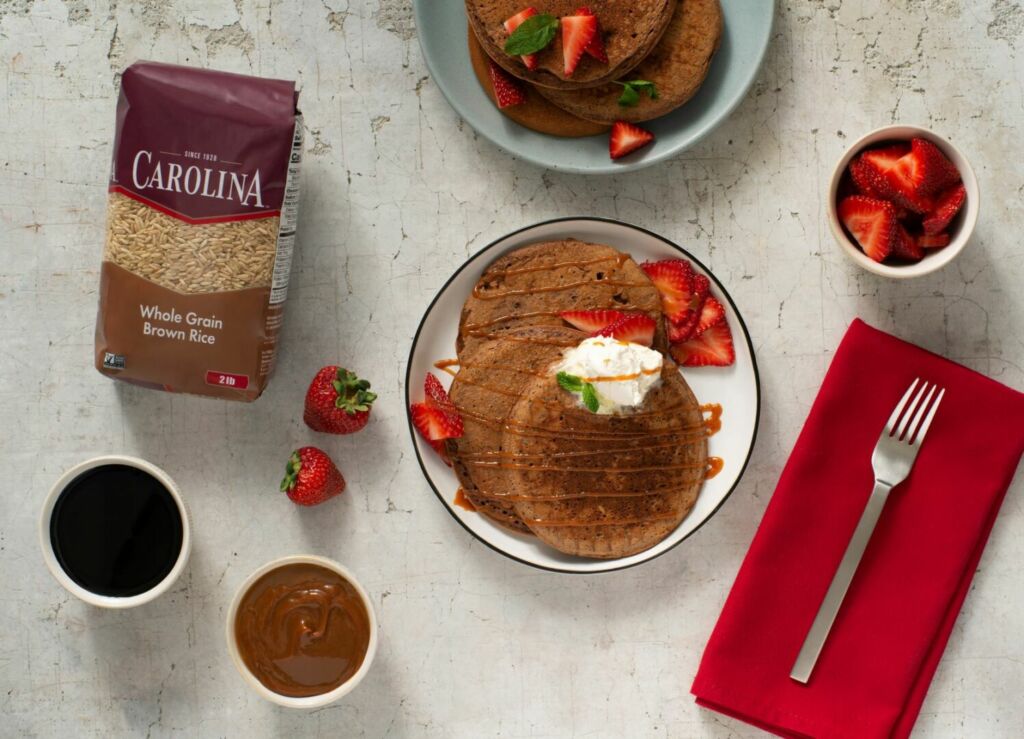 Sizzling Skillet
If you're more of a savory breakfast fan, these delicious skillets with rice, egg and vegetables are delicious.
Make your own restaurant-style Omelets Stuffed with Mexican Rice and Chorizo that might just make it to your weekly meal routine with a homemade queso sauce! If you've got a large crowd to feed, you can also make your own breakfast tacos filled with this Chorizo and Rice Breakfast Scramble, Cheddar cheese and your choice of tomatoes or salsa.
Breakfasts Filled to Perfection
These two breakfast options can be customized to your preference with both sweet or savory fillings!
Tamales
In Latin culture, the holiday season is also tamale season. Sweet or savory, they are typically made in large batches and enjoyed for the next several days including breakfast time with a nice, warm cup of 'cafe'.
However you enjoy them, try these Sweet Rice Tamales topped with blueberries or Chorizo Rice Tamales with fragrant Carolina® Jasmine Rice and filled with turkey, chorizo, and a medley of vegetables all wrapped in corn husks like tiny and delicious little presents, you won't be able to help but feel that holiday spirit first thing in the morning.
Empanadas
Another unexpected but delicious addition to the table that can be filled with lots of different ingredients are empanadas. If you've never made them before, follow our recipe for making your own homemade dough and filling for an extra special treat. These Sweet Rice Pudding Empanadas are filled with rich and creamy rice pudding and covered in cinnamon and sugar for a warm and crunchy bite.
Or, make use of those leftover ingredients like turkey and vegetables with these Turkey and Rice Picadillo empanadas great for fans of savory dishes.
Bring in the holiday season with Carolina® Rice for all of your meals or events! Explore our recipe selection with confidence or discover some holiday meal ideas using red and green Ingredients to really get into the festive mood! We also have plenty of useful kitchent tips such as advice on cooking rice on a stove and recipes like arroz chaufa.