Wild rice —the perfect flavorful addition to make your meal a bit more filling and satisfying! And, while technically not rice, but rather a semi-aquatic grass native to North America, it can be used anywhere that rice can. So, if your knowledge of wild rice stops after Thanksgiving stuffing or a luxurious side or soup, it's a lot more versatile than you might think. We'll show you 5 delicious and simple ways that you can switch up your wild rice meals and enjoy more whole grains!
Why Should You Cook Wild Rice?
If you're wondering why you should even start using more wild rice, there are plenty of reasons! To name just a few, it's packed with protein, dietary fiber and amino acids and it's a whole grain, meaning it carries more natural vitamins and minerals.
Apart from its long list of benefits, if you've ever eaten wild rice you'll know it has a fairly strong earthy, nutty and toasted flavor that, when cooked by itself, takes around 45 minutes over the stove. For that reason, we suggest using a blend like Carolina®'s premium fragrant Jasmine Rice with Red and Wild Rice. Mixing with other grains helps to balance out the flavor, texture and cuts down on the cook time to just 15 minutes!
So, with all of that in mind, check out our top five ways to cook using a blend of wild rice:
How To Use Wild Rice
1. Wild Rice Pilaf
One of the simplest and most delicious ways to enjoy wild rice is with a Rice Pilaf. Starting with a base of onion sauteed in butter, the rice is toasted and simmered in broth with added seasonings like thyme, sage, parsley and more for the ultimate flavorful addition to your meal!
Once you have your flavorful rice pilaf base, feel free to get creative by topping with a meat of choice, beans or add in additional vegetables like mushrooms, peppers and greens like Brussels sprouts.
2. Rice Salad
Make your salads more filling with a rice blend packed with protein! Wild rice is also a good source of natural vitamins and minerals, so it makes for the perfect whole grain ingredient to mix with vegetables, nuts and even fruits!
Take your average spinach salad up a notch with this Wild Rice and Strawberry Salad using spinach, basil, red onion, feta cheese and pecans drizzled in a simple homemade vinaigrette!
Or, add a pop of color to your table with a Middle Eastern-inspired dish of Roasted Sweet Potato, Cauliflower and Wild Rice salad. It's an excellent way to add vibrant colors to your meal with red pomegranate, orange sweet potato, brown almonds, green onions and more! Give yourself the ultimate sensory experience any day of the week.
Tip: Eating the same salads and dressings on repeat? Switch things up by checking out our guide to making your own homemade vinaigrettes and dressings for rice salads!
3. Flavorful Rice Bowl
No matter if you enjoy burrito bowls, buddha bowls or any other bowl with rice, a blend of jasmine, red and wild rice is exactly what you need to spruce it up.
Make this Mediterranean Tuna, Hummus and Rice Bowl a meal using wild rice and fresh vegetables like cucumbers, cherry tomatoes, pitted black olives and red onion. Top everything with canned tuna mixed with roasted red pepper hummus and serve over a bed of arugula leaves for a delicious lunch or dinner.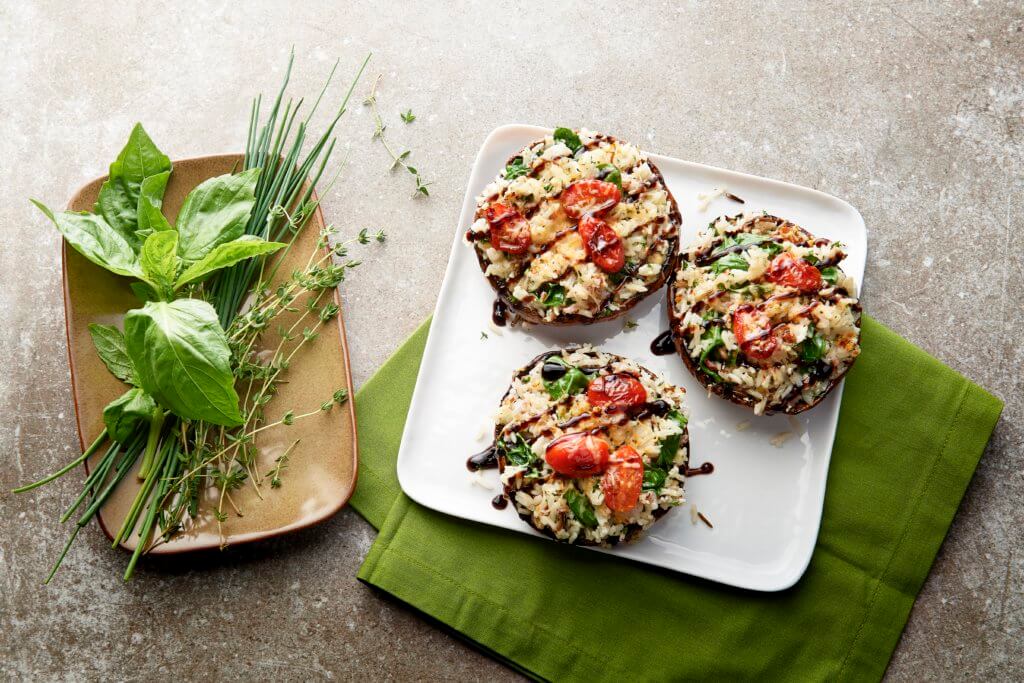 Or, get creative and make an edible bowl with stuffed peppers or mushrooms! These Stuffed Portobello Mushrooms are filled with rice along with crumbled goat cheese, grape tomatoes, fresh herbs and drizzled with a balsamic glaze for an elegant addition to your meal.
4. Infuse with Flavor
You can savor our wild rice blend on its own or add even more flavor by infusing it with different ingredients such as cooking in broth, coconut milk and additional liquids or seasoning the water with herbs or other aromatics.
This Moroccan Salad with Wild Rice uses rice that has been cooked in water infused with cinnamon sticks and cloves, all topped with seasoned and roasted carrots along with dried fruits and nuts for a delicious and exotic dish any night of the week.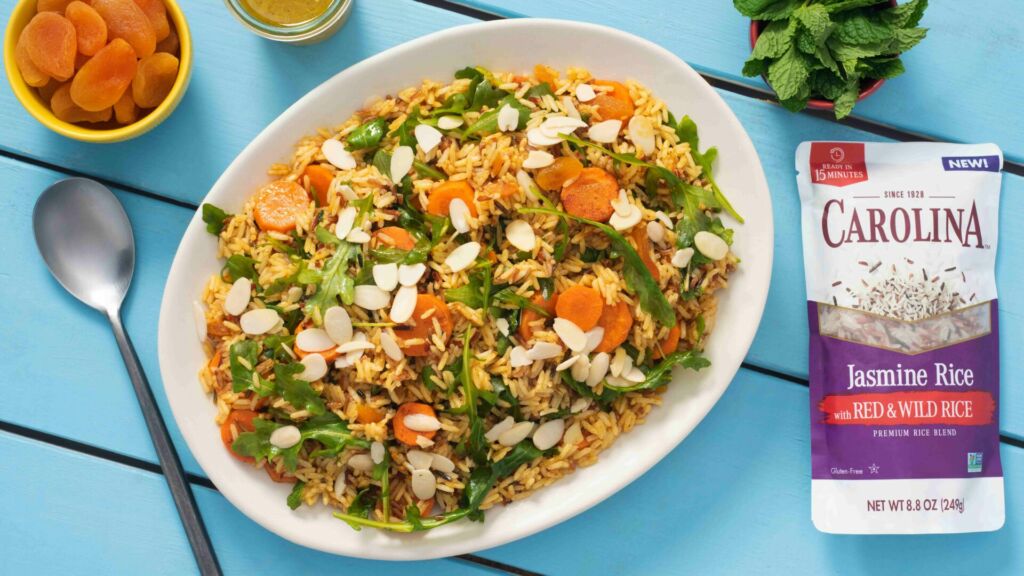 Give yourself a morning boost with an energizing Turmeric Breakfast Rice Bowl made with rice cooked in a mix of coconut milk, water, turmeric, ginger, salt and pepper for a flavorful base topped with creamy avocado slices, spinach, pumpkin seeds, vegetables and a soft boiled egg!
5. One Pot Rice Cooker or Crockpot Meals
Put your kitchen gadgets to good use and cook your rice in a rice cooker or crockpot. Enjoy on its own or make one pot meals like this Crockpot Chicken and Wild Rice with Broccoli for a no fuss dinner loaded with quality ingredients.
Enjoy our premium blend of wild rice in your next meal, or other rice varieties like Parboiled Rice or even Organic Rice. With Carolina® Rice, you can explore all different kinds of recipes from the comfort of your own kitchen, like rice pudding or arroz chaufa along with other kitchen essential like learning how to make white rice.