There are plenty of reasons to enjoy more meals using fish and other seafood. And, apart from the long list of benefits, these meals can be light or filling and savory or spicy depending on the occasion and preference.
But, if you've ever felt like seafood is a bit intimidating to cook with, have picky eaters at home or are simply saving it for special occasions, we'll show you how to make meals that are budget-friendly, simple to make and have incredible flavor! There's a reason why it's enjoyed in many ways across the globe.
Follow along with these 5 simple and delicious tips for getting more ingredients from under the sea onto your plate with Carolina® Rice!
1. Use Canned and Frozen Items
Our first tip is to not underestimate the power of canned food like tuna, crab and salmon for quick and budget-friendly meals. There are many things you can do with these items and, to top it off, they're perfect for storing in the pantry! However, if you prefer that fresher flavor, buy fresh and freeze or pre-frozen fish and save it for a delicious dish later on.
Defrost Tip: When defrosting fish, make sure to use it up the same day for best results.
Tuna Rice Salad Bowl
One surefire way to level up your tuna salad is by tossing with quality ingredients like aromatic Carolina® Jasmine Rice, fresh vegetables and your own homemade mayo-based dressing! This Canned Tuna and Rice Salad is simple, tasty and hassle free.
Or, skip the mayo for this fresh Mediterranean Tuna Rice Bowl. Put those cans of tuna to good use by combining with homemade or store-bought roasted red pepper hummus and serving over a tasty and colorful premium blend of Carolina® Jasmine Rice with Red & Wild Rice. But it doesn't stop there, top with a blend of crunchy vegetables like cucumber, tomato and red onion garnished with pitted olives and arugula leaves. Toss everything together in just 20 minutes.
Upgraded Tuna Casserole
Canned tuna is also perfect for comforting classics like this oven-baked Tuna and Rice Puff. Combine fluffy jasmine rice with egg whites to create that airy puffed texture with a rich and creamy blend of ingredients made simply with the help of pantry staples.
2. Make Patties or Cakes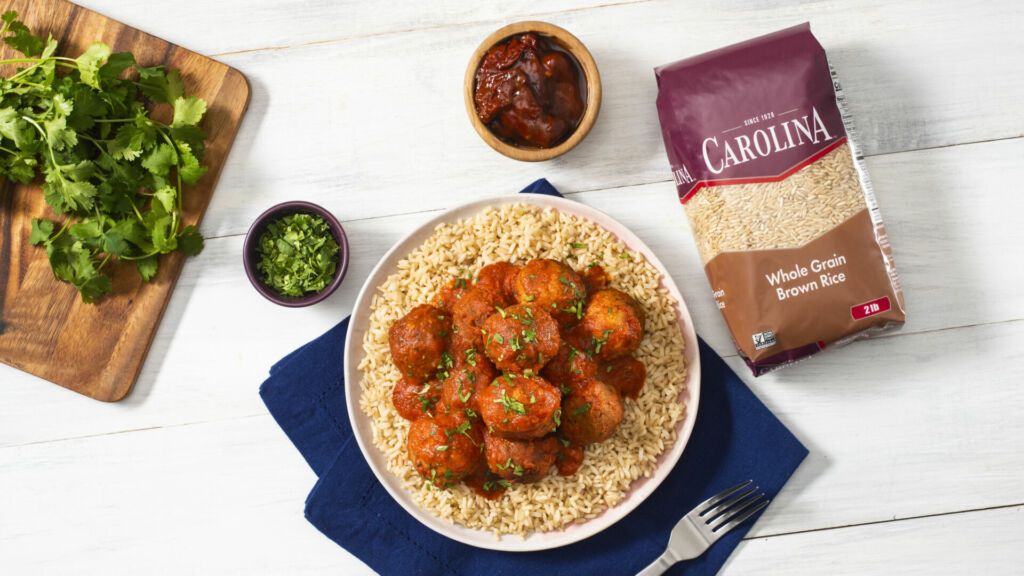 If you've got picky eaters at home that are still unsure about eating fish or seafood, make it fun and mold them into patties, cakes or meatballs with other delicious flavors!
Try it out with these options using fresh or canned salmon, crab and tuna. And, of course each comes with its own dipping sauce recipe!
Salmon: Spicy Rice Croquettes with Salmon
Sauce Pairing Suggestion: Spicy and Creamy Chipotle Dipping Sauce
Crab: Rice Crab Cakes
Sauce Pairing Suggestion: Curried Mango Sauce Dipping Sauce
Tuna: Air Fried Chipotle Tuna Meatballs
Sauce Pairing Suggestion: Marinara Sauce with Cilantro
3. Explore New Simple Recipes
Another way to add more fish and seafood into your meals is by finding new weekly dishes that are simple to put together and delicious to enjoy.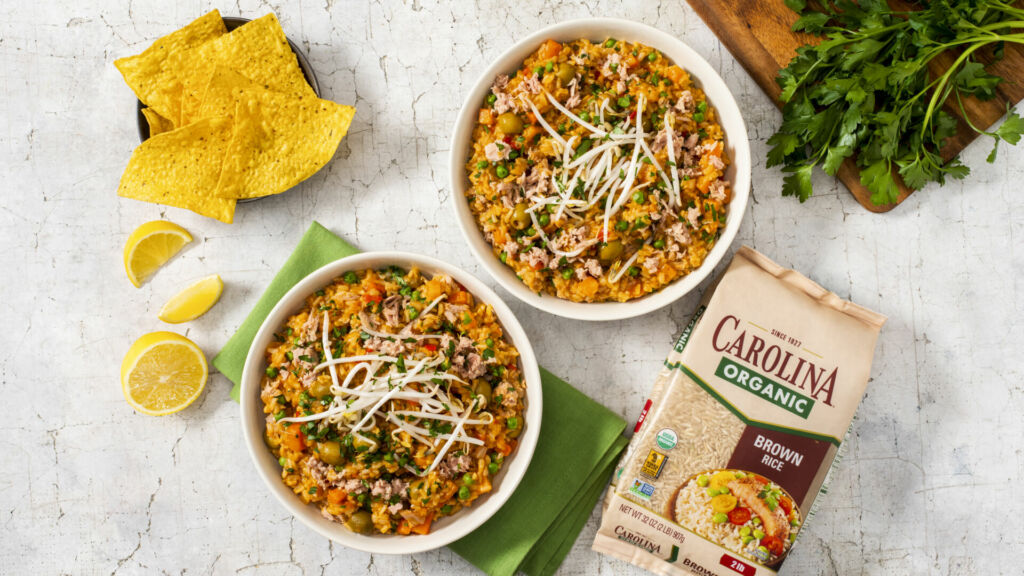 Try this one-pan Shrimp Pico Rice Skillet using pantry staples like canned tomatoes, shrimp, seasonings, broth and Carolina® White Rice.
Or use your Instant Pot to make life easier with this Hispanic inspired Arroz con Atun, or tuna with rice, made with quality ingredients like Carolina® Organic Brown Rice, tomatoes, peppers, carrots, seasonings, olives and vegetable broth.
4. Cook With International Flavors
If you're not inspired by what's in your kitchen cabinet, step out of your comfort zone and try something new to transport your taste buds to a whole new world of flavor. Try these international dishes!
Peruvian Ceviche
This traditional dish is famous for using fresh fish along with citrus, sweet and savory flavors all together in every bite. Try this Tuna Ceviche with Mango and Avocado to add vibrant color and zesty tastes to your meal.
Tuna Tip: Make sure to use sushi-grade fresh tuna.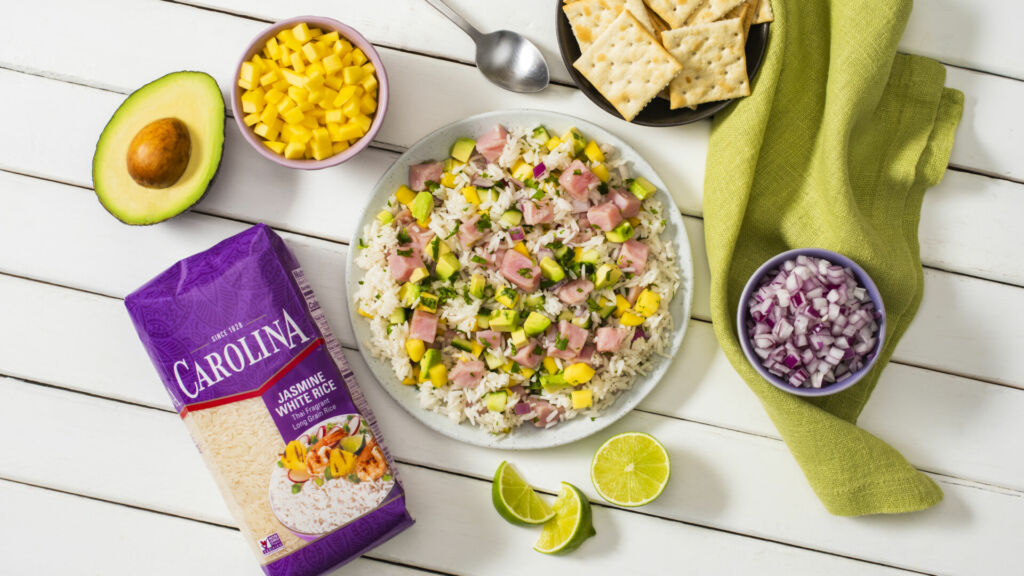 Spanish Paella
Loaded with seafood, an Authentic Spanish Paella is the perfect way to incorporate more tasty bites of seafood into your meal. This version is made with Carolina® Parboiled Medium Grain Rice, which is perfectly crafted with the perfect paella rice texture, and cooked in seafood broth along with monkfish, mussels, calamari rings and prawns. Feel free to mix and match as desired.
Mexican Mole
Mole verde, or green mole, is a blend of spices, tomatillos and peppers like poblano and jalapeño that pair perfectly with a variety of ingredients including white fleshed fish like grouper. Try this recipe for Green Mole with Roasted Grouper for a taste of something delicious.
Caribbean Shrimp and Coconut Rice
Try a dish of Coconut Rice with Shrimp for true island tastes at dinner using jasmine rice simmered in coconut water with marinated shrimp and lime for a bite of something fresh.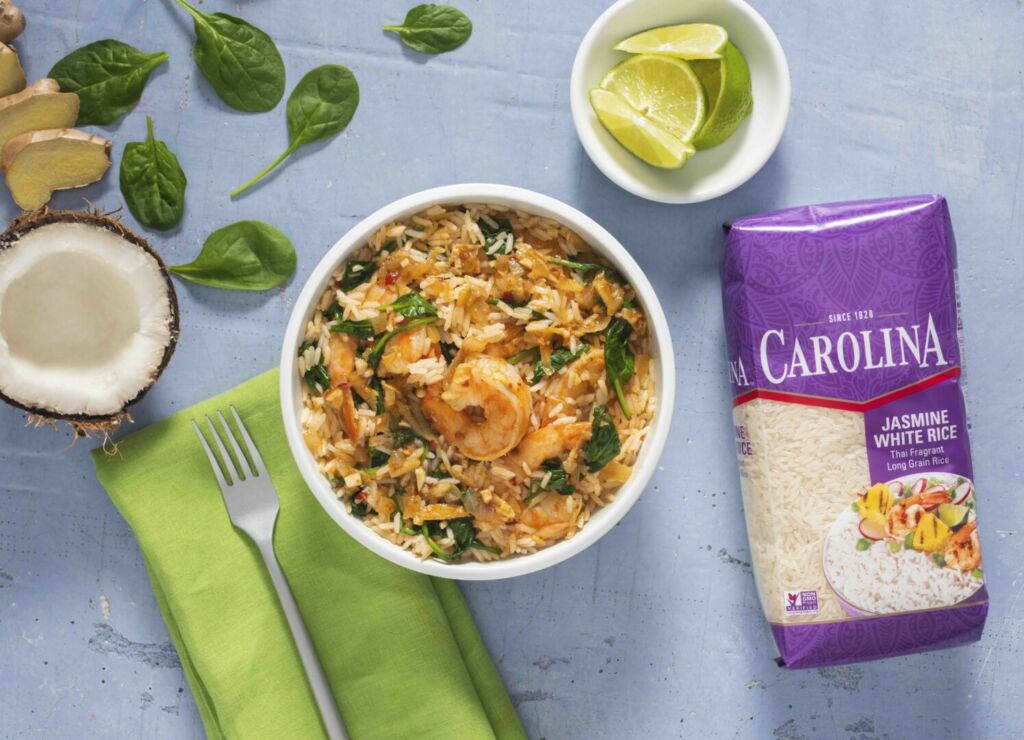 Japanese Sushi
Sushi might just be one of the most intimidating dishes to make at home yet, but with our guide to step by step guide to making homemade sushi, it might be easier than you think.
Starting with Carolina® Short Grain Sushi Rice, sushi grade tuna, avocado and a few vegetables, you're well on your way to rolling Sushi from Authentic Grains.
5. Use Seafood In A Soup or Stew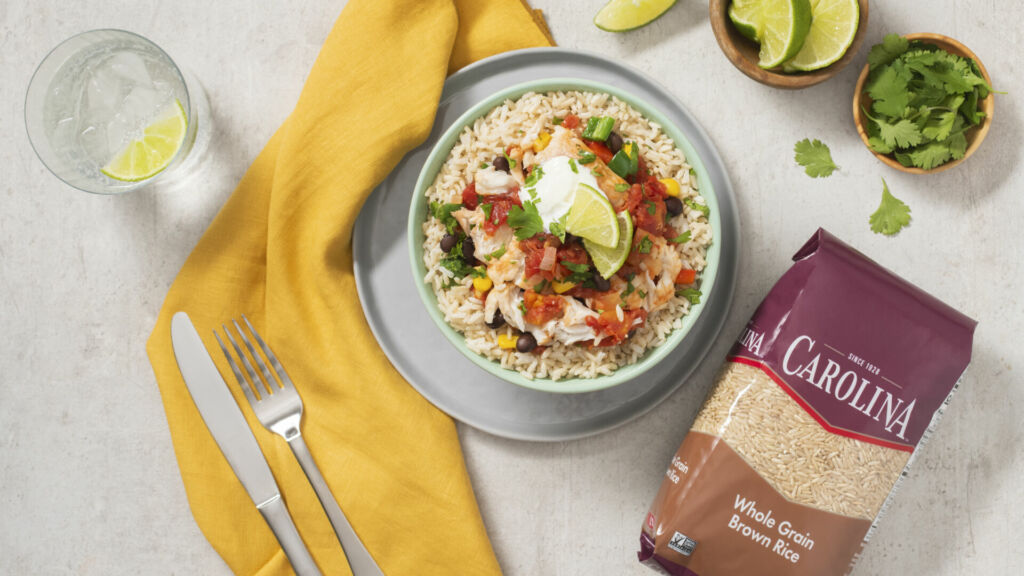 Famous throughout the world, using fish and seafood in soups and stews is a delicious way to try something different like a rich and creamy chowder or a lighter French bouillon.
White flesh fish are most commonly used in soups, however, crab, clams or other seafood meat can be used as well. Try this One Pot Stew with Fish and Beans using snapper fillets or a spicy Pozole with Fish and Jasmine Rice using grouper, tilapia or cod.
Whether you're trying to eat more seafood, staying away from meat or simply want to try something new, there are plenty of ways to dish out flavors of the sea. Find more meal, snack and even dessert ideas like a decadent rice pudding or this arroz chaufa using Carolina® Rice in our recipe selection!