Louisiana cooking is often synonymous with comfort food, made using vibrant colors, hearty ingredients and flavorful spice blends that have you enjoying every bite.
And, although a trip to Bourbon Street for a delicious rice dish or the French Quarter for a beignet might sound delicious, it's not always possible. So, the next best thing is to recreate those flavors in your own kitchen whether you're celebrating Mardi Gras or simply love Louisana cooking. We'll explore a few classic dishes using both Creole and Cajun seasonings, ingredients and cooking techniques to break down what makes these dishes so rich and comforting.
The Difference Between Cajun and Creole
When talking about Louisiana cooking, Cajun and Creole are often used interchangeably, and although both groups have their roots in Louisiana, they are not one in the same.
Creole refers to the people of European ancestry who settled in the Louisiana area and brought a blend of cultures together. Cajun refers to the French Acadians who were exiled from Canada and eventually made their way down to Louisiana.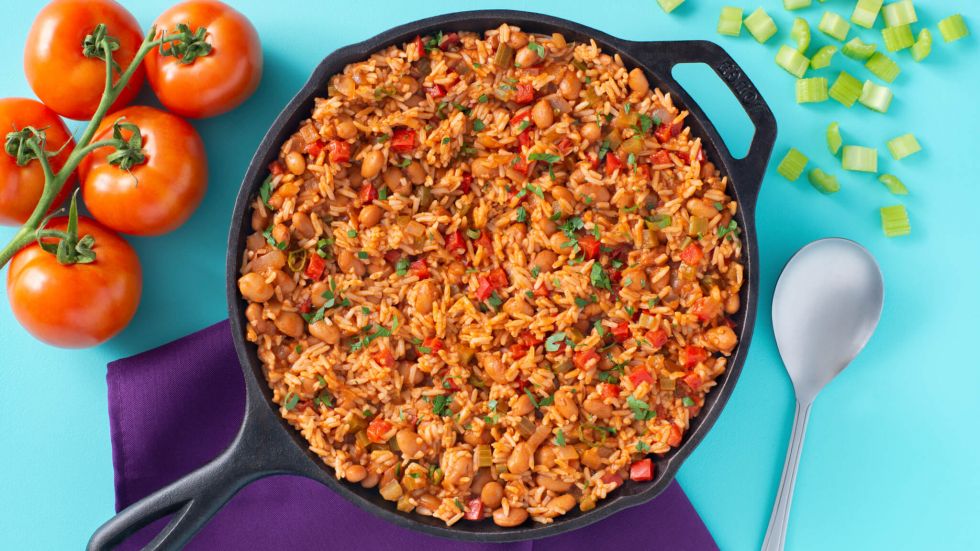 As Creoles were considered a high class, their dishes were often smaller and more elaborate as they had access to local markets and higher quality ingredients. Cajuns lived off of the land and made more hearty one pot meals to feed a crowd. And, while both have historical and cultural differences, they tend to coincide with their desire to entertain and provide delicious meals.
Let's break down a few common dishes and what makes them so delicious.
Skillet Blackened Fish
One traditional Cajun cooking technique is blackening which requires dipping the ingredients in or simply cooking in butter and rubbing with a special blend of herbs and spices which are then seared in a very hot skillet, or "blackened". This cooking method is most often used to prepare fish, but can also be used for other ingredients like steak, chicken or even tofu.
Seasonings
One of the most important elements of this method and other techniques is the use of seasonings and herbs. Cajun and Creole cooking have similar but different blends including paprika and other peppers or herbs like oregano, thyme and rosemary, depending on the recipe and flavor desired.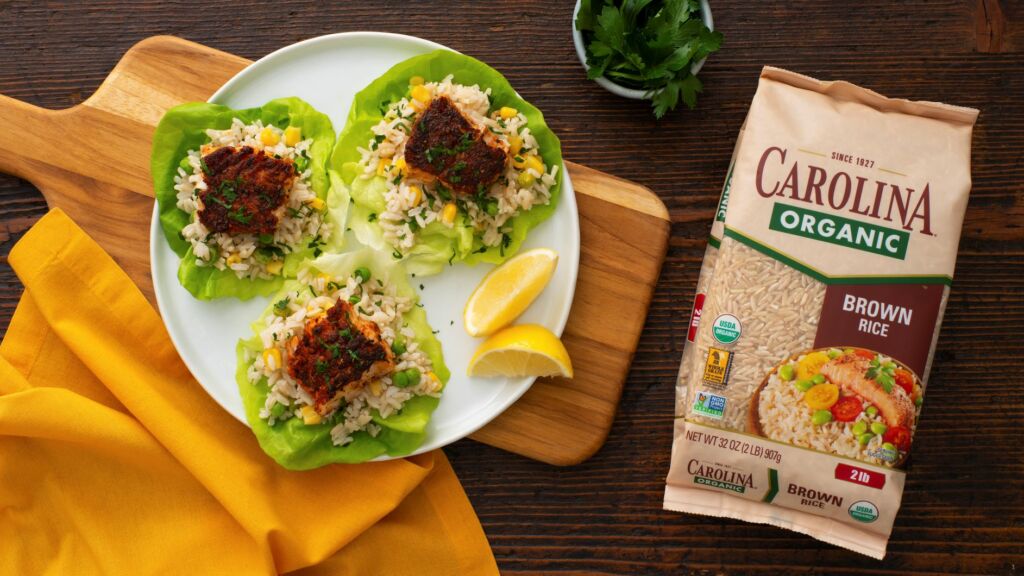 Make your own seasoning blend and learn step by step how you can blackened fish in this recipe for Rice Lettuce Wraps With Cajun Blackened Fish. Try with any white fleshed fish of choice and Carolina® Organic Brown Rice for a hearty accompaniment.
Mixed Jambalaya
One of the most commonly known dishes of Louisiana cuisine, that has since been made famous world-wide, is Jambalaya. It gets its name from a mix or jumble of different ingredients, and to make a great dish of Jambalaya, there are two key ingredients that you'll need to start with — rice and meats or seafood.
Rice
Using the right rice is essential for soaking up all of that delicious flavor. In fact, many people confuse traditional gumbo and jambalaya, but what actually sets them apart is that the rice is cooked apart from and served with gumbo while in Jambalaya, the rice soaks up the ingredients and is added to the pot. To make Jambalaya, we suggest using long grain rice like aromatic basmati or jasmine, traditional white rice or even brown rice.
Meats and Seafood
Crawfish, shrimp, fish, oysters, chicken, alligator and Andouille sausage are just a few of the delicious ingredients from both land and sea used in Creole and Cajun cooking alike. Dishes are often enhanced with various meats like smoked sausage along with chicken and seafood all in the same dish similar to some European dishes such as Traditional Spanish Paella.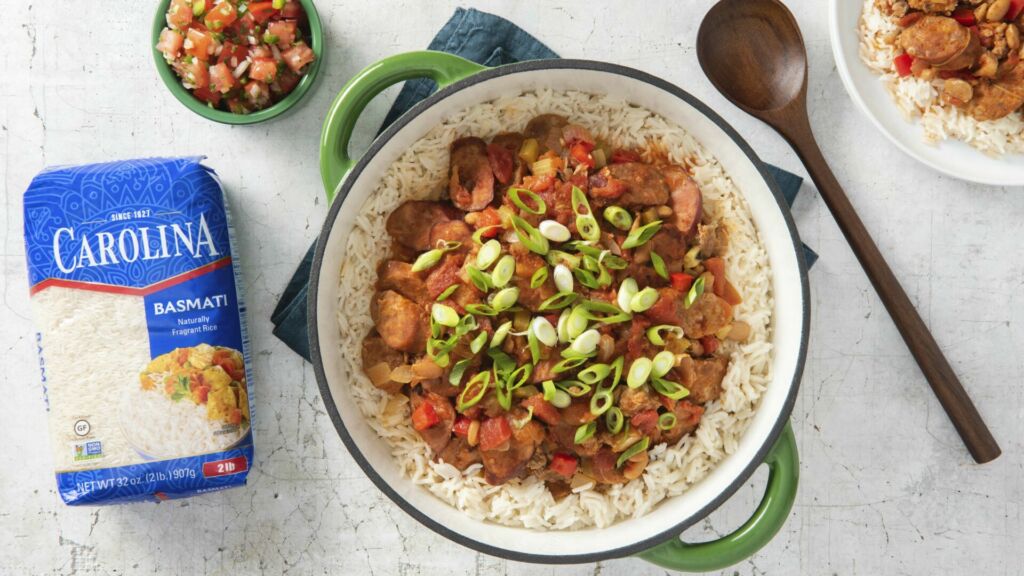 Jambalaya Recipe Variations
Start with a classic like this Chicken and Sausage Jambalaya or try your hand at a few others using different ingredients to enhance the flavor. Looking for Mardi Gras recipes? Impress your guests with these flavorful Jambalaya variations:
Mexican-style Jambalaya: Made using a meat trio of Basque chorizo, Cajun-style Andouille and Mexican chorizo along with fire-roasted diced tomatoes, a blend of spicy peppers all soaked in aromatic Carolina® Basmati Rice.
Jambalaya Risotto with Andouille Sausage and Kale: A rich and creamy version of Jambalaya with Andouille Sausage, leafy kale, a Cajun seasoning blend and broth, oven-baked to perfection.
Spicy Cajun Jambalaya: This simpler version includes all of the classics like vegetables, chicken, sausage and white rice cooked in an Instant Pot for a meal ready in no time.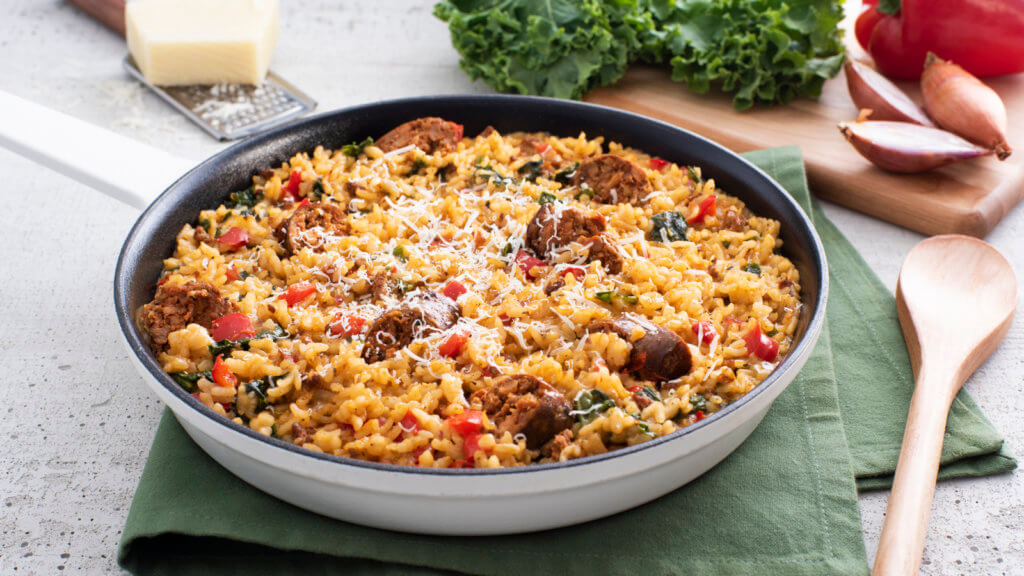 Red Beans and Rice
Another emblematic dish of Louisiana cuisine – red beans and rice – is traditionally served as a dish to use up leftovers from a previous pork barbecue made with rice, beans, vegetables, spices and leftover pork bones for added flavor.
Vegetable Holy Trinity
Many skillet recipes like this in Louisiana cooking start with a sofrito-like base of three vegetables known as the holy trinity of Creole and Cajun cooking which include: bell pepper, celery and onion. Try it for yourself in our vegetarian version of Rice and Beans made with a base of red bell pepper, sliced onion and celery mixed with pinto beans and our Carolina® Ready to Heat Garlic & Olive Oil Jasmine Rice for flavor in every bite! Afterwards, make sure to treat yourself to this indulgent rice pudding recipe!
While there are many other techniques and cooking methods, these are just a few to get you going on the right track. Start with quality ingredients like Carolina® Rice so you can explore all types of cuisines with confidence. For more kitchen advice on topics such as how to cook rice on the stove or how to make an arroz chaufa recipe.