No matter what time of year, sports fans always have a great occasion to share delicious snacks and appetizers. Whether you enjoy watching football, baseball, basketball or are a supporter of another sport, keep these recipes in your back pocket to indulge in some tasty finger foods.
Game-day watch parties are a great way to create new traditions with your loved ones, rooting for your team and also over some delicious food! Spend less time planning your snack bar and more time enjoying the game, with the help of Carolina® Rice.
Rice Dips to Get the Game Going
No game day spread would be complete without something to dip your favorite chips in. Skip the classics and give your sauces a fun twist by adding spicy ingredients and Carolina® Jasmine Rice. By adding in rice, dips will be less saucy and easier to scoop up.
Pro tip: Use bowls and plates with the colors of your team to show you support, even down to the details!
If you have some meat lovers at home, this Spicy Beef Chimichurri Dip is sure to be the MVP of the day. For a classic staple, we suggest you go with our Sriracha Ranch Dip – a winning combination of both creamy and spicy flavors and the perfect sauce to scoop up while watching your games.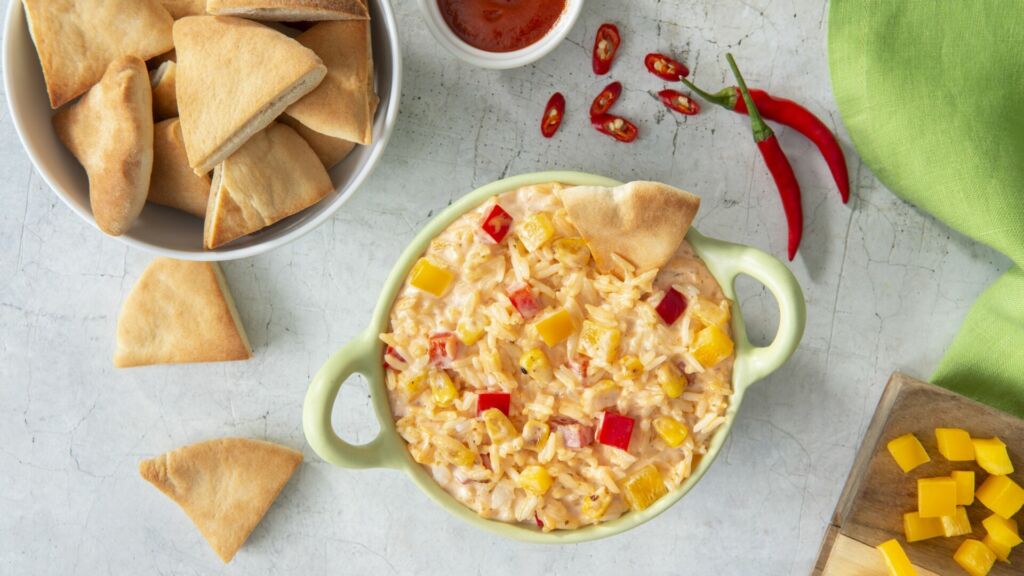 Step out of the classic tortilla chip comfort zone and serve with crackers, veggies, pretzels, pita chips or even plantain chips for dipping!
How to Make Plantain Chips
Learning to make plantain chips will be very helpful with the sports events to come – plus, they are also great as a crunchy topping for any rice bowl or even as a side dish.
Simply peel and slice the plantain into the thinnest possible slices, toss with a bit of your choice of oil and sea salt and arrange on a paper-lined baking sheet. Bake for about 15 minutes in a preheated oven at 350 ºF. Chips will bake to a golden hue and crunchy texture.
Tasty Finger Food
No matter if your team wins or loses, this selection of finger-licking-good snacks will leave you craving more! Including classic crab cakes and rice croquettes, we've got a delicious snack that everyone will be cheering on!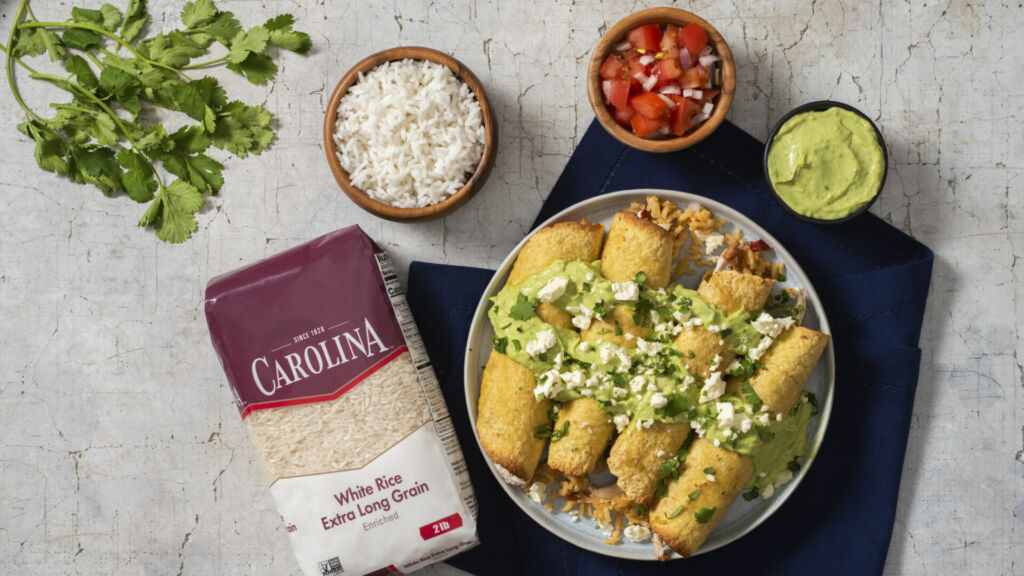 Vegetarian Taquitos
With a protein-packed combination of long grain rice and beans, these cheesy rice taquitos or Tacos Dorados make for a delicious snack to entertain while your team scores. Serve with homemade avocado cream and top with crumbled cotija cheese to enjoy a flavorful white rice vegetarian alternative to classic snacks and appetizers.
Crispy Crab Cakes
Deep-fried to crispy perfection, this Maryland native delicacy makes the perfect bite-sized appetizer to ease the game nerves. For a flavor boost on your Basmati Rice Crab Cakes, serve alongside a sweet curry mango sauce – no one can beat this flavor combination!
Spicy Rice Croquettes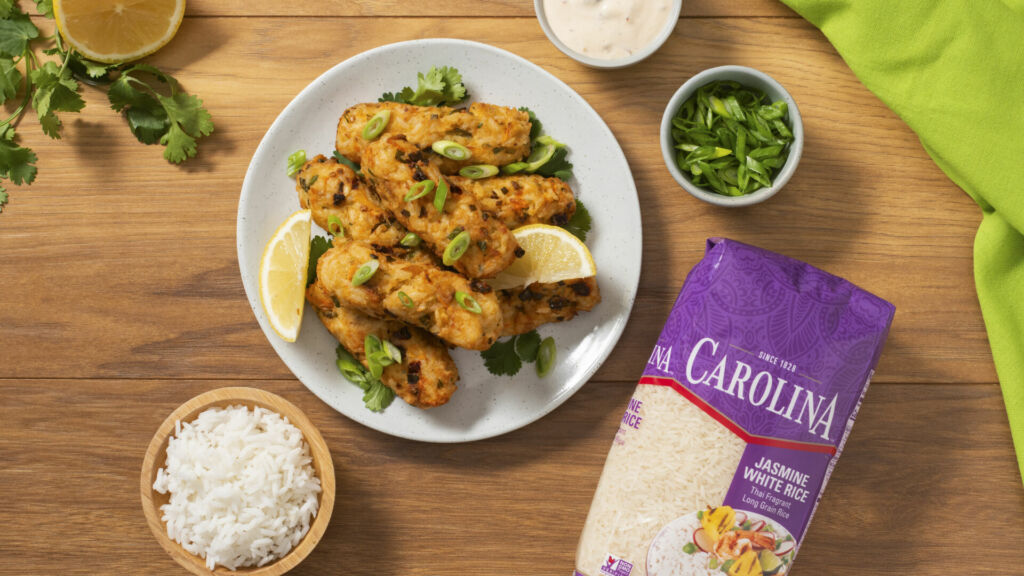 Molded into tasty morsels, the combination of jasmine rice, salmon, and chipotles in these Spicy Croquettes is a touchdown for your tastebuds. Serve with a mayo-based chipotle dipping sauce and keep an eye on these after serving, as they'll probably be gone faster than you think!
Snacks on the Grill
If you're organizing a tailgating event or a baseball barbecue, you're going to love these grill-friendly options to keep your guests entertained while the feast is served.
Although these recipes can be made without a barbecue, they are perfect to take advantage of the hot grill, which will also add a delicious smoky flavor. Use the grill to roast jalapeños before stuffing with rice, or to melt the cheese of family favorite quesadillas. You could also use the grill to cook the meat for some delicious meatball sliders.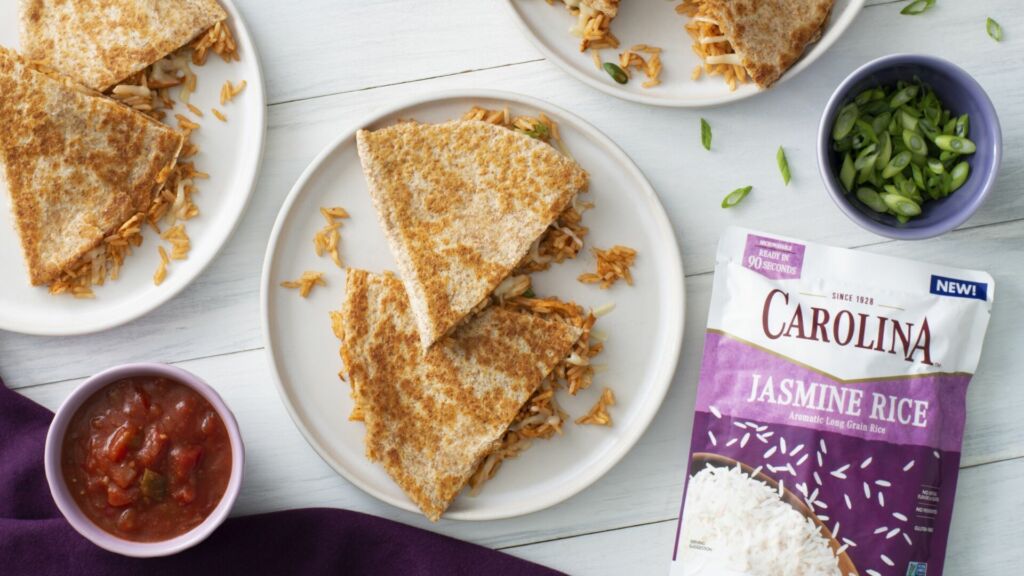 Loving how these ideas sound? Try our easy to make recipes:
Sweets Corner
Desserts are often overlooked when thinking of snacks on game day, but we would be missing half of the fun without them – right? Save some room on your plate to enjoy these delicious recipes.
Ever tried making homemade sushi? This dish is always a win, and with this Fruit Sushi recipe or a classic rice pudding, you can turn it into a dessert to enjoy right from the sofa. For a special treat, choose fruit based on your team's colors.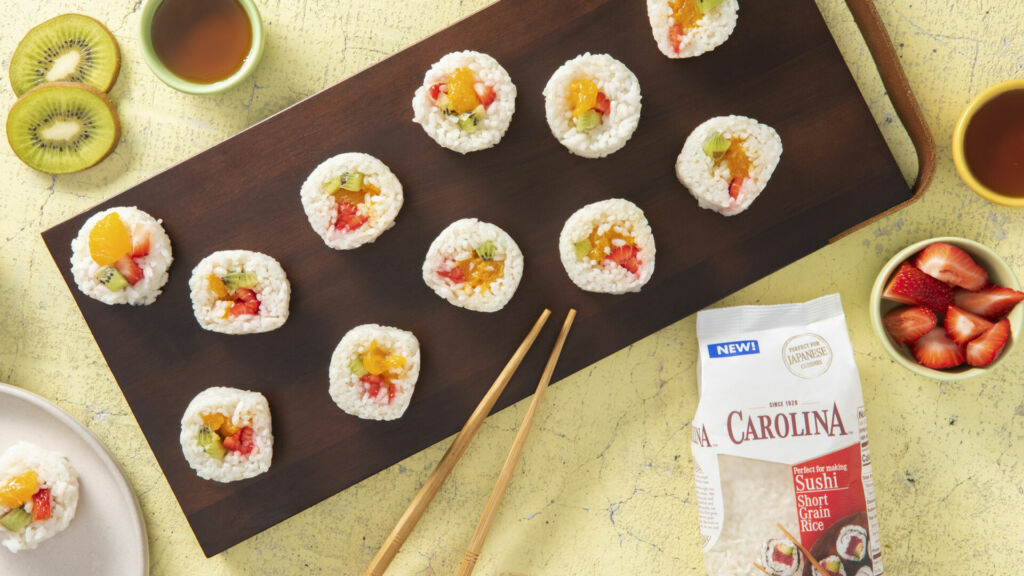 To keep in the Japanese-inspired groove, we recommend you cook enough Carolina® Short Grain Rice for Sushi and try these Sweet Rice Truffles with Matcha Green Tea and White Chocolate. The perfect bite-sized dessert that will keep everybody happy in spite of the match result.
Superbowl season is the greatest excuse to bond over your favorite teams, athletes and recipes. Fortunately, there's plenty of time to try all these delicious appetizers and snacks with Carolina® Rice without getting bored of the classics like arroz con chaufa!