No matter if you're an expert home chef, or just starting out, meal prep is a cooking hack you've most likely heard of! Far from stacked containers filled with food and a pile of dishes to do, meal prepping is just a technique of cooking your meals beforehand and ultimately saving time and money in the process. This dedication gives you a great excuse to treat yourself to a rice pudding simply because you deserve it!
If you've already tried your hand at it and it felt a little daunting – you're not alone! With a little help, you can ace meal prep too. Most commonly, people use Sunday to get a fresh start to the week. However, it's best to not see it as sacrificing your Sunday in the kitchen, but rather an efficient way to prepare food that will save you time during weekdays.
Before we go through some tips and tricks to successfully plan and cook your meals, did you know that meal prepping also involves a few snacks or grab and go lunches? You might have jumped onto this bandwagon already without even realizing it.
1. Shop Your Pantry
Sounds too basic, right? We often forget about pantry staples when writing out a grocery list. Having ingredients like rice, beans, canned food, broth and seasonings, spices or herbs will be helpful for a wide variety of meals. By simply combining Carolina® White Rice, canned tuna and a few veggies, you can make two different meals within seconds: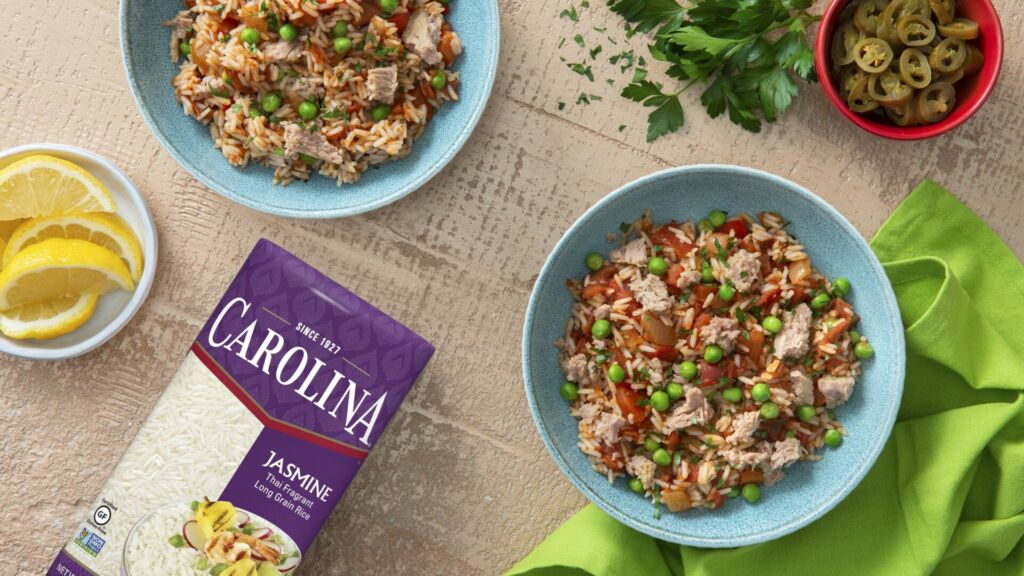 Pantry staples are great for meal prepping – especially if you didn't have time to run to the store. Learn how to properly stock your pantry with the tips in our guide for Cooking With Kitchen Staples.
2. Double the Meals
The beauty of meal prepping is cooking fewer times a week, so no matter if you're putting together a full meal or a few ingredients, you will be acing this if you can eat what you cooked on prep day more than once. Cook a large batch of your favorite Carolina® Rice or Jasmine Rice with Quinoa, and you've got ingredients ready to go for two or three mix and match meals – like rice bowls or hearty burritos.
Not sure how to reheat rice properly? Check out these tips and discover the best ways to reheat leftover rice, without sacrificing texture or taste.
3. Split Meal Prepping into Different Sessions
If you don't have the time or the willingness to commit to "meal prep Sunday", prepping just a few ingredients or parts of a meal in advance will also help you save some cooking time. Love fried rice for dinner? Make it a speedier weeknight option by cooking rice and washing and chopping vegetables in advance.
4. Eat Your Leftovers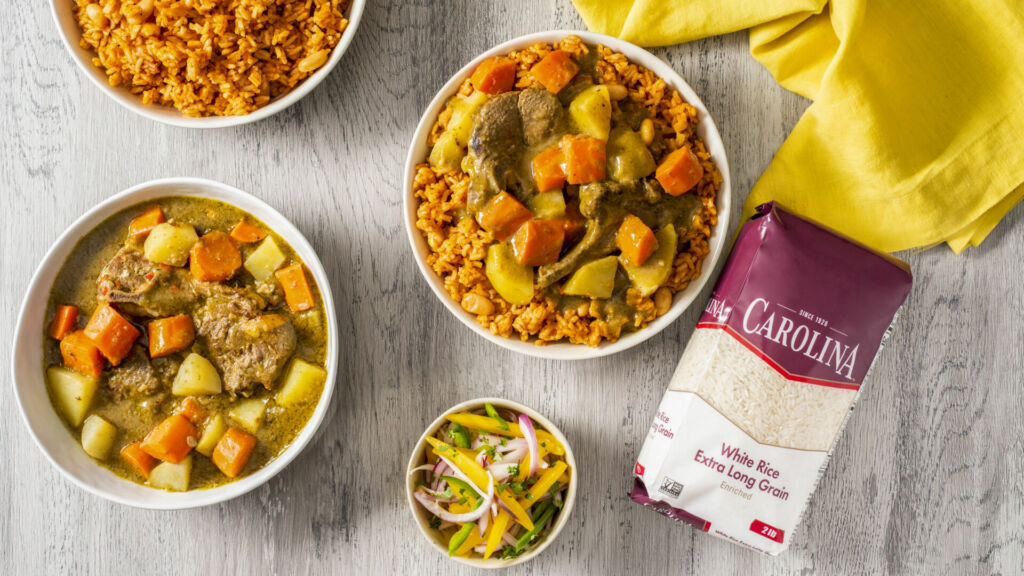 Another tip is to prepare meals that will leave you with plenty of tasty leftovers. Use extra rice, vegetables or meats for an easy fix on weeknights or even as the base for something more elaborate during the weekend.
Preparing chiles, soups, and stews is great for saving some leftovers – that you can even store in the fridge! Double the ingredients, divide in single, double, or family servings and save in properly labeled freezer bags with the name of the dish and date.
Try this tip with a Peruvian inspired Lamb Stew or our Turkey, Rice and Quinoa Chili Soup. For best results, skip the rice and combine when soup or stew has been defrosted and reheated.
5. Use Frozen Produce
Using frozen fruits and vegetables is a simple alternative to picking up fresh produce, plus they do not require any washing or chopping. Frozen veggie blends will come in handy when preparing a batch of recipes like a One Skillet Chicken and Yellow Rice, or homemade Purees for any little ones at home.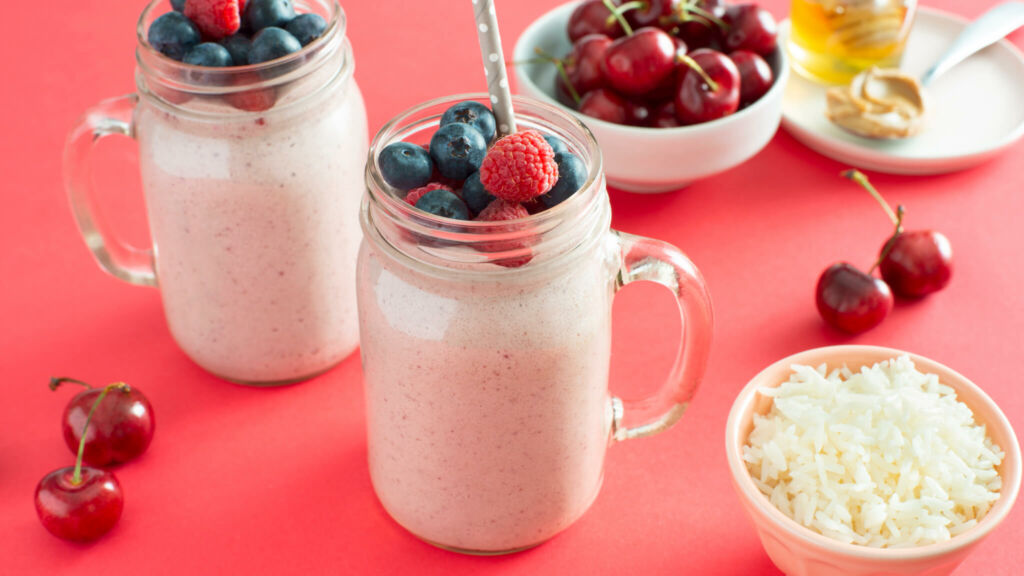 Also, having frozen fruits on hand is great for smoothies and milkshakes for a breakfast on the go. With the addition of rice, these drinks can make a filling start to your day – try it yourself with this Peanut Butter and Berries Breakfast Smoothie.
6. Choose the Right Recipes
Found yourself saving tons of recipes from our Instagram account or Pinterest boards but never found the time to cook them after? Right, it might be time to go back to them and decide which you want to try this week! However, for meal prep, it's best to choose recipes with similar ingredients and steer away from meals that are very elaborate or that won't reheat well. Included in that list are recipes like creamy risottos which are best enjoyed fresh.
These tasty rice bowls are great examples of meals to prepare! Although both of them are made mainly from cauliflower and rice, marinades and a few simple additions make them completely different meals: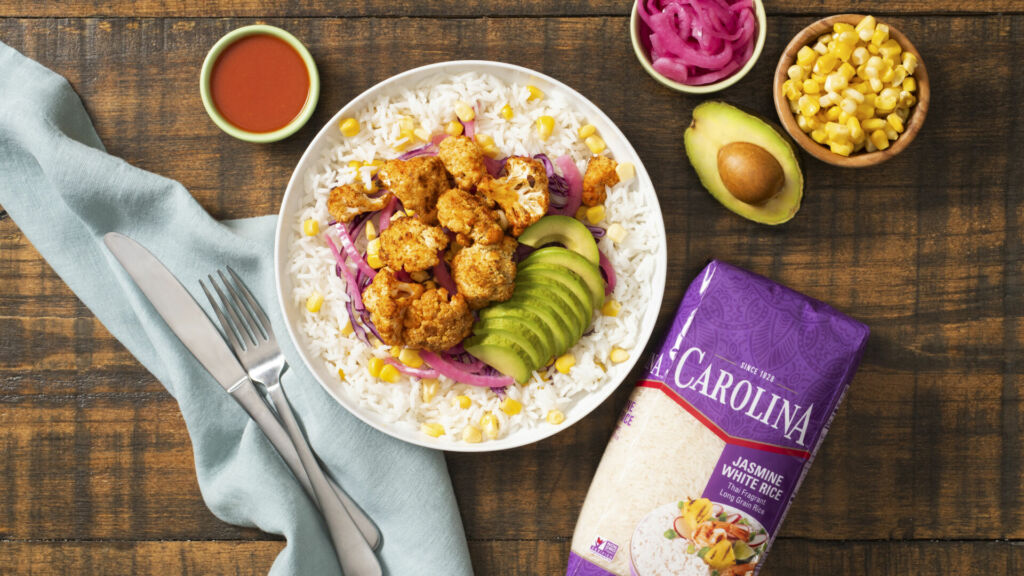 Did we mention this also helps to reduce food waste? Make the most out of your ingredients and don't let any of them spoil in the back of your fridge.
7. Cook in an Instant Pot
There are some cooking gadgets that make meal prep a breeze. Aside from doing the heavy lifting for you, if you cook part of your meals in an Instant Pot, that will give you time to start cleaning the kitchen or focusing on other meals. For instance, you could be making our recipe for Instant Pot Mexican Chicken and Rice, while whipping up a batch of savory muffins to enjoy for breakfast throughout the week.
See, meal prep can be challenging but also exciting and a great fit for your routine that will help you save time for other activities while having something delicious to eat every time. Put these tips to practice, be patient and enjoy the cooking journey! It will be worth the while. Explore more fun and tasty recipes like this arroz chaufa with Carolina® Rice by visiting our recipe section.