Naturally, there are certain fruits that pair better than others with grains. The sweet flavor profiles are complementary to the earthy flavors of a wide variety of both rice or quinoa. Just think, you can enjoy this combination for any meal of the day like a hearty breakfast bowl with banana, lunch fruit and rice salad or a stir fry dinner with citrus and rice.
Combining Fruit and Rice
Learning how to combine these foods is the easiest way to enhance any meal, while trying something different every time. We've put together some of our favorite fruit varieties to pair with rice and quinoa grains and offer a bit of fun and flavorful recipe inspiration along the way.
Once you decide on the fruit and rice combo, get creative and make your own meal, whether it be in a rice salad, rice skillet, stuffing or sweet treat, like a creamy rice pudding.
Apples
Great for any meal of the day, one of the all-time classic and comforting fruit and grain combinations is apples and rice. Apples tend to pair with almost any grain ranging from white rice, to whole grain brown rice and even jasmine rice or quinoa.

Start with a classic blend like this warm Apple Cinnamon Breakfast Jasmine Rice and Quinoa Bowl. For a bit of added protein and texture, we've used a premium blend of Carolina® Jasmine Rice and Quinoa cooked in your choice of water or milk.
Tip: For even more fruit flavor, sprinkle with raisins or other dried fruit.
Use it for breakfast or elevate your average pork chop and applesauce dinner with this Stuffed Butternut Squash filled with a blend of pork, jasmine rice and sliced apple.
Mango
While the sweet tropical taste of mango can technically work with a variety of grains, we've found that it met its match with Carolina® Thai Jasmine Rice.
Inspired by a Thai street food delicacy, this Mango Sticky Rice is made with jasmine rice cooked in a blend of coconut milk, water, sugar, vanilla, lime zest and salt until fluffy. Topped with freshly sliced mango drizzled with honey, this irresistible dish makes it easy to transport your taste buds somewhere relaxing anytime of year.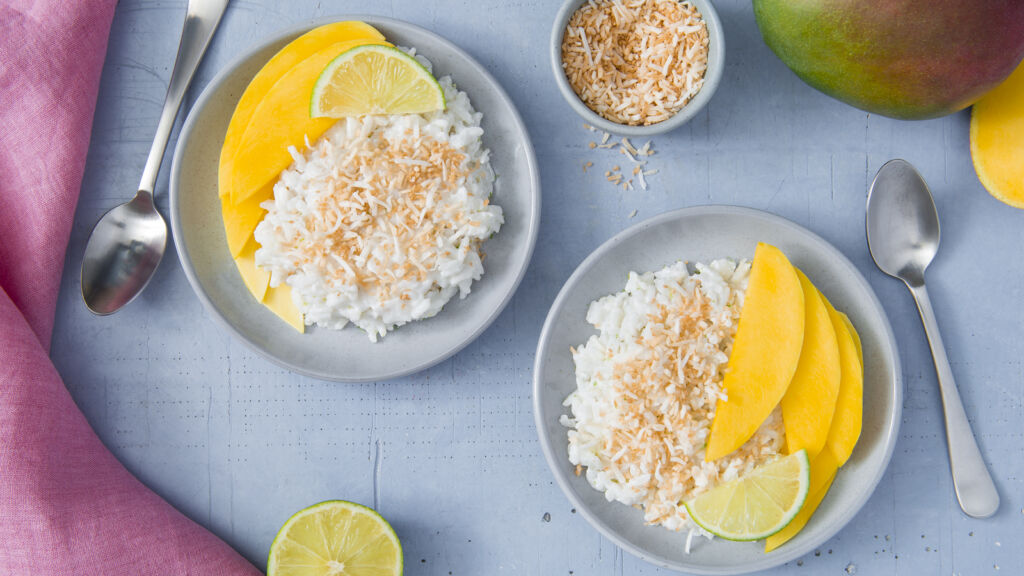 For something a bit more on the savory side, this vibrant Mango Rice Salad is also made with fresh mango and jasmine along with tender chicken, snap peas, purple cabbage and a colorful bunch of ingredients. Drizzle everything in a simple homemade dressing for a refreshing and filling salad.
Keep things interesting by exploring international dishes like this Peruvian Ceviche Rice Salad made with jasmine rice and sushi-grade tuna, tossed with a blend of mangos, cucumber, red onion, cilantro, orange juice, jalapeño, and remaining lime juice and salt.
Pineapple
When your meals need a zesty zing, citrus fruits like pineapple are great for balancing out the flavor of different grains like neutral white rice, nutty brown rice or fragrant jasmine and basmati. Step out of your pineapple pizza comfort zone and try a few of these international-inspired dishes.
Carribean
Using herbs, citrus and spice, Caribbean cuisine is well-known for its bursting flavor and color using local seasoning blends like jerk. Pair with rice to absorb that mixture for an incredible bite every time. Try it out in a Rice Salad with Pineapple and Caribbean Chicken or these Jerk Shrimp and Rice Lettuce Wraps topped with a homemade pineapple salsa.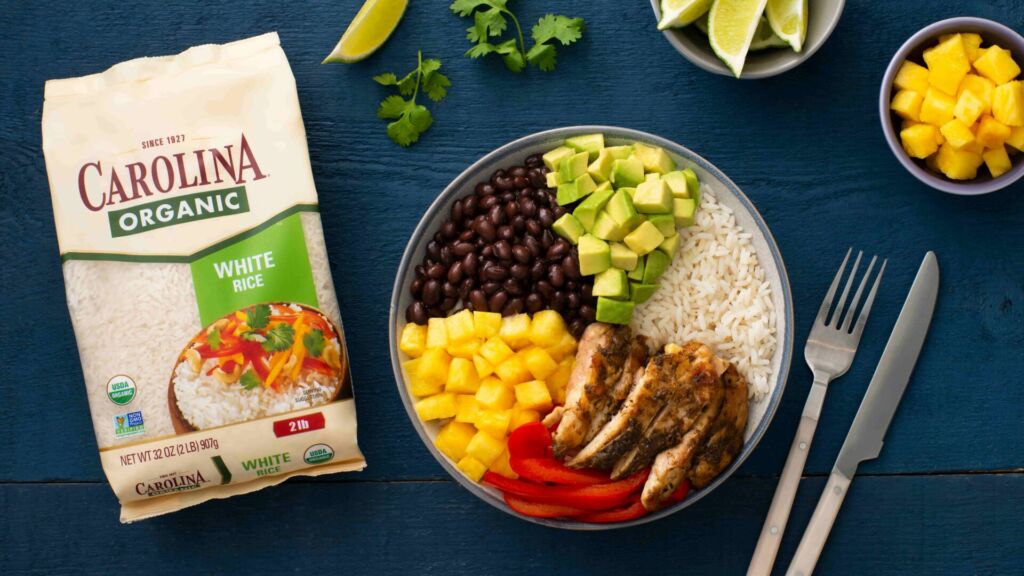 Thailand
Often associated with Chinese cooking, fried rice is also a large part of Thai cuisine! Use this Thai Fried Rice with Pineapple to switch up your average stir fry using curry powder, soy sauce, green onions, cubed pineapple and Carolina® Jasmine Rice.
Berries
Berries offer a richer sweet flavor that pairs perfectly with a wide range of grain varieties. And they can be eaten in both warm and refreshing dishes.
Warm and comforting
This Spiced Rice Bowl is made with jasmine rice infused with milk, homemade maple butter and fresh berries on top for a cozy breakfast!
Refreshing Rice and Fruit
These fun Fruit Sushi Rice bites are made with sushi rice with coconut milk, sugar and vanilla all rolled with sliced fruit. We suggest strawberries, raspberries or other fruits like mango and kiwi.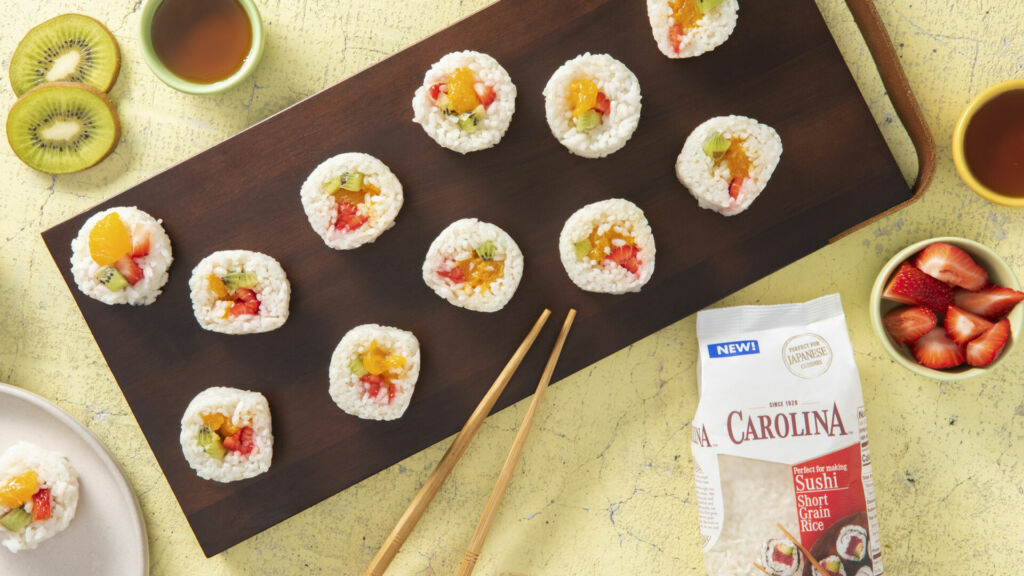 Add fresh or fruit you've frozen into this Breakfast Smoothie with Rice and Peanut Butter for a hearty meal in the morning.
Dried Fruits
When fresh fruit just isn't an option, you can still enjoy fruits and grains using dried fruits. Use your favorite or a blend to keep on hand for any meal both sweet and savory.
Need a few ideas? Try these delicious recipes using dried fruits and rice:
With Carolina® Rice, you can enjoy your favorite rice dishes, no matter which ingredient combination you choose. Start adding fruit to your savory creations and get excited about cooking something different by discovering new and traditional dishes like arroz chaufa in our recipe selection. You can also learn new kitchen tips such as how to cook rice on a stove.