Throughout history, the Caribbean has seen a plethora of cultures, traditions and languages with the biggest impact influencing its cuisine. Rich with spices, vegetables, tropical fruits and grains, what started with humble beginnings has now become world-famous and crave-worthy.
At Carolina® Rice, we'd like to dig a little deeper into what makes Caribbean cuisine so incredibly delicious. Using six essential ingredients, we'll learn what gives Caribbean meals their own unique touch with a few recipe ideas to experience those flavors at home. Come with us on a journey to enjoy every last bite of this multinational cuisine that is a true feast for the senses blending sweet, savory, spicy and citrus.
6 Essentials for Caribbean Food
Use these 6 staples to make your own homemade Caribbean meals.
1. Cook with Coconut
On account of its incredible versatility, Caribbeans use coconut in almost every form ranging from coconut milk, water, oil and flour to dried and shredded flakes. It has the capability to add a rich and creamy texture to grains as well as great flavor for stewing meats.
If you've never tried using it before, start by simply swapping out the cooking water for coconut milk when preparing grains like in this Easy Coconut Rice recipe. For extra flavor, use aromatic Carolina® Jasmine Rice.
It also makes for an amazing dairy free dessert alternative to sip in a Coconut Rice Pudding Milkshake using coconut milk and topped with toasted coconut flakes – or a new take on the classic rice pudding recipe.
2. Season to Perfection
With a rich history of different cooking traditions all finding their way to the Caribbean, it makes for a blend of spices that simply can't be beat! One key to cooking this cuisine is to add spices and lots of them. Some of the most common are allspice, cloves, garlic, paprika, bay leaves, achiote, cayenne, Cajun and Creole blends from southern US cooking as well as unlikely additions such as curry.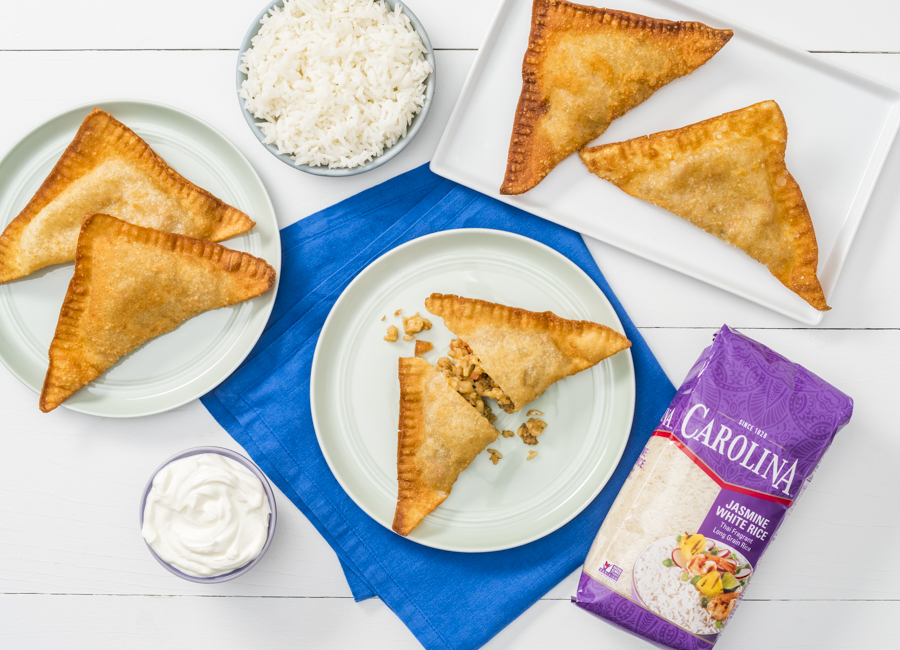 Spices are often used to season meat and vegetables in soups and stews, no matter what time of year! Try it for yourself in this Ropa Vieja with Rice made with stewed steak and vegetables in allspice, cumin, oregano, smoked paprika, cloves, salt and pepper. In true Caribbean style, it's served with a side of white or jasmine rice to soak up every last bit of flavor to make sure nothing goes to waste.
It can also be used to pack into pastry-like beef patties, common to Jamaica and other areas, like in these Cheesy Rice and Beef Empanadas made with garlic, chili powder, cumin, oregano and fresh cilantro leaves. Cook in an Air Fryer and enjoy every bite with more flavor than the next.
For a meat-free dish loaded with spices and herbs, this festive Caribbean Calypso Rice uses curry for a bold yellow hue with vegetables and a hint of red chili pepper for a kick.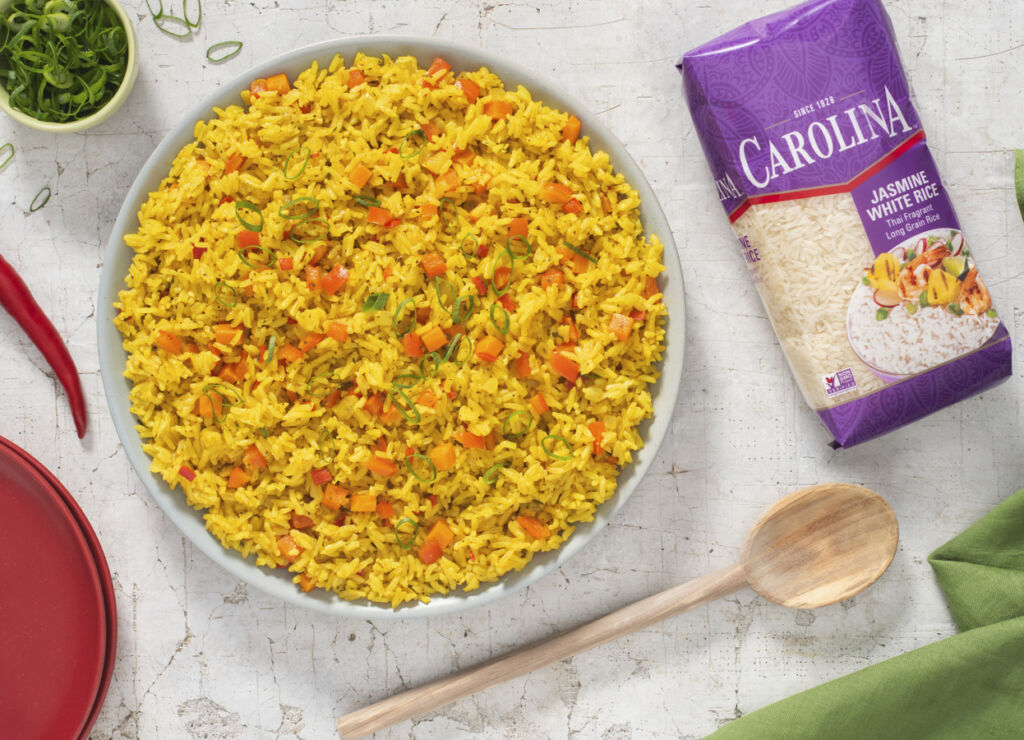 3. Marinade or Dress with Sauce Generously
With humble beginnings, true Caribbean cuisine was originally developed out of necessity combining all sorts of leftover meats and vegetables with rice and beans. To add flavor, seasonings, herbs and spices were tossed together which led to sauces and unique marinades. This cuisine has since risen the ranks to be a globally recognized form of cooking with amazing flavor and vibrant color.
Jerk
Quite possibly the most famous in the Caribbean and worldwide, Jerk is a blend of spices made into a marinade and sauce using citrus with a spicy kick. Once marinated, meat and vegetables are often grilled, broiled or roasted instead of fried. To make your own meal at home, try either of these dishes made with a jerk seasoning mix or marinade paste:
Mojo
Another famous sauce is mojo, using a blend of oil, orange juice, lime juice, brown sugar, garlic, cumin, chili powder, oregano, salt and pepper. While there are many variations, make your own Caribbean-style meal like this Mojo Chicken served over Yellow Rice. A feast of flavors that you'll be wanting to make on repeat. Or learn how to make a citrus mojo sauce to coat these Mojo Meatballs with Rice.
4. Enhance With Fruit
With sunshine all year round, fruit is abundant in the Caribbean and it's only natural to add it to all kinds of meals both sweet and savory. While coconut is a versatile ingredient on its own, a few other tropical favorites include banana, plantain, mango, pineapple, papaya and others like passion fruit, ackee, breadfruit and a host of others.
Savory Recipe: Use this Rice Salad with Jerk Marinated Chicken along with mango, avocado, rice and beans for a balanced meal with loads of flavor.
Sweet Recipe: Add a sweet touch to your breakfast for dessert with this Jasmine and Quinoa Bowl cooked in coconut milk and topped with tropical fruits like pineapple, mango and any other favorites!
5. Add a Splash of Rum
Not just for enjoying in a glass, dark rum, spiced rum and all of its varieties make for a great ingredient to deepen flavor!
Add it into savory skillets like this Coconut Rice with Shrimp using coconut water with Carolina® Jasmine Rice and a hint of dark rum. To add a unique sweet flavor to sweet treats, use this spirit for a classic rum cake or a Caribbean holiday classic like these Christmas Cake Rice Fritters soaked in a rum glaze.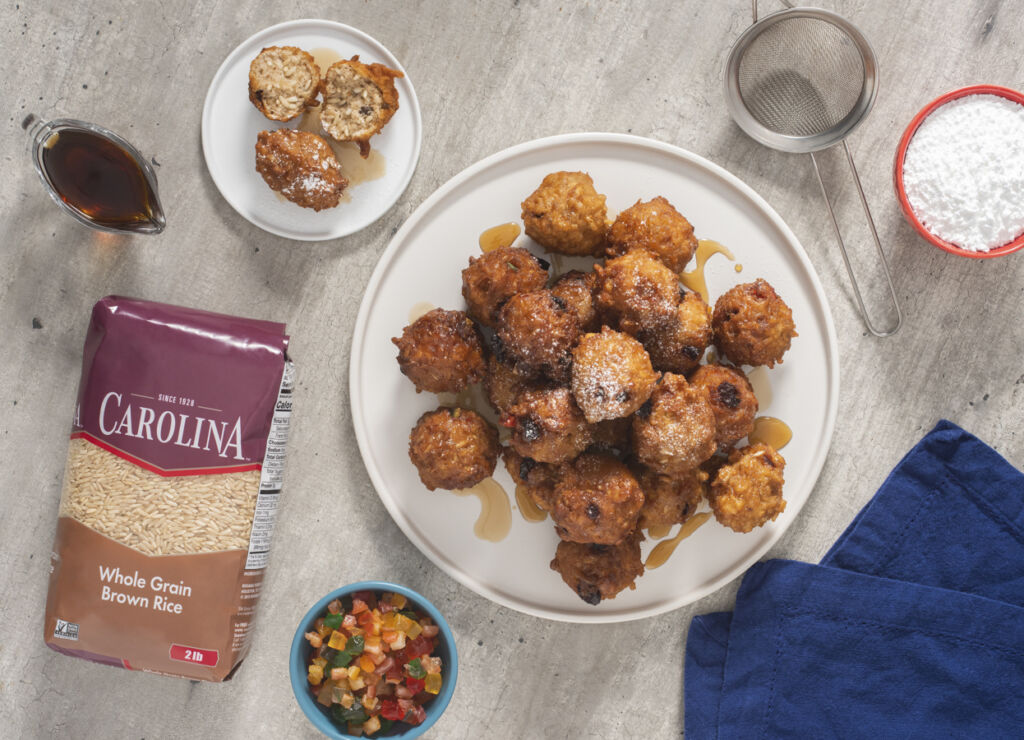 6. Combine Rice and Beans or Legumes
Considering the wide range of influences from Latin American and European cultures, rice along with beans and legumes is a natural staple for the Caribbean. Served as a steaming bowl of plain long grain rice, yellow rice, coconut rice or more with chickpeas, pigeon peas, kidney beans, black beans or any other favorites, you can't go wrong with rice and beans.
Take a look at these three traditional meals made with rice and beans or legumes:
Arroz con Gandules: Meaning rice with pigeon peas, this one-pot dish is loaded with herbs, spices, ham and vegetables for a hearty meal!
Arroz Congri: This incredible traditional Cuban rice and beans dish is made with white rice, black beans and the savory taste of crispy bacon, vegetables and spices.
Arroz Con Habichuelas Guisadas: Another Latin-inspired favorite, this dish of stewed rice and kidney beans is loaded with savory flavor all sprinkled with cilantro, sliced avocado, and lemon juice.
Rich with diversity and flavor, Caribbean cooking is just one of many different worldwide cuisines that are made easier with the help of Carolina® Rice. Create your own feast at home to experience all kinds of global flavors using meal ideas in our recipe selection like this arroz chaufa! When you try them, let us know how it went, we love hearing from home cooks.