Air fryers can virtually be used for any – or every – step of the cooking process: no matter if you are whipping up something from scratch, reheating leftovers, or taking advantage of those prepped meals in the freezer. With the help of Carolina® Rice and an air fryer, you can create family meals and get the crunch you're craving with little to no oil. Find out just how simple it is to master this machine – along with delicious recipe inspiration.
What is an Air Fryer?
An air fryer is essentially a mini convection oven. However, it takes up less counter space and doesn't heat up the whole house when it's on! Moreover, it only takes a couple minutes to preheat an air fryer – literally. Most models heat up to 370°F in 2 minutes!
What Can an Air Fryer Do?
Air fryers have infinite possibilities, so we will give you a few tips and tricks to get the most out of your cooking gadget. If you only turn to your air fryer for potato chips or fries, you aren't even scratching the surface of its potential. But, rest assured, you are not alone.
There are plenty of ways to take advantage of it, and some of them are truly surprising! Here are just a few of the ways you can use your appliance to create delicious meals:
Bake
Empanadas
Whether they are your grab-and-go snack or your go-to party appetizer, empanadas are a customizable treat that will please all palates. Our tempting recipe for Cheesy Rice and Beef Empanadas give step-by-step instructions for cooking empanadas in an air fryer; however, feel free to pack your little dough pockets with your favorite filling. Bake these pastries at 375F for 15-20 minutes, and for an even crunchier bite, swap out the empanada dough for egg roll or wonton wrappers.
Pro tip: thanks to that trusty air fryer, your empanadas will always taste freshly-made – even if they were reheated or frozen!
Meatballs
This traditionally baked dish can be cooked in half the time in an air fryer. Just note that anything going into this versatile appliance should be as dry as possible otherwise you may end up with soggy – rather than crispy – food. As long as the meatballs are well-coated, you can't go wrong.
Seasoned to perfection, our tasty Tuna Chipotle Meatballs and Rice can be made with ingredients you most likely already have in your pantry. Try with the classic breadcrumb coating or add your own personal twist to the recipe by experimenting with ingredients like panko, herbs and spices, or chili powder.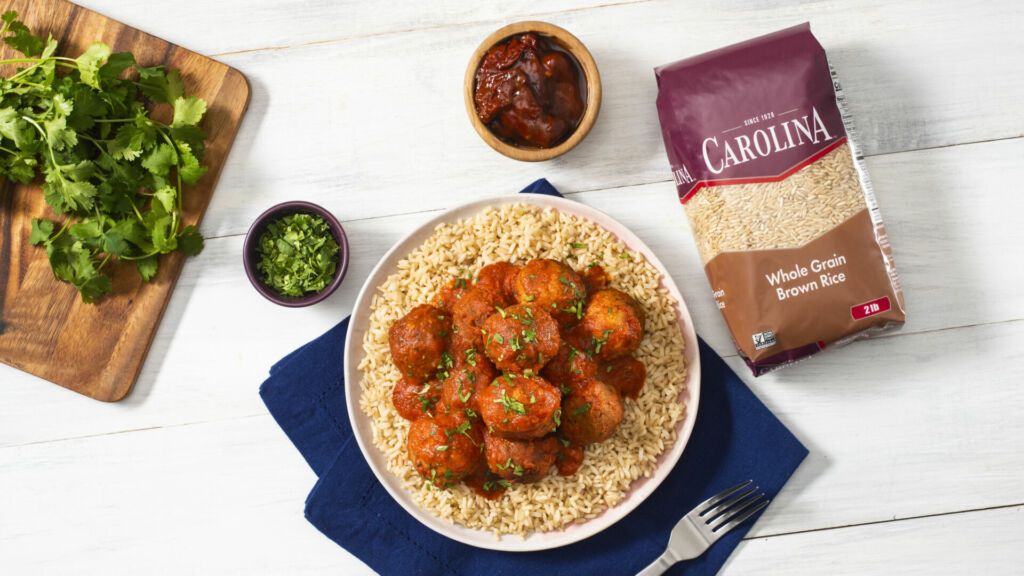 Facts: Meatballs are yet another meal prep favorite. They can be rolled and left in the fridge right up until they're about to be served. Chill covered shaped meatballs for up to 2 days or store in the freezer for up to 3 months – then cook in your air fryer!
Seafood
There are plenty of simple and delicious ways to eat more seafood including using your air fryer to get it just right – every time. Say goodbye to dry fish, air fryers reduce the risk of overcooking, while giving your fish a tempting texture. Tasty crust on the outside and soft and tender on the inside. To reach the desired doneness – and ensure an even cook – don't forget to flip your filet!
If you still need a reason to heat up your air fryer and enjoy some good seafood taste, wait until you try these mouth-watering Crispy Salmon and Rice Croquettes that will definitely keep you coming back for more.
Deep-fry
Fish
If you like your cod crunchy, break out your favorite breading! You can get a crispy deep-fryer-like crust on your soft, flakey filet with a light brush of oil and your air fryer. Try it yourself by whipping up these simple yet satisfying Baja Fish Tacos Rice Bowls. Crunchy breaded fish is served with Whole Grain Brown Rice, fresh cabbage, pico de gallo, and avocado for a delicious meal the whole family will enjoy. Plus, it is perfect for either Meatless Monday or Taco Tuesday!
Arancini
Crispy on the outside and gooey on the inside, arancini is yet another dish that, while traditionally deep-fried, tastes just as delicious when cooked in an air fryer. You now know the secret to a crispy crust, but how do you get a melty texture on the inside?
Mouthwatering arancini relies on perfect creamy risotto, either fresh made or leftovers, and the secret to that velvety risotto texture is Carolina® Arborio Rice. Roll your arancini from the classic mushroom risotto or mix it up with a fusion favorite! Jam-packed with queso fresco and Mexican rice, our Air Fryer Rice Balls with Arroz Rojo combine Mexican ingredients with the traditional Italian dish, for an exciting flavor twist.
Pan Fry
Taquitos
Rolled tacos, or taco dorados, are made with crispy tortillas and can be stuffed with beef, chicken, or vegetarian-friendly filling. Grab another favorite kitchen appliance – an Instant Pot – to get maximum flavor in the savory adobo and sazon seasoned filling in these unbelievably tasty Black Bean and White Rice Taquitos. Once you wrap up the filling, it's time for the air fryer to shine. Get that irresistible taquito crunch in 4 minutes flat! For a meal more akin to flautas, maintain the same proportions of these taquitos but use flour tortillas instead of corn.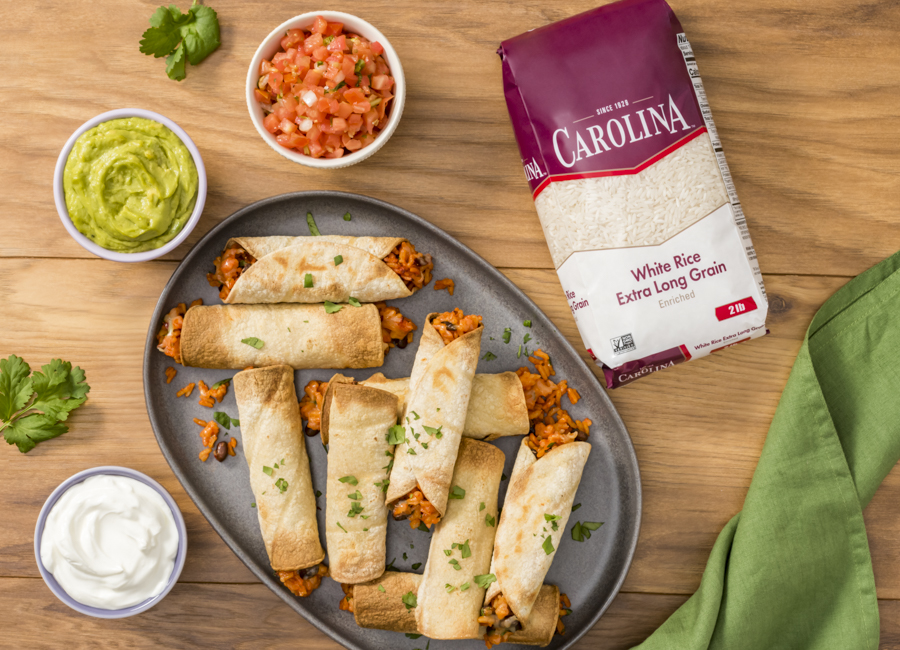 Air Fryer FAQs
An air fryer is simple to use – just need to make sure that there is enough space for the air to circulate properly. Ensure that your meals will be just right by paying attention to these details:
How Do You Load the Air Fryer Basket? The way you space your food in the basket makes all the difference: there should only be a single layer and ideally, none of the items should be touching! If there's a giant heap of food to fry, the heat can't circulate evenly.
Why Isn't My Filet Cooked Evenly? Simply turnover half-way through the cook time or when you see that golden brown color for a uniform cook!
Why is My Air Fryer Steaming? Too much moisture on your meal will cause steam. Take measures to ensure the food you're loading will get that crisp you're looking for:

Pat any moist items – particularly meat or filets – dry.
When breading, make sure everything is completely coated.
When we say, ¨Lightly brush your food with oil¨, we mean lightly!

How Often Should You Clean an Air Fryer? With the diversity of the recipes you'll likely be using your air fryer for, it's crucial that you clean your machine often. Clean any grease or food residues on the body when necessary, otherwise you might notice some smoke! Make sure to look below the basket and the heating surface too.

Pro Tip: Cover the basket with foil or parchment paper for easy clean up.
Smoke could also be avoided by putting a slice of bread in the basket: this will absorb all the moisture and grease.
Next time you make your favorite plate or try a new recipe, head straight to the air fryer! With infinite possibilities, this will be your new favorite appliance! From snacks and appetizers to desserts like this recipe for Rice Pudding, air fryers can take the guesswork – and the extra grease – out of your dishes.
Did we miss any of your favorite recipes? Let us know how you use Carolina® Rice and an air fryer to create outstanding meals! You can check out our Products section for more information on how to prepare rice, for example how to cook rice on stove.