If you need an escape from the everyday and want to mix-up your mealtime routine, you're in the right place: we're back with more Recipes to Travel the World Without a Passport to celebrate National Rice Month! Whether you're a beginner in the kitchen or a master homecook, you'll surely discover incredible flavor combinations and novel cooking techniques found in these tried and true classics from all over the planet.
Take inventory of your pantry and start writing up a shopping list as you explore our new favorite international recipes. Let's make our way around the globe — enjoying the rich flavors and diverse grains that each culture has to offer. With our easy step-by-step instructions and recipe tips, the most difficult part will be choosing which dish to prepare first!
The Caribbean
Get that emblematic Caribbean yellow rice by sautéing aromatic jasmine with butter, turmeric, and garlic before adding in broth — rather than water — and a bay leaf. You'll never go back to making rice with just water after trying these simple flavor boosting techniques!
Cuba
Another Caribbean classic seasoning that can be used for meats, seafood, or vegetables is Mojo: a citrus garlic marinade that's a staple in Cuban cuisine. Whether you are craving hearty meatballs or chicken with signature golden grains, Mojo is a flavorful addition to boost the flavor of any recipe!
Latin America
From asado to ceviche, the methods of cooking may vary greatly from one country to another, but there are some traditional rice dishes of Latin America that transcend borders. Immerse yourself in the culture by throwing a good old-fashioned tamalada to prepare these savory Chorizo Rice Tamales. Or, break out your air-fryer for these crispy Black Bean and White Rice Taquitos or these flavorful Cheesy Rice and Beef Empanadas.
West Africa
Much of West African cuisine begins with a regional sofrito — tomato, onion, and chili peppers. Not only does chili give a kick of flavor, it is also known to preserve food. Our irresistible Jollof Rice is chock full of those staples; it's so versatile that it's impossible to tire of this spicy side. Speaking of versatility, our hearty Kitchen Sink Soup and Fufu is our Instant Pot twist on a classic African favorite; try it today for an unforgettable unique culinary experience!
Middle East
Many Middle Eastern dishes masterfully balance sweet, citrus, and nutty flavors. Juicy pomegranate, creamy avocado, and nutty tahini provide a variety of textures and a whole lot of flavor in this irresistible Fried Rice Bowl with Falafel & Tahini.
Both tasty and filling, these dishes are often packed with legumes, vegetables, and whole grains. September is also Whole Grains Month; what better way to celebrate than enjoying delicious yet wholesome meals?
Morocco
Moroccan dishes are often seasoned with cumin, paprika, coriander, turmeric, allspice, cloves, ginger, and cinnamon. To illustrate, this tasty Moroccan Salad with Wild Rice not only contains all those spices but also arugula, mint, apricots, almonds, and zesty orange! Don't have all those spices on hand? Just get some Ras El Hanout — it's a perfectly portioned mixture of all those delicious spices found in Moroccan cuisine – but you might find yourself sprinkling it on everything!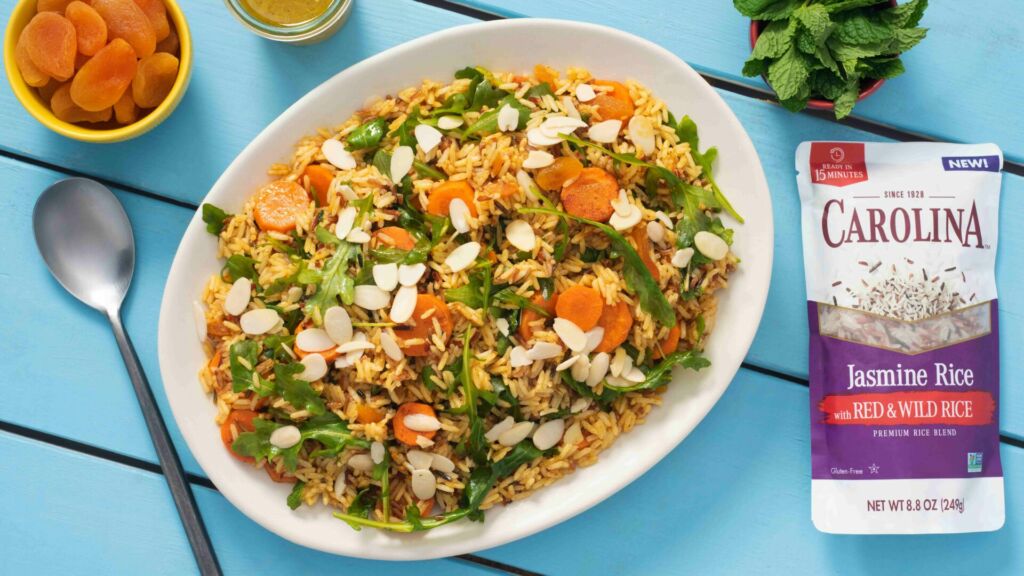 Mediterranean
Italy
Risotto has a reputation for being a tricky recipe to whip up. We've taken out some of the guesswork by not only providing step by step instructions about How to Make the Perfect Creamy Risotto, but also providing the perfect grain.
Carolina® Medium Grain Arborio Rice for Risotto will give you the velvety risotto you're craving! Need some recipe inspiration? Packed with a classic Italian sauce that includes olive oil, olives, garlic, red chili flakes, capers, anchovies, this creamy Puttanesca Risotto will surely join your dinnertime rotation!
Spain
We'd be remiss if we didn't include Authentic Spanish Paella with Seafood; in fact, we have brand new variations to add to your recipe box! So join international paella fans and take part in the World Paella Day celebration on September 20 by making any one of these mouthwatering recipes: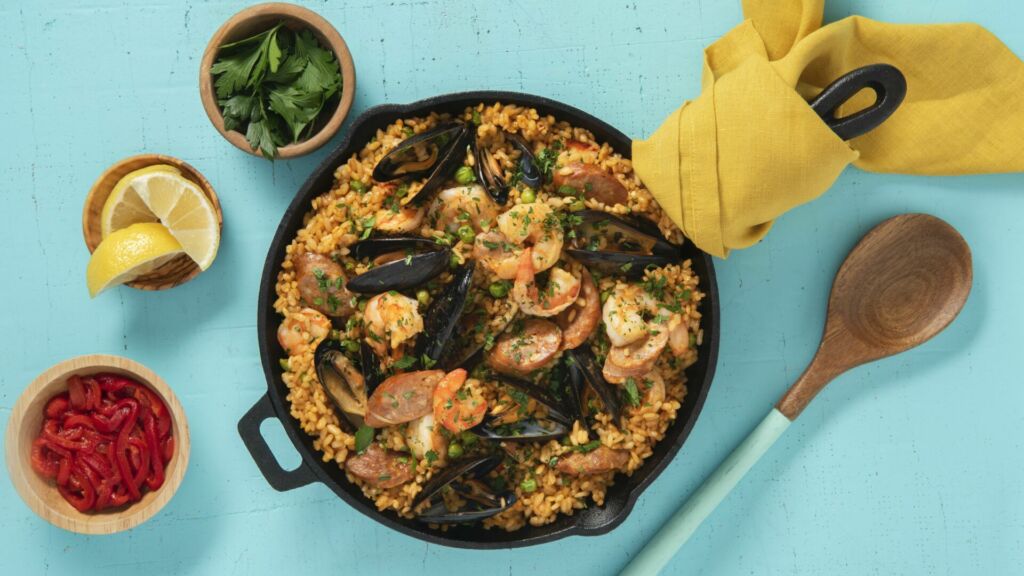 Our Authentic Parboiled Medium Grain Rice lays the groundwork for that picture perfect paella that tastes just as good as it looks. The starches from this grain give your dish that signature texture all the while absorbing all those rich flavors inside your paella pan.
Though paella is a national treasure, Spain is no one-hit wonder! There are plenty of other dishes that utilize rice! Packed with fresh flavors, this yummy Spanish Brown Rice is a delicious way to add more whole grains into your diet.
Southeast Asia
Thailand
Thai cuisine is packed with aromatic ingredients — including rice! Fluffy and fragrant, Jasmine White Rice complements the fresh herbs found in many Thai dishes including this spicy One-Pot Green Curry Chicken with Rice.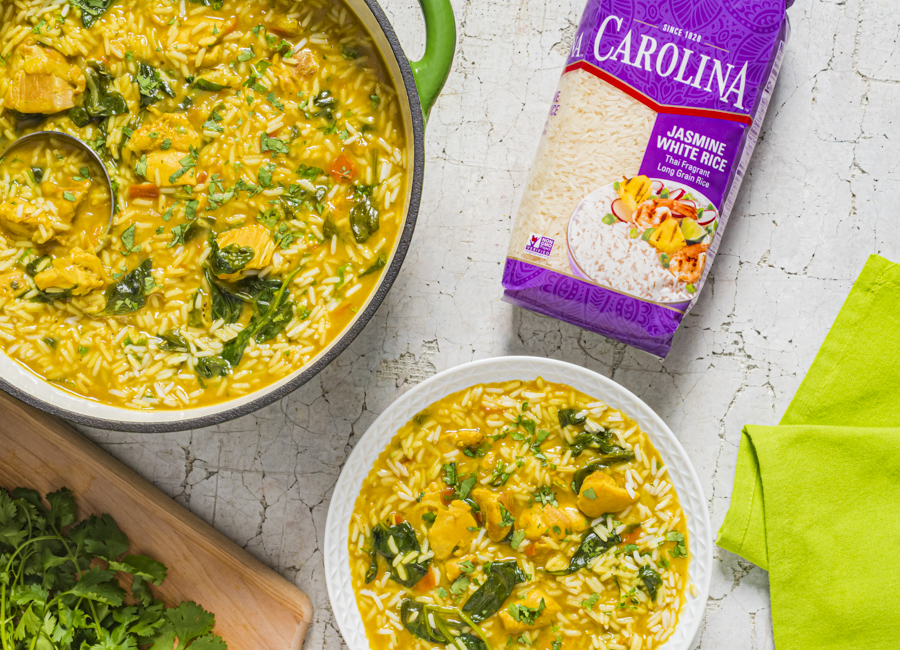 East Asia
In some cases, dishes from neighboring cultures and countries share similar characteristics – but in East Asia, every culture has found its way to add their own personal twist to signature and now internationally recognized dishes like sushi or kimchi.
Japan
Japanese cuisine can be summarized in one word: balance. This is achieved by ensuring that each meal has a mixture of colors, textures, flavors, and preparation technique. These are the principles you should keep in mind as you assemble those Back-to-School Bento Boxes. Fun fact: those trendy bento boxes have been used in Japan for nearly a thousand years!
Did you know that the word "sushi" was originally just the sticky rice itself? Nailing sushi rice is a breeze just as long as you use the right grain: Carolina® Short Grain Rice has just the right amount of starch to form perfect nigiri, to traditional avocado and tuna rolls and easy-to-eat chirashi. With a firm and more compact texture, this rice is ideal to eat with chopsticks!
Korea
Looking for some intense flavor? Korean food doesn't shy away from bold flavors – sesame, garlic, ginger, and fermented bean paste.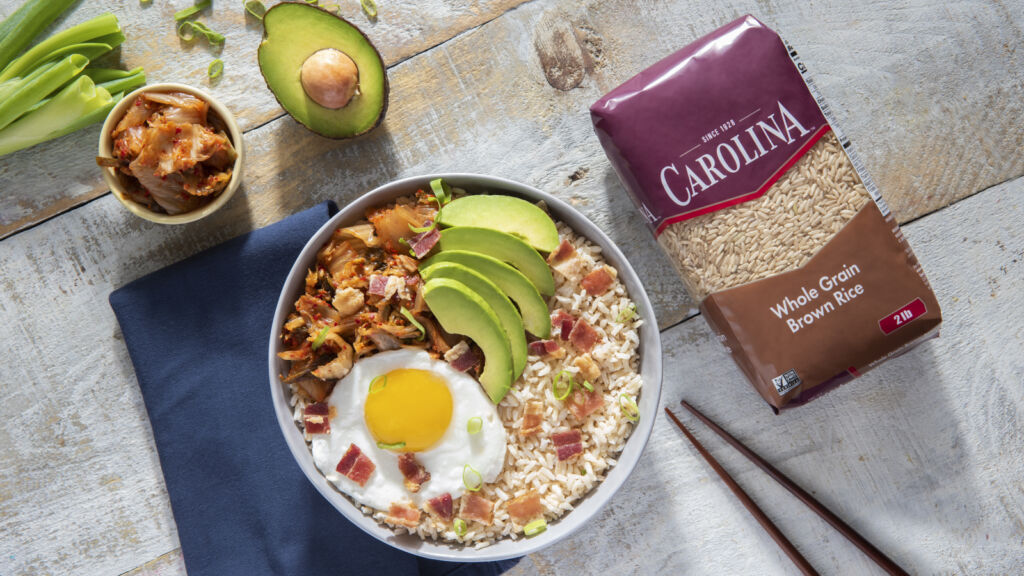 These mouthwatering Korean Beef Lettuce Wraps are just the ticket for that kimchi craving! Or, pack all the savory ingredients from our Korean-Inspired Bibimbap Rice Bowl or our Bacon and Egg Kimchi Bowl into an individual bowl or serve it family-style.
Pro Tip: Flavor isn't the only reason to get your fermentation game on point; fermented vegetables can withstand room temperature conditions – ideal for packed lunches!
South Asia
India
Why is Basmati Rice the best choice for Indian cuisine? Apart from the convenience of being cultivated in the Himalayas, basmati is a fragrant long grain variety that complements all those flavors in everything from curries to masalas. Whip up our flavorful Chicken Tikka Masala is jam-packed with those typical Indian spices – and just a few steps away from being part of your dinner menu.
North America
Let's finish off the tour with a few delicious recipes from the USA. Don't forget the diverse gastronomy that the States has to offer. From New York's Buffalo Chicken to Hawaii's Tuna Poke Bowl with Sesame, there's a plate to please every palate.
The melting pot is both literal and figurative as the cuisine in the US has a little bit of everything! For instance, Cajun and Creole cooking has French, Spanish, and West African influences and the mix is nothing short of delicious! This Cajun Chicken and Smoked Sausage Jambalaya is simply irresistible!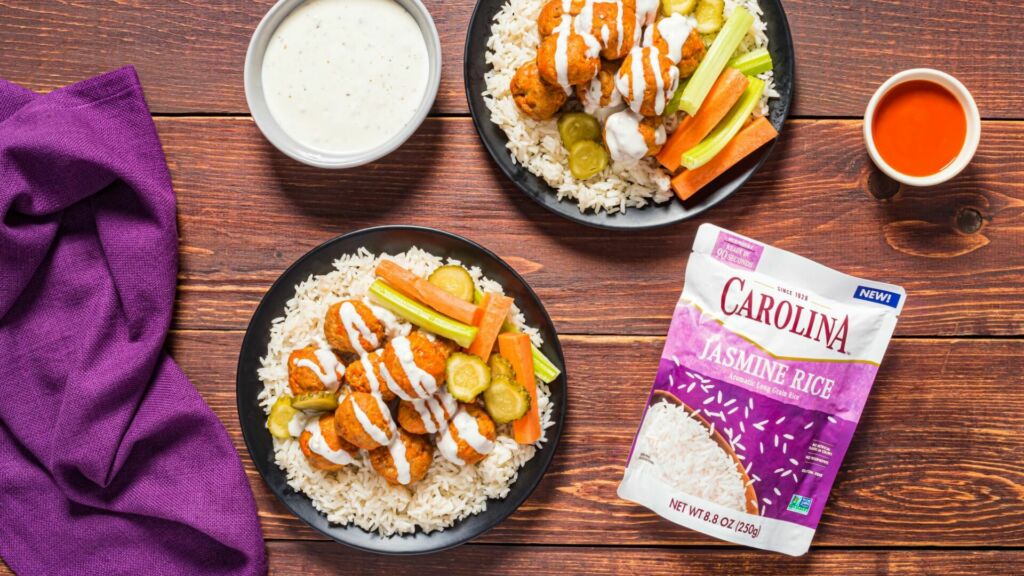 After enjoying these savory dishes, you're going to need something sweet. Continue dabbling in international recipes by whipping up a delicious rice dessert from around the world! Enjoy the differences in all the different rice pudding recipes!
As September is National Rice Month, we couldn't think of a better reason to explore new recipes. While you're discovering new flavors, unfamiliar ingredients, and unconventional cooking techniques, remember that one tried and true ingredient — rice. Rice unites us all: it's one of the few ingredients that can be considered a global pantry staple.
At Carolina® Rice, every month is Rice Month. And after working your way through these recipes, we're sure you'll feel the same. Let's get the celebration started! Spread the word by sharing all your creations: tag @carolinariceusa or use #CarolinaRiceUnites in your social media channels.
For more great tasting recipes along with cooking tips like how to get the right rice to water ratio in your rice cooker check out our website.