Many would say that empanadas are the perfect anytime food, and we'd have to agree! Serve them as an appetizer, main entree, snack or even dessert. Famous for being a Latin American delicacy, these portable pastries are ever-versatile and filled with infinite possibilities as they can be stuffed with both sweet and savory ingredients.
They are so convenient, in fact, that they make wonderful meals on the go and can be prepared ahead of time when your schedule starts to get busier. For that reason, we'd like to uncover the ins and outs of making them at home starting with the dough all the way to filling ideas and cooking methods. Use our guide to master your skills and impress your family and friends with a few irresistible empanadas caseras, or homemade empanadas.
How To Make Dough From Scratch
Starting off with the dough, making it from scratch can be quite simple with a little practice. Plus, when you make the masa, you'll have handcrafted dough on hand and ready for whenever an empanada craving strikes! Simply follow these 3 basic steps:
Combine: Mix flour, masa harina, baking powder and salt in a large bowl. Stir in melted butter and then gradually add water.
Work: Gently knead until dough is soft yet workable, being careful not to overwork.;
Rest: Chill dough — covered in plastic wrap — for 30 minutes.
Once the dough has rested for a half hour, it's time to cut out each empanada shell.
Divide and Conquer: Divide the dough into quarters. You don't want the dough to dry out: set the other 3 portions aside, covered with plastic wrap.
Get Rolling: On a pastry mat or a lightly floured surface, roll dough out to a 1/8-inch thickness (standard rolled cookie thickness). Cut out as many 5-inch circles as you can get — you want to minimize the amount of times you reroll the scraps.
Tips For Better Dough
Using ice cold water will make the dough flakier.
Rather than melted, cut in butter with a pastry blender or two knives until your mixture resembles a coarse meal.
Make mini empanadas and use a wide-mouth Mason jar (3.5-inch) or a standard glass as a cutter, just make sure you reduce cooking times accordingly.
Rerolling the scraps more than once will end up with a dry crust with a high risk of cracking.
Brush the egg wash just before popping your tray in the oven, rather than letting your empanadas sit in the fridge with the coating.
Ingredient Substitutions
Masa Harina: Essentially corn flour, masa harina has a subtle yet distinct flavor most commonly associated with tortillas. However, if you're in a pinch, it can be replaced with common pantry ingredients — corn meal or regular flour.
Fat: To get a flaky texture and a golden color, we opted for butter. However, if you don't mind the crust having a different hue, select a fat that will maintain the same consistency: margarine, vegetable shortening, or lard.
Store-Bought Dough: You can still make delicious empanadas with premade dough. Head to the refrigerator section of your grocery store and grab ready-cut empanada pastry, refrigerated pizza crust (you'll get a fluffier crust), or pie crust (you'll get a flakier crust). For a thinner yet crispier crust when frying, use egg roll, wonton or potsticker wrappers.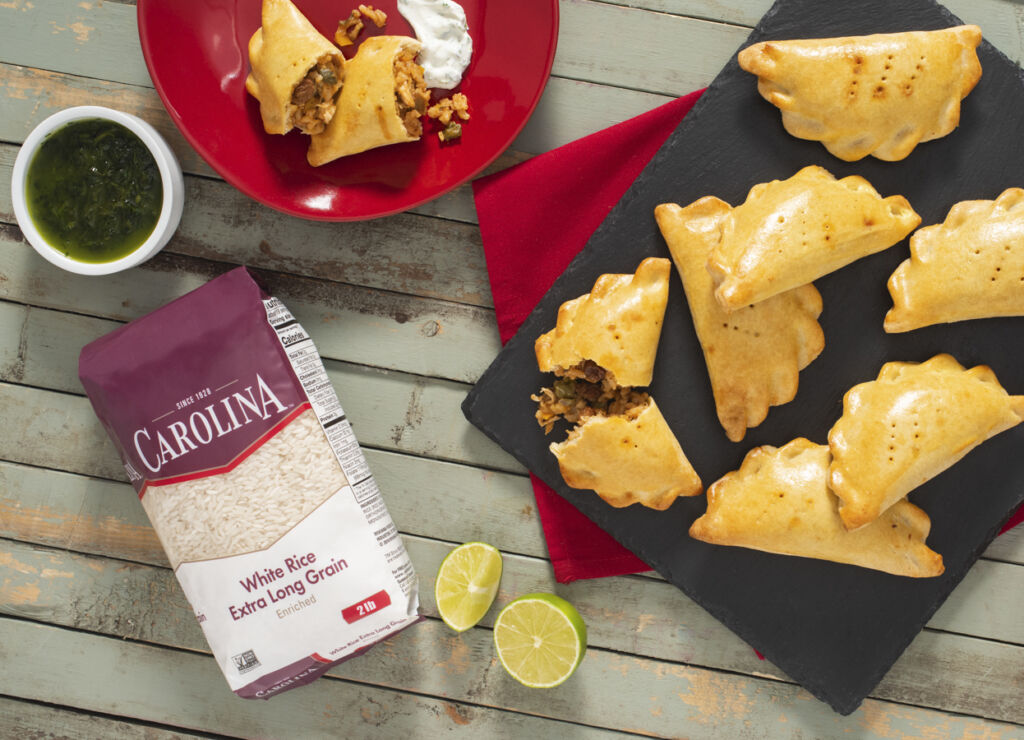 Filling Ideas
Prepare a customized empanada packed with your favorite Carolina® Rice variety and the ingredients of your choice. As you consider what to use for filling, feel free to get creative. That being said, you don't want to risk a disappointing dinner, there needs to be a balance of flavors, textures, and moisture. Use these savory and sweet recipes as inspiration.
Savory Filling Recipes
Mouthwatering picadillo relies on a rich sofrito base in these tasty Turkey and Rice Picadillo Empanadas. Incorporate red pepper, thyme, cumin, chili powder, and coriander with turkey and white rice and serve with a cilantro cream sauce for dipping.
Inspired by Argentinian flavors, with rich tomato sauce, herbal seasonings and creamy cheese, each bite of our Chorizo and Rice Empanadas bursts with flavor. Just when you thought these savory pastries — packed with spiced chorizo sausage, aromatic Carolina® Basmati Rice, and hearty black beans —couldn't get any better, we add fresh chimichurri into the mix.
Tip for filling: Wait until the filling is completely cool before assembling your turnovers. If your filling is too liquidy, the dough may get soggy or even leak — especially if it's going to get fried.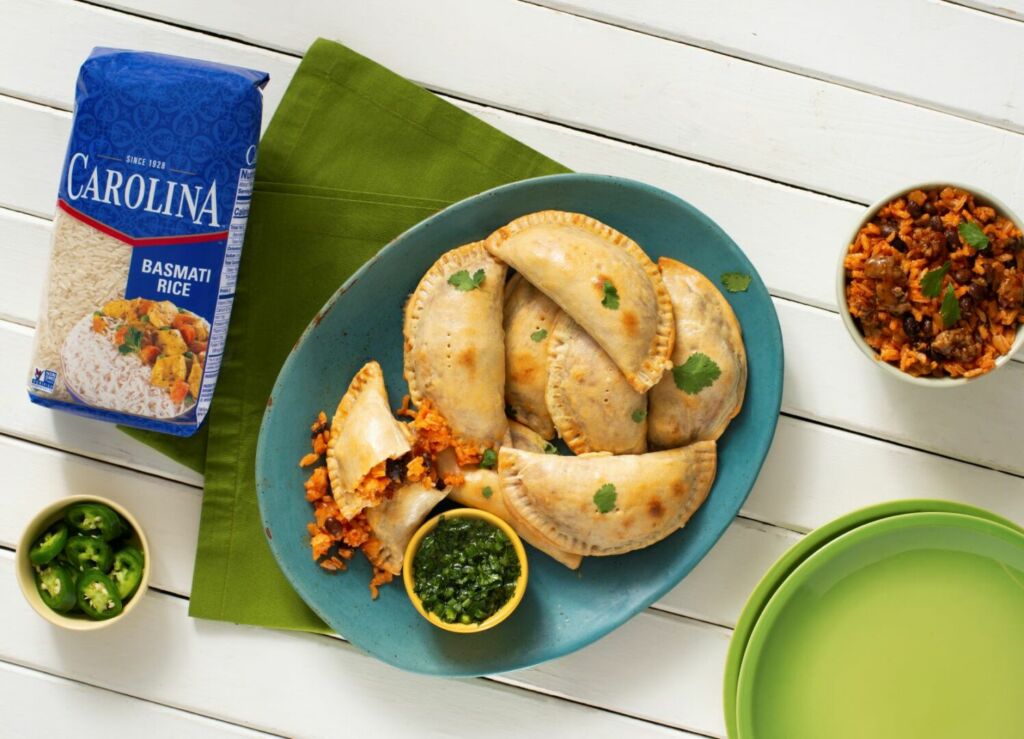 ​​Stuffed with a savory blend of spices and enticing ingredients — including jalapeños and capers — our Air Fryer Cheesy Rice and Beef Empanadas are not to be forgotten. Thanks to the fluffy rice, hearty proteins, and creamy Monterey Jack, it's a satisfying snack that can easily double as a meal. In place of a standard dough, the egg roll wrappers get that extra crunch in the Air Fryer!
Family-Friendly Tip: If you have any younger picky eaters at home, one way to get them to try new things is to have them help out. There are plenty of Fun Ways to Cook with Kids, so get the whole family in the kitchen measuring out pantry ingredients, rolling dough, and brushing on egg wash are all perfect tasks to delegate to the kids.
Freeze Extra Dough or Empanadas For Later
If you made a double batch of dough or empanadas, you may want to freeze some for future meals. Stack the uncooked dough disks, individually separated by parchment or wax paper. If your empanadas are filled, freeze uncooked and when ready to enjoy for a simple weeknight dinner simply bake or fry from frozen.
Sweet Filling Ideas
Once you try these rich Empanadas with Rice Pudding, we think you'll agree that these turnovers are great with any filling. Made with fluffy Carolina® White Rice, rice pudding thickens thanks to the natural starches to become the delicious creamy treat we all know and love. In fact, it's hard to think of a better filling for dessert empanadas.
Why not blend a traditional dish with a beloved delicacy? Whip up this delicacy using our favorite Mexican-inspired Cajeta Rice Pudding recipe for your next sweet empanada dessert. You can also try this recipe for Rice Pudding or try a Chocolate Rice Pudding for those who enjoy a sweet treat. There is no shortage of variations to satisfy any craving.
Dress up Your Desserts
There are many ways to add ingredients — mix-ins or garnishes — that will give your dessert more texture and flavor depth. Enhance your empanadas with a sweet dipping sauce:
Rich Sauces: dulce de leche or cajeta, crème anglaise, hot fudge.
Creamy Spreads: peanut butter, Nutella, cream cheese frosting
Fruit Toppings: cranberry sauce, jams
Folding, Filling and Cooking Methods
How To Fill and Fold
Make sure to brush egg wash around the edges of each cut circle; heap a generous portion of filling (around 3 tablespoons for 5-inch rounds) in the middle of your circle. Make a half-moon by folding half of the dough over the filling, all the while lightly spreading the filling. Pinch the empanada closed and crimp the edges with a fork or use an alternative family style.
How To Cook
Once you've made your homemade dough and found the perfect sweet or savory filling, it's time to cook your empanadas. They are most commonly baked, fried or air fried. Choose which of these options works best for you!
Fried: Fried empanadas will be crispier and take a little less time to cook. It is especially crucial that empanadas chill in the fridge for this method. Also, only fry a couple of empanadas at a time: you don't want to lower the temperature of the oil. Finally, you want crispy — not greasy — empanadas, so when you remove the pastries from the pan, use paper towels to absorb the oil.
Oven-Baked: Don't forget to brush egg wash over your pastries before popping them in the oven — this ensures that you get that picture-perfect golden crust. As baked empanadas tend to be a bit chewier, that egg wash is important because it contributes to crispiness.
Air Fryer: Get irresistibly crispy empanadas without the hassle of a deep-fryer; these hand-crafted empanadas have just the right amount of crunch. Once both sides are golden brown, you're good to go!
With these tips and recipe ideas you are now ready to start preparing your own homemade empanadas. Did you make your own or use a delicious filling? Show us your skills on social media by tagging @carolinarice. For more tips and recipe ideas, make sure to take a look at our cooking section.