When it comes to seafood, shrimp is one of the most versatile ingredients. It can act as the star of a main dish like in this Brazilian Shrimp Stuffed Pumpkin, served on its own as an appetizer, or added in to elevate an everyday dish. In fact, there are infinite ways this crustacean can be cooked and enjoyed, whether it be grilled, sauteéd or stir fried. Each cooking technique brings out a different flavor.
Ready to try some at home? We've put together a complete guide to cooking with shrimp starting with how to buy it all the way to how to prepare it. With a few of our simple tips, shrimp recipes will be your new specialty.
Buying Shrimp: Fresh vs. Frozen
When buying shrimp, there are essentially two options – you can either buy it already frozen and packaged or fresh from the supermarket or fishmonger. Whichever you choose comes down to preference.
Contrary to popular belief, frozen shrimp is actually thought to be the freshest shrimp, as it is frozen as soon as it's caught. Unless you live in a coastal city, most grocery stores don't use true freshly caught shrimp, as it would spoil before arriving. For this reason, they tend to purchase frozen shrimp and let it thaw over ice. That's why more often than not, we suggest purchasing frozen shrimp as you can be sure of its freshness and it comes cleaned, peeled and deveined with tail on or off – which saves some time in the kitchen.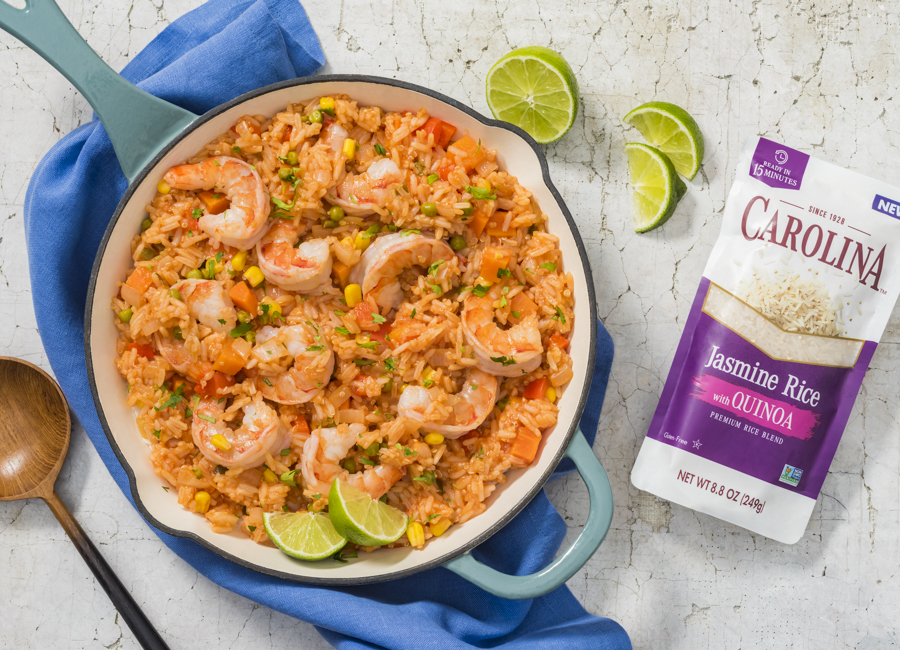 If you'd still like to buy non-frozen shrimp to avoid thawing time, here are some indicators to keep in mind if you want to make sure you are buying the freshest possible options:
A softer shell and mushy meat means that the shrimp is no longer fresh.
Depending on its color, you can also tell how frozen the shrimp is – the brighter the shrimp, the fresher it is.
Choosing Shrimp Sizes
When it comes to choosing which size shrimp to buy, that all depends on the recipe. For stir fries, smaller options are the best choice, while if you are making a Spanish Paella with Shrimp, you may want to go for meatier bigger shrimp for a more appealing presentation.
How to Peel and Devein Shrimp
Cleaning shrimp may seem intimidating, however it is very simple and can be done in just a few steps.
Begin by breaking off the head and tearing off the legs.
From the head, start cracking open the shell until you have reached the tail and remove.
Pinch the tail and pull it off.
To devein it, use a knife or fork to devein and discard.
Pro Tip: Don't throw out the leftover shells! Instead, use them to make a flavorful stock for future recipes. Boil them right away or keep frozen until needed.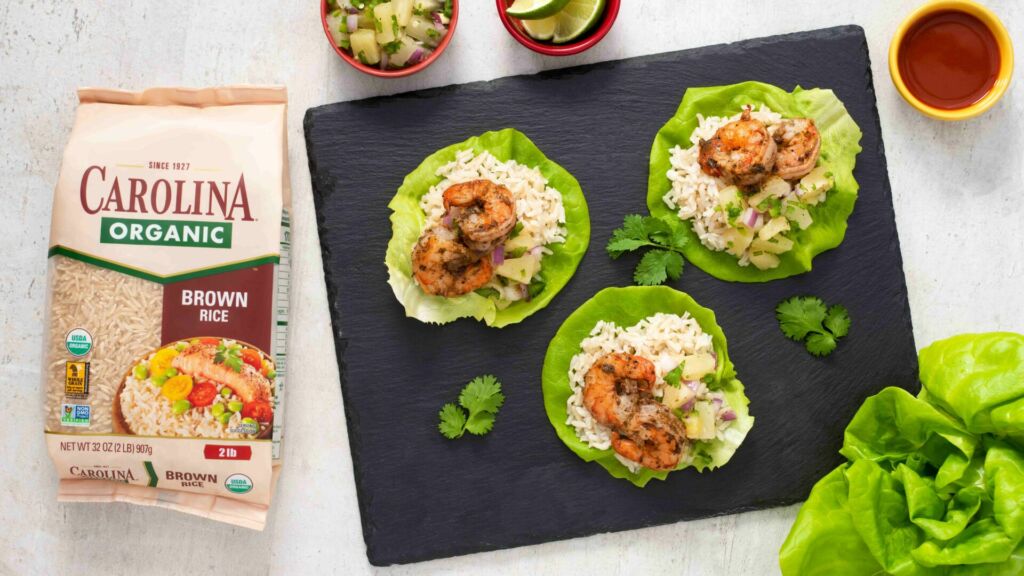 Unlimited Ways You Can Enjoy Shrimp
Grilled
Grilling is a quick and easy method that will allow you to cook juicy shrimp with a smoky undertone – either on a barbeque or grill pan. Try it out for your next summertime cookout or BBQ.
Skewer Technique
Because of their size, the easiest way to cook them is on a skewer. Grilled shrimp goes well with an assortment of sides, from sauteed veggies, rice and quinoa or as a salad topping. If you like the ease and versatility of recipes in a bowl, try this Shrimp and Jasmine Rice Bowl for a flavor packed meal. Enjoy the taste of seafood, sun-dried tomatoes, corn and aromatic rice in every bite for lunch or dinner.
To switch up your go-to dinners, try these Jerk Shrimp Lettuce Wraps with pineapple salsa and Carolina® Organic Brown Rice. If grilled, the smoky carribean flavor of the jerk seasoned shrimp will match perfectly with the fresh and tangy flavors of the pineapple salsa. Add some jalapeños or chipotles for a kick.
Boiled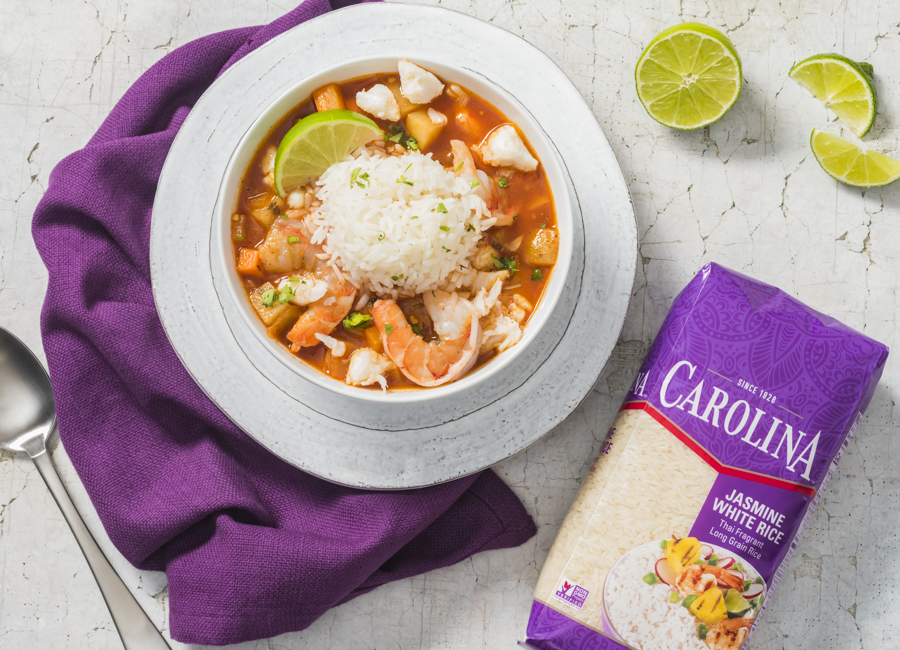 Another method of cooking shrimp is boiling it in water or broth. This can be done either in a soup, or in a regular shrimp boil with potatoes, sausage and sweet corn. Boiling along with other ingredients will give your soup or stew an intense seafood flavor that can be boosted with spices and flavored broth like in this Latin-inspired Caldo de Camarón, or shrimp soup with crab and Thai jasmine rice.
Baked
There is something to be said about the simplicity of a baked dish as the oven will do most of the heavy lifting before dinner is served. The good news is that you can also bake shrimp and cook to tender perfection. This Shrimp Pico Rice Skillet recipe calls for cooking everything in the same cast iron skillet for a Tex-Mex night with minimal prep and even less cleanup.
Sautéed
A fool-proof cooking method, with a little oil and a frying pan, your shrimp will cook to perfection in the blink of an eye. For different flavors every time, use different oils with strong flavors like sesame oil or coconut oil. Try this tip for an extra layer of goodness when whipping up this Shrimp with Coconut Rice dish – a Thai and Caribbean fusion delicacy that you can enjoy any day of the week!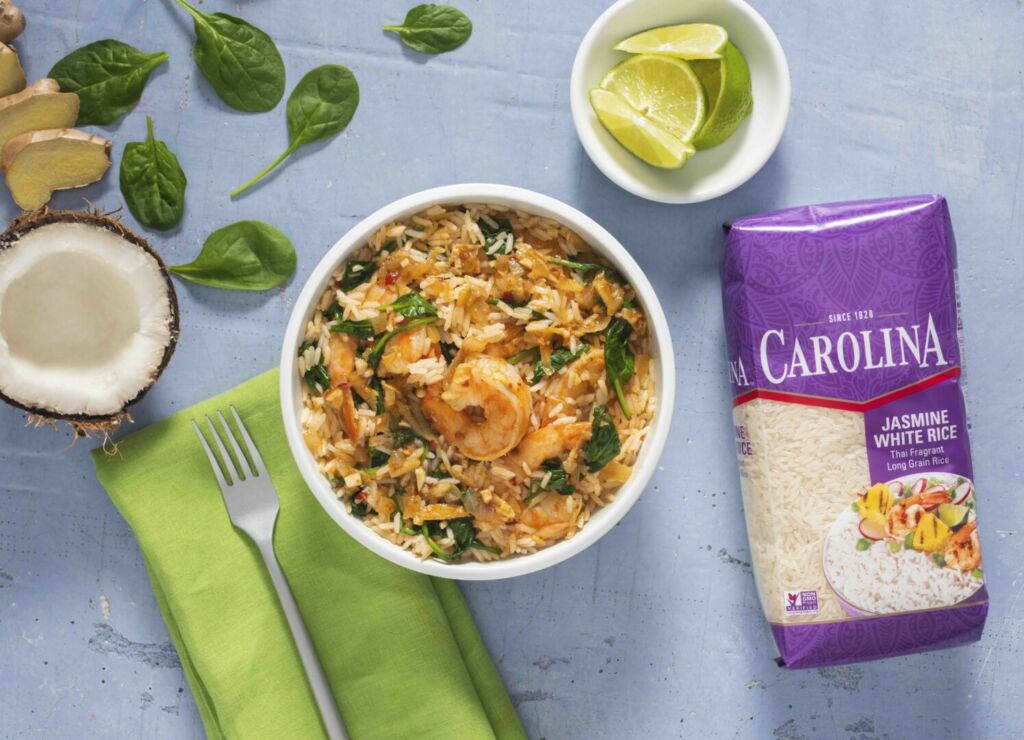 Raw
Ceviche is a seafood dish that originated in South America, more specifically Peru. It is typically made with fresh raw fish which is then "cooked" in the citric acids of lemon or lime. This dish became popular internationally on account of its light and refreshing taste. It can also be made with shrimp – don't worry, you won't be eating any raw fish as it really does cook when marinating.
If you haven't already seen it as one of TikTok's most viral recipes, Shrimp Ceviche is vamped up when served over crispy rice. Try it to impress your guests for a show-stopping appetizer, or for a fresh meal option.
Shrimp Recipes from Around the World
Now that you have learned how to choose, clean and cook shrimp in different ways, discover how this ingredient is used for signature dishes from Asia all the way to Latin America – or in fusion recipes.
Try this Mexican Rice and Quinoa with Shrimp for a twist on the classic with the same bold and irresistible flavors. When cooked with a blend of Carolina® Jasmine Rice and Quinoa, the traditional dish is boosted with extra protein and whole grains.
If you are looking for fusion food ideas, these Shrimp Onigiri combine the best of Japan's classic dishes with Spanish-inspired flavors like saffron and paprika. Make them in advance and store in the fridge for a quick and salty snack.
Trust Carolina® Rice to pair up with any of your preferred seafood recipes, and make it a new family favorite. For more information on preparing rice, for example how to cook rice on stove, you can check the products section on our website.