What better way to get a party started than with a few delicious appetizers or snacks? And, no game day is complete without something to munch on before or during the event. Whether you enjoy a mini bite of something delicious, scooping up a creamy dip or savoring something wrapped in goodness, there is always something everyone can enjoy.
If you're looking for ideas to create a spread for your next event, look no further than these eight options to use as an appetizer, snack, hors d'oeuvre, or finger food.
8 Tasty Ideas for Appetizers and Snacks
1. Crispy Rice
Inspired by the TikTok viral trend recipe, give your table an innovative touch with compact and crispy sushi rice! Starting with the original idea, make your own Crispy Rice Canapés with Seared Tuna drizzled in an avocado mayo sauce.
You might want to offer a bit of variety with other seafood options like crispy rice topped with a Shrimp Ceviche made with lime, vegetables and avocado. Or, try a sushi-inspired option like this Spicy Sriracha Crab and Avocado topping with pickled ginger, soy sauce and wasabi on the side.
2. Stuffed Vegetables
A true holiday classic, you can never go wrong with bite-sized stuffed peppers and mushrooms. For a savory touch try these Wild Rice and Italian Sausage Stuffed Mushrooms that require only 10-12 minutes in the oven. For an extra cheesy finish, top with extra breadcrumbs and Cheddar cheese and bake or broil to perfection.
For a spicier option, these Rice and Cheese Stuffed Jalapeños offer a bite of spicy taste balanced out with Carolina® White Rice and Mexican panela cheese. Make sure to top with sour cream, salsa and fresh cilantro for a pop of color and flavor.
3. Quesadillas and Taquitos
Filled tortillas make for a great appetizer idea that can be cooked in a variety of ways. Serve them crunchy like with these Black Bean and White Rice Taquitos. Or, leave them soft and filled like in these Cheesy BBQ Chicken and Rice Quesadillas. Serve either with a side of sour cream, guacamole or your favorite salsa for dipping.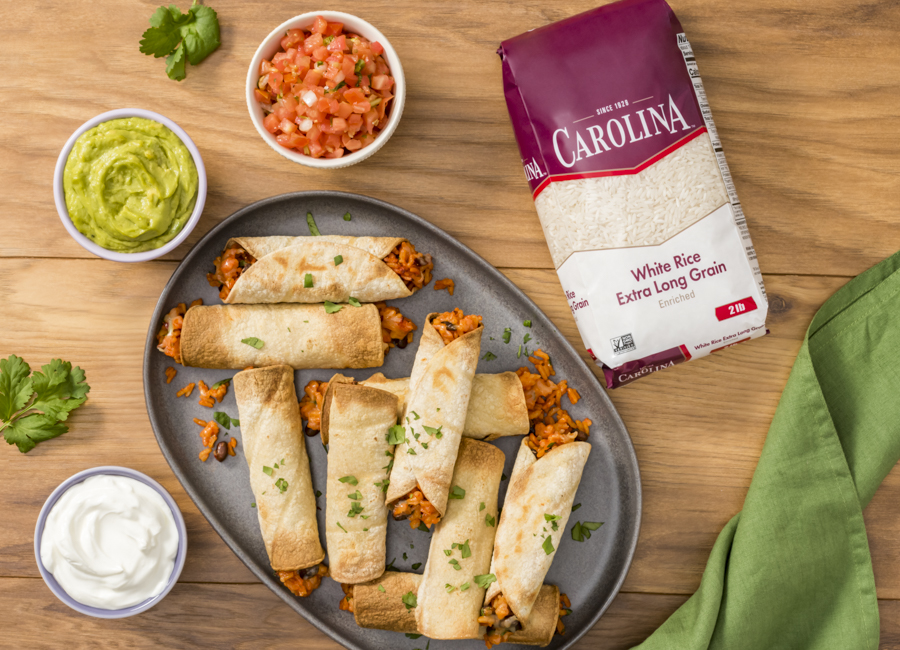 4. Crab Cakes
Make New England inspired crab cakes wherever and whenever with this recipe for Basmati Crab Cakes. Serve alongside a homemade curried mango dipping sauce.
5. Meatball Sliders
Savory, saucy and cheesy, these Jasmine Rice and Quinoa Meatball Sliders add a hearty touch to any spread. Perfect for a get-together or game day, keep everyone satisfied with sliders.
For an additional idea, make your sliders buffalo sauce inspired with these Buffalo Chicken Meatballs and blue cheese dressing.
6. Dip
This list would not be complete without a few tasty dip recipes to try including all kinds of flavor. Enhance a classic like guacamole with zesty flavors and veggies in this Guacamole with Mango and Lime Rice Dip.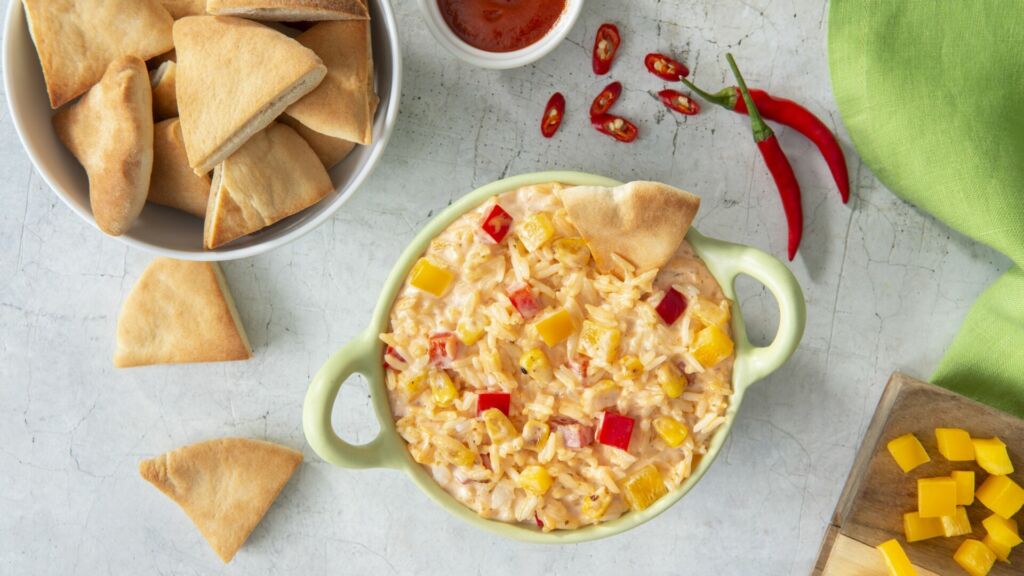 Using a homemade chimichurri sauce, ground beef, rice, jalapeño peppers and sour cream, you can make a wonderfully delicious Spicy Beef Chimichurri Rice Dip. Don't forget to use homemade or store-bought plantain chips on the side. If you're looking for even more spicy flavor, try this Sriracha Ranch Rice Dip with corn, Carolina® Jasmine Rice, and bell peppers.
7. Empanadas
Filled to perfection with a tasty stuffing, these Cheesy Rice and Beef Empanadas are a perfect appetizer! And, not to mention they're convenient too because you can crisp them up in an Air Fryer.
If you don't have an Air Fryer, swap in our recipe for baked Chorizo, Bean and Rice Empanadas with a chimichurri dipping sauce.
8. Fried Rice Balls
Last but certainly not least, the final recipe idea on our list is for rice balls that have been either pan fried, deep fried or air fried for a crispy rice outer layer with a soft and savory filling.
You may be familiar with the Italian classic arancini, which is made with compact risotto rice. We've used Carolina® Arborio Rice for these Fried Mushroom and Thyme Risotto Balls for authentic Italian flavors at home. You might also enjoy these fusion flavored Air Fryer Rice Balls with Arroz Rojo.
For a Japanese twist, these Yaki Onigiri are made with Carolina® Short Grain Sushi Rice for the perfect compact texture to fill with surimi, avocado, carrot and green onions. Just take a look at our how to video if you've never made them before.
If you are looking for a dessert food for your next dinner party, why not check out this recipe for rice pudding?
Take any event to the next level with these snack options using Carolina® Rice. Explore all kinds of tasty meals and recipe ideas in our Cooking section.