The secret to a well-rounded dish is a balance of both taste and texture. Bringing out the natural flavors of a few simple aromatic ingredients can subtly enhance an entire dish. In order to create balanced meals, you'll need to first perfect your sofrito.
What is a Sofrito?
A sofrito is an aromatic blend of vegetables with oil and sometimes herbs and spices. It's most commonly found in dishes throughout Europe in countries like Spain as well as Latin American countries. Though the ingredients used vary nearly as much as the countries that use a sofrito, they are almost always primarily used as a savory base for all kinds of meals.
The slow simmer of the finely chopped veggies and/or herbs in oil helps offer complexity to your recipes. Cook your sofrito a bit longer for melt-in-your-mouth vegetables — perfect for stews or sauces. Ever wonder what makes a Spanish paella or Latin American arroz con pollo so tasty? Both begin with a base of sofrito flavor.
From the Spanish verb to "sofrier", meaning to lightly fry, this process of simmering simple vegetables for a flavorful base can be found around the globe, we'll walk you through a wide variety of aromatic blends that you can include in your meals to boost the flavor.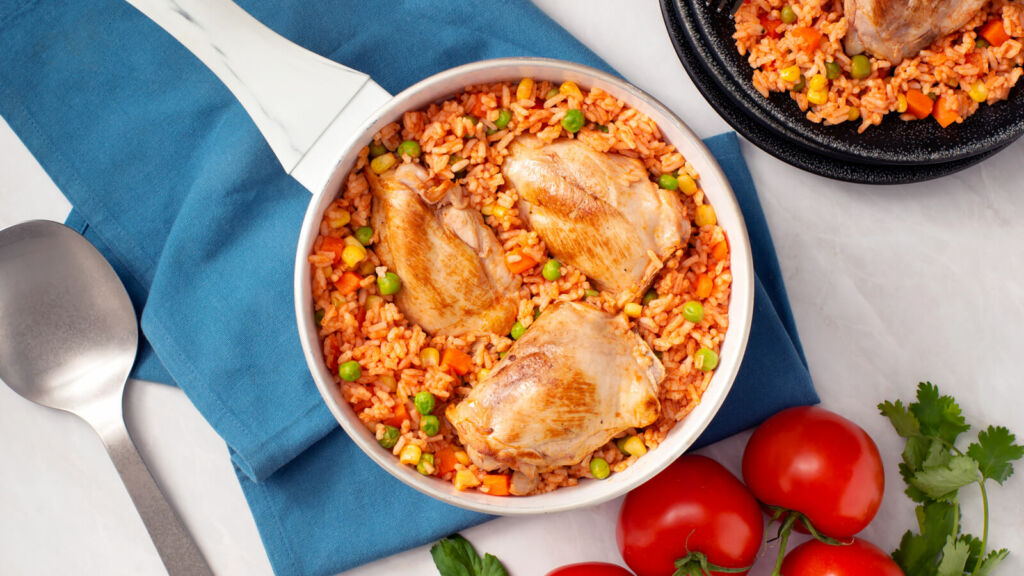 Sofrito Variations
It's no surprise that there are so many versions; in fact, you can Travel the World Without a Passport with sofrito variations alone! But no matter what you call it, you're guaranteed a more flavorful dish. Taste it for yourself when you try these tried and true versions with a few recipes:
Sofrito/Sofregit: The Catalans in Spain are often credited for creating — or at least naming — this process. In addition to paella, many regional dishes require simmering onion, garlic, and tomato in oil together. Some add thyme and rosemary, while others may add a pinch of sugar.
Recaito: The Puerto Rican variation adds sweet pepper and culantro — the stronger yet sweeter cousin of cilantro. Puerto Rican cuisine uses recaito for nearly every meal cooked in liquid, and this festive one-pot Arroz con Gandules is no exception. Packed with flavor, this satisfying national plate is made with Carolina® Jasmine Rice and may become a holiday favorite in your household, if it isn't already!
Mirepoix: The French variation has 2 parts onions, 1 part carrot, and 1 part celery.
Soffritto: The Italian variation includes carrots, celery, and onions. This is used in many soups, such as minestrone, and well as the base for many sauces and braises.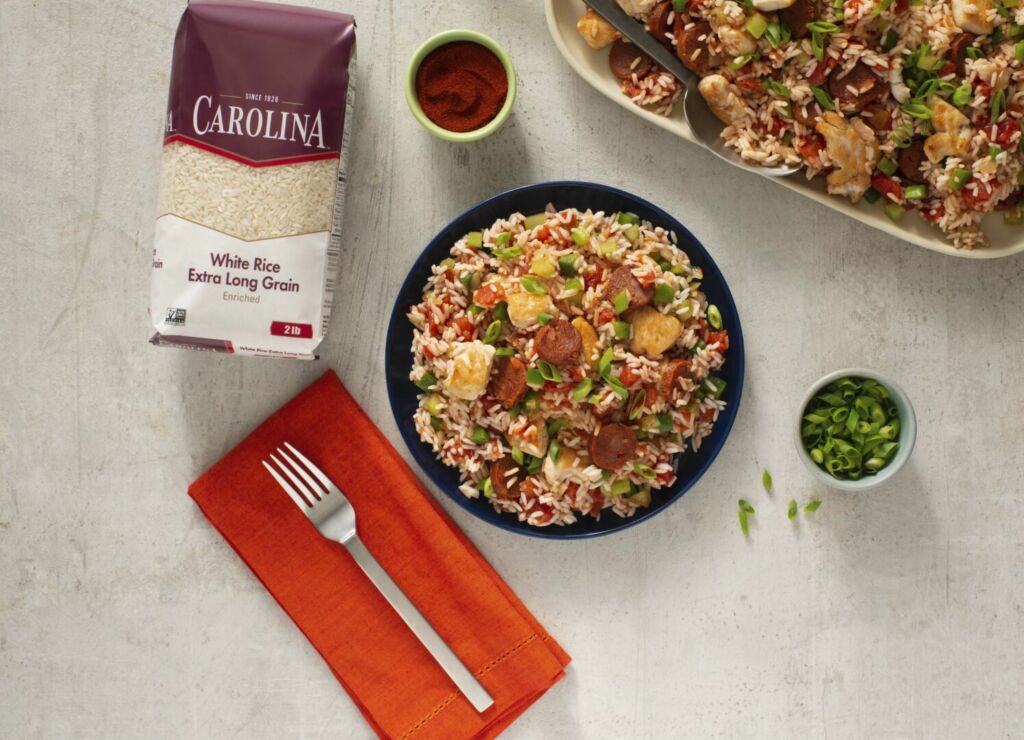 The Holy Trinity: An aromatic base consisting of onions, celery, and green bell peppers is pervasive throughout Cajun and Creole Cooking. In fact, a memorable Jambalaya usually depends on the so-called holy trinity, like in this Spicy Cajun Jambalaya. Jambalaya isn't the only dish containing the holy trinity: this Creole- style Rice and Beans Skillet will soon be a dinner favorite!
Cuban Holy Trinity: This Caribbean country incorporates a different holy trinity — garlic, bell peppers, and onion — into their cuisine. Using the sweet notes from la trinidad, it's no surprise that this hearty Cuban-Style Ropa Vieja with Rice is a national favorite!
Refogado: You'll find a simpler variety with just onions and garlic in Brazil. We couldn't resist adding some spicy jalapeño in our creamy Brazilian Shrimp Stuffed Pumpkin served over Carolina® Brown Rice. Refogado with jalapeño mixed with cheeses and cilantro? Irresistible!
What else is a Sofrito Used For?
A sofrito is the base for many dishes; however, the possibilities don't end there. It can be spread over a slice of toast, as a dip or in any of these delicious recipe ideas.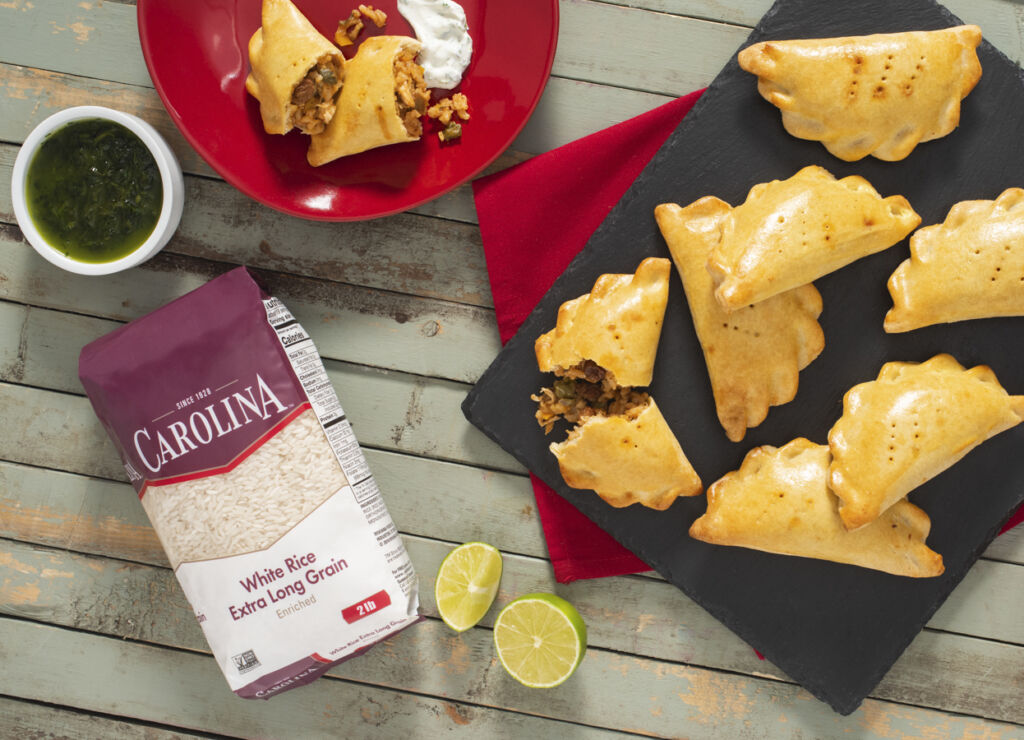 Sofrito as a Filling
You can use this fragrant mix to begin making a filling for everything from tamales to empanadas — and everything in between! Think about how tasty this sauce would be in some Stuffed Vegetables. Toss in some protein — shredded chicken, spicy chorizo, or ground beef — for a satisfying filling for empanadas! Mouthwatering picadillo relies on a rich sofrito: these tasty Turkey and Rice Picadillo Empanadas incorporate red pepper, thyme, cumin, chili powder, and coriander. Tone down the spice by swapping out the jalapeños for a more mild sofrito mixture in these Chorizo and Rice Empanadas with basmati rice.
Sofrito as a Sauce
Adding a dollop on top of your meal is yet another Delicious Way to Eat More Veggie-Packed Meals. If you don't stuff your tamales with sofrito, you could use it for a side like in these Chorizo Rice Tamales. Or, if you don't have salsa for these Black Bean & Brown Rice Burritos, simply reach for that jar of homemade sofrito you'll soon have on-hand at all times!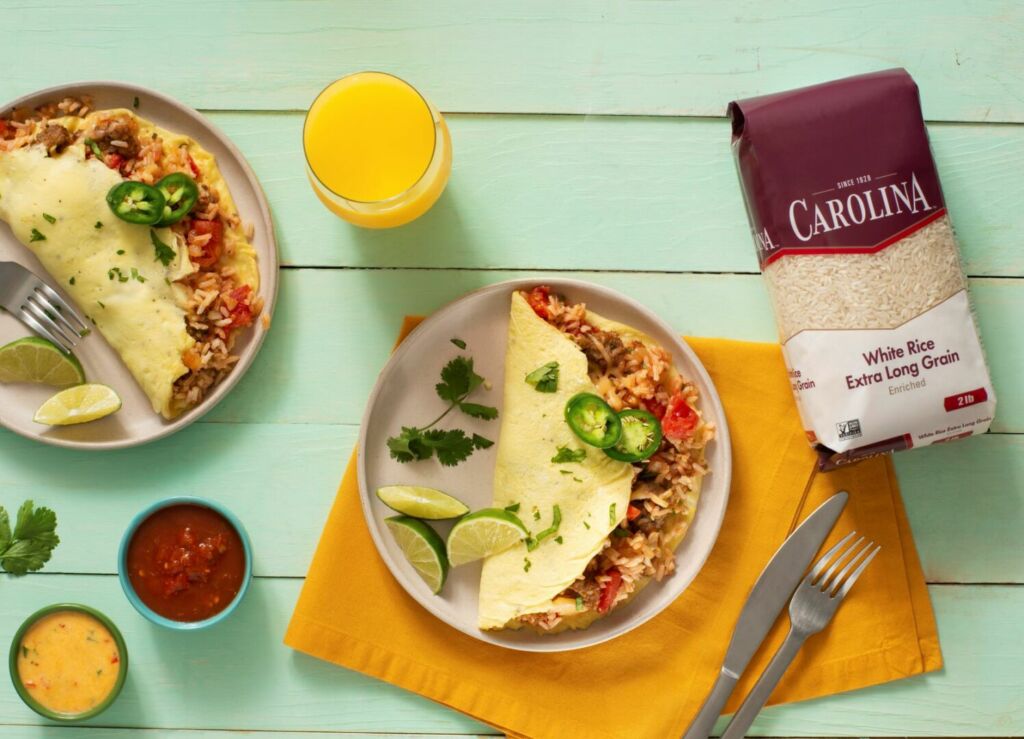 It also makes a tasty topping for breakfast dishes. Spread a generous portion on some toast or heap on this flavor-packed mixture atop these rich Huevos Rancheros Enchiladas. These cheesy Omelets Stuffed with Mexican Rice and Chorizo call for a drizzle of queso, but why stop there? A spoonful of sofrito will enrich all those yummy flavors!
Tip to Making a Sofrito: Sweat, Not Sauté
By slowly simmering, you get the most out of the flavors of your ingredients. Sautéing creates new flavors by using a higher heat, whereas sweating releases the natural sweetness, allowing the vegetables to cook in their juices. Bring out the juices from your vegetables by adding a pinch of salt. You want to highlight the natural flavors of the vegetables, not change them. A rich sofrito has simple ingredients that enhance, rather than compete with, the other flavors in your dish.
How to Store Homemade Sofrito
Cleaning out your fridge? Whip up a big batch of sofrito so those veggies don't go to waste! Having sofrito ready at the drop of a hat is yet another way to Ace Meal Prep. Store in an airtight jar in the fridge for a week or measure out different portion sizes to freeze: maybe you want 1/2 cup for a sauce, but only a tablespoon for a side of vegetables. Fill an ice cube tray so you can pop a sofrito cube into your dishes for a punch of flavor. You can freeze it for up to a year, but we have a feeling that it won't last that long!
We love discovering new ways to make and use sofrito, and we love hearing from you! Let us know how you use Carolina® Rice in your favorite sofrito dishes. And, make sure to take a look at our cooking section for tips and tricks in the kitchen to make all kinds of international dishes from fried rice to our guide on rice pudding with cooked rice along with how to make perfect white rice.