Stuffed vegetables make stunning appetizers, side dishes and even entrées that you can include in your weekly meal rotation. The great thing about them is that they can be served as a meal on their own, while making veggies more appetizing and interesting to eat – even to the pickiest eaters. Once finished, we recommend rewarding yourself by trying this rice pudding recipe!
If you've never stepped out of the stuffed peppers comfort zone, you would be surprised by how many vegetables have the perfect vessel-like shape to be upgraded with delicious fillings. From choosing the right veggies, to making your stuffings tastier with some recipe inspiration, this simple guide includes everything you need to know about your new favorite meal: stuffed vegetables.
Common Vegetables for Stuffing
Almost any vegetable (or fruit) can be stuffed, but there are some of them, especially those with a deeper inner cavity, that just seem to be perfect for the job! Do you know which of them?
Peppers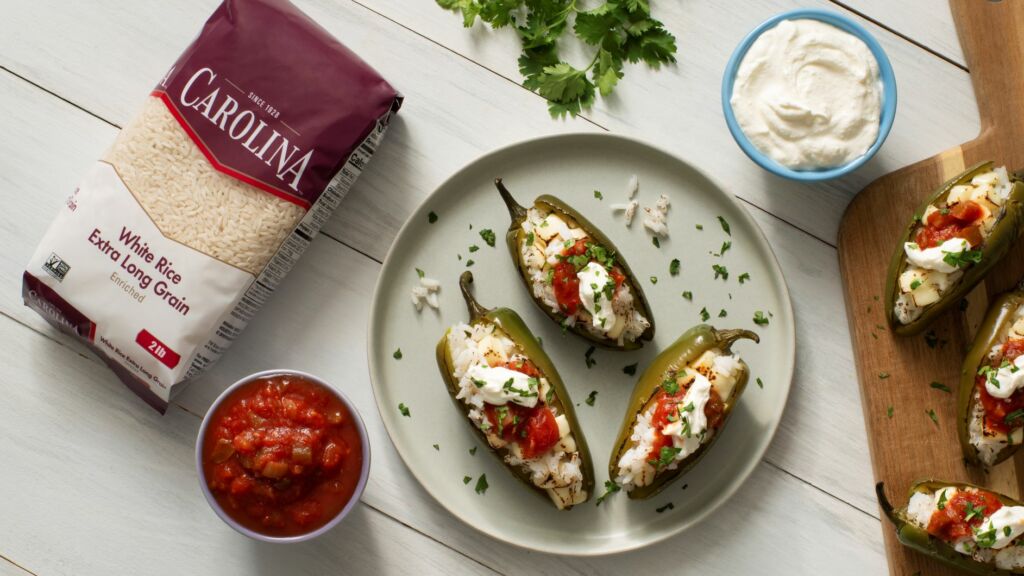 Peppers are high on the preferred list, but we're not just talking about bell peppers – other varieties make perfect vessels too. A staple in many Latin American cuisines, chiles come in a wide variety of tasty options that are easy to be seeded, deveined and filled with something delicious. Try spicier peppers like serrano or jalapeños by whipping up these recipes:
Winter and Summer Squashes
Squashes have sturdy walls and wide cavities that are perfect for holding fillings. With so many seasonal varieties, you can enjoy different species of this produce while enjoying all the benefits of eating what's in season – plus, you won't get bored of your usual recipe repertoire. Here are some of the squashes you can enjoy depending on the time of the year:
Winter/Fall: pumpkin, butternut and acorn squash.
Spring/Summer: zucchini and yellow squash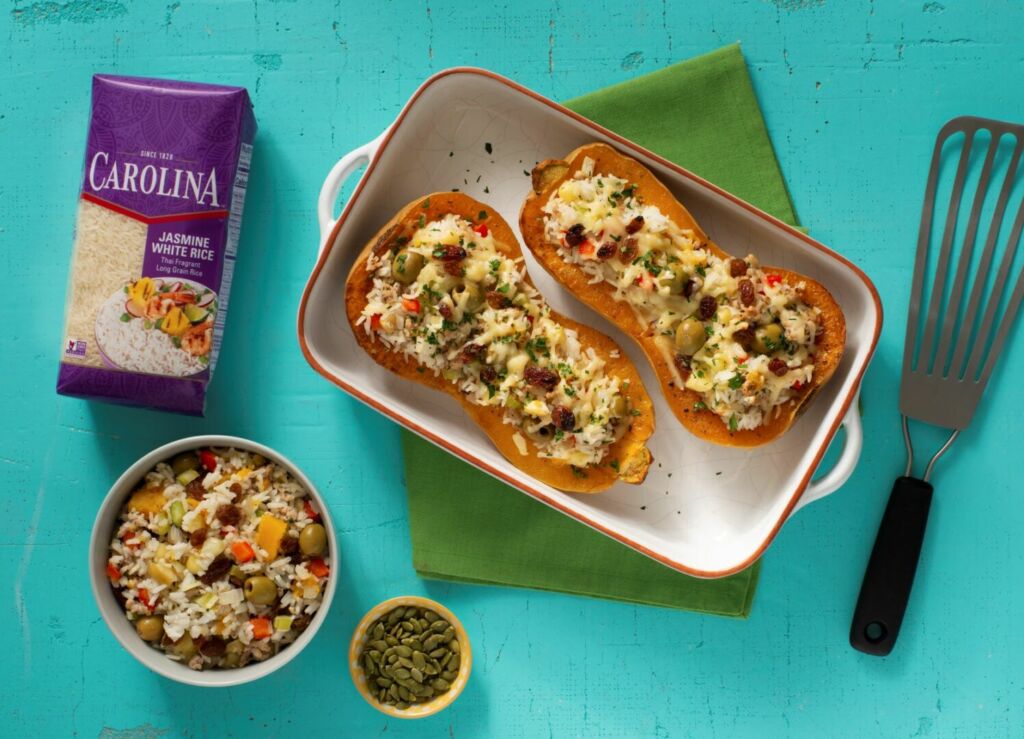 Eggplant
Eggplants are often underrated or overlooked, but when cooked correctly, they actually make a spectacular meal. To switch things up and have something different for dinner tonight, give this veggie a try by scooping its pulp out and filling with a combination of hearty rice, spices and tomato like in this Mediterranean Style Stuffed Eggplant recipe.
Mushrooms
Traditional stuffed mushrooms are usually associated with appetizers or finger food, but as it happens with squashes, there are many varieties to choose from! By swapping in larger fleshy bodies like portobellos, mushrooms can make a satisfying main dish.
For a vegetarian lunch or dinner option, try these Wild Rice, Goat Cheese & Spinach Stuffed Portobellos. Filling and easy to bake, this recipe is undeniably satisfying and made special with the addition of Carolina® Premium Grain Blend of Jasmine Rice with Red & Wild Rice.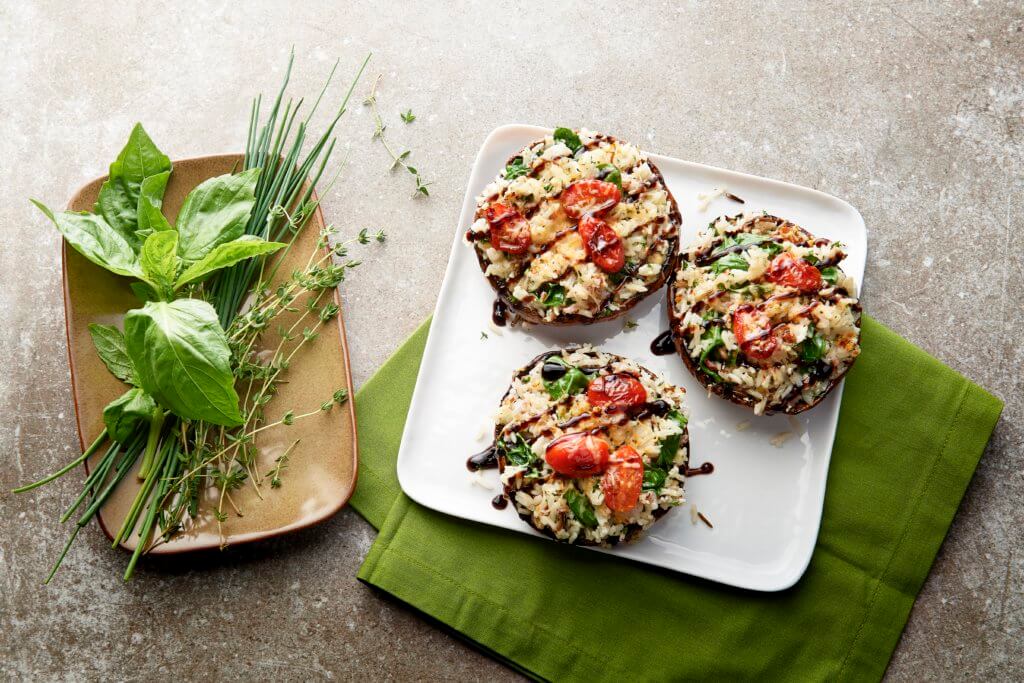 Tomatoes
Although not all tomatoes are suited for stuffing, there are some less juicy and sturdier varieties that are great vessels for rich rice stuffings or even fresh salads. Take the average Canned Tuna and Rice Salad up a notch by serving inside a fresh tomato – no baking needed for this stuffed vegetable delicacy.
3 Cooking Tips and Shortcuts
Now that you are more familiar with your veggies and what makes them perfect to be stuffed, you may want to keep these tricks in mind to both succeed with your recipe, reduce food waste and save time in the kitchen.
1. Use Hearty Fillings
If you want to make your veggies a meal on their own, then you'll have to make sure that they are filling enough! In reality, the real game changer for stuffed vegetables is the stuffing. With the addition of rice and grains like quinoa, you can rest assured you're adding an extra dose of goodness for a meal that will keep you energized throughout the day.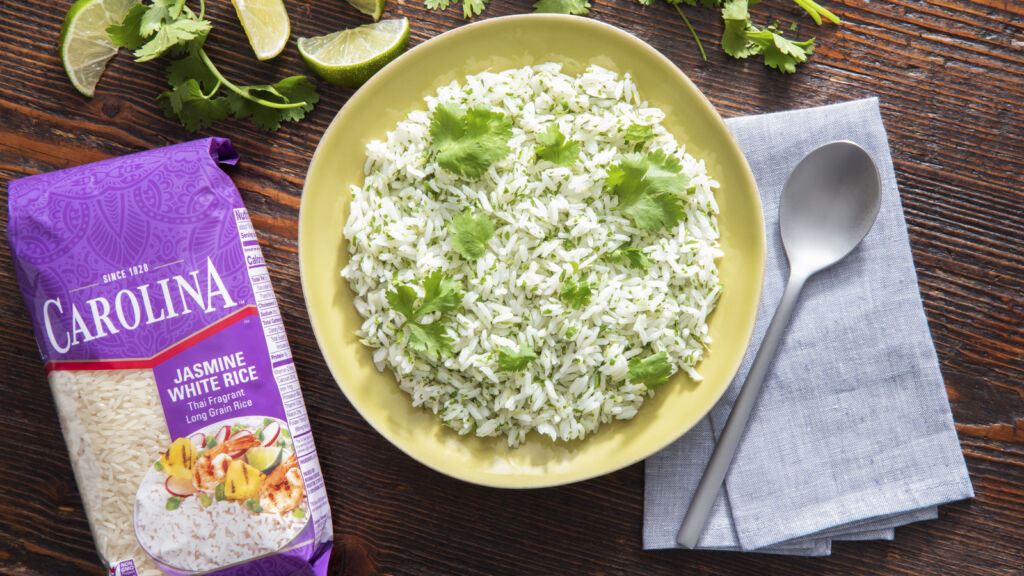 Other than simply combining plain white rice with the scooped veggie pulp, try different grain varieties and blends. Swap in any of these recipes for a rice filling base:
2. Repurpose Seeds and Pulp
Home cooks are commonly used to repurposing the pulp in the stuffing – but have you ever thought about repurposing the seeds too? When making recipes like this Brazilian Shrimp Stuffed Pumpkin or our Fall-special Stuffed Butternut Squash with Pork, Jasmine Rice & Apple, don't toss out the seeds! Squash and pumpkin seeds can be turned into a tasty snack or crunchy salad topping.
To do so, wash seeds thoroughly, spread and let sit on a baking sheet until completely dry. Season with a little olive oil and your preferred spices and bake, stirring occasionally, for about up to 30 minutes or until golden and crisp. Use right from the oven or let cool completely and store in an airtight container for up to a week.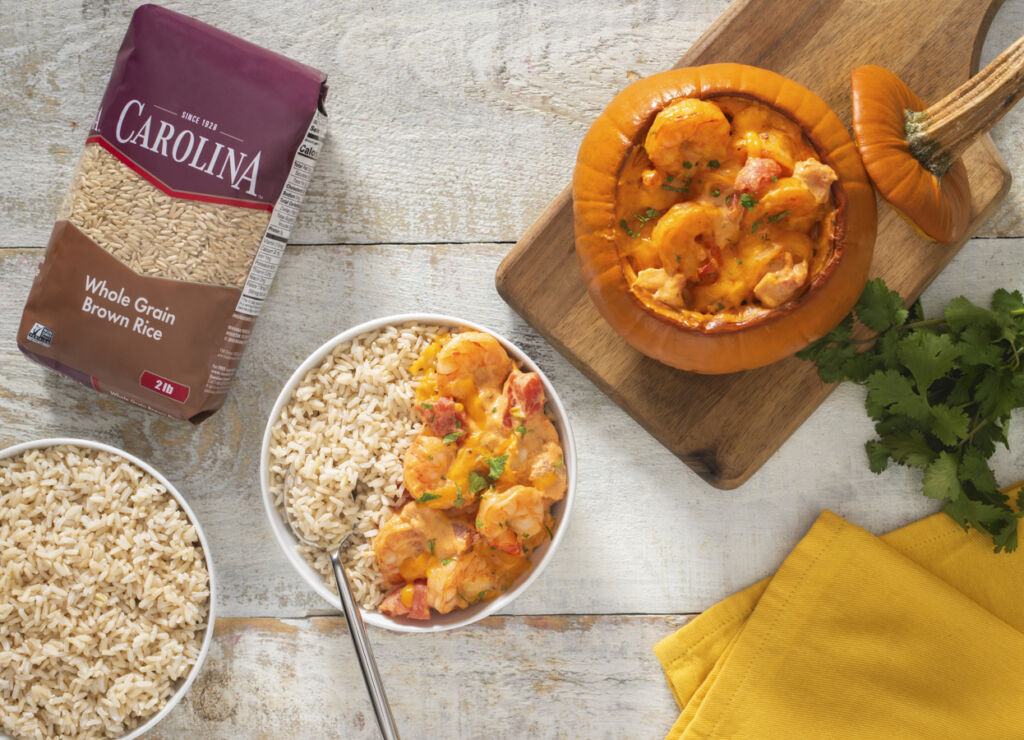 3. Cook Veggies in Advance
If you want to save on some baking time when whipping up these Rice & Turkey Stuffed Peppers, microwave red bell peppers for a few minutes before stuffing. By precooking them, that desired softer to the bite texture will be achieved in less time, while preventing stuffing from drying out in the oven and cutting back some on baking time.
Another useful tip to save time in the kitchen and making sure stuffing remains moist, is to loosely cover your vegetables with aluminium foil. If you top with cheese, uncover in the last 5 minutes to have that bubbly, melty cheese cover.
Starting with your favorite variety of Carolina® Rice, use this guide to elevate any humble vegetable to an impressive main dish and turn your average weeknight dinner into a special occasion! Find more cooking tips like how long to cook rice in the microwaveor how to cook arroz chaufas and recipe inspiration by browsing our website.