Taking the world by storm, TikTok trends can make a global impact in record time. Social media platforms like this, among others, are the perfect scenario for content creation and entertainment, with a special spotlight on food. Not only recipes, but also cooking hacks, tips and tricks that people can replicate at home, are taking over users' feeds on social media.
Even if you haven't tried it, you are most likely familiar with recipes like the Pancake Cereal Bowl, or Baked Feta Pasta. Food and recipe trends are constantly changing, from grocery hauls, to tips for making exquisite restaurant meals in the comfort of your home, to simple and new ways to make an easy meal out of everyday ingredients. At Carolina® Rice, we want to inspire you to try something different today and jump on the viral recipes bandwagon.
Some trends come and go, but these recipe ideas are here to stay – like the classic rice pudding recipe. And, they all have a few things in common: they are eye-catching, exciting and very easy to make at home with Carolina® Rice!
To Start Your Day
Many people would say that breakfast is the most important meal of the day, but with these new recipes, it can also be a fun way to start on the right foot! Whether you enjoy sipping on coffee in the morning, or something quick on the go, these viral recipes have taught us that there is no better way to start the day. Try a delicious and creative cup of coffee, with a twist, or a fresh and fruity take on the average cereal bowl.
Nature's Cereal
Like your whipped coffee, this fresh take on breakfast cereal will definitely become a morning staple – especially during the warmer months of the year! While the origin might be fuzzy, try our "Nature's Cereal" Brown Rice Bowl recipe and you'll understand why it became so popular so fast!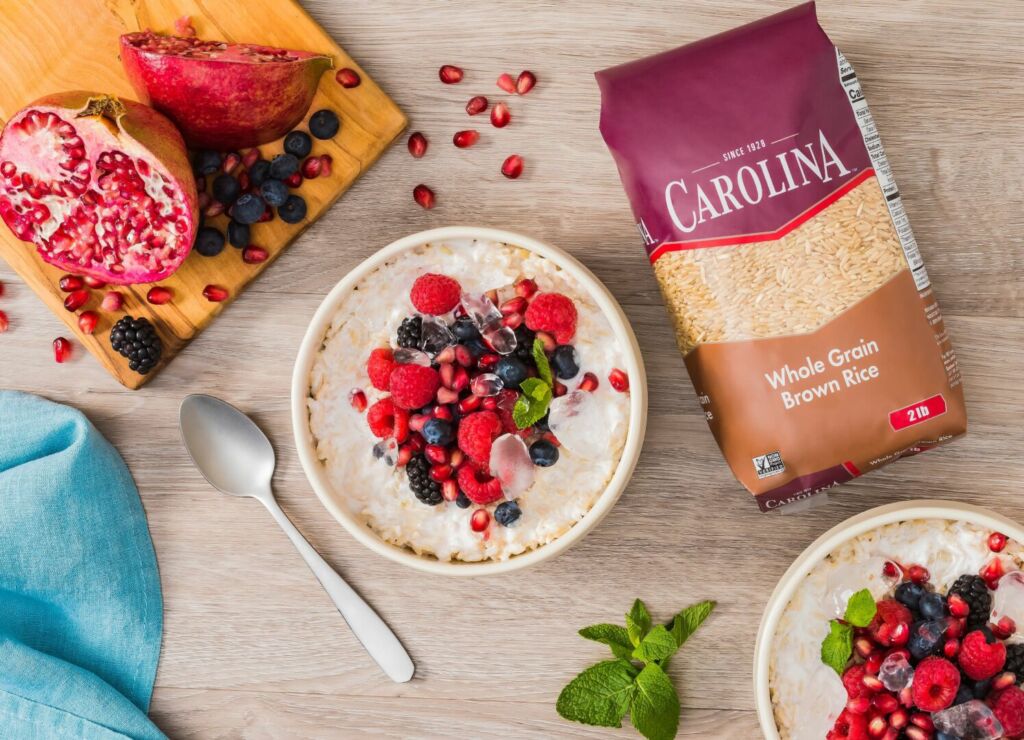 The original version consists of colorful, summer berries and refreshing coconut water, imitating a typical bowl of cereal. This recipe adds a few steps and ingredients into the TikTok trend for a more filling and satisfying morning meal. Try it yourself and add another natural ingredient into your bowl with Carolina® Brown Rice. Whole grains are mixed with creamy coconut milk and topped with blueberries, raspberries, blackberries and pomegranate seeds for a meal that will leave you energized for the rest of the day.
Make this an organic dish by using locally and organically grown fruits and Carolina® Organic Brown Rice.
Whipped Iced Coffee
Coffee, hands down, is an absolute morning staple for most. There are so many ways to enjoy this brewed drink, but there was one that really blew up the internet for an exciting and delicious trend – Dalgona Coffee anyone?
Also known as whipped coffee, this experimental beverage originated in Japan and it truly is just another way to spice up your regular morning or afternoon coffee. It's very simple and only takes a few steps and ingredients to make, plus Carolina® Rice offers an extra delicious twist with this recipe for Horchata Whipped Iced Coffee.
Prepare your flavor-filled horchata and whip up instant coffee, sugar and hot water together for a mousse-like cream to serve as a topping over your chilled rice-based drink. Once you get the hang of it, you can enjoy this new summer delicacy every morning all summer long!
Popped Rice
To add on to morning meal trends, this homemade Popped Rice delicacy is something that you can make and leave in your pantry for whenever you're craving something crispy and crunchy. One of the reasons why these recipes become viral is because they take pantry staples to new heights with innovative preparations and flavor combinations. Did you know you can make puffed rice from your pantry Jasmine Rice? Well, now you know why this became so popular!
After getting crispy textured grains, use them on top of your fruity yogurt parfaits for an extra crunch, to substitute in for your supermarket cereals like in this Churros Puffed Rice Cereal or mixed with chocolate in these Puffed Rice Bars for a homemade version of family favorite rice krispy treats.
Fun Appetizers
No need to spend hours trying to figure out how to surprise your guests with a show-stopping appetizer, follow our trendy suggestions and easy tips and tricks to master them in no time. In this category, the hot recipes of the season are Pressed Sushi and Crispy Rice Cakes. Jot down the ingredient list and get ready to enjoy restaurant quality food right at home!
Pressed Sushi
Do you ever crave sushi but think it's a complicated and time-consuming meal to make at home? Well, social media brought this Pressed Sushi recipe with an ingenious hack for everybody to enjoy delicious Japanese food flavors any day of the week!
With a short ingredient list and minimal effort, these sushi bites can be enjoyed as a snack, appetizer or finger food for a gathering or to spice up lunch or dinner time. The one crucial thing you need for this recipe is an ice cube tray.
Once you've prepared your Sushi Rice according to the instructions, leave it marinating in a blend of vinegar and sugar while you cut up your favorite sushi toppings such as salmon, tuna, veggies or even marinated tofu if you want to make it vegan. Then all you have to do is pack everything into the ice cube tray and let it set for a bit.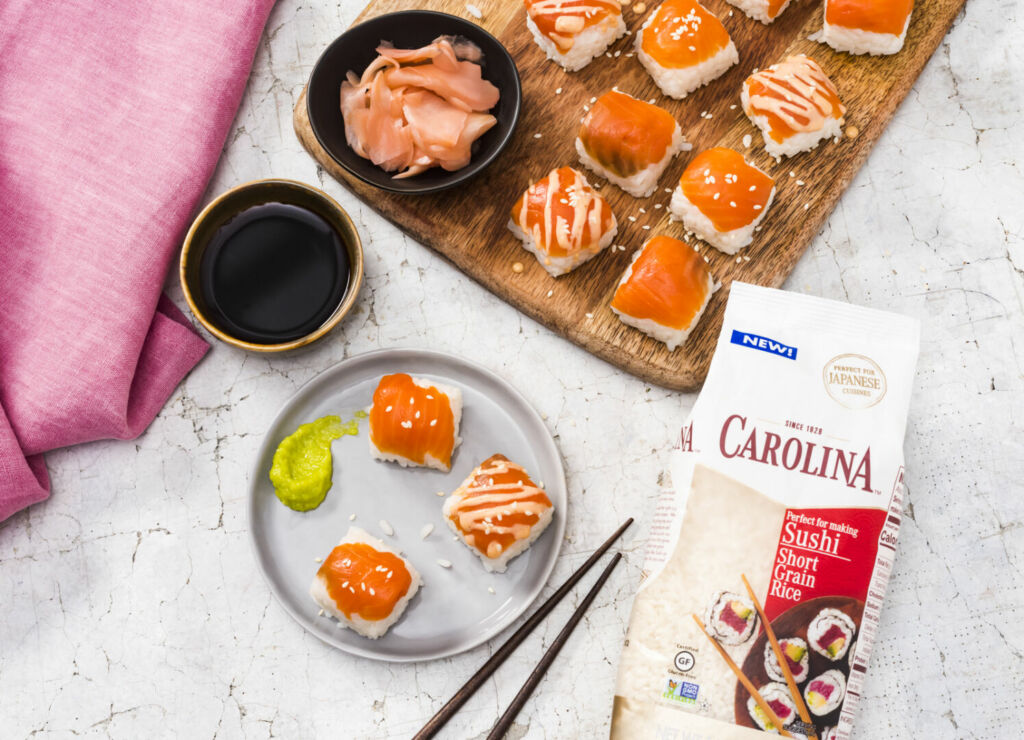 Place your toppings at the bottom of the ice cube tray, then add your rice and press it down so it all holds together. When you flip it out of the ice cube tray, you will be left with your sushi bites! Yes, it's that quick and simple.
Crispy Rice Cakes
You know those crispy cakes, topped with creamy crab meat that you have at fancy dinner parties or restaurants? Well, now you can make them yourself at home, with just a few ingredients and simple steps. If made for a gathering as an appetizer, you will leave your guests speechless and have them begging you for how you managed to whip it up.
All you need to do to jump on this trend is to cook Carolina® Short Grain Rice for Sushi following the package directions, let cool, roll and sear until golden and crispy. Probably the most challenging part of this recipe is making up your mind about the toppings. Don't know where to start? Here are some of our favorites: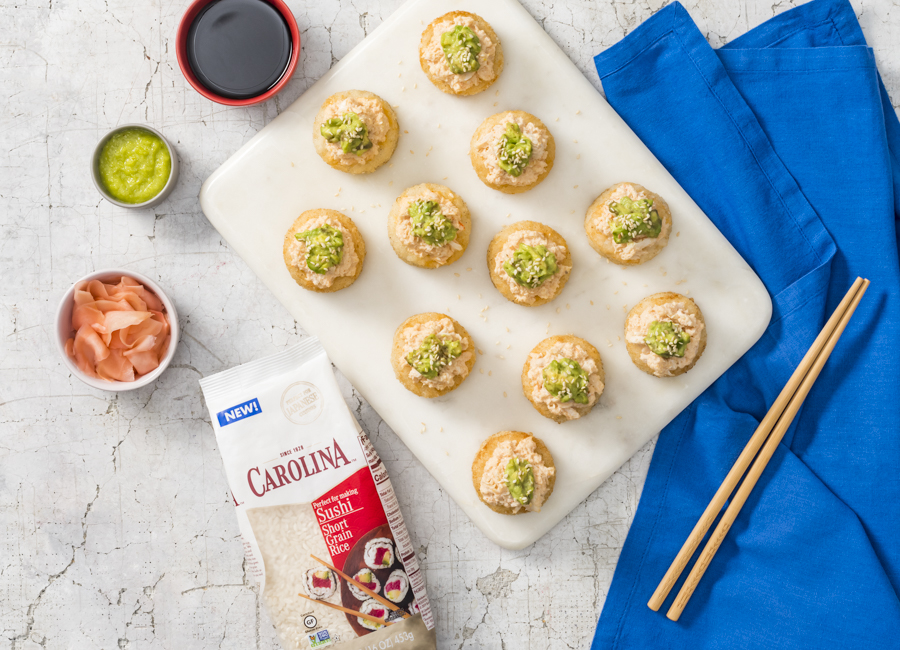 The good thing is that you can really make whatever toppings you want, as long as you've mastered the crispy rice cake, all toppings will be delicious!
Pro Tip: You can roll rice for rounded shaped cakes, or use the ice tray tip from pressed sushi for squared cakes. Add some sesame oil to your nonstick pan before searing rice cakes for a flavorful touch.
Main Meal Ideas
People are always looking for new recipes once they have gotten bored of the simple and routinary meals. At Carolina® Rice, we know that foodie curiosity gets us searching for options that are easier, yummier and different. That might be the reason some of these recipes have gone viral in the first place!
Tortilla Hack
One tortilla, four toppings, a simple folding hack and there you have it – this trendy recipe is as easy as that. What's best about this popular cooking hack is that the Internet exploded with so many different ingredient combinations to fill each quarter of the tortilla. Even some international variations emerged substituting the tortilla for seaweed to make a sushi-inspired meal, or rice paper sheets for Vietnamese-like spring rolls. You can truly add anything you can possibly think of.
This Tortilla with Rice recipe gives you a taste of how easy, hassle-free and satisfying this TikTok trend is. Start off with a tortilla of choice, whether it's a regular white tortilla, Gluten Free or whole grain – it's all up to you. Now from the center of the tortilla, make a slit to one of the sides, which will allow you to fold the tortilla after adding your toppings, instead of the regular rolling process. Now add your toppings: Carolina® White Rice, cheese, chicken and refried beans with jalapeño. Fold your tortilla and enjoy! We recommend you grill it in a toaster oven for extra melty cheese goodness.
Fufu Recipe
The #fufuchallenge quickly became a trend after many users tried this West African delicacy. But, what is fufu? It's a fluffy dough made from cassava and can be served on the side of any soup or stew. The taste is considered a bit bland so that it can soak up all the flavors from the main dishes it is served with. It's common to rip off a bit and scoop up the delicious meal with your hand rather than utensils.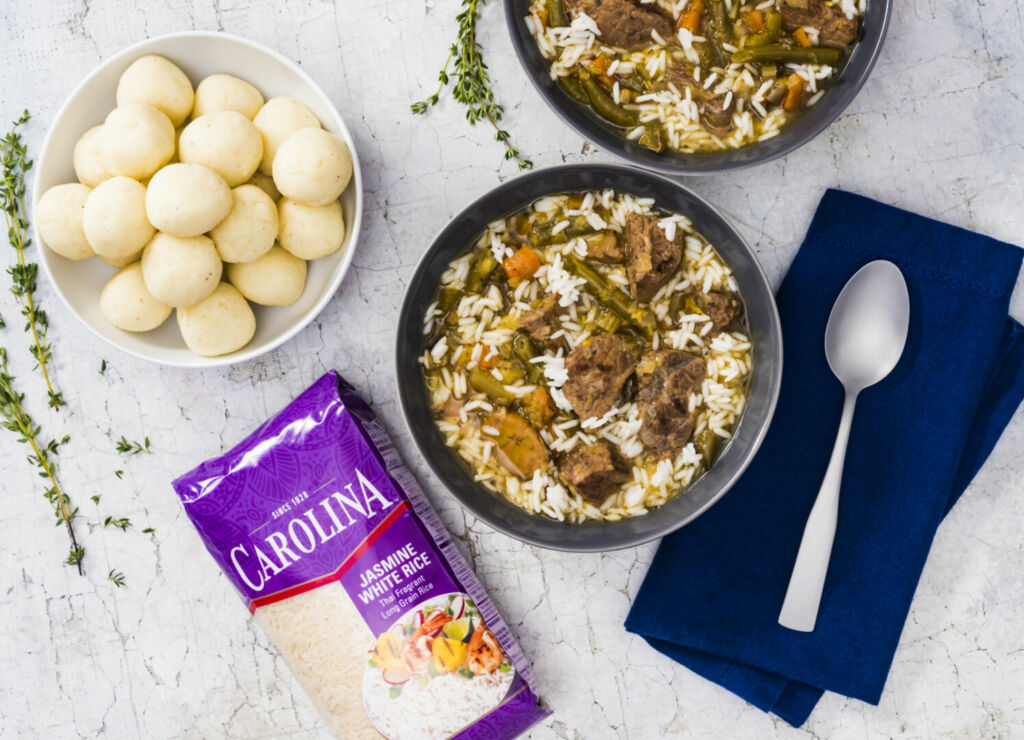 Learn how to make homemade fufu and try some international flavors today with this Kitchen Sink Soup and Fufu.
Rice and Salmon Bowl
TikTok users have done it again with this delicious way to repurpose leftovers. This Rice Salmon Bowl has everything we love about a good dish, including Carolina® Jasmine Rice. The best thing about this new trend is that it shows a clever hack to reheat leftover rice without losing any of its light and fluffy texture. Combine with your favorite toppings and put all the odds and ends from your fridge to good use by following our video directions!
Baked Feta
The original baked feta recipe is actually a regular pasta dish, however, the ease of preparation made it go viral and led to users' creativity for new and customized versions of the original dish. The main idea of the viral video is placing whole cherry tomatoes into an oven-safe dish with a block of feta cheese in the middle. Once it has been baked, the cheese melts and the tomatoes cook and when everything is mixed together, it gives you a creamy sauce that can really be put on or combined with anything.
We've boosted the flavor in our version with harissa paste, aromatic Carolina® Jasmine Rice and poached eggs for a tray of Baked Feta Rice. The combination of aromas and flavors will make your mouth water, impressing everyone who tastes it and leaving them all wanting more. This dish is ready in a few steps and requires little clean up, so whip it up for lunch or dinner, or even for a twist on your usual brunch meal.
Social Media is a great place for inspiration when you are looking for something new and fun to make. Each of these trendy recipes can be modified depending on your preferences and are amazing to try at home when you are running low on creativity or want to surprise your loved ones with something different. Trust Carolina® Rice for easy to follow tutorials, tips and tricks and stay tuned for our new weekly recipes! Want to discover more dishes? Check out our recipe collection.