There's no denying it, for most of us, there is a clear connection between the weather and the foods our bodies crave. Hearty casserole bakes during the colder months of the year, and something lighter and refreshing as the sun shines brighter and temperatures heat up in the warmer months. Salads are one of the absolute best summer dishes, so we've put together a list of our favorites so you can eat salad 10 days in a row.
And don't get us wrong, these salads will be neither dull nor boring made with hearty grains, fresh produce and out of this world dressings and toppings. Are you up for a challenge?
Tips To Make Any Salad Better
Before we dig into our recipe challenge, we'll walk you through some elements that can turn any ordinary blend of leafy greens into a drool-worthy combination of taste and texture. From adding in-season vegetables and fruits, tangy and spicy seasonings to an array of delicious dressings, these tips and additions are worth keeping in mind to create your own delicious salad. You can try it on your own, or share with family and friends to participate – these salads will surely brighten-up any setting, with their vibrant seasonal colors and their juicy and fresh flavors! To make salads even more exciting, don't forget to pair them with a delicious rice pudding for a sweet treat after lunch or dinner.
Add some grains and batch cook them: Adding in hearty grains like rice and quinoa is one of the secrets to keep salads exciting and to turn them into a satisfying meal. Choose your grain by visiting our guide to everything you need to know about rice varieties, and try batch cooking them to avoid turning on the stove every time.
Explore veggies aside leafy greens: Lettuce is great but not the only option for salads. Explore other greens like kale, swiss chard or arugula so your meals do not get repetitive. You can also try other veggies either raw, pickled, roasted or sautéed like beets, peppers or zucchini for some variety in flavors and contrasting textures.
Try homemade dressings: A dressing can make or break your salad, and that's a fact. You want your veggies and grains to soak up all of that flavor, so why not try homemade versions? Check out our guide to Homemade Vinaigrettes and Dressings and enjoy!
Chop and toss in fruit: Instead of saving fruit for desserts or snacks, toss them into your salad bowl and watch how beautifully they taste and blend with the other ingredients. Use anything from summer berries to tropical fruits like mango or pineapple.
Vary your toppings: If you're going to stick to the 10-day challenge, you might as well want to play along with the toppings in your pantry and fridge for some extra texture and flavor. Use different kinds of cheese like Monterey Jack, mozzarella or goat cheese or croutons, seeds and nuts for an extra crunch.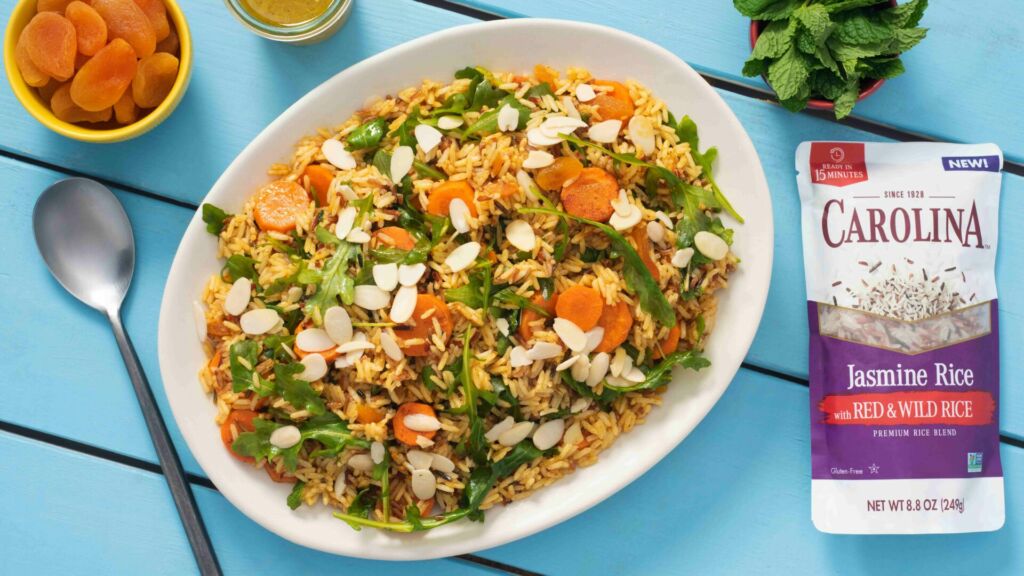 Use these tips to adjust any of these salad ideas or enjoy them as it. Let's discover which 10 salad recipes you'll be enjoying! Mix and match as you please, for example start with number 1 and continue with number 5, you don't have to enjoy in this order.
The Classics
Sometimes, you just crave the classic flavors of a simple and familiar salad. These three salads incorporate the simplicity of a traditional salad with a fresh and flavorful twist. The classics are always nice to turn to when you want to make something quick and easy, or if you need a colorful side dish for a summer barbeque.
1. Layered Caprese Rice Salad
For Day 1, find the juiciest and freshest tomatoes at your local farmer's market or in the produce section of any supermarket for this delicious Layered Caprese Salad made with white rice. The colorful layers of tomato are stacked with creamy mozzarella and fluffy white rice and finally topped with olive oil and cracked black pepper to tie it all together. Make this for a lovely summer lunch out in the sun or for a side dish at a sunset dinner gathering.
2. Chicken Rice Salad with Kale
Explore new flavors and rice varieties by trying this Citrus, Kale & Wild Rice Salad with Chicken and Carolina® Premium Blend Jasmine with Red & Wild Rice. For the third day of the challenge, treat yourself to this tasty salad with a homemade citrus vinaigrette, celery, apples, chopped pecans and cranberries. Remember when we said toppings were key to an amazing salad? Well, this recipe proves that right!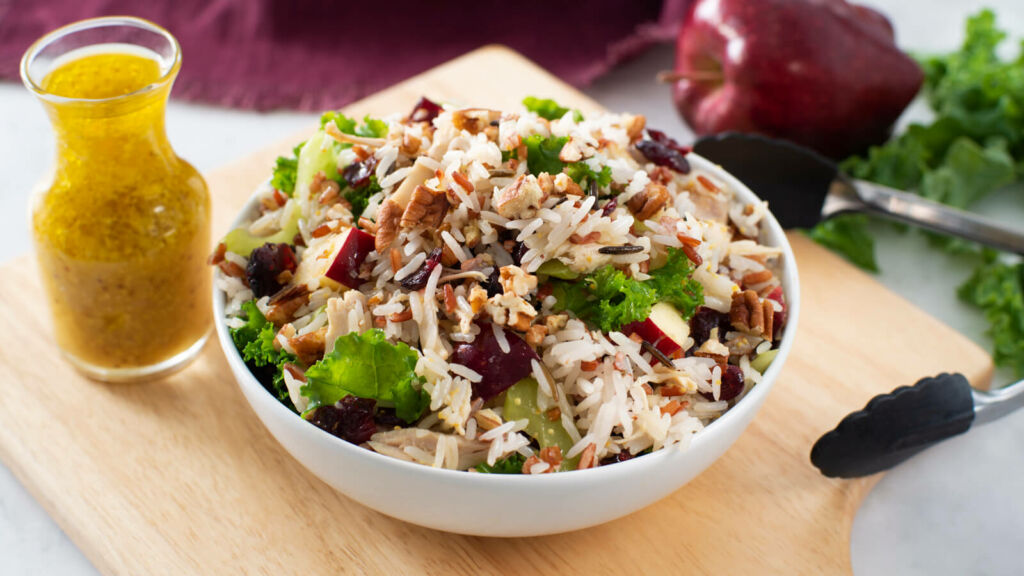 3. Mason Jar Rice Salad
If you are looking for something quick and easy for day 2, this Mason Jar Rice Salad can be prepared in advance and enjoyed anywhere. Each layer has a different texture and color, with rice, beans and vegetables like fresh tomato, cucumber, avocado, grated carrots and crunchy leafy greens. This salad can be easily customized and drizzled with any dressing of preference. Did we mention it's a great option for a meal on the go?
A Fruity Twist
There is nothing more satisfying or refreshing than fruit in the summer. Filled with sweet and citrus undertones, adding fruit to your salads will boost flavors while also adding an interesting texture to your meal.
4. Strawberry Salad with Wild Rice
Add bright red strawberries to this Wild Rice Salad to add a delicious and refreshing touch. With the same premium blend from day 3, this light salad is a great option for a quick lunch before an evening filled with activities: a base of spinach greens, topped with jasmine, red and wild rice, strawberries, basil, red onion, feta, crunchy pecans and a honey-mustard style dressing to tie it all together.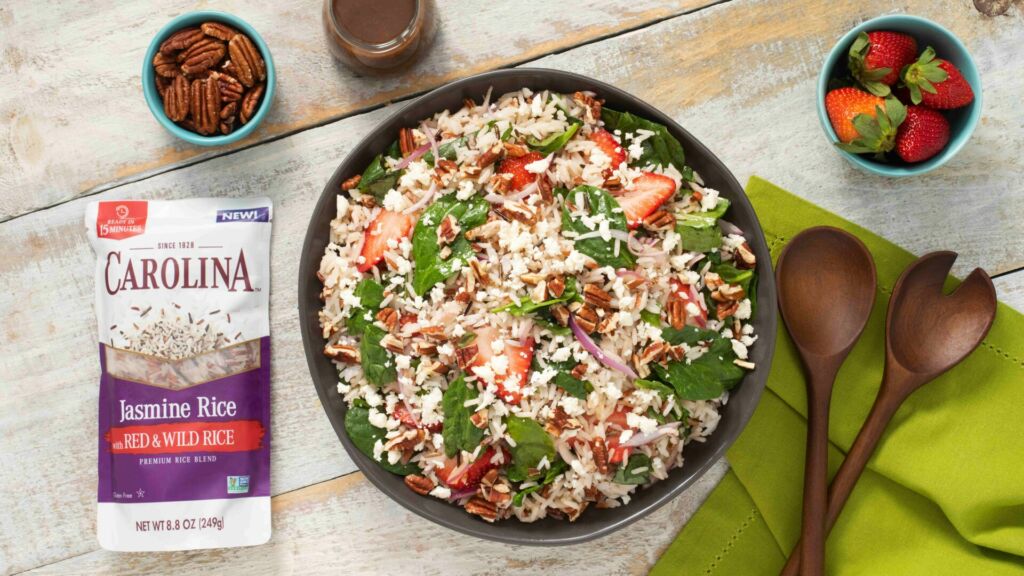 5. Mango Chicken Rice Salad
Enjoy the sweetness and softness of ripe mango in this Mango Chicken Rice Salad. Accompanied with brown rice and quinoa for a hefty dose of whole grains, lettuce leaves and golden raisins, a honey-based vinaigrette will tie all the flavors together for a satisfying salad on day 5. Introduce this salad at a barbeque party this summer to leave all your guests amazed and wanting to enjoy more!
6. Sesame Orange Shrimp Brown Rice Salad
On day 6, bring sealife to your table with this Asian-inspired Shrimp and Brown Rice Salad. Perfect for summer time, this salad compliments the juicy shrimp with the bold flavors from the sesame and the tangy juice from the oranges. Seafood is a great addition to flavorful rice salads.
Flavors from Around the World
Since this challenge is all about salads and exploring new flavors, you might want to try some dishes inspired by international cuisines from all around the world. From Asia to the Middle East or the Carribean, we guarantee each of these salads offers a unique experience that will leave you wanting to make them again.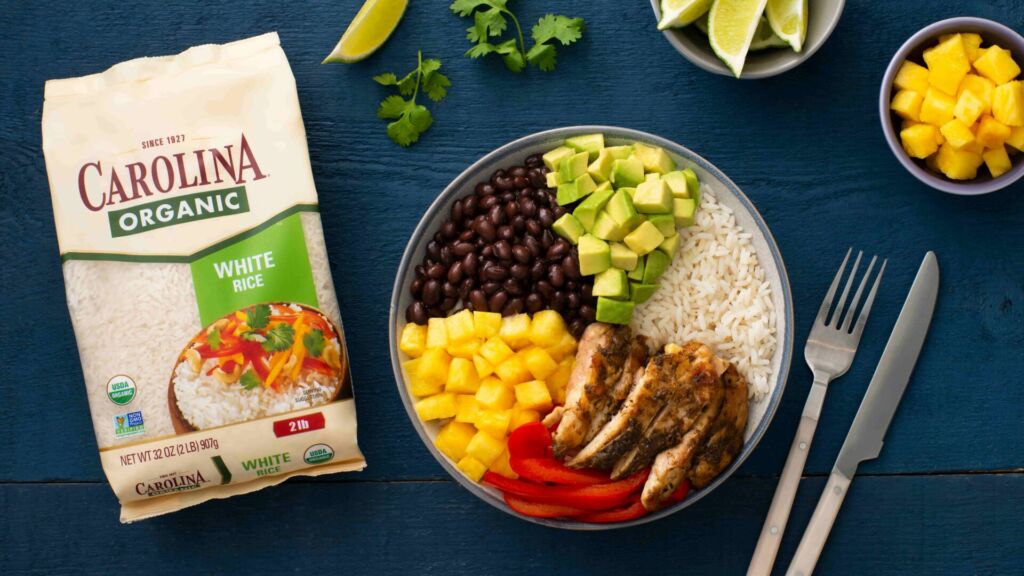 7. Rice Salad with Caribbean Chicken
Take your taste buds on a quick trip to the Carribean with this day 7 salad. Our Caribbean Chicken and Rice Salad combines light and fluffy organic white rice at its base, topped with grilled peppers, black beans, ripe avocado, tangy pineapple and Caribbean jerk chicken. If you loved the taste, check out our guide for more secrets to Caribbean cuisine.
8. Asian Chicken Jasmine Rice Salad
With an aromatic rice base cooked to perfection in just 90 seconds, this Asian inspired salad is packed with shelled edamame, orange segments, shredded coleslaw, roasted cashews and an irresistible sesame dressing. Try it on day 8 and discover the advantages of stocking your pantry with Carolina® Ready to Heat Jasmine Rice pouches for a quick and easy meal.
9. Middle Eastern Wild Rice Salad with Roasted Sweet Potatoes and Cauliflower
Some summer days are filled with rain and wind that make you just want to roll up and watch movies all day. This hearty Middle Eastern Wild Rice Salad is perfect for a day like that, filled with fall flavors from roasted sweet potato and cauliflower, and a blend of spices for that Middle Eastern touch. However, this day 9 dish still comes with the lovely delights of summer, topped with juicy pomegranates and toasted almonds for a crunch.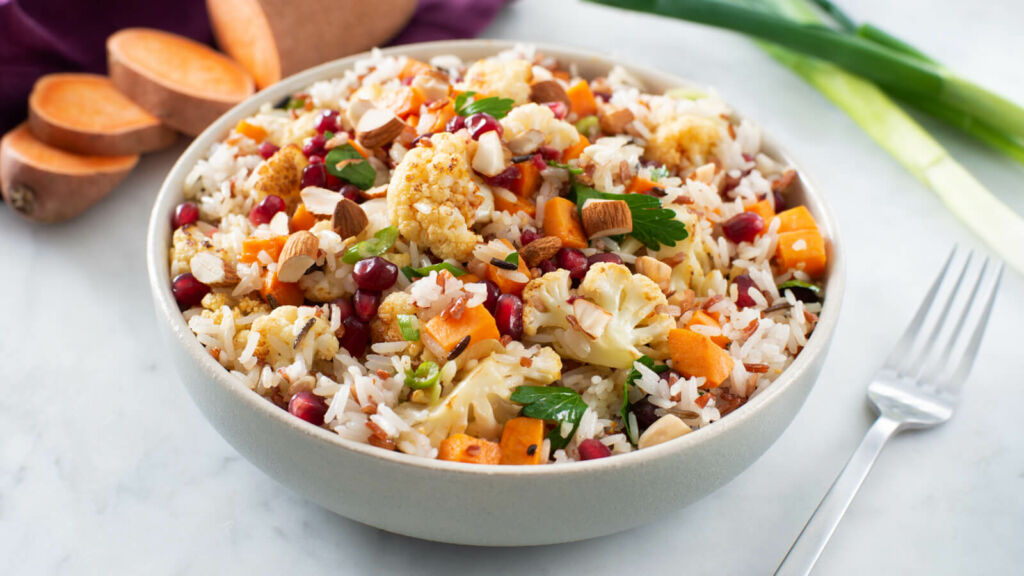 10. Moroccan Salad with Wild Rice
On the last day of your challenge, enjoy this Moroccan-inspired Wild Rice Salad, mixed with a vibrant and flavorful combination of ingredients like arugula, mint, almonds and roasted carrots. This salad is perfect for any evening gathering with friends after a long day of sun.
More than a challenge, the whole idea of these 10 days of salads is to showcase how versatile, fun and delicious they can be! If you want to continue exploring more exciting ways to eat salads, take a look at these Rice Salad Ideas to Help You Eat the Rainbow. Trust Carolina® Rice to make summer meals the most delicious and satisfying yet. Check our website for more cooking tips and recipes like this arroz chaufa.