Growing up, you might have always been reminded about the importance of eating our greens, but delicious and nutritious fruits and vegetables come in a wide range of colors, not only green! So, instead of just eating the greens, we propose finding ways to enjoy all sorts of fruits and veggies and eat the whole rainbow!
What better way to spruce up your plate than with vibrant colors sliced and diced in different ways. From tomatoes to eggplant, there are many ways for you to enhance your meals aside from just taste, add more colors to make your meals not only taste delicious but look beautiful too.
Salad Enhancers
Whether you're a self-declared salad lover or you find it difficult to get more fruits and veggies on your plate, there are always ways to take your meals up a notch. We suggest pairing your vegetables or salad with a hearty grain like rice or quinoa to keep you feeling full longer and using new and exciting dressings or vinaigrettes. Need some help finding new flavors? Check out our guide to making your next favorite vinaigrette.
Nature's Vitamins
To make it easier to fill your plate with vibrant colors, great tastes and varied textures, we've created a list of different vegetables you can use, organized by their natural color that comes with a number of related vitamins and minerals.
Blue/ Purple
Blue and purple…vegetables? You heard that right! Just think about it, there are more blue hues among fruits and vegetables than you might realize! Incorporating blue and purple berries into a dish is actually surprisingly easy! Check out all of the additional options you can try out to incorporate blue and purple.
Eggplant
Red onion
Purple (red) cabbage
Purple potatoes
Blueberries
Blackberries
Plumbs
Beetroot
Black olives
Orange/Yellow
Add splashes of orange or yellow to a dish by adding carrots, squash, sweet potato, or pumpkin! Sweet potatoes are usually a crowd-pleaser, especially for kids with a sweet tooth.
Carrots
Orange / Yellow Peppers
Squash
Sweet Potato
Pumpkin
Oranges
Mango
Apricots
Peaches
If you've never tried adding sweet fruit to your grains and salad greens, you're missing out on delicious sweet and savory flavors in one dish. Try out this Mango Chicken and Rice Salad topped with freshly sliced mango and shredded chicken to see for yourself just how delicious it can be.
Red
Red is among one of the most common fruit or vegetable colors. We're all very familiar with the bright red of a dish of pasta Pomodoro or that tasty and delicious Paella Salad with Cherry Tomatoes, but there are many other red options to consider! Try radishes, or red potatoes to add a rosy color to your next dish.
Tomatoes
Red Peppers
Radishes
Red Apples
Red Potatoes
Cherries
Strawberries
Watermelon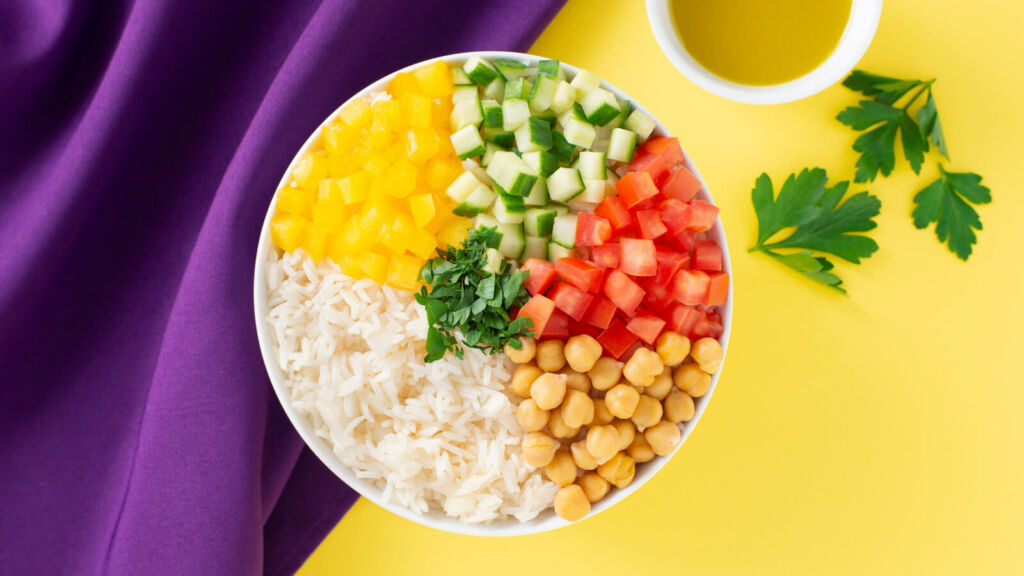 For your next picnic or brunch, whip up this Rice and Chickpea Salad and surprise your family with a wide array of colorful veggies, starring bright red tomatoes! This smorgasbord of veggies is filled with bell peppers, meaning you can use red, yellow or green peppers if you choose.
Green
Of course, we wouldn't forget the greens! Greens, just like any other color, are very important for your body. Get your daily dose of nature's goodness by enjoying a dish featuring something like broccoli or spinach!
Broccoli
Cabbage
Brussel Sprouts
Cucumbers
Green Peppers
Leafy greens
Peas
Asparagus
Green beans
Zucchini
Avocados
Kiwi
Pears
Green Apples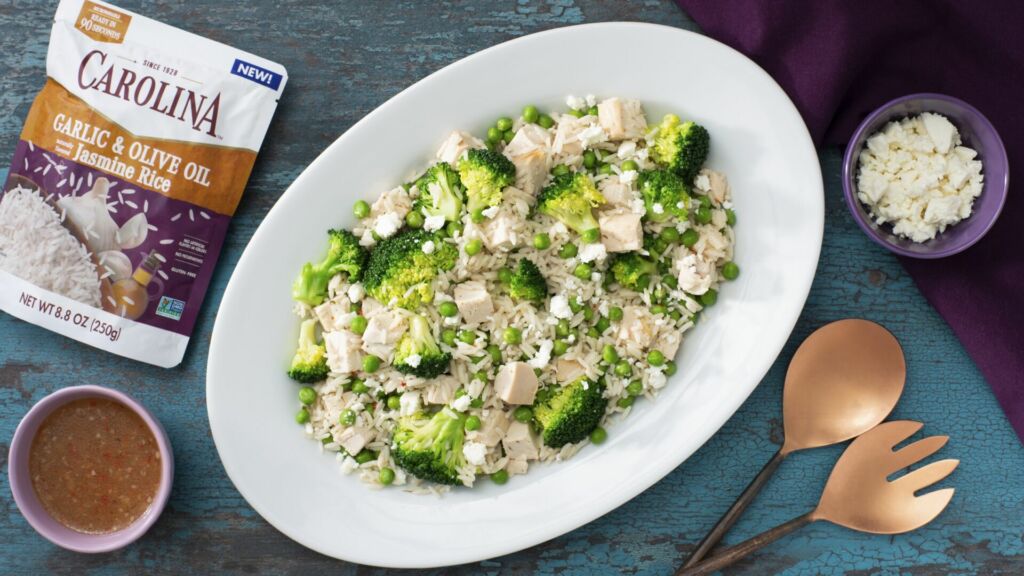 This Green Rice Salad with broccoli and chicken is a complete meal in one. Throw together this tasty and wholesome dish in just a few minutes by combining rotisserie chicken with fresh or frozen chopped broccoli and hearty Carolina® quick cooking Ready to Heat Jasmine Rice!
White/Brown
Last but not least, this list needs some brown and white fruits and veggies. Veggies like cauliflower or mushrooms add not only a unique flavor, but they are no less nutritious or important than their vibrant counterparts!
Cauliflower
Garlic
Jicama
Mushrooms
Turnips
Parsnips
Onions
Potatoes
Banana
While dishes featuring these ingredients are not always the most glamorous, they definitely have a lot of potential! Check out these Simple Stuffed Mushrooms packed with a savory blend of Carolina® Long Grain & Wild Rice, Parmesan cheese and pimientos, perfect for entertaining, and can even be a fun meal to prepare with kids – who said salads ingredients could only be served in a bowl? Pro Tip: If you have some leftover rice, use it to make a delicious rice pudding with cooked rice.
For more information on our products such as 'how many calories in a cup of rice?' or 'how to make arroz chaufa?' Check out our website.