Quite possibly one of the most versatile ingredients — right alongside rice — eggs are a powerhouse of protein and nutrients with omega-3s. They make a great vegetarian protein source and can be cooked using a wide variety of methods.
When you think about rice and eggs together, the first thing that comes to mind might be a classic like Authentic Chicken Fried Rice, but really these two ingredients make a wonderful pair for many recipes! Whether it's a hearty breakfast bowl, rice salad, or a tasty dessert, you might be surprised to learn just how well these two work together.
If you're looking to learn a bit more about this combo, we've put together a guide including different ways you can cook eggs and how they affect other recipes like baked goods and custard-like desserts.
Choose Quality Eggs and Rice
When preparing your recipes, to get the best possible results, the most common recommendation is choosing pasture-raised, USDA A or AA eggs. This is especially true for preparing sauces like hollandaise, below. And, make sure you are using high quality rice too! Learn all about the different rice varieties that Carolina® Rice offers including traditional options such as White, Brown Jasmine and Basmati which are Non-GMO Project Verified and naturally Gluten Free as well as free of MSG with no added preservatives.
If you choose to purchase organic goods, find organic quality eggs and learn all about our organic rice varieties for your recipes!
Eggs Served On Top
Learn how to prepare eggs using different cooking methods to serve on top of all kinds of rice recipes.

Scrambled Eggs
Starting with one of the simplest and most common methods for preparing eggs, learn how you can elevate classic scrambled eggs and sausage in this recipe for Mexican-style Chorizo and Rice Breakfast Scramble. Ideal for breakfast burritos, this filling is made using a base of hearty long grain White Rice, chorizo, tomatoes and eggs cooked together all topped with Cheddar cheese.
Bonus: Still haven't learned how to wrap burrito like a pro? Use our guide to making and rolling burritos!
Omelet
You can also skip the tortilla and make an egg omelet the wrap filled with a savory rice combination like in these Omelets Stuffed with Mexican Rice and Chorizo. Learn how you can prepare an omelet perfectly to hold your rice filling all topped with an incredible homemade queso sauce!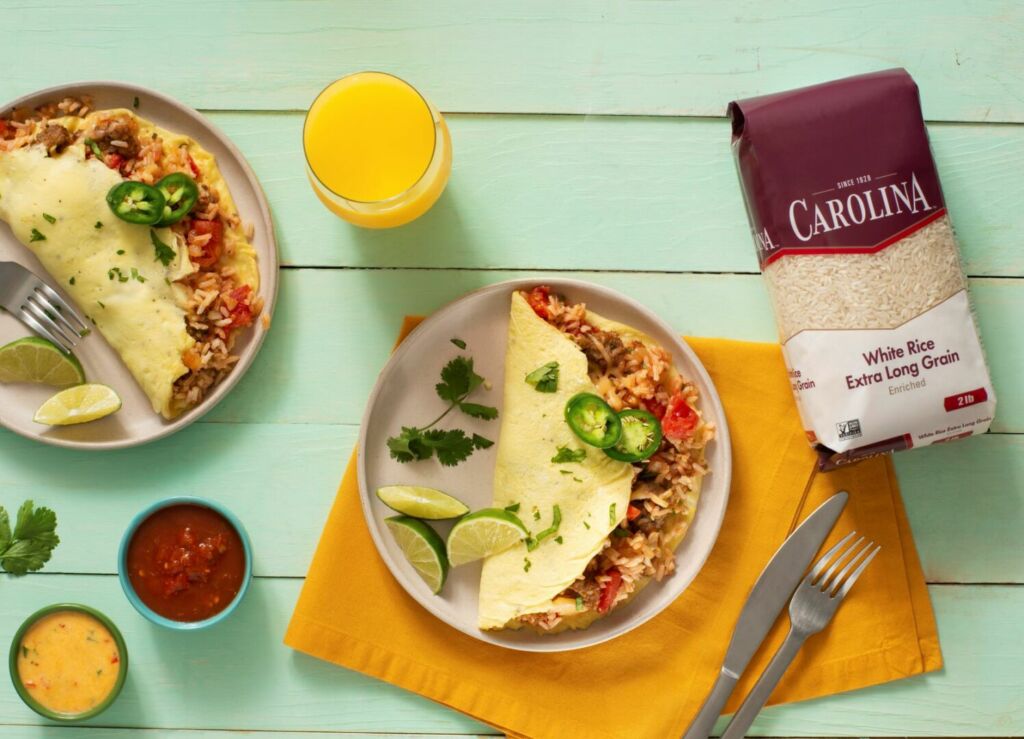 Fried Eggs
Topping your rice with a fried egg can be a simple yet tasty way to upgrade a side of rice or combine with other ingredients and make it into a rice bowl!
Cook the perfect fried egg by following the instructions in this recipe for a Morning Power Rice Bowl. Start with a base of parboiled rice topped with roasted sweet potato, kale, avocado, green onions and a fried egg on top! For delicious results, we suggest using butter, but olive or avocado oil can also be used.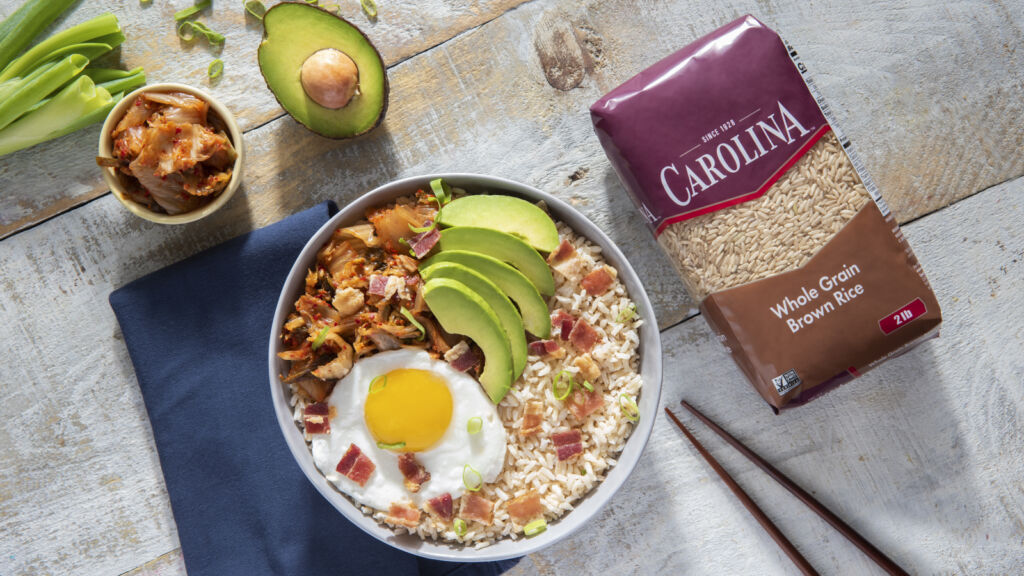 This next rice bowl recipe can be enjoyed any time of day! Try a Korean-inspired Bacon, Egg and Kimchi Bowl starting with a base of whole grain brown rice, topped with bacon, avocado, kimchi and fried eggs. Or, adapt this recipe to your preference and cook your eggs however you choose!
Poached Eggs
While it may be the most popular protein source in the morning, eggs can be part of many more recipes than just breakfast! If you still haven't mastered poaching eggs, learn how to do it with our Tik Tok inspired recipe for Harissa Feta Rice with Poached Eggs.
Use this recipe video for extra guidance:
Boiled Eggs
While most egg preparations are great served warm and fresh out of the skillet, the great thing about hard-boiled or soft-boiled eggs is that they can be eaten either cold or warm! Toss them in a rice salad or prepare them for a family-friendly Bento Box recipe that can be taken to school or work.
Note: While this method is most commonly prepared by boiling, it can also be cooked in the oven, sous-vide or steamed. Use your favorite cooking utensil or use a kitchen gadget like an Instant Pot, rice cooker or Thermomix.
Thermomix Eggs and Rice
It's true, among the many benefits of this multi-cooker, the Thermomix can also prepare eggs in various ways! Use it to cook your hard-cooked eggs to top this Empanada Rice Bowl recipe, prepared in your all-in-one cooker.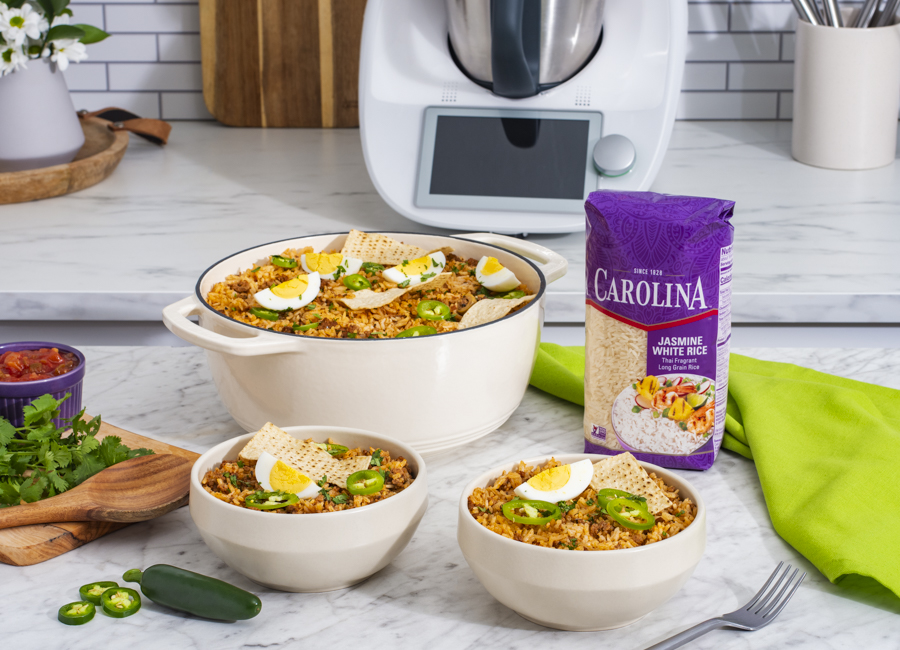 How to Make Hollandaise Sauce with Eggs
Perfect for drizzling over eggs, vegetables or a luscious rice risotto, rich and buttery Hollandaise sauce requires blending egg yolks and lemon juice streaming in hot melted butter until thick. Use this recipe for Eggs Benedict Risotto to prepare your own homemade version!
Sweet Egg and Rice Recipes
Although you may not see them, eggs also provide structure, leavening, richness, color and flavor to baked goods, batters, custard, meringues and more! Along with eggs, there are various uses for rice in dishes or baked goods. It can be ground into rice flour or used to add an extra layer of fluffy texture or crispiness.
Texture For Baked Goods and Batter
Did you know? The texture of many baked goods is determined by the balance between eggs and flour which offer strength as well as sugar and cooking fats for tenderness. Try it out in these Savory Rice Muffins using white rice along with caramelized onions and nuts. Or, use it with sweet treats like these Brown Rice Chocolate Hot Cakes and Christmas Cake Rice Fritters made with cooked brown rice for added texture!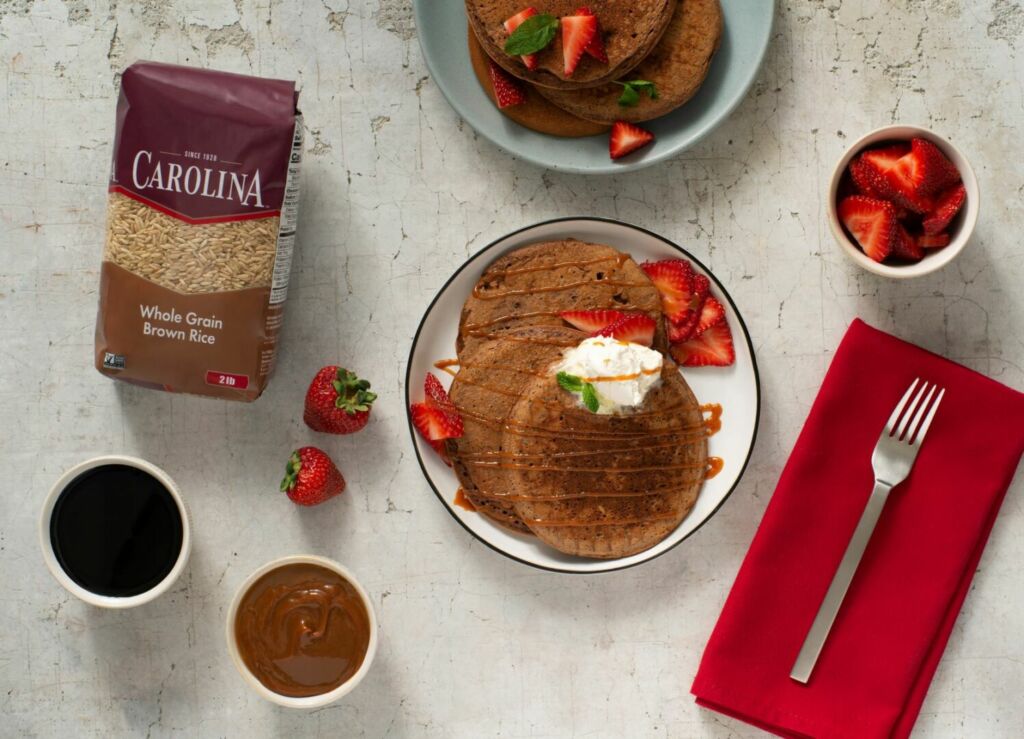 Rice Pudding and Custard Thickener
Working as a thickener, eggs and rice together are key for certain sweet treats like rice pudding or traditional custards like Cuban-style Natillas. This is because both egg yolks and whites contain protein, which changes from liquid to solid when cooked or baked, helping the entire dish cook until firm. This holds true for both sweet and savory recipes such as Chicken and Brown Rice Lunchbox Cups.
Or, eggs and rice also help to bind cooking fats and liquids to create smooth batters for cooking like in these Rice Pancakes.
Our goal is to equip you with more knowledge in the kitchen surrounding different foods and spices so you can feel confident to explore all kinds of recipes from family favorites to global trends! Trust Carolina® Rice to help you unfollow la receta and add your own personal touches to recipes.