Seemingly blooming in nature, the name cauliflower is derived from the Latin words caulis (cabbage) and flōs (flower). This vegetable was originally grown in Asia along the Mediterranean, but nowadays, it has made its way into cuisines around the world and can be prepared in a variety of different ways.
Part of the cruciferous vegetable family including Brussels sprouts, kale and broccoli, cauliflower is often overshadowed in the culinary world. So, come with us as we explore different ways to cook this veggie with recipe ideas, and as a bonus, we'll show you how you can use every part including the leaves and stem.
Cauliflower Benefits
In addition to its use in a wide variety of recipes, there are certain benefits to using cauliflower in meals. In fact, did you know that cauliflower comes in four different colors? White, purple, yellow and green. Each of those colors include specific benefits, however there are certain advantages that each of them has in common:
High in nutrients and fiber
Hearty enough to use as a meat-free substitute
A highly versatile vegetable that is easy to add to meals
Now, let's dive into some of the most common ways to prepare cauliflower.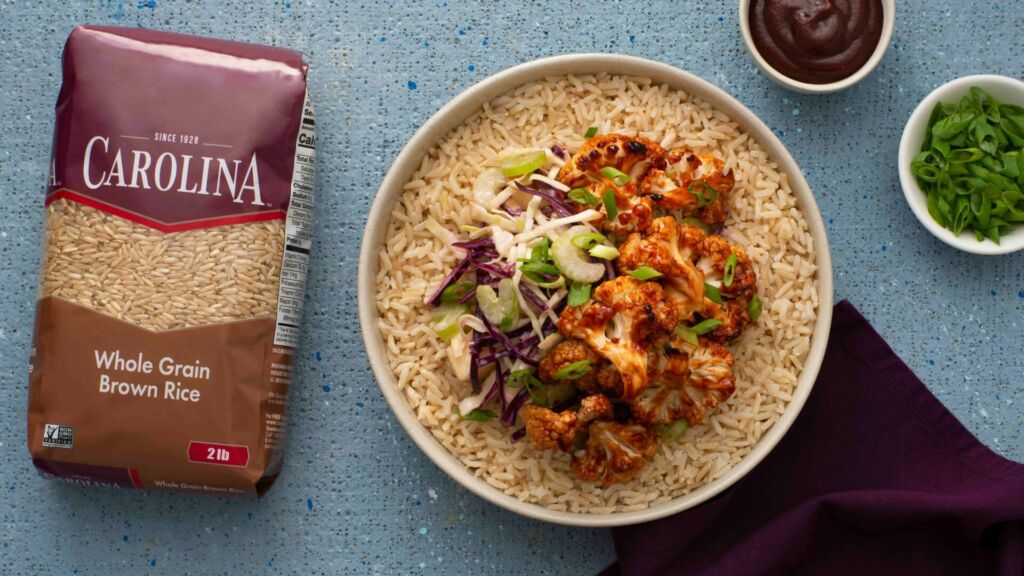 Fresh or Frozen Cauliflower?
While it is completely possible to enjoy both fresh or frozen cauliflower, certain experts say that unlike other vegetables such as spinach, cauliflower and those in the same vegetable family often lose some of their nutritional value after being frozen. So, if possible, we would always suggest using fresh.
For best results, buy a head of cauliflower, rather than pre-chopped, as it will keep for up to 4-7 days if stored in a sealed plastic bag in the refrigerator.
How To Cut and Core Cauliflower
There are many ways that you can cut this vegetable, but most home cooks suggest removing the outside leaves first and cutting the cauliflower head, with the stem attached, into four quarters. Then, at an angle cut out the stem and core (but don't throw the stem, core or leaves away!). Finally simply pull out the florets and place in a strainer to wash before use!
Zero waste tip: the stem, leaves and core are equally great for using in recipes. Save them to use as a base for vegetable stock, or pulse in a food processor and add to soups or slaws. The leaves can be roasted in the oven for salads.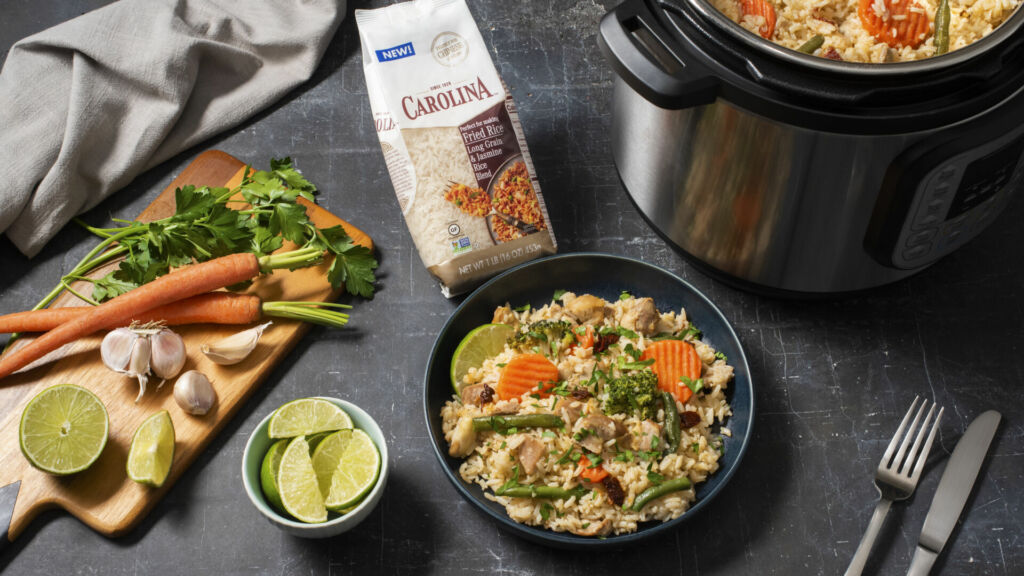 6 Ways to Cook Cauliflower With Recipes
Bookmark these cooking methods to prepare cauliflower in new ways every time.
1. Roasted
With their peak season running from September throughout the colder winter months, oven-roasted cauliflower really hits the spot for something warm and comforting.
Slice up and toss with olive oil and salt or coat with another sauce, like barbecue sauce, in this recipe for BBQ Cauliflower Power Rice Bowls. You can even get creative with the marinade and use them in place of chicken wings like in this recipe for Roasted Buffalo Cauliflower. The chopped cauliflower is first coated in a blend of brown sugar, chili powder, cumin, coriander, oregano, garlic powder, salt, pepper and buffalo sauce, then roasted and served over rice with homemade coleslaw.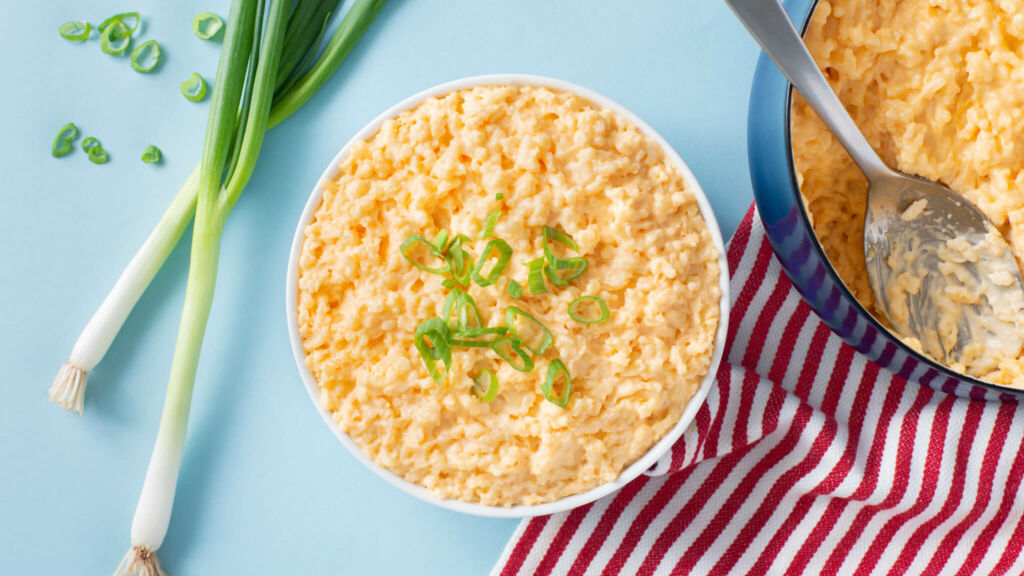 They can be roasted on their own and used in many recipes like a Rice Mac and Cheese or mixed with other vegetables and cooked in a casserole. Try adding them to your next Southwest Chicken and Rice Casserole along with red pepper and zucchini.
2. Sautéed
Cauliflower florets can be chopped further or used whole and sautéed in any cooking fat from butter to seasoned olive oil. Try adding to a stir fry or as a base for an incredible Risotto recipe with sausage and cauliflower.
3. Steamed and Blanched
Cauliflower can also be steamed or blanched. We'll show you how it's done with the stovetop method.
To steam:
Place the cauliflower florets in a steam basket or a heat proof colander inside a pot.
Add enough water at the bottom to cover about ½ inch.
Cover the pot and bring it to a simmer, continue until the cauliflower reaches the desired texture, about 5-9 minutes.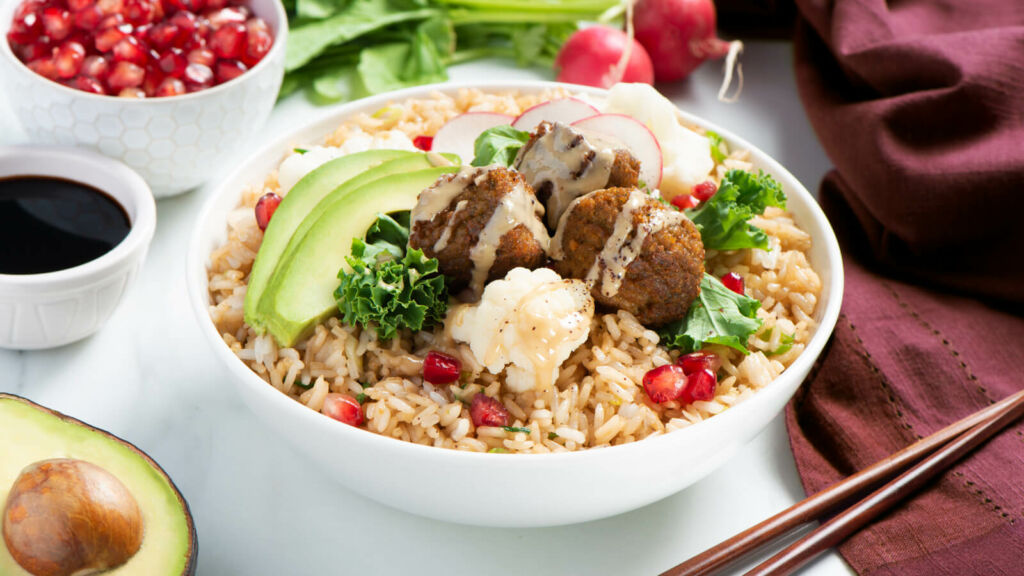 To blanch and shock:
Bring a pot of water to a rolling boil with a prepared bowl of ice water to the side.
Place the florets in the boiling water for about 2 minutes, remove with a slotted spoon and place in the bowl of iced water to shock.
Use your steamed or blanched veggies for all kinds of recipes from a cauliflower, chicken and rice dinner to a Fried Rice Bowl with Falafel and Tahini.
4. Instant Pot
Learn how you can prepare vegetables like cauliflower in the Instant Pot with recipes like this Mexican Chicken and Rice. Use a frozen medley of vegetables or choose fresh options that have been precooked.
5. Mashed Cauliflower
Once you have your cauliflower cooked using any one of the methods above, you can blend it using an immersion blender or a standard blender to create recipes like mashed cauliflower and hummus.
Difference Between Rice and Cauliflower Rice?
While there might be a lot of talk around cauliflower rice, it isn't actually a type of rice but rather cauliflower that has been blended or grated down to appear like rice. It makes a great way to add vegetables to your meals by mixing with traditional rice! That way you are still feeling full with an extra helping of vegetables.
Trust Carolina® Rice to offer you all of the cooking knowledge you need to feel confident in the kitchen. Find all kinds of tips and inspiration from how to make the perfect rice pudding to different cooking techniques for rice and other ingredients.