Rice is an incredibly versatile pantry staple used worldwide in anything from a Traditional Mexican Rice dish to Pressed Japanese Sushi. But, did you know that you can also use it to make your favorite fluffy short stack of pancakes and waffles? That's right, Carolina® Rice is perfect for all of your morning favorites. We'll show you the best ways to utilize your favorite varieties with recipe inspiration.
How To Use Rice For Pancakes, Waffles and More
If you're wondering how rice fits in with sweet treats and breakfast favorites, we'll fill you in! There are three essential ways you can use rice:
Grind any variety into DIY Rice Flour (including brown rice and aromatic varieties like Jasmine).
Blend it with other ingredients to make a thick batter.
Fold it in with your other ingredients to add an extra fluffy texture.
If you're curious to try, keep reading for some recipe inspiration! Choose your favorite food from the list below and use our recipes with your favorite rice variety.
Rice Pancakes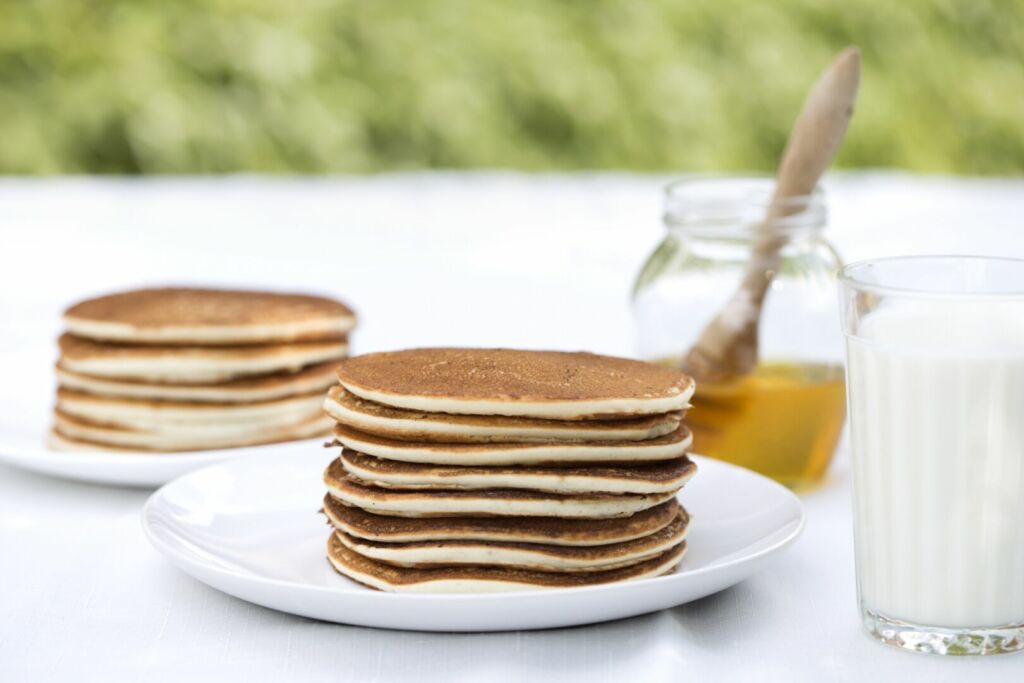 Starting with a classic breakfast food – pancakes and fruit drizzled with maple syrup!
Try these traditional Rice Pancakes by blending white rice, milk, flour, sugar, applesauce, baking powder, and butter together. While this recipe calls for wheat flour, experiment with your favorite Gluten Free flour if desired. Add more water if the batter is too thick or add more flour if it is too liquid.
If you want to try using another rice variety, these Brown Rice Chocolate Hot Cakes are the place to start. This version folds in whole, cooked brown rice without blending for an added crispy touch when the hot cakes are cooked in oil or butter.
Topping Ideas: Whichever you choose, get creative with your toppings like homemade whipped cream, fresh fruit, butter, cajeta, chocolate sauce or strawberry jam.
Rice Flour Crepes
Using your own rice flour, these Tropical Street Fair-Style Rice Crepes are completely wheat free filled with all kinds of delicious tropical fruits. This recipe suggests mango, kiwi and pineapple, but feel free to get creative with your favorite fruit like banana with chocolate spread or nut butter.
How to Make Rice Flour: To make your own rice flour you'll need a high-speed blender, coffee grinder or food processor. Place the uncooked rice in the blender and grind on highest setting until it reaches a smooth powder consistency that resembles flour. There should be no larger chunks. Sift if needed. You should have approximately ½ cup of rice flour.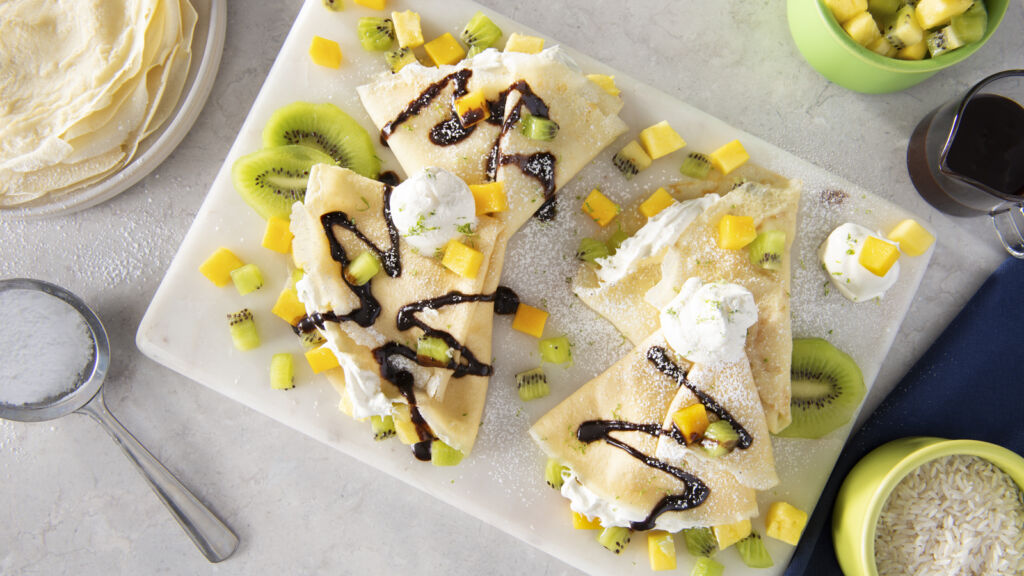 Gluten Free Rice Waffles
If you have a waffle iron at home, this recipe for our Gluten Free Banana Rice Waffles uses ground Carolina® White Rice, which adds a thicker texture. Also, this recipe adds in mashed banana and coconut sugar for natural sweeteners.
The best part about these is that they are perfect for eating as is, topped with all of your favorites or they can be frozen to eat later! Try preparing a batch on the weekend to add to your meal prep breakfast list.
Other Sweet Breakfasts with Rice
If you're hungry for more options, we've got even more fun ideas that you can add to your list of breakfast ideas with rice.
Rice Pudding
Learn how to prepare the perfect rice pudding to enjoy for a delicious morning meal! Once you master the classic recipe, use it to layer parfaits, top with fruit or use it as a filling for tasty meals on the go like Rice Pudding Empanadas.
Homemade Rice Cereal
For breakfast cereal fans, we've got good news. You can also make homemade Puffed Rice Cereal with all kinds of delicious flavors.
See our recipe video to make it at home.
Rice Fritters
Whether it's a festive seasonal brunch or a weekend treat, these Christmas Cake Rice Fritters call for brown rice mixed with dried fruit and a delicious batter to fry up to crispy perfection. Even picky eaters will enjoy these donut-like bites.
Trust Carolina® Rice to provide you with everything you need no matter what meal of the day it is! Take a look at our Cooking section to find more meal ideas.