Breaking Down the Perfect Breakfast
If you're a breakfast lover, like we are, you know that it is definitely the most important meal of the day. Whether you're full-on pro eggs, bacon and toast, waffle fanatic, or fruit and oatmeal lover, you know that it's important to start your day on the right foot so you can power through your day – whether it be on the way to the office, school or maybe it's a relaxing weekend meal with your family.
Off on the "Rice" Foot!
If you're looking to boost your breakfasts, want to try something new or simply looking to upgrade your favorite classics, we'll let you in on a little secret – use rice! If it's not on your radar, it should be.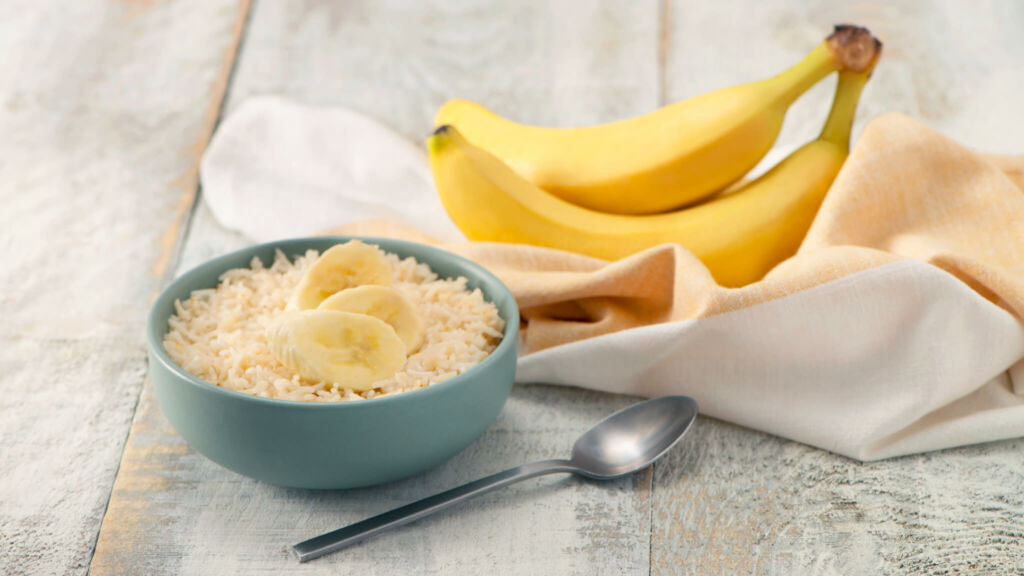 Rice is so versatile, you can use it as a secret weapon in almost any meal whether it be replacing your toast, enhancing your oatmeal or even adding a hearty touch to your favorite protein shake. Most people don't realize how important it is to get the good stuff in like whole grains, fruit, veggies and proteins in the morning to keep you fueled throughout the day.
Pro Tip: If you combine different grains together like this Carolina® Premium Blend with Jasmine Rice and Quinoa, the options are endless for grain and protein-packed meals. Two powerhouse superfoods for the price of one!
Your secret weapon
Now that you're in on the secret, you too can put together the perfect breakfast with the foods you like best! To start, we'll give you the tools to build your own perfect breakfast with rice to get going in the morning. If you're unsure about where to begin using rice in your breakfasts, we've made it easy for you! Try your hand at a simple recipe like this Apple Cinnamon Jasmine Rice & Quinoa Bowl.

Give yourself a break from mundane oatmeal with this bowl including freshly chopped apples, cinnamon and maple syrup alongside protein-packed quinoa and jasmine rice cooked to perfection in milk, or use your favorite plant-based milk variety. To add a bit of crunch, top with your favorite nuts like slivered almonds or chopped pecans. For a weekday option, try making this ahead of time and toss your ingredients in the rice cooker or Instant Pot for a sweet and warm bowl of gooey goodness first thing in the morning. Afterwards, if you can't get enough of the cinnamon sweetness, make sure to try this delicious rice pudding!

If you love to whip up an egg in the morning, swap out the bread for more filling grains loaded with flavor in this Jasmine Rice and Quinoa Breakfast Bowl made with sweet potato, spinach, egg, and sliced avocado. This breakfast will most definitely keep you going until lunchtime! Toss into a container to take with you or turn this into a brunch and serve with freshly squeezed orange juice, fresh fruit and a side of crispy bacon or breakfast sausage.
Fruit Frenzy
Toss out your morning pastry filled with processed sugar and take some inspiration from this Thai-inspired recipe using natural Tropical fruits with Jasmine Rice and Quinoa. This power bowl is loaded with energizing fruits, grains, and proteins. Top your sweet grains simmered in coconut milk with your favorite fruits like mango, pineapple, and banana or swap in seasonal fruits like fresh strawberries or peaches.
As this recipe is naturally made with coconut milk, to satisfy any vegans in your life, simply swap out the honey for maple syrup or simply omit it.
Last but certainly not least, this hearty porridge-like Rice Bowl with Bananas is a traditional dish for many Mexican families. Don't let the surprising ingredient list fool you, the mix of both sweet and savory flavors makes for a delicious meal to jump-start your day.
For more great tasting recipe ideas like this arroz chaufa and cooking tips like how to get the right rice cooker ratio, check our website.