Nowadays, there's nothing more satisfying than getting your lunch prepped, packaged, and ready-to-go before you head to bed. After all, it's the small things in life that make all the difference. Like enjoying that extra five minutes of relaxation right before the morning rush or basking in a bit more dinner time with the family after a long day.
Convenient and Delicious Meals
That's where these recipes come in handy. Easy and delicious, you don't need to research special ingredients, put hours of preparation aside, or even buy some new fancy cooking equipment. You're likely to already have some of these ingredients lying around in the pantry and, most definitely, all the cooking appliances you need to get the job done.
Starting with a simple Shrimp Fried Rice and ending with the ultimate Jasmine Rice and Spiralized Veggie Salad, these recipes are an easy way to take the stress out of your weekly meal prep – whether it's lunch, dinner, or a tasty snack in between.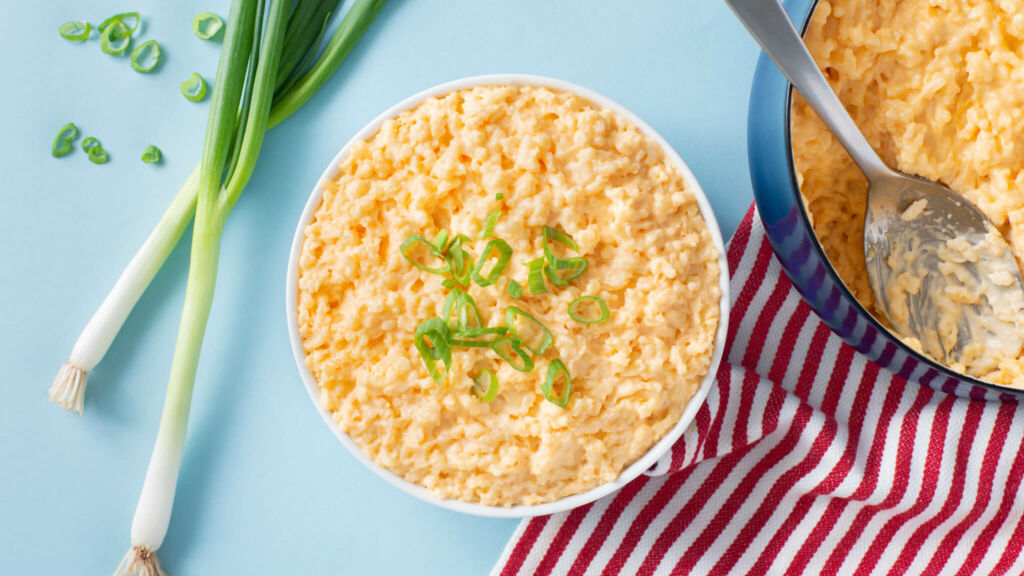 Shrimp Fried Rice with Pineapple
What makes this fried rice so delicious? One word – Pineapple. What makes it easy? In less than 20 minutes you'll be from wok to plate. Aside from that, shrimp, mixed veggies, and our Cilantro Limon Flavored Ready to Heat Jasmine Rice. Best of all, this dish is sriracha friendly, so add a bit of spice and drizzle on as much as your heart desires.
Chicken & Ranch Burrito Rice Bowl
Oh, rice bowls. How we adore your ease, your versatility, and your depth of flavor. This Burrito Rice Bowl is a salute to our love for Mexican-inspired dishes, a simple lunch prep, and–above all–ridiculously satisfying. And yes, our Ready to Heat Jasmine Rice makes it super speedy to whip up. Plus, if you love ranch dressing, this is an excuse to keep an extra bottle at the office.
Creamy Rice Mac & Cheese
This homemade Mac and Cheese Rice dish is the utmost comforting, not to mention one of the easiest recipes on our list. Made with wholesome ingredients including, cream cheese, shredded cheddar, and milk. It's the ultimate recipe for those who are Gluten Free but can't get enough creamy mac and cheese.
Jasmine Rice & Spiralized Salad
Fresh, fulfilling, and perfectly balanced, this Spiralized Rice Salad is what dream lunches are made of. With crisp vegetables including edamame, fresh ginger, and whatever else you want to throw in, this recipe is bound to make you a believer in delicious, yet easy, lunches.
Better yet, it's also vegetarian. To go one step further and make it vegan, simply omit the honey or replace it with your favorite substitute and you've got another recipe to add to the list.
Bonus: Dessert Recipe
Use our Ready to Heat Jasmine Variety to make your own Coconut Rice Pudding Milkshake in minutes! We suggest blending everything together for rice pudding with cooked rice that is ready in no time.
How to Microwave Your Ready to Heat Rice Pouches
Okay, now the question that's on everyone's minds. How exactly do you cook our Ready to Heat rice in the microwave? Well, it's as simple as it can get. In just 4 steps you're ready to go.
Squeeze unopened pouch to separate rice.
Tear two inches to vent at the top of the package.
Heat on HIGH for 90 seconds.
Take care when handling and opening the hot pouch. Refrigerate the unused portion. – Cooking time for 2 pouches = 2 ½ minutes. Microwave times may vary.
For best results, make sure you use the correct white rice water ratio.